The Quarterback Whisperer
George Whitfield, Jameis Winston's personal coach, is at the forefront of an industry that is reshaping the modern quarterback.
The Quarterback Whisperer
George Whitfield, Jameis Winston's personal coach, is at the forefront of an industry that is reshaping the modern quarterback.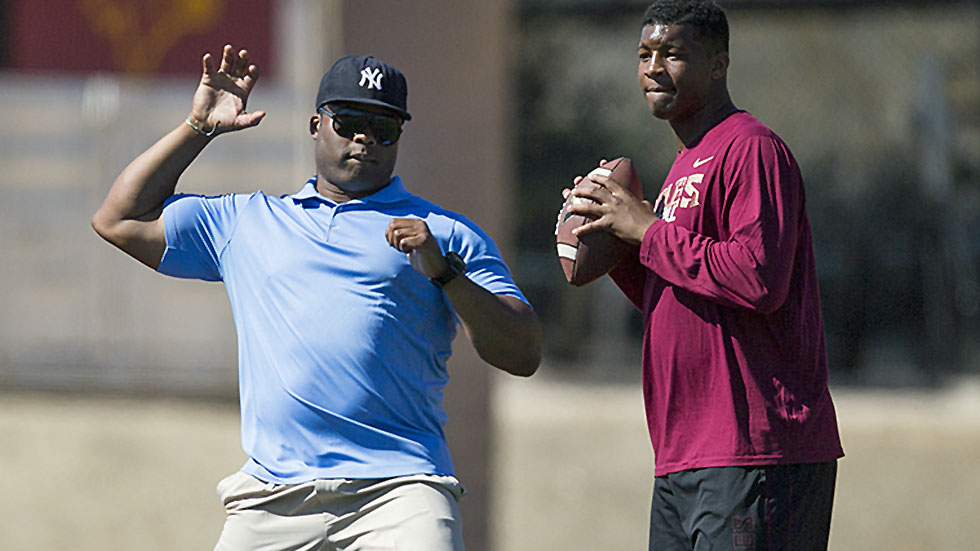 When Jameis Winston dropped back for his first of 102 passes last month at his pro day, more than a career rode on that golden right arm.
The 21-year old was marketing an entire industry.
To get to that point, Florida State's quarterback had been refined by a slew of handlers. Besides the usual collection of agents and marketers -- a given in any draft transition -- he'd been counseled by a mental conditioning coach and molded by a speed coach.
But an unassuming 38-year old in a black track suit had essentially orchestrated the whole scene. Network crews approached him, NFL scouts gravitated toward him. It wouldn't be hyperbole to suggest the second-most sought after person that day at Florida State was George Whitfield.
He's the Quarterback Whisperer, a self-made man in a self-made industry. Whitfield counsels, teaches, coaches, advises quarterbacks. His techniques have been scrutinized but his success cannot be questioned. A roster of his last few high-profile clients -- Andrew Luck, Cam Newton, Johnny Manziel to name a few -- reflect why Winston was his latest high-profile client.
"I was super thankful, very grateful, he's a great guy," said Michigan State quarterback Connor Cook, a next-gen client who has been with Whitfield for two years.
"He worked out with smaller kids, D-III guys … He'll drop anything to help you work out."
That Whitfield works out of San Diego and trains his charges in the ocean waves only adds to mystique. Next to his client, the day in Tallahassee was his as Winston rifled passes in a pre-arranged draft mating dance meant to impress scouts.
"This," Whitfield said, "is a fingerprint of Jameis."
It is a teaching industry that, frankly, Winston needs more than it needs Winston. Sort of like an MBA having that internship before venturing out into the real world. A law student clerking for a federal judge.
Specialized quarterback instruction has grown organically over the last few decades. But it has taken off in earnest as a celebu-quarterback, TV-driven sideshow in the last 10 years.
Bob Johnson began training a rich vein of talent in Southern California as coach at Mission Viejo High School. Future NFL QBs Rob Johnson (his son), Carson Palmer and Mark Sanchez got instruction from the now 71-year old Johnson.
Super Bowl winning quarterback Trent Dilfer took over for Johnson as lead instructor of the Elite 11 franchise. That blossomed into a reality TV series that features some of the best youth quarterbacks -- and best quarterback teachers -- in the country.
Dilfer -- a force of nature who has redefined the industry-- has been quoted as looking for "dude qualities" in his young charges. He doesn't want a camp so much as an environment -- an environment that once included a 4:45 a.m. workout with Navy SEALS.
It's all a bit new agey and all over the map. That's also part of the attraction.
Steve Clarkson -- the "Dreammaker" -- has been carving out his own territory in Southern California for 30 years. His reputation is such that parents will pay thousands of dollars to fly in their sons, or to fly Clarkson to them, for personal instruction.
"In terms of where this business is going, it's going to get real bad …," Clarkson said. "Not to mention the colleges who everybody thinks are thrilled with this. They're not. That's why at 53 years old I've always got to evolve."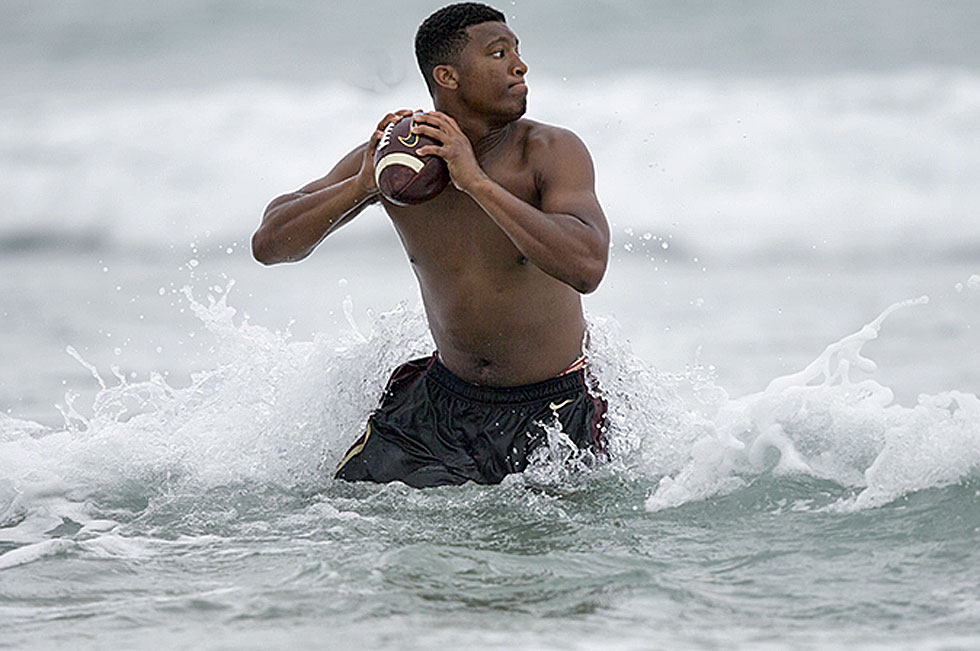 Jameis Winston goes through a classic George Whitfield ocean workout. (David Wiesley, QBShooter.com)
There are others, scores of them now in a growing quasi-profession that sometimes thrives on how quickly you start an LLC.
In the end, it is a big slice of the American dream.
"You get sick, you go to the doctor," said Jordan Palmer, who prepped last year's No. 3 overall pick Blake Bortles.. "I'm building the same business model … They give you a diagnosis and you leave with a prescription."
As Palmer is fond of pointing out, that prescription is based on learning seven different offenses,and two more just reading through his Heisman-winning brother Carson's NFL playbooks. The former sixth-round draft pick has played seven years in the NFL, been cut, and signed arena and UFL deals.
"I can literally help anybody," Jordan said. "I know what it takes to claw and fight and become valuable and be needed. I also have the perspective of what it's like to win a Heisman and be a No. 1 pick."
Jordan is also looking for work himself. If Tampa signs him as, say, a No. 3 quarterback, all the better.
"If you have a player on the team you consider a coach, I can work with Jameis in Tampa … anytime I want," Palmer said.
That day in Tallahassee was a further realization that quarterback is the most important position in American sports. Also, possibly the most lucrative for everyone involved. It's not surprising, then, parents who can afford such training wanting the best for their kids.
"It seems there is such a premium put on the quarterback position at every level," said Terry Shea, an NFL and college coach for 39 years. In a second life, Shea has trained the likes of Sam Bradford, Robert Griffin III and Matthew Stafford for the draft.
"The parents think their high school sons are going to be the next Peyton Manning and they keep pushing the envelope."
And continuing to push money across the table. You want Shea to visit your son? It starts with a $3,000 four-day training fee, plus expenses.
All of it was bound to happen. NCAA rules limit football-related activities to 20 hours per week. In the NFL collective bargaining agreement, there are no formal training sessions for months in the offseason.
"Where's the time to develop?" Whitfield asked.
As the NFL Combine became increasingly important, careers rode on what have become known as the "Underwear Olympics." Specialists were needed to specialize in the most special position in American sports.
They created the need for their services. Basically, they invented their own jobs.
"I don't think quarterback coaching is going anywhere," said Trevor Moawad, Winston's mental conditioning coach. "I think it's only getting bigger -- whether they need it or not."
Is it surprising, then, that folks like Ryan Flaherty flourished? The former director of development for men's sports science at USA Track and Field developed an algorithm that he says can essentially predict 40 times.
Winston ran a seemingly slow 4.97 40 at the combine, 12th best among 15 quarterbacks. A Division III lineman that week ran a 4.98. But at Florida State and at Flaherty's Prolific Athletes in Carlsbad, Calif., they were ecstatic.
"If everyone would have known where he started at and where he ended up at, people would have been blown away," Flaherty said. "I got an actual call from Jimbo Fisher saying, 'We could not believe he broke five flat.'"
Sources told CBSSports.com that Winston had been running in the 5.3-second range at FSU. You'd better believe NFL scouts were alerted to that improvement.
So in some way the next evolution of all of it rode on Winston's right arm. That day he completed 91 of 102 passes against air.
But he set it up by having a heavy hand in the mating dance itself. He threw more than 100 times. The usual pro day sampling is 50-60 throws.
Winston set it up by thanking those NFL scouts for attending, introducing his teammates who would be catching his passes, who would be bolstering his career that had been massaged to that point by an army of quarterback enhancers.
"It goes to each man's idea of, 'how do I want to make my statement?'" Whitfield said. "This was blue collar, no music. [Jameis wanted to] eyeball you."
The statement left from that day: These elaborate productions have become entities unto themselves.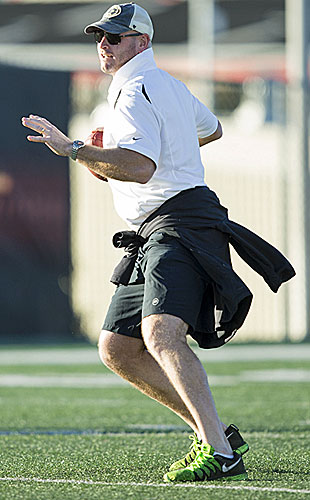 Trent Dilfer has become a pillar in the quarterback coaching industry. (David Wiesley, QBShooter.com)
Who knows whether Winston will be Ryan Leaf or John Elway. We do know that -- to this point -- he has won the workout.
"This is my sanctuary," said Winston, who calls himself "the best player in the draft," at the end of his pro day. "I've been saying that for the longest time. It's been a huge job interview and I've loved it."
***
Terry Shea's career rebooted in 2006. Between gigs with the Chiefs and Dolphins, an agent contacted him with a chance to work with Notre Dame's Brady Quinn.
"That's what kickstarted the industry," said Shea, whose big-name clients adorn the website for his company, "QB Score."
Quinn was a first-round pick by Cleveland out of Notre Dame and has at least been on the roster of seven different teams since 2007.
"From that point on," Shea said, "the agents, when they want to sign these college quarterbacks in need of specialized training, they call people like me."
The likes of Clarkson and Johnson have been doing it for decades. In the beginning quarterback instruction was more regional. The phenomenon started when a big upside (for that first contract) intersected with a crucial downside (draft bust).
The range of quarterback savants goes from the Manning family -- and the revered Manning Passing Academy -- to some guy named Jio Lucci, whose bonafides include playing in something called the Pro Flag Football League.
Justin Hoover is a 34-year old offensive coordinator at Bishop Miege High School in suburban Kansas City. Dilfer uses him in his exclusive Elite 11 inner circle. Hoover's side business as a quarterback tutor -- Spin It Quarterback Academy -- has had a hand in training a rising FBS quarterback each of the last three years.
"Justin has been around all the good quarterback coaches," said Kansas State's Jake Waters. "He knows everything."
On the day of that statement Waters had missed out on the combine because of shoulder surgery. He was nowhere near ready to throw, working only on footwork. A 6-foot-1, 209 pound overachiever, Waters was hoping that someone in the draft would eventually notice.
In the same facility that day, Josh Freeman was looking to get back into the NFL mainstream. Three years ago, as the No. 17 pick in the 2009 draft, Freeman had thrown for 4,000 yards and 27 touchdowns for the Bucs.
Lately, his career has cratered. A year ago, there was speculation it was actually over. This winter found Freeman working with Hoover on an indoor basketball court.
It was both humbling and productive. Last week Freeman was signed by the Dolphins. That doesn't necessarily mean a spotty career is rejuvenated. But it also doesn't hurt Hoover's resume.
As a rising star in a wild, wild West industry, Hoover relayed an anecdote regarding new Houston offensive coordinator Major Applewhite. It was no secret new Cougars coach Tom Herman needed quarterbacks to restock the pipeline when he arrived.
Applewhite sent out a group text to his contacts in the quarterback industry asking for help. Within a half hour, video of a dozen prospects arrived in his email.
"I remember doing the same thing when I was at Ohio State," said Herman, the offensive coordinator behind the Buckeyes' miracle last season. "It was a little easier then."
Maybe that explains why Herman was able to go three deep at quarterback and still win a national championship. Cardale Jones remains the starter through spring. Meanwhile, for the second consecutive spring, Buckeyes quarterback J.T. Barrett -- fifth in the Heisman voting -- will be visiting throwing biomechanics expert Tom House at USC.
House -- a former major-league pitcher -- has worked with everyone from Tom Brady to Drew Brees to Matt Barkley to Alex Smith to Carson Palmer. Former Ohio State starter Braxton Miller has worked with Whitfield.
"Any kind of work on your own [with an instructor] is better than no work," Herman said. "If it gives you confidence and a little extra."
"Just don't come back from sunny San Diego and say, 'George told me to do it a certain way,'" Herman added. "I'm going to throw a friggin' fit."
That highlights the eternal rub in an industry grown up around a profession of tutoring a position.
"I don't dislike what they do," said Kenny Sanchez, head coach of mythical high school national champion Las Vegas Bishop Gorman. "But I'm not a big fan of calling them 'coaches' because coaches put their records on the line and they can lose jobs by winning and losing … I'm not going to call someone 'coach' when you're a personal trainer."
"It's not a competition," Hoover said. "It's really a fraternity of guys who are bouncing ideas off each other. That's how this thing [Applewhite emails] should work, the networking part of it. We should help a guy land a player that we've trained or is under the radar."
The gurus are not unlike the average golf or tennis personal coach. Everyone sort of understands that 99 percent of their clients aren't going to make a living out of their sports but, hey, it can't hurt trying to max out.
So why the lightning rod effect of personal QB trainers?
"It seems there is such a premium put on the quarterback position at every level," Shea said.
In addition to Quinn, Shea built a client list that included Blaine Gabbert, Sam Bradford and Robert Griffin III. It was Shea's guidance that helped Griffin get drafted second overall in 2012. RGIII is loyal enough to believe that Shea's instruction is also going to get him through this current dip in his career.
Shea's May is now taken up with meeting eight high school prospects for instruction in Arizona. Alabama's David Cornwell has flown into Phoenix four different weekends for crash courses as he's trying to win a wide-open race for the starting job back in Tuscaloosa. Shea takes equal pride in Freeman, having worked with him Arizona.
At age 68, Shea is also comfortable in his own skin -- accomplished and wise enough not to take the cottage industry too seriously.
"I hear that term 'quarterback guru' thrown around loosely and I'm like, 'That's not accurate, whatsoever,'" he said. "Bill Walsh was a quarterback guru."
For all its cutting-edge advances, the quarterback training industry seems much more, well, catty than others. Several sources interviewed for this story didn't hesitate to criticize their counterparts both off the record and on.
Clarkson called the industry, "very diluted, a lot of smoke and mirrors. A lot of Instagram coaching."
Bob Johnson surveyed the landscape and called it "crazy bad."
"The top quarterbacks in the league that we had back in the heyday with Elite 11, it wasn't a TV thing," he added. "I really enjoyed much more when it wasn't on television. I'm a grassroots guy. All these drills they think are new. Are you kidding me? It's a little bit sickening to me."
At the apex of this pyramid, Whitfield remains king -- at least reinforced by Winston's pro day. In a draft year when top quarterback talent is at a premium, Jameis had better become famous. After Marcus Mariota and Whitfield client Bryce Petty of Baylor, there are few sure things.
The Quarterback Whisperer crafted a routine for Winston so intricate that his Whitfield Athletix team was holed up in a hotel room until 2 a.m. the night before. The final details included a retrieval system so balls could be circulated back into Winston's hands as quickly as possible.
"If you can take care of and harness that, he should be able to walk up, grab the scalpel and do his thing," Whitfield said.
Whitfield grew up in the football-mad town of Massillon, Ohio. After becoming the career leading passer at Division II Tiffin University, he relocated to San Diego to study law. A chance quarterback session with a fourth grader led to an epiphany according to Bruce Feldman's fine book, "The QB: The Making of Modern Quarterbacks."
Whitfield soon became the go-to tutor. Newton came his way. So did Luck. Most famously there was Johnny Football, who was a daily soap opera in and of himself. Whitfield's signature tools -- brooms, bean bags, pads to simulate oncoming rushers -- were sniffed at by the likes of Johnson.
"A lot of them are the same, never going to go away from the hard-core good ones," he said of the drills. "Ones that I sort of made up myself."
Any hint about depth of football knowledge can be met with that impressive client list. There's no doubt this specialized fraternity puts in the hours. They have to nab the next batch of rising stars.
"Why is it not considered weird that kickers and punters have specialized coaching and quarterbacks don't?" Flaherty asked. "If you really look at it, the quarterback position is completely unique."
So unique that Flaherty's hand in achieving a low 40 time at the combine can arguably translate directly to salary. After working under Flaherty, Mariota ran the fastest quarterback 40 time at the combine (4.52). That was slightly slower than former teammate and Olympic class sprinter De'Anthony Thomas, now with the Chiefs.
Flaherty's algorithm deals with strength-to-weight ratio, something he calls a "force number." If you can bench 500 pounds and weigh 250, your force number is 2-to-1.
Usain Bolt -- who trained with Flaherty -- was 4-1. Flaherty was hoping for a 4.4-1 ratio from Mariota but, "the combine is set up for guys to fail. They get them up at 4:30 in the morning, keep them up late interviewing them asking them crazy questions like 'have you ever cheated on your girlfriend?'"
So why should a quarterback's 40-time be so important? As CBSSports.com's Pete Prisco pointed out, maybe it isn't. Tom Brady ran a 5.28.
"I think the game is changing," Flaherty said. "The days of Tom Brady and Peyton Manning are done. You look at all the guys who are coming through now… You look at the guys who are chasing them. There are no longer Tony Siragusas on the other side of the ball. You have guys who are bench pressing 700 pounds and running 4.9s and are 300 pounds."
Perhaps that's why everyone from Winston to Manziel to Braxton Miller have worked with Flaherty. Cook and Penn State's Christian Hackenberg have been through Prolifics too.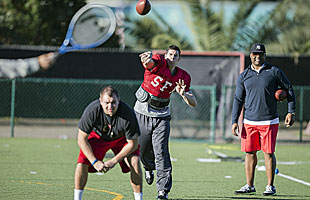 After Winston and Mariota, Bryce Petty could be the next QB drafted. (David Wiesley, QBShooter.com)
"When it's my time to go," said Cook, who returned for his senior season. "I'll be very, very prepared."
Perhaps that's why the industry has become one of shared knowledge. Whitfield works with Palmer, who works with Flaherty. They all somehow intersect with Dilfer.
"The athlete has to treat it like the lottery," Moawad said. "If I have 20 tickets I can win it. If I have 100 tickets I have a better chance to win it. Sometimes some of those private coaches give you a better chance."
Wait, a mental conditioning coach? Moawad has been a valuable consultant at Alabama and Florida State for years. A lot of programs don't have the luxury of such an extra. Perhaps FSU couldn't afford not to have Moawad, former director of the IMG Performance Institute in Bradenton, Fla., now head of his own consulting group.
"Jameis' ability to perform under pressure is similar to Russell Wilson," Moawad said. "He's so calm, so poised. They are at their best in the biggest moment."
But what about the off-field stuff? Winston will head to draft day with a civil suit hanging over him. Not to mention lingering questions about his character.
"He has an uncanny ability to compartmentalize," said Whitfield, who then injected himself into the Winston thought process.
Yes, I know there's smoke over here, but that's over here. Yes, my leg is hurting right now but the game is going on right now.
"That's a maturity, that's a competitiveness," Whitfield continued. "A lot of great athletes possess that. A lot of good ones don't."
But certain NFL teams aren't messing around when they consider making Winston the face of their franchise. Whitfield made the stunning revelation last month that some teams had secretly placed people on Winston's flights to observe the quarterback's behavior.
"[There have been] private eyes," Whitfield said. "They've interviewed elementary school teachers, bus drivers, team bus drivers, people that gave him rides at the Heisman ceremony, pilots. There are people that have staged people on different flights to be like a fly on the wall.
"If that's what they feel they need to do to get up on the table for him on draft day, that's what they have to do.
"Come out on the front porch. It's about to go down."
***
With a diversified marketing business, Jordan Palmer is at a career point now that he doesn't need the tutoring business or even necessarily the NFL.
If Palmer signs a deal to play in 2015, he says it will be for half the money up front. If teams don't want to pay it, fine. Palmer claims to be working with seven NFL starters at the moment. His marketing business -- a brand incubator, if you will -- is so successful he and his partners turned down a chance to be on "Shark Tank."
Only 25 percent of his time is spent with quarterbacks. The desired result was achieved with Bortles last year. This year's project is Bryan Bennett, a former four-star blue-chip at Oregon who transferred to Southeast Louisiana and promptly became Southland Conference player of the year.
Palmer knows a grinder when he sees one.
"I know what it takes to claw and fight and become valuable and be needed," he said. "I also have the perspective of what it's like to win a Heisman and be a No. 1 pick and be the fourth-highest paid player in the history of the league."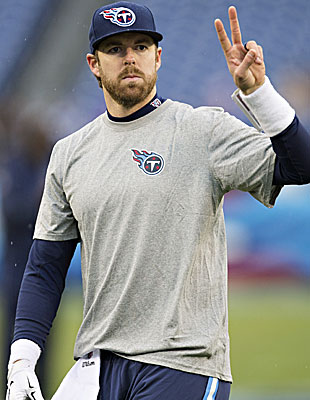 If Jordan Palmer doesn't find NFL work, he's got a blossoming business as a quarterback coach. (Getty Images)
The tutor who once broke his ankle surfing now takes his charges paddle boarding. Helps the core.
"I can literally help anybody," Palmer said. "There's not a lot of situations that you'll be in that haven't filtered through what I've been through."
"I've played with some really great coaches and really great players. I've played with some really shitty coaches and really shitty players. I have a unique perspective on the game."
***
Clarkson was managing Black Angus restaurants in Southern California 30 years ago when Perry Klein came along.
Klein was a 15-year old playing flag football who was hopeful of having a high school career. Clarkson had played quarterback under Jack Elway at San Jose State. A pro career was so unspectacular that Clarkson jokes that during a brief stay in Denver Broncos camp his paycheck read "zero dollars." That's how often Dan Reeves had fined him.
"That was a bloodbath in terms of trying to learn their scheme," Clarkson said. "Everything I ever learned was completely different."
It is from that background that Clarkson agreed with Dennis Klein's request to watch his son at a local high school.
"I watched him throw, gave him a few pointers, then I was like, 'I gotta go,' Clarkson recalled. "Something made me turn around. From 40-50 yards away I could see the kid and he was doing these back flips.
"A light bulb went off in my head."
Clarkson had played with receiver Gerald Willhite at San Jose State. Willhite's signature move was a backflip after each touchdown.
"I ran back and said, 'Do that again,' Clarkson said. "He never did the same one. He added a twist or something like that. Every time he landed pinpoint. I said, 'I can teach this kid to play quarterback. If every time he threw a touchdown, he did a backflip we'd be famous. It was strictly from an entertainment side.'"
Klein went on to a successful high school career, played at C.W. Post and was eventually drafted in the fourth round in 1994.
If Whitfield is at the top of the pyramid, Clarkson is the foundation. He quickly made quarterback tutoring into a full-time job. Matt Leinart won national championships after coming up under his tutelage. 60 Minutes has featured Clarkson.
Perhaps Clarkson's biggest national impact was having 13-year old David Sills committ to USC in 2010. What most folks missed is that it didn't really matter if Sills actually signed with the Trojans. The point was that then-Trojans coach Lane Kiffin extended the offer.
"When the coach calls up and says, 'We want to make you a scholarship offer, what's the downside?' Clarkson said.
"It was literally like we threw a grenade over the building. The next day at my office, reporters were everywhere."
Clarkson and Kiffin were both gaming the system. They had all but erected a billboard on the 405 that read: This could be you.

George Whitfield and his QBs, which he says he sometimes starts training in the third grade. (David Wiesley, QBShooter.com)
It's now just sort of accepted that if a youth quarterback is worth anything, he has access to a personal tutor. It has come full circle for Clarkson. His 11-year old son Pierce was recruited to play quarterback for the Inland Empire Ducks, a national youth powerhouse.
Now it's Clarkson finding himself driving 90 minutes out to Riverside County for practice. It's Clarkson as the parent wanting the absolute best for his son.
"But I have mixed feelings on this," Clarkson said. "Do I really want to [be a youth football parent]? I'm kind of obligated to see what it is.
"I won't do it as a coach," he added. "I will always hand my kid over and trust the system."
A system that he helped invent. A system that is both decades old and just getting started. A system that will continue to ride on Jameis Winston's right arm.
"[Within five years], I think he'll have played in, if not won, a Super Bowl," Whitfield told CBSSports.com of Winston. "I don't think that's a stretch.
"When you look at what he brings to the table, really, he's just scratched the surface."