Stallworth's career rewrite
Ex-first-round pick Donte' Stallworth has embarked on the most unlikely post-NFL route as an intrepid political reporter.
Stallworth's career rewrite
Ex-first-round pick Donte' Stallworth has embarked on the most unlikely post-NFL route as an intrepid political reporter.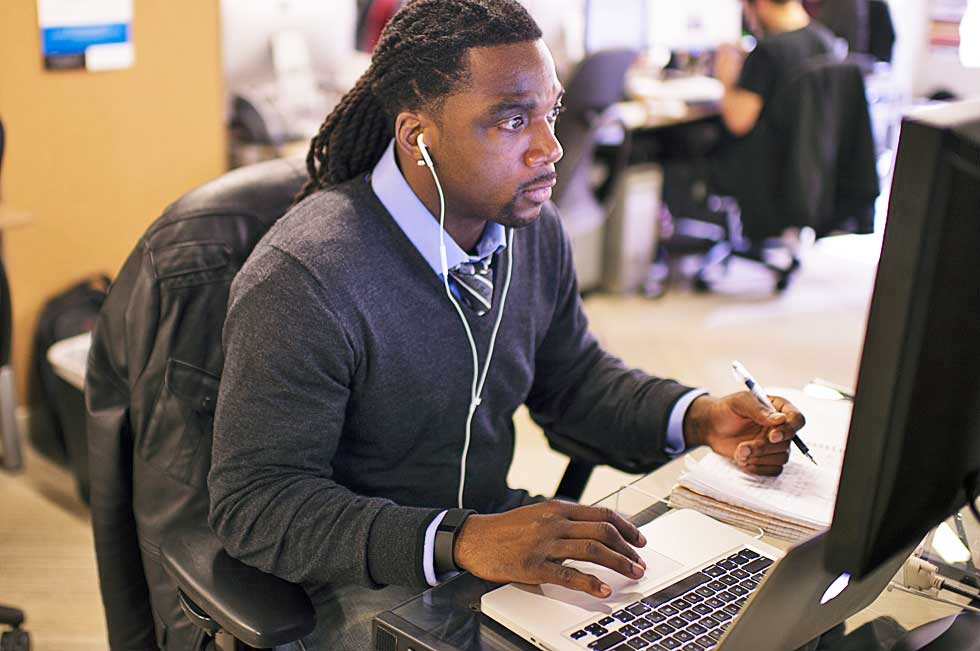 Like many former NFL players, Donte' Stallworth is now a member of the media. But that's where the similarities end.
Stallworth's NFL journey began in 2002 when the Saints picked him 13th overall in the draft. Most recently, he just completed a fellowship as a cub reporter for the Huffington Post. Not in sports, but in national security.
In between?
Well, there was a DUI manslaughter sentence, a return to the NFL from a year's suspension, and surviving a near fatal hot air balloon accident. Stallworth also dabbled in coaching, served as a football analyst, and garnered attention as an occasionally polarizing political commentator on Twitter. He has become an increasingly in-demand speaker on college campuses, and an emerging staple guest on news-talk networks like CNN and MSNBC.
Get all that?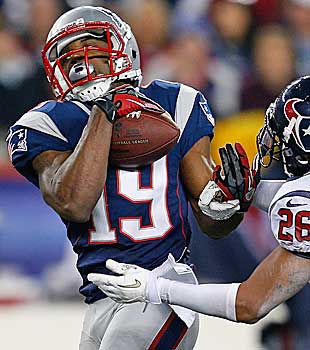 Stallworth's 10-year NFL career included stops with six teams, including the Pats twice. (Getty Images)
Stallworth's path is one less taken -- or rather never before taken -- with his journey from speedy wideout at the University to Tennessee that spawned a 10-year playing career that's now evolved into a post-football life in which he's pursuing his unique and varied interests.
He's displayed a willingness to be brash and refreshingly candid about topics that transcend anything on a gridiron, which include peace measures between Israel and Palestine, diplomatic inroads to creating a nuclear policy with Iran, foreign policy options with Cuba and emerging war-hawks from within the class of freshman Congressmen.
Stallworth has emerged as someone increasingly at peace with the end of his playing career (he last played in the 2013 preseason), which included stops with six teams, and someone whose thirst for politics and information could continue to take him in any number of directions as he navigates his way through the media and continues to find his voice as a columnist and commenter. Oh, and he's still just all of 34 years old, with so much still before him.
"There is no blueprint for this," Stallworth said, "and hopefully, I can find a balance where I can do the NFL (analyst) stuff, the speaking engagements and all of that, and still find time to be able to write for The Huffington Post, and that may be freelancing, and I'm totally fine with that. I have some relationships with the New York Times, the Washington Post, the Huffington Post, CNN, MSNBC, and that's been very beneficial to me in really trying to figure out what steps I wanted to take after football, starting with my writing.
"I'm obviously loving it, and I've got an appetite for this, but it's about more -- I just want to do something good, man. I've always felt that way, even in the middle of my career in 2005, 2006, I always said, 'I never want to be remembered as just a football payer.' And I can remember thinking to myself that I've got a lot to not be remembered for, too. I've got a long road ahead, and I just wanted to be in a position to help people, and it came under some unfortunate circumstances, but I've tried to do the best I can with moving forward."
Stallworth realizes the fact that a car he was driving under the influence struck and killed a pedestrian in 2011 is a stain he will always carry with him to many, and it's something he has to carry with him daily. He reached a financial settlement with the family of Mario Reyes after serving 24 days of a 30-day sentence, performing community service and being placed on eight years of probation. It's something he regrets horribly, but something he cannot undo no matter how much he wants to. Going to jail and sitting out the 2009 season reinforced the temporary nature of the only job he knew to that point.
"When I hit Mr. Reyes I think the aftermath of that made me realize that football wouldn't last forever, even if I was going to be able to play again," Stallworth said. "I started even then to really think about what I was going to do after football."
Getting a second chance in the NFL, with the Ravens in 2010, after his suspension, and then surviving a near-fatal hot air balloon crash in March of 2013, when the vessel struck power lines and electrocuted Stallworth, provided a perspective on life and his worldview that is certainly outside the normal experiences of most pro athletes. All of that, coupled with an innately inquisitive mind -- Stallworth's curiosity drives his pursuits outside of sports -- and a lifelong love of writing (he would write plays that his elementary school would perform and his editors at The Huffington Post rave about his natural writing ability) and you have the foundation for a truly distinctive post-playing career.
"You don't really think about what a guy might end up doing after he's playing while you're with him," said Ravens head coach John Harbaugh, the man most responsible for Stallworth's signing with Baltimore after serving his sentence. "But I guess when you think about it I'm not surprised to hear what he's been up to. Donte' is a really good person. He's a very smart, engaging guy. We've had some deeper philosophical discussions, and I've always enjoyed our texts and conversations going back to when we'd be in the Eagles special teams room for meetings (in 2006).
"And it was great to have him with us (as a coaching intern). He was great with our players, he has a really unvarnished way of talking about the mistakes that he's made, and what he's been through, and he doesn't hide from the fact that he has to live with that mistake for the rest of his life. It's something he thinks about every day and will for his entire life, and he doesn't shy away from that fact, and he wants to become an even better person because of it."
***
Stallworth's NFL chapter
Stallworth feels blessed to have great genes -- his brother and sister were top athletes as well -- and always was blazing fast, with his 4.3 time in the 40-yard dash at the combine helping propel him to the top half of the first round in the 2002 NFL Draft. He was a football junkie all his life, though his original plan was to be an astronaut. The math requirements ended that pursuit as Stallworth loved history and English but numbers were never his thing.
"I literally forgot that my parents bought me a telescope before they bought me a football," Stallworth said. "I was all about space and the stars and the planets. My parents got me a bunch of books on that stuff when I was a kid."
When he wasn't gazing at the stars above, Stallworth was studying all the games he videotaped of his beloved 49ers, loaded with Future Hall of Famers, watching them over and over again. He still has ridiculous recall about the early 1990s 49ers, particular plays and games and still refers to them as "we" and "us" when recounting the team's conquests and failures. He even ended up somewhat accidentally stalking his hero, Hall of Fame receiver Jerry Rice, at training camp once (Stallworth grew up in Sacramento).
He caught a career-best eight touchdowns for the Saints as a rookie but was soon plagued by hamstring injuries, and ended up changing teams every year he played from 2005-2013, when Washington finally released him from his second stint there (Stallworth was suspended for 2009 and was limited by injuries in 2010-2013). Stallworth signed a lucrative free-agent deal with Cleveland in 2008 (seven years for $35 million), but appeared in just 11 games before his car struck and killed a pedestrian.
At a time when many teams would find it easy to shun him, in the aftermath of that DUI homicide, the Ravens embraced him quickly after he was reinstated by Commissioner Roger Goodell. Harbaugh remained in touch with him -- he was surprised that Stallworth had been struggling with some inner demons -- and was a source of support. His conversations with owner Steve Bisciotti and general manager Ozzie Newsome paved the way for Stallworth's return to the playing field. "Anytime you have first-hand knowledge of what someone in that situation is really like, you have a comfort level with them, it goes a long way," Harbaugh said. "Signing Donte' was a really easy decision."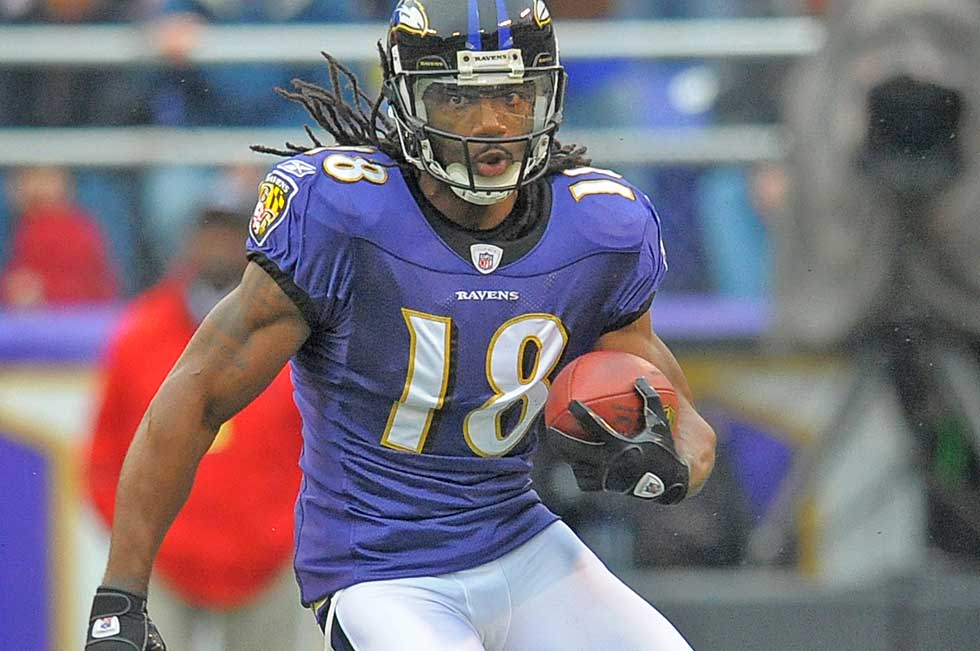 The Ravens gave Stallworth a second chance in the NFL after his manslaughter conviction. (Getty Images)
Stallworth's Ravens career was cut short due to injury (he appeared in eight games with just two receptions), an unfortunate bugaboo that would haunt him throughout his career. He spent 2011 in Washington and then returned to the Patriots -- Stallworth caught three passes in a Super Bowl loss with New England in 2007 -- but appeared in just one game with them in 2012. By this time he was already contemplating his inevitable life beyond football. He scored a touchdown vs. the Texans in Week 14 and then went on injured reserve with an ankle injury. It would be his final NFL regular-season game.
Stallworth was still rehabbing from that injury in March 2013 when he nearly died. A hot air balloon he was in struck power lines in South Florida. It's something Stallworth rarely talks about, keeping many of the details about just what he experienced, and what doctors told him afterward, to himself. But it's an experience that clearly further shaped and defined him. How could it not?
Stallworth had just been cleared to begin jogging during his ankle rehab four days before he took the hot air balloon trip, and, after surviving the scare, it set him back another two months in his recovery to full health, with the NFL still then very much on his mind. He suffered some kidney damage and doctors told Stallworth his heart had stopped for an instant. Yet somehow he emerged largely unscathed beyond skin damage and burns.
"I don't really talk about it too much, just how crazy that experience was," Stallworth said. "That was a crazy, crazy, crazy experience and a number of things could have happened after the electrocution. I could have been highly affected or I could have been dead … the doctor told me with my injuries, the electricity went in my body and it has to exit out, and a lot of people who get hit by power lines, if they don't die from it then usually they get one of their body parts blown off as the electricity exits out. I think about that, and everything I've been through, and I try to use it as a reminder not to let a day go by without chasing my passions … I just know that I strongly believe that my life has been spared, and it's not because I'm special, but it's because there is something I have to get done here."
Stallworth figures he was at about 80 percent recovered from the ankle injury in June, when he tried out for Washington at a mini-camp at coach Mike Shanahan's suggestion, and was signed after the first day on the field. But Stallworth suffered a hamstring injury in training camp, "and I started to think, 'You know what, this might be it.' "
He made it through one preseason game but was still not healthy and was released in late August. Stallworth continued training for about six weeks, for four or more hours a day, but found it increasingly difficult to get motivated to maintain that schedule.
"I woke up one day and I really didn't feel like going to train at 7 a.m.," Stallworth said. It happened again three or four days the following week, and Stallworth's transition to the next stage of his life was underway, even if he didn't fully grasp it at the time.
"I thought, if I stop playing football right now, what would I do?" Stallworth said. "And literally that week I got a phone call from a good friend, Jeremy Scahill."
It was October of 2013 and Scahill, a New York Times bestselling author and award-winning journalist covering foreign policy and the military, was starting a new online news venture, The Intercept, with fellow journalist Glenn Greenwald, who Stallworth also knew. Stallworth said, "Hell yeah!" when they asked him to contribute to it, and he figured he would do a piece or two for them while still focusing on his training regimen.
"Then I started to think more and more about writing, and less and less about football and less and less about the training part," Stallworth said. "I was like, you know, this is a great opportunity and I can just write on the things I like writing about. That's how it started."
***
Stallworth's path to self discovery
In reality, Stallworth had been carving out a niche on social media and the Internet for years simply by being himself. Outspoken. Opinionated. Well-read. Weighing in on a multitude of issues. He had already caught the attention of some bigwigs at the Huffington Post, from his social commentary on Twitter, and he was starting to hone his writing and researching chops.
It all began by studying up on Barack Obama early on, when he just announced his campaign, and seeing his improbable rise to the presidency in 2008 had further stoked Stallworth's yearning about diplomacy, politics, foreign relations and the military. The concept of an African American president seemed outside the bounds of reality, yet it was coming true, and Stallworth's fervor for politics was only growing with it. It propelled him to read more and think more and write more.
Stallworth was no stranger to controversy and criticism, especially when tweeting back in 2009 about 9/11 conspiracy theories, but it all ended up being training for his eventual foray into political journalism.
NO WAY 9/11 was carried out by "dying" Bin Laden, 19 men who couldn't fly a damn kite. STILL have NO EVIDENCE Osama was connected, like Iraq

— Donté Stallworth (@DonteStallworth) July 20, 2009
His thoughts on who was behind 9/11 have evolved the more he has studied the topic over the years, and he later expanded in more detail in an interview with Mother Jones, but tweeting about his original disbelief that Osama bin Laden had orchestrated the attacks would create something of a stir.
"Interestingly, those tweets came back to haunt me somewhat," Stallworth said, with the tempest rekindling this year when he was brought on as a fellow at the Huffington Post. "The good thing was I had learned from that experience, and not because of being called out on it -- that happened like five or six years later -- but because I actually had progressed and learned, as we should do as humans and as nature has it. Everything should progress, especially if it's our thought process. It should be more evolved."
Stallworth realized he didn't want to be a guy devoting another year or two to trying to get another NFL tryout and maybe, if it all went well, getting a chance to play in a few more games. Sure, he felt like he could have done more with his natural talent in the pro game, but now, creeping up his mid-30s, he wasn't going to be able to get those years back. He wouldn't get younger or faster or, likely, healthier. He became more of a policy wonk and much less of a workout warrior. His playing career was over.
Besides collaborating with Scahill and Greenwald, Stallworth was also approached by blog Think Progress to write about how equipped the NFL was to handle an openly gay player, as well as a story on Stallworth's former teammate in Washington, increasingly scrutinized quarterback Robert Griffin III. Stallworth was particularly revealing on the issue of homosexuality in football, which he wrote about in February 2014, as he refers to himself as a former bigot who for much of his life was homophobic, something he now views as "idiotic."
"Everything should progress, especially if it's our thought process."
"Dude, I used to be homophobic, man, very homophobic," Stallworth said. "I'm not afraid to admit it. I've said it before, and it gives me more of a reason to be able to speak out on it, because I know how they think. I was a very homophobic person and I think as time went on I got worse and worse -- never to the point where it was ever physically -- but with my mindset." Stallworth's change came from living in South Florida, where he began to associate with more gay people, including an ex-girlfriend's best friend, and some of the employees of a club he would frequent. The idea that he may have, at one time or another, given off an anti-gay air, tore at his being. He couldn't stand it. The kind of thoughts he used to harbor now made him sick. He has since become an advocate for LGBT issues, working with several outreach groups and trying to raise awareness.
His strong public stance caught the attention of Amanda Terkel, a Senior Political Reporter and Politics Managing Editor at the Huffington Post, who interviewed him for a piece she was doing on gay athletes two years ago.
"I started to get to know him," said Terkel, who also oversees the fellowship program that Stallworth would end up being a part of, "and he was a lot of fun to talk to, and was clearly a really bright, thoughtful guy. He would make a point to stop by our offices when he was in DC and he was clearly interested in other political issues and he got to know some of the people on our staff."
Stallworth also continued doing television analyst work for football, mostly in New England, and, shortly after the draft last year decided he wanted to exercise the coaching bug to make sure that wasn't an avenue he wanted to pursue more in depth, still sorting through a life in and out of the sport that long defined him. It ended up being another segue into his latest unique career turn.
Stallworth could really only picture himself being a coaching intern for the Patriots -- an organization that embraced him twice -- and the Ravens, where he rebooted his playing career after his suspension and who are coached by John Harbaugh, a figure Stallworth had gravitated to dating back to their year together in Philadelphia in 2006 (Harbaugh was special teams coach at the time). Harbaugh was immediately receptive to Stallworth's overture and he started his internship with Baltimore right away, joining them in June for OTAs and coaching the team's wide receivers through training camp.
It was as perfect a scenario as possible. Stallworth knew and loved the head coach and had a relationship with the owner and had mastered the offense as a player. He had played with many of the key offensive players, and it was an organization and city that had embraced him as a player. But the 16-hour days and the total and complete devotion to football and football only that it required wasn't as much fun, and rewarding as it was, it was not be Stallworth's calling. "I was completely burned out when camp ended, and the season hadn't even started," Stallworth said.
If Stallworth wasn't enraptured with coaching as a part of the Ravens staff, with Harbaugh as his guide, then it definitely wasn't the career for him.
"Donte' did a terrific job with us and there is no doubt in my mind that if he wanted to stick with it, he'd be an excellent coach," Harbaugh said. "He's really smart, he picks things up easily, he could relate really well to our players. But the biggest decision you have to make is do you want to devote every waking hour, almost year round, to coaching, and Donte' like a lot of former players, found that wasn't what he was ready to do at that time."
Stallworth landed back in Baltimore around 3 a.m. after the team's final preseason game at New Orleans, made a brief trip to Miami for the wedding of Dwyane Wade and Gabrielle Union, then had to be back in Baltimore to speak at John's Hopkins University around Labor Day, when he was also going to spend some time in D.C. and make another visit to the offices of the Huffington Post.
This time he would end up spending six months there.
Stallworth was likely going to be doing some blogging for the website, had a growing list of contacts there, and the Huffington Post had been his homepage for years. So it seemed like a natural match. On his way out after wrapping up this visit to the office, however, he was approached by a top editor and asked if he had a little more time to talk.
Stallworth ended up being offered a six-month fellowship where he would be thrown into reporting on national security issues, assisting the full time staff, attending briefings and press conferences and interviewing lawmakers. It was basically glorified grunt work that just happened to be in a field he could not get enough of.
"We had sparked a relationship with him, and when he was in D.C. he would swing by the office," said Sam Stein, the Senior Politics Editor at the website who would work closely with Stallworth and had been monitoring his political tweets for some time. "We kind of had this fascination with his life, and he was fascinated with ours. It was mutually beneficial, and we knew he had this interest in national security policy -- he had done a story or two we had read -- and at some point we offered him an opportunity to be a fellow with the thought that he would bring a very interesting and unique perspective."
Stallworth was planning on moving to New York, but quickly found a place in Washington. He would continue to go to New England for Patriots commentary on the weekend and he could do his appearance in CNN, et al from their studios in D.C. "They asked could I start on Oct. 2, in like four weeks," Stallworth said. "I was like, sure, OK."
With the help of good friend Amy Palcic he was moved in within three weeks, finding a spot a short walk from the Huffington Post offices.
The fellowship was announced in September -- Arianna Huffington herself tweeted the news -- and Stallworth would spend from 9 a.m. until 6-7 p.m. or whenever, everyday, scurrying to Capitol Hill or the White House or some think tank helping to cover stories. He was gathering information for other reporters mostly, getting quotes from impromptu protests, taking pictures. Anything he could do to help. No task was too small. His enthusiasm, work ethic and open-mindedness quickly lit up the operation there, and what Stallworth lacked in journalism background he made for in instincts and hustle.
Panel on Comprehensive Nuclear-Test-Ban Treaty #NukeFest2015 pic.twitter.com/xVFqWxJVNp

— Donté Stallworth (@DonteStallworth) March 23, 2015
Rally to arm Ukraine underway in front of the White House pic.twitter.com/VDCHBoYPyc

— Donté Stallworth (@DonteStallworth) March 26, 2015
"It was funny because reporters tend to be crusty and cynical and generally miserable people," Stein said, "and Donte' brought this vigor to it. It was all new to him. He had been on other side of this relationship [as a player], and now he got to explore being a reporter, and in addition to that I think he generally was intrigued and fascinated by the topics he was covering. More than anyone else here he was really eager to learn, and there was not a thing he didn't volunteer for, not a thing he didn't want to do, and we continuously found that he was doing some random act of reporting even when we didn't assign it to him."
Getting to hang out in the White House press room and go inside the Pentagon had Stallworth giddy like a little kid ("Have you ever been in the Pentagon?" he asked me. "Dude, it was amazing. I had like goose bumps walking around in there").
When a daily Associated Press briefing memo would come out in the morning, detailing where politicians would be giving speeches or other mundane and often utterly un-newsworthy events were taking place, Stallworth would light up. He opted on his own to go hear a freshman senator give a talk on Iran nuclear policy this winter before it became a big political topic in this country -- and before that same senator, Tom Cotton, would write a controversial letter to Iran. When he brought some newsworthy quotes back to the office, Stein was impressed. "I was like, damn, you've got a good one here, Donte'," Stein said.
Stallworth needed help with fundamentals of news-writing -- some general organization issues, how and when to use quotes -- but Stein and others worked closely with him and he certainly held his own. Terkel tried to boost his confidence in his ability to write strong news stories ("Donte' was more talented at journalism than he realized," Terkel said). And Stallworth was not shy. Sent out with a camera crew one day when Texas Senator Ted Cruz was under fire for his state's use of the death penalty against a severely mentally ill man there, he jumped into the fray. "He was totally fearless," Stein said. "He just went up to the guy with his mic and started asking questions."
Terkel had given him the assignment, with the caveat that lawmakers rarely speak to the media at these events and there is always a back door or security exit away from the cameras. "It's not easy getting them to talk and there is always somewhere for them to run," Terkel said. "And Donte' did a great job and went up to him after the event was over and had to follow him into an elevator I think to get a quote from him and the story was fantastic."
Stein said his publication is excited about continuing to work with Stallworth well beyond his fellowship -- which just wrapped up -- and Stallworth wants to continue doing the work. Reporting from Capitol Hill isn't exactly what Stallworth has in mind, though the six-month intensive internship gave him an invaluable journalism crash course. He is consumed with continuing to express his opinion on events and issues that impact Americans and the globe.
Stallworth remains enthralled by the goings-on of Washington -- he's extended his lease there for another six months -- and he has conference calls planned with the Huffington Post to try to further carve out an ongoing niche there. He wants to continue weighing in on foreign policy and national security. He's inspired by the investigating work VICE is doing and enamored with experimenting with field reporting and short documentaries on pressing social issues.
He wants to find a forum to draw more attention and awareness to the many positive things athletes are doing in their communities. And he's ruminating on possible platforms to provide for other athletes who are willing to speak out about issues dear to them. He loves his football gig with Comcast New England.
Get all that?
Suffice to say, he's wide open to whatever comes next, and willing to go in a direction very few others might consider. It's served him well to this point, and Stallworth won't be stemming his curiosity, or worrying about conforming to certain norms about what players can and should do after they leave the game anytime soon. There's too much still to do to waste time pondering that.