The Big Trade-off
Clinton Portis wanted to be The Man, but did the mega-trade that made him a rich man in Washington cost him a shot at football immortality?
The Big Trade-off
Clinton Portis wanted to be The Man, but did the mega-trade that made him a rich man in Washington cost him a shot at football immortality?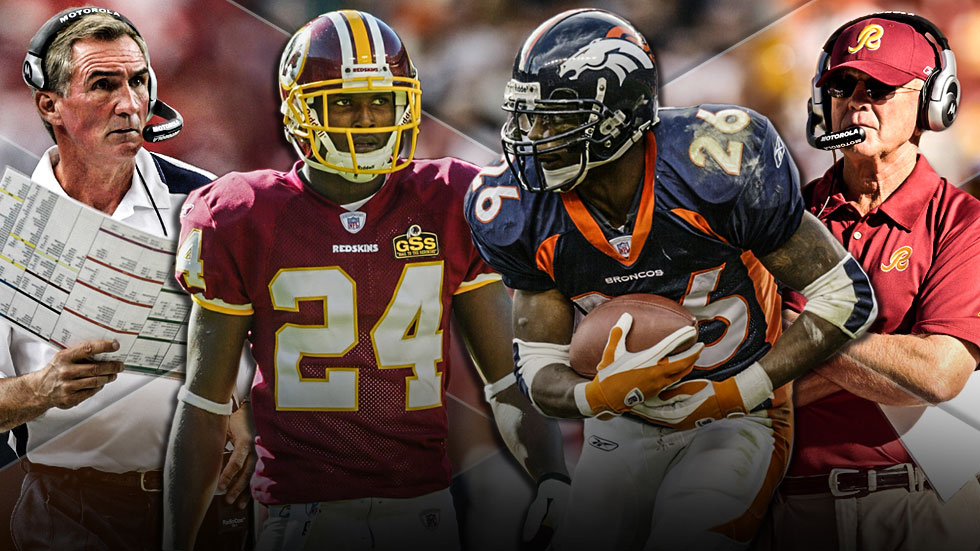 It was Draft Day 2002 and Clinton Portis' phone was ringing. And who better to be on the line than Denver Broncos coach Mike Shanahan.
Talk about a marriage made in halfback heaven: Portis, the latest in a long line of luminaries in the University of Miami backfield, playing for Shanahan, whose uncanny ability to develop star running backs was, is and always will be the stuff of legend.
So how did Portis respond when Shanahan delivered the news that the Broncos had selected him in the second round?
"Why didn't you take me in the first round?"
Typical C.P. cracking wise, questioning authority and touting his talent, all in one question.
As things turned out, he had a point.
Portis was the fourth running back selected that day, drafted 51st overall, and none of the three first-rounders -- William Green, T.J. Duckett or second-rounder DeShaun Foster -- had an NFL career remotely close to his.
But that's beside the point. The point is, Portis knew he was bound for glory and wanted everyone to know it.
"All I know is, I was a bad man," said Portis. "You can say what you will, but there wasn't a better running back in the league than when I was in Denver. That's a fact."
Portis is on the very short list of backs who've run for 1,500-plus yards in each of their first two NFL seasons. His 5.5 yards per carry was right out of Barry Sanders' personal playbook. Every time he touched the ball, he was a threat to leave would-be tacklers grasping and gasping for air.
Portis was on the fast track to replacing Terrell Davis as the greatest running back in franchise history. But then Shanahan, much like Portis himself, made a quick cut against the grain and traded him to the Washington Redskins for all-pro cornerback Champ Bailey and a second-round draft pick.
Why toss in a second-rounder? Because Portis had two years remaining on his team-friendly rookie contract. Bailey, meanwhile, was a perennial Pro Bowler who wanted to get paid immediately and wanted nothing to do with a franchise tag, leaving the Broncos in a precarious position.
"It wasn't a sign-and-trade deal," said former Broncos general manager Ted Sundquist. "Champ wanted to get paid. We were confident we could get a deal done, but there was no guarantee. We were taking a risk. We could have been stuck without our all-pro running back and no Champ."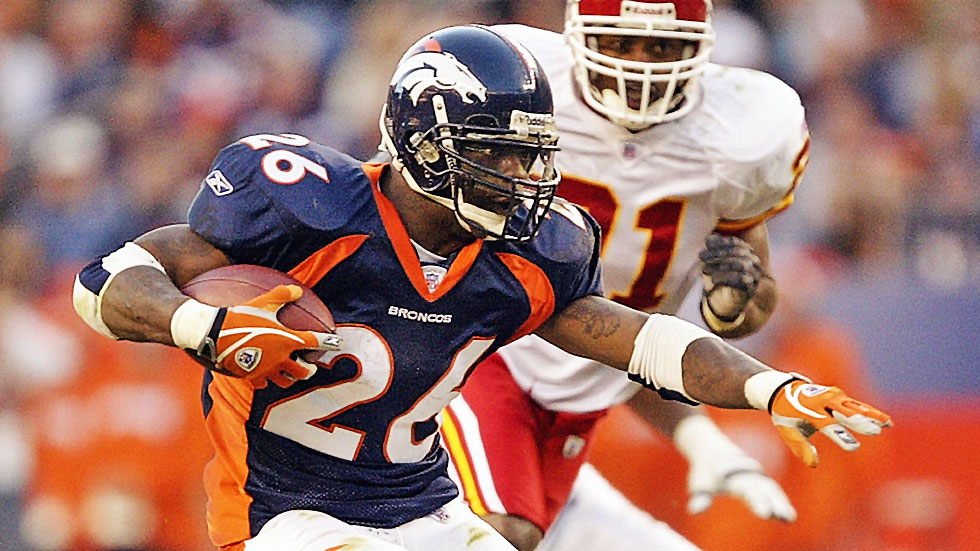 Clinton Portis averaged 5.5 yards a carry in his two seasons in Denver. (Getty Images)
As things turned out, Bailey and the Broncos agreed on a seven-year, $63-million contract that made him the highest-paid defensive back in NFL history. But make no doubt, the deal was a financial stretch for the Broncos. To wit: To get the deal done, Bailey had to agree to take his $18-million signing bonus in three installments.
The trade, finalized on March 4, 2004, wasn't just heard 'round the Rockies and among the monuments. The deal rocked the pro football establishment and sent the sports world temporarily spinning off its axis.
This was no aging Johnny Unitas or Joe Namath or Tony Dorsett hobbling off to some new area code in a hopeless attempt to resurrect a legacy. Nor was it Herschel Walker or John Hadl being dealt for piles of faceless draft picks. No, this was two superstars in the sunshine of their youth, their best years clearly ahead of them, essentially traded straight up by two iconic coaches, Shanahan and Hall of Famer Joe Gibbs.
More than a decade later, the deal remains one of the biggest blockbusters in NFL history. There was no fine print, no strings attached, no horde of draft picks, no nothing. The Bailey-Portis deal was two mega-names swapped basically even up, with the Broncos receiving a No. 2 on the side that ultimately turned into Oklahoma State tailback Tatum Bell.
"What was shocking to me was that we were traded for each other because I had never seen anything like that," Bailey told the Broncos' website. "I'd seen people get traded for draft picks and stuff, but usually players -- Pro Bowl players, at least -- don't get traded like that."
Said Portis: "I couldn't believe it at first, but I was ecstatic. Joe Gibbs could have gone out and gotten any back he wanted and he chose me. I was a big Champ Bailey fan when he was at Georgia. He was a proven guy, a lock-down corner. Being traded for a guy like that, that says a lot about what I brought to the table."
****
So how did such an unlikely turn of events come about? In retrospect, it's remarkable how easily the dominos fell, how, to use former Broncos general manager Ted Sundquist's term, the stars aligned to make the deal go down. The bottom line was just that, the bottom line.
The genesis of the deal was Bailey and Portis wanted to be among the highest-paid players in the league at their positions, and both the Broncos and Redskins had daunting salary-cap issues staring them in the face or looming on the horizon. The players' agents -- Jack Reale for Bailey, Drew Rosenhaus for Portis -- facilitated the deal, but finances dictated it.
Bailey's situation involved more immediacy. Since he had played in four Pro Bowls in his five NFL seasons, the Redskins had only two options if they had kept him: slap the franchise tag on him or sign him to a lucrative long-term deal. In the end, Washington passed on both options.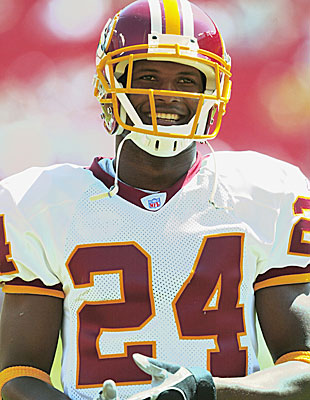 Champ Bailey was the quintessential lock-down NFL cornerback.(Getty Images)
"We couldn't justify paying Champ the kind of money he wanted," said former Redskins director of football operations Vinny Cerrato. "We weren't good enough at the time to where one player was going to make or break us. So we decided to trade Champ so we could sign three or four other players. We went to the combine trying to trade Champ and we were getting some luke-warm reaction, not what we expected for a Pro Bowl corner."
But the deal got done, and quickly. How quickly?
"It took about two days," said Cerrato.
The two teams may have agreed to the trade that quickly, but the groundwork for the deal was laid two months earlier on a blustery day in Mobile, Ala., when Reale approached Sundquist and the Broncos' scouting staff high atop Ladd-Peebles Stadium as they watched practice during Senior Bowl week. Sundquist knew Reale well, what with the two having negotiated a long-term deal for former Pro Bowl kicker Jason Elam.
"Everything that went down with the trade circles back around to that whole thing with Jack at the Senior Bowl," said Sundquist. "I was way up in the stands with our scouts and I'm thinking, 'One more practice, really?' It was cold and rainy and we wanted to get out of there. And now here comes Jack, walking up all those steps. I'm thinking, 'I wonder what he wants?' When he told me we could get Champ, I was shocked. I couldn't believe a player like that could be available."
Sundquist reported the news to Shanahan and the wheels immediately started turning. Shanahan not only considered Bailey the best cornerback in the league, he had connections with the Redskins, having worked with Cerrato in San Francisco in the early 1990s, when Shanahan was the 49ers' offensive coordinator.
The Broncos didn't want to move Portis, but he came with strings attached. Sure, he had only played two seasons, but it was different for him. He was a running back, the James Dean of positions on a football field, where flash is invariably followed by fade.
He wanted to get paid, and he wanted the Broncos to be quick about it. Add Rosenhaus, who had a history of contentious negotiations with other NFL teams, to the equation, and Shanahan's interest was piqued.
"I felt, at the time, that Clinton was going to be very hard to sign, that he was going to be demanding a very big paycheck," said Shanahan. "In this game, you've got to make decisions. You've got to take a look at your roster and see what players give you the best chance to win championships. When I heard we had a chance to get Champ Bailey, I felt I had to pursue it."
Certainly, the changing ways of the NFL, with dramatic rules changes to promote the passing game and scoring, played a significant role in the trade. Those changes placed an emphasis on defensive backs who could cover one-on-one and served to de-emphasize the importance of the running game.
And yes, Shanahan's personal experience played a role, too. To wit, five years earlier, he had given Davis a long-term contract that included a bonus of $11 million, only to see his star running back tear up his knee four games into the 1999 season.
Mike Shanahan knew that paying RBs big money was a huge risk. (Getty Images)
With Davis sidelined, rookie Olandis Gary stepped up and ran for 1,159 yards in 12 games. Nothing unusual there, not in Denver. Six different running backs -- four rookies, not a first-rounder in the bunch -- eclipsed the 1,000-yard mark 11 times in Shanahan's first 12 seasons as the Broncos' head coach. Sure enough, Bell, the player the Broncos selected with the second-round pick in the trade, ran for 1,000-plus in 2006.
The moral to the story? Shanahan was confident that, for all of Portis' talents, he could develop another back to fill the void. What he couldn't do was develop another cornerback with Bailey's multi-dimensional talents. Bailey not only could cover the best wide receivers in the league, he was a major contributor in defending the running game. He was, in short, Deion Sanders meets Dick Butkus.
"He was the total package," said Shanahan. "I just felt like I couldn't pass up an opportunity to get a guy like that. You didn't have to worry about his side of the field on game day. You had 100 percent confidence he was going to play his best when the pressure was on him. He didn't just cover half the field, he baited people into throwing against him."
****
If Bailey was the standard of the industry among NFL defensive backs, Portis, at 22, was too young and explosive for Gibbs to pass up. The Hall of Fame coach had just been lured out of an 11-year retirement two months earlier and was looking for a big-name back to revive the glory days of John Riggins and the Hogs. Add in Redskins owner Dan Snyder's love for acquiring marquee names -- Sanders and fellow Hall of Famer Bruce Smith among them -- and the seeds for a deal were sown.
Still, the trade may not have gone down if Sundquist hadn't attended the Super Bowl in Houston a few weeks after the Senior Bowl.
Typically, the Broncos' front office and coaching staff is in vacation mode in late January, but Sundquist decided to sneak in some R 'n' R at Reliant Stadium.
"I just thought, you know what, once the Super Bowl ends, we're working non-stop through the draft. So I decided to take my wife and enjoy the game," said Sundquist.
And what team did the Broncos' contingent share a suite with that day? That would be the Redskins. Sure enough, the game hadn't even started when Snyder pulled Sundquist aside for a quick fact-finding session. Said Sundquist: "We were leaning over the railing and he's asking me, 'What kind of guy is Portis? Is he a good kid? How does he deal with injuries?' It was just a good-natured interrogation on Clinton. The fact that he came to me and told me how serious they were, I knew at that moment that it wasn't just Jack trying to make something happen. I thought to myself, 'Wow, we may actually have a chance to get Champ Bailey.'"
Things heated up in a hurry as February gave way to March. That's when both teams' decision makers found themselves at the NFL Draft Scouting Combine in Indianapolis.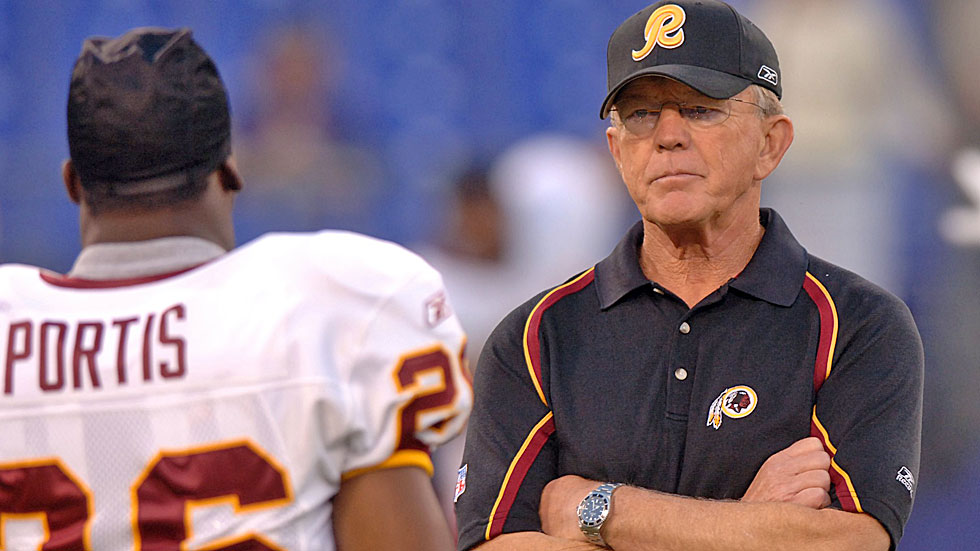 Joe Gibbs saw Portis as the big-name back he needed to revive the Redskins. (Getty Images)
Phone calls and hypotheticals were one thing. Once Shanahan and Cerrato found themselves face to face in the cold of the Indiana winter, it was time to seal the deal. Not only that, Reale and Rosenhaus were in town, too, giving both teams a chance to reach contract agreements before the trade became official.
"I called Mike and he says, 'You give me Champ and I'll give you Portis,'" said Cerrato. "I was walking over to the hotel and I went straight back and found Dan and Joe Gibbs. We talked about it and Joe told our coaches to watch some film on Portis before we agreed to the deal. It was thumbs up, so I met with Drew to get the deal done. It was pretty simple, really. Both players wanted out of their teams, so the agents got the deals done quickly. A lot of times, deals take forever to get done, but these were very easy."
****
The biggest factor in facilitating the trade? In the end, it may have been an intangible. It may have come down to personalities. Bailey, for all his Hall of Fame credentials, was quiet and low key, as befitting his small-town Georgia roots. He even played a position, cornerback, in which the better you played, the less attention you got.
Portis? He was big and bold and brash. When it came to warming to the spotlight, he was a one-man swarm of moths. He thrived on the University of Miami culture -- The U, as all those former Hurricanes call it. He came from a long line of Miami backs including Chuck Foreman, Alonzo Highsmith, Edgerrin James and Willis McGahee, just to name a few. Frank Gore, still playing in the NFL at 32, followed Portis to the NFL a year later as the 65th pick.
Flashy? That's who Portis was, what he was, how he was wired, and The U is where he stayed in the offseason, working out with other Hurricanes NFL players instead of with his Broncos teammates. So it was that, from his earliest days in Denver, Shanahan and the rest of the Broncos' brain trust wondered if Portis would be a long-term fit in a city he had never visited before the 2002 draft and hasn't returned to since retiring from the NFL 10 years later.
"I was happy in Denver, but I was glad to go to Washington," said Portis. "I wanted to be on that stage. I wanted to be The Man. I was just too young to appreciate Denver when I was there. I was flamboyant and they wanted me to tone it down. I was just young and fun. I was kind of oblivious to what the NFL was. People forget that I was 22 years old when the trade went down."
Unlike Davis, an afterthought sixth-rounder who often arrived at the Broncos' facility in faded blue jeans and ragged T-shirts, Portis loved to look the part of a superstar running back from The U. He may not have been former Steelers halfback John "Frenchy" Fuqua, who kept a goldfish in the heels of his signature glass shoes, but he was a sight to behold on game day. He often would arrive, Miami posse intact, in suits ranging from pink to lavender to lime green, all with the obligatory matching alligator shoes.
"It was always me, my personality," said Portis. "I was never going to change. I was young and I liked to have fun, and that wasn't going to change once fame and money came. It was always that way with me. I never lacked confidence in Denver and I'm not sure they knew how to deal with me."
An important distinction to make: Yes, personality played a huge part in Portis' departure from Denver, but it wasn't a personality rift. It wasn't his inability to get along with his fellow players and coaches, most notably Shanahan. The ultimate irony of the trade was that, years after the deal went down, the two were reunited in Washington after the Broncos fired Shanahan following the 2008 season.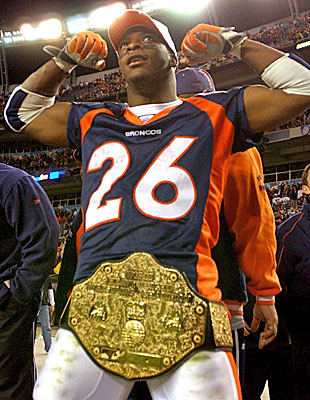 Clinton Portis never lacked for confidence. (Getty Images)
"I loved Clinton," said Shanahan. "He was an excellent running back and he was fun to be around. I just thought, as much as Joe Gibbs valued the running game, the timing was perfect. It was a great opportunity to get a player the caliber of Champ Bailey. In the end, the trade was a good deal for both teams."
By all accounts, both organizations and both players were content with the trade. Bailey signed a seven-year, $63-million contract -- $18 million guaranteed -- making him the highest-paid defensive back in NFL history, and played long enough to sign a second megadeal with the Broncos.
Portis, meanwhile, agreed to an eight-year, $50.5-million deal with $17 million guaranteed, at the time the most lucrative contract in Redskins history. It was more than money, though. Both Portis and Bailey stayed relatively healthy and enjoyed long, productive NFL careers, no given in a league former Falcons coach Jerry Glanville once dubbed the Not For Long.
Bailey played 10 seasons in Denver before winding down his career in 2014 after failing to earn a roster spot in training camp with the New Orleans Saints. His 52 career interceptions and 12 Pro Bowls make him a lock for the Pro Football Hall of Fame.
And what did he do after playing his final snap on Sundays? He signed a one-day contract with the Broncos before walking off into the Colorado sunset, a sight he still enjoys from his home in the foothills of the Rockies.
Portis wasn't the explosive back he was in Shanahan's star system, but his workhorse ways enabled him to grind out 1,200-plus yards in four of his first five seasons in Washington. By the time he walked away, he had narrowly missed out on the exclusive 10,000-yard Club, finishing his career with 9,923.
He played his final NFL game in 2010 before officially announcing his retirement in 2012. He now works in sports radio in D.C. and as a sideline reporter on Redskins preseason games.
But those back-to-back 1,500-yard seasons at the onset of his career begs the question: What if Portis had stayed in Denver in Shanahan's zone-blocking system? Would he have wound up in Canton? It's hard not to wonder, given the success of the less-talented backs that starred in Shanahan's scheme in the years after Portis left.
Reuben Droughns, a former third-round pick who'd combined for just 25 yards in Portis' two seasons in Denver, rumbled for 1,240 yards in 2004 as the Broncos' feature back, getting 4.5 yards a crack. In 2005, Mike Anderson, an undrafted former marine who'd played in his high school's marching band, racked up 1,014 yards while Bell added 921 and former Heisman winner Ron Dayne tacked on another 270. In 2006, Tatum Bell (1,025) and Mike Bell (670 yards) both averaged over 4.3 yards per carry.
Portis, meanwhile, ran for 1,315 and 1,516 yards in his first two seasons in Washington in Joe Gibbs' power scheme, and also went over the 1,200-yard mark in 2007 (1,262) and 2008 (1,487), but he never again came close the gaudy 5.5 yards a carry he'd averaged in Denver. His highest marks in Washington were 4.3 yards a carry in 2005 and 2008.
The list of running backs never to reach the 1,500 mark in their rookie and sophomore seasons includes, among other neon names, Jim Brown, Barry Sanders, Emmitt Smith and Walter Payton.
So, does Portis, whose numbers don't appear to be Hall of Fame-worthy, ever wonder what might have been?
"No, I don't think about that stuff," said Portis. "I accomplished a lot in my career. They threw a lot at me after the trade. I was 22 years old and was asked to be a leader with the Redskins, and I did it. I was a very productive player and had a long career. I'm happy with the way everything turned out."
And he's happy the trade worked out for both teams.
"It's really rare for trades to work out for both sides, but this one did," he said. "I still think about it sometimes. Champ is a guy I was in awe of. He's one of the greatest players to ever play his position in the NFL. To be traded for a first-ballot Hall of Famer, that's something they can never take away from me."
---
Jim Armstrong is a former Denver Post sports columnist who has written for ESPN's Page 2 and appeared on 'Around the Horn.' This is his first story for CBS Sports.