Derek Carr leads the up-and-coming Raiders against the rival Chargers
Chargers at Raiders
Derek Carr leads the up-and-coming Raiders against the rival Chargers
Chargers at Raiders
December 24, 2015 - 8:25 ET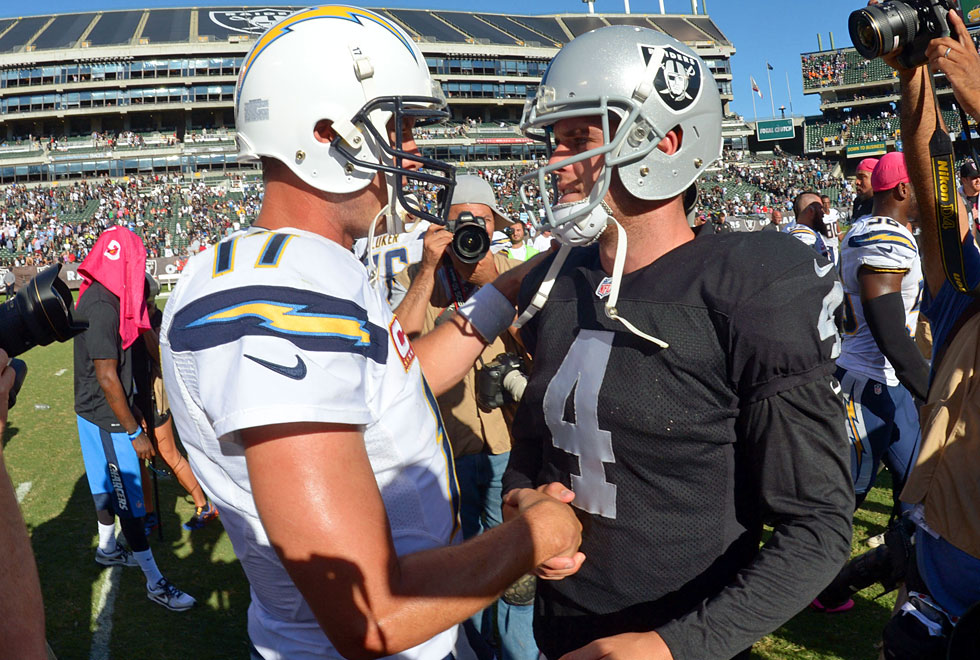 Watch Now
| Chargers-Raiders preview

Watch Live
It's safe to say that Oakland Raiders starting quarterback Derek Carr has taken a significant step forward in this, his second NFL season. His improvement is apparent both on film -- where it's obvious how much more comfortable and confident he is in the offense -- and in his numbers, which are up almost across the board.
Heading into Thursday night's game against the division rival Chargers, Carr has already thrown for 319 more yards than he did as a rookie, on 97 fewer pass attempts. He's also already hit the 30-touchdown mark in 14 games after tossing 21 scores during his debut season.
Derek Carr Performance
YEAR
COMP %
YPA
TD %
INT %
RTG
QBR
2014
58.1%
5.5
3.5%
2.0%
76.6
38.2
2015
61.0%
7.1
6.0%
2.2%
93.5
54.2
Digging a little bit deeper, you can see that Carr's improvement has been evident across basically all areas of the field -- on throws to the left, middle, and right; and on short (less than 10 yards), medium (10-20 yards), and deep (20-plus yards).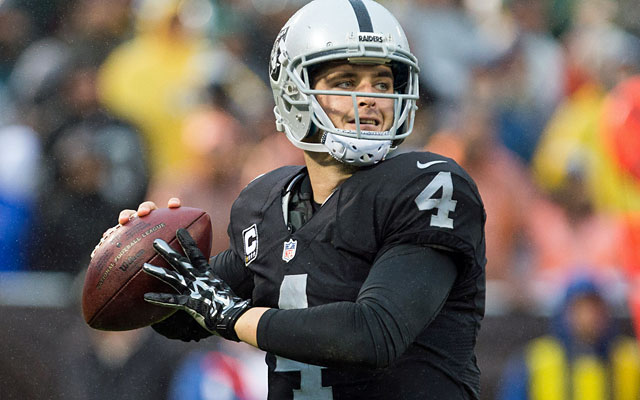 Other than on throws of 10-20 yards, Carr has completed a greater percentage of his passes in every direction and at every depth in 2015 than he did in 2014. His throws have produced a greater yards per attempt figure and a better passer rating in every direction and at every depth, as well.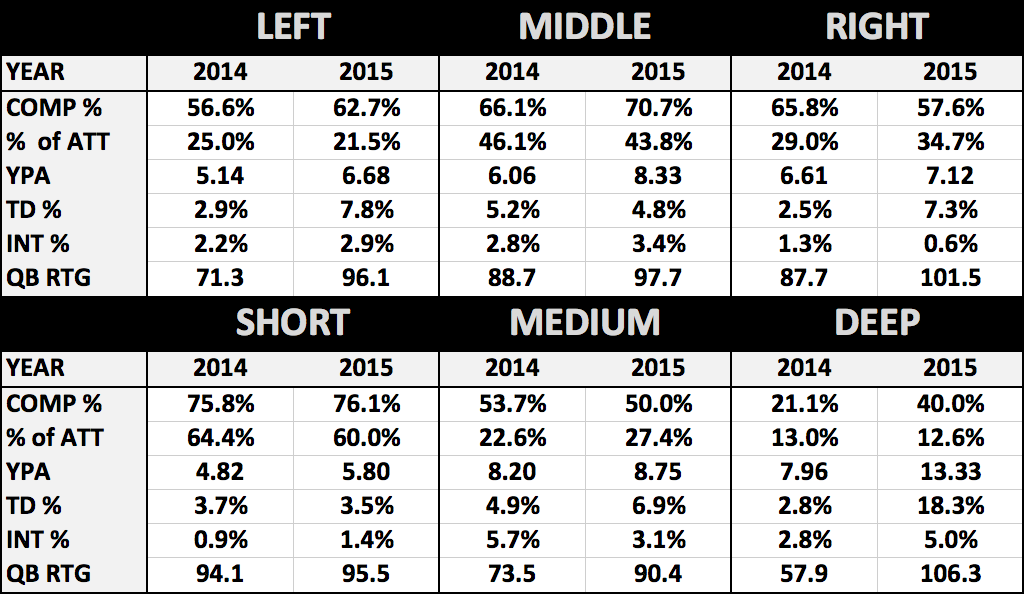 As a rookie, Carr split his passes fairly evenly between the right and left sides of the field (29 percent to 25 percent), but his throws to the right -- the side of the field a right-handed quarterback's body naturally faces after taking the snap -- were far more productive. They were completed at a higher rate and for more yards per attempt, they were intercepted less often, and they thus yielded a significantly higher quarterback rating.
This year, Carr has peppered the right side of the field with even more throws -- 34.7 percent of his total. Those passes have not been completed at quite as high a clip as last year, but they've been significantly more productive overall -- 12 of his 30 touchdowns have come from throws to his right.
The most notable area of improvement for Carr, though, has been on deep passes. Last season, Carr completed only 15 of 71 passes thrown 20 yards or farther down the field, with those throws yielding just two touchdowns and two interceptions. Carr has thrown deep in 2015 just about as often as he did as a rookie (4.2 attempts per game vs. 4.4), but again, those throws have been much more productive. He's completed 24 of 60 deep passes this season, with 11 of those 24 completions turning into touchdowns.
Carr has been particularly effective targeting rookie wideout Amari Cooper on deep throws -- Cooper has caught 10 of the 16 passes thrown his way and at least 20 yards down the field, and though he's struggled with drops this year in general, he hasn't dropped any deep balls. Four of Cooper's six touchdowns have come on these types of passes, as well.
In addition to being a wonderfully effective receiver, Cooper works well as a symbol of another important facet of Carr's second-year leap: he's simply surrounded by better talent this season than he was as a rookie.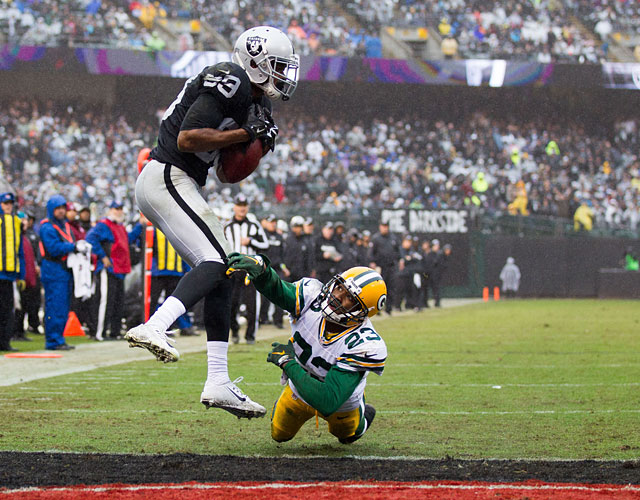 The 2014 Raiders had one of the most depressing groups of wide receivers in the NFL: they were led in snaps, receptions, and touchdowns by James Jones (who was not nearly as good outside of Green Bay as he is when living in the Aaron Rodgers cocoon), and led in yards by Andre Holmes. That duo was supplemented by the likes of Kenbrell Thompkins, Brice Butler, Denarius Moore, Vincent Brown, and Rod Streater, who combined for one more catch in 16 games last season than Cooper has in 14 games as a rookie.
Holmes, the No. 2 receiver last year, is now the No. 4 (and playing only about 20 snaps a game, as opposed to more than twice that many in 2014) behind Cooper, slot man Seth Roberts, and one of the best free agent signings of the offseason, Michael Crabtree. Wasting away in San Francisco for the last couple years, Crabtree has been rejuvenated in Oakland. His 76 catches and seven touchdowns each lead the team, and he was rewarded for his performance with a long-term extension a few weeks ago.
Tight end Mychal Rivera saw heavy usage in 2014 out of necessity and caught a bunch of passes out of relative proximity, but his snaps have been cut in 2015 as Lee Smith has emerged as an excellent blocking tight end. Clive Walford, a third-round rookie who was woefully underutilized at the University of Miami, has also earned more and more of Carr's trust in the passing game as the year has gone on.
And it's not just the receivers. Latavius Murray hasn't been quite as productive lately as he was early on (he averaged 4.77 yards per carry through Week 9 but is at only 3.13 since), but he's still a significant step up over the Darren McFadden/Maurice Jones-Drew combination that dominated carries last season until Murray took over late in the year. Murray is 44 yards away from joining Doug Martin, Adrian Peterson, and Todd Gurley as the only runners with 1,000-plus yards so far this season, and both he and H-back Marcel Reese have added value in the passing game as well.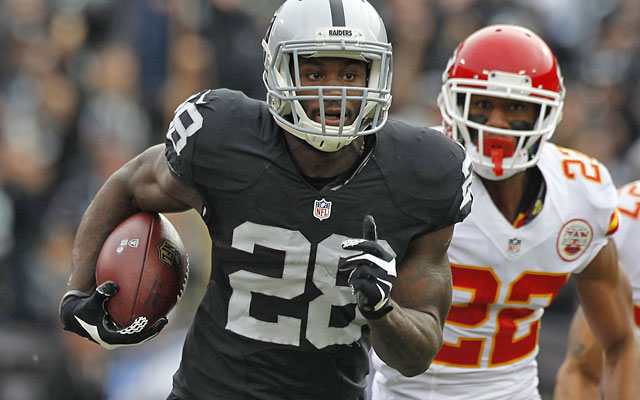 Arguably the biggest improvement the Raiders have made this year, though, and undoubtedly the most essential to Carr's success, is along the offensive line. Pro Football Focus grades the Raiders' unit up front as the second-best pass-blocking unit in the NFL this season, trailing only the Dallas Cowboys and their army of first round Pro Bowlers. Football Outsiders credits Oakland with the NFL's lowest Adjusted Sack Rate, which adjusts plus intentional grounding penalties for down, distance, and opponent.
Carr and the line have helped each other improve on those numbers from last season. By getting rid of the ball quicker this season (his average time to attempt is 2.41 seconds in 2015, a full tenth of a second faster than last year), he's allowed the line to not have to protect for quite as long. And the line has in turn rewarded him by holding up longer when he does need to hang onto the ball to either let receivers get deeper or move through his progressions beyond the first read.
The average Carr sack came within 3.54 seconds of the snap last season; this year that number is up to 3.95 seconds. A difference of 0.41 seconds might not seem like much, but considering the average QB can get rid of the football in half that time, it means the world.
Left tackle Donald Penn and left guard Gabe Jackson are the lone holdovers from last season's line still playing the same position, and it's no coincidence that they're the line's two most effective blockers. Austin Howard, signed away from the Jets before last season, has moved outside from guard to tackle, and his play his picked up considerably. Center Rodney Hudson was given one of the largest contracts for a center in free agency and has rewarded the Raiders with excellent play when he's been on the field.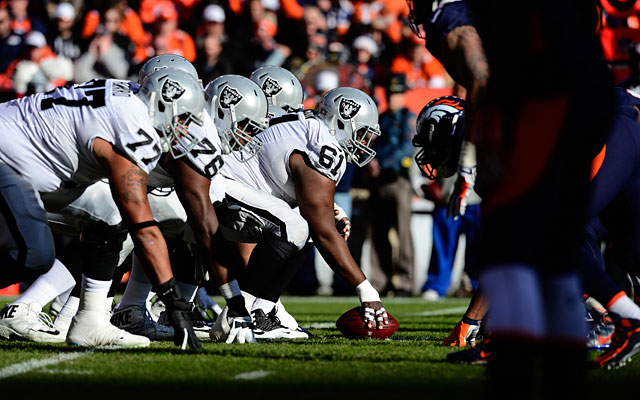 Better protection, better receivers, and a better running game? We probably shouldn't be all that surprised that Carr has been significantly better himself.
In Thursday night's opponent, Carr faces a tougher test than one might think given the Chargers' 4-10 record. The Chargers don't collectively rank very well in pass defense -- 23rd in passer rating allowed, 27th in opponents' yards per pass attempt, 26th in pass defense DVOA (Defense-adjusted Value Over Average, which adjusts performance for down, distance, and opponent) -- but they do have some excellent individual players that could prove disruptive in one way or another.
Melvin Ingram and Jerry Attoachu form a solid pass-rushing duo, for example. Their 88 combined quarterback pressures are the fourth-most among 3-4 outside linebacker duos this season. Jason Verrett, who seems likely to shadow Cooper (he's shadowed A.J. Green, Antonio Brown, Steve Smith, Alshon Jeffery, Allen Robinson, Emmanuel Sanders, Jeremy Maclin, and Cooper himself already this year), has been one of the NFL's best cornerbacks this season. He currently has Pro Football Focus' No. 1 player rating at the position, having moved ahead of Josh Norman after Week 15. And Patrick Robinson has been excellent in the slot, allowing only a 66.5 passer rating when covering receivers inside -- the fourth-lowest figure in the NFL.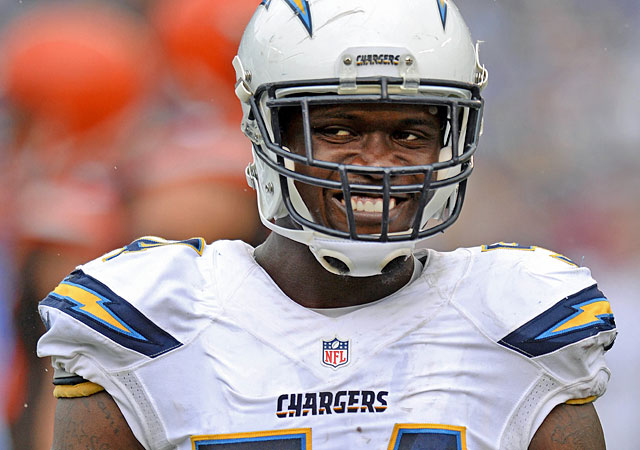 Here are a few more things to know about this AFC West matchup:
Rank 'em: In this week's edition of Prisco's Power Rankings, Oakland checks in 20th while the Chargers are sitting at No. 24. Pat Kirwan has the Raiders at No. 14 and San Diego 21st.
Last call for a legend: Raiders cornerback Charles Woodson announced that he'll retire at the end of the season. Woodson, a surefire Hall of Famer has intercepted 65 passes, tied for the fifth most all time. He's an eight-time Pro Bowler and he was named AP's defensive player of the year in 2009. He is also, per ESPN Stats & Info, the only player in NFL history with more than 50 career picks and 20 career sacks. Check out this video for 234 seconds worth of Woodson highlights, and pay close attention to the Raiders' offense tonight -- they might let Woodson take a few snaps on the other side of the ball, for old times' sake.
GM Tom Telesco quietly received a three-year extension before the season and he is not going anywhere. Ownership will make a decision on coach Mike McCoy after the season but it doesn't sound promising, especially as they continue to push for a move to Los Angeles. Shaking things up after falling far below expectations -- although with injuries having much to do with that -- seems to be the way this thing is leaning. Chargers are another team that would seem to need to hire an experienced former NFL coach and finding some sizzle to bring with them to Los Angeles will likely be part of the equation as well. Payton would fit the bill, though I'm not sure I see this team trading picks to land a coach. Might be time for them to go to the defensive side of the ledger if they do make the move.
L.A. or no L.A.? Here's JLC's latest on the Raiders', Chargers', and Rams' attempt to move to Los Angeles in time for the 2016 season.
Mock drafts: The Chargers and Raiders are both out of the playoff hunt, so now's as good a time as any to check in on who they might select in the draft. Dane Brugler has San Diego going with Florida State DB Jalen Ramsey and the Raiders giving Carr even more protection up from with Ohio State tackle Taylor Decker. Rob Rang also has the Chargers upgrading with defense, but with Ohio State defensive lineman Joey Bosa. Then he's got the Raiders upgrading their secondary with Clemson corner Mackenzie Alexander.