In the line of fire
NFL O-linemen have never had it so tough, and everyone has an opinion, especially those who 'don't know how to buckle a helmet.' Here's what four linemen have to say about the hardest job in football.
In the line of fire
NFL O-linemen have never had it so tough, and everyone has an opinion, especially those who 'don't know how to buckle a helmet.' Here's what four linemen have to say about the hardest job in football.
CHANDLER, Ariz. -- Steel clanks in one part of the gym, while the punching of bags is heard in another as the big-bodied men go through a variety of drills, their grunting and groaning creating a muscular symphonic soundtrack.
Inside the O-Line Performance Center here, owned and operated by former NFL lineman LeCharles Bentley, Tennessee Titans guard Chance Warmack has just finished up a grueling workout. With a handful of several of the league's linemen still working out nearby, under the watchful eye of Bentley, a sort of self-help guru who doesn't miss a thing in drills, Warmack talked about the state of offensive line play in the NFL.
"I call this place the Land of the Persecuted," I told Warmack. "You guys took a beating last year."
"Yep," he said, his shirt drenched in sweat. "We've become the NFL scapegoats."
Chicago Bears guard Kyle Long, also in the Bentley group, offered a better name for league's offensive linemen.
"We're the Mushroom Club," he said. "They throw us in a closet, feed us s--- and expect us to come out a finished product."
That's why they are here -- to get better. Mainly because they don't feel they get enough teaching from their own NFL coaches. The techniques taught by Bentley might be different than what these linemen are taught when they are with their teams, but the 30 guys who spend eight weeks here swear by the techniques. A lack of fundamental teaching is one reason for the poor state of line play, many of them say.
Limits on practice time have forced NFL coaches to spend most of their time installing the offense, rather than focusing on the tricks of the trade. That's led to sloppy play. There are other reasons for the deterioration of line play, such as the spread offense in college, free agency preventing cohesion, and little contact in practice, which limits growth together as a unit. Add it all up, and it's why the big guys up front have become the NFL players everybody loves to hate.
I came here to sit down with some of them in a roundtable setting to discuss line play as a whole, but also to get their feelings on residing and working in the Land of the Persecuted.
Four of the linemen gathered in a conference room, all massive bodies, making the huge table look small, with Bentley sitting off to the side listening with interest. They often come into this same room to discuss line play together and watch tape, a board room for blocking, so to speak. Sometimes they pop in old All-22 tapes of great lines of years past. They recently watched the 1992 Dallas Cowboys, which featured a great line, and they all raved about that unit and what they saw.
Later, we all would watch more Cowboys tape, with that line matched up against Reggie White. But this gathering was about the current state of the league's line play and why it has become an issue.
The four men at the table: Warmack, Long, tackle Bobby Massie, who signed with the Bears after playing in Arizona the past four years, and Giants center Weston Richburg, who has also started at guard.
So we had was a center, two guards and a tackle, although Long played tackle last year and will move back to his natural guard spot with the signing of Massie. It was a good cross-section of NFL linemen -- and they came loaded with their opinions and unafraid to express them.
Here's the conversation.
Do you pay attention to the persecution of the offensive line?
Massie: Hell no.



Long: I pay attention to the respect I get from my teammates, the well-being of my quarterback and the health of my running back. And where the f---ing football is. You hear it all, but it doesn't mean you want to listen to it.
Massie: It's for people who never played a down in the league and don't understand what an offensive lineman does, so how can they grade it?
Bobbie Massie exits the tunnel before a game in Arizona. (USATSI)
Warmack: It's getting annoying. I feel like going into my rookie year, I took it personal. When you have somebody criticizing what you're doing on the professional level, you're trying to discredit all the hard work that I put in. We can't do anything about that. We just have to take that. At some point, it's got to stop.
Massie: You can snap back at people, but it's frowned upon.



Long: The system is set up where we don't have a voice. All we are are robots. Robots that get graded.
Richburg: On Twitter, I get tagged in so much PFF (Pro Football Focus) stuff. You hear this stuff, but you have to look at the source. Most of these people who talk about offensive line play don't know anything about offensive line play.
Massie: Jack s---.



Long: They don't know how to buckle up a helmet.



Richburg: My rookie year I was really low in PFF. Last year, I got better. People tagged me (on Twitter) both years. I don't want to hear either side of it. I know how I am doing. It causes a bunch of clutter in my mind. It's the wrong source.
Let's talk about Pro Football Focus since it is a group that grades players -- and you guys -- and it is featured on Sunday Night Football in large part because Cris Collinsworth is an owner. Assignment-wise, can they possibly know what your assignment is on each play?
Massie: No. They don't know the play. They don't know what each lineman has to do.
Long: If you turn on the film, you can see it's a zone concept. But there may be a Bob concept in there. There may be a wham concept in there. There may be we're booking this guy. We're not going to block him. But on film, it might look like Bobby Massie didn't even touch the guy. When in reality, Bobby went and got the linebacker and put him on the safety. And Cris Collinsworth doesn't know that.
Richburg: We were talking about when a running back gives up a sack that it's automatically our fault because nobody knows what the assignment is. If the quarterback is down, it's our fault.
Could you watch each other's tape and know what the assignments should be?
Long: Probably not because I am not in their O-line room.



Warmack: People come across as very knowledgeable about things they don't know to make their jobs more important in value. Nobody wants to ask questions anymore to try and learn from somebody who actually does the job themselves. I feel like there's a lot of arrogance in the field like they come across as they know when they've never played the position at all. If somebody asked them if they played the position at all, they would be offended by it.
'People come across as very knowledgeable about things they don't know,' Warmack says. (USATSI)
Have you all faced stubborn coaches who want it done their way and only their way?
Richburg: They try and put you in a cookie-cutter.



Long: Show me your All-Pro jersey, coach, and I will do what you do. LeCharles Bentley has one of those.
Warmack: I had one dude (coach) who played D-III football at linebacker. And he's teaching me how to play offensive line? If there's nothing wrong with that, you tell me. I play offensive line. I don't play linebacker. I definitely didn't play D-III football. Not knocking D-III schools out there. We're talking about the highest level of football in the world. And you have a guy who has never put his hand in the dirt teaching me how to block. You don't think there's anything wrong with that? I appreciate a coach who is open-minded to questions and comments. They don't want to hear a question that questions their philosophy. When they are closed-minded, it stunts the growth of the offensive lineman.
Long: At some point, you have to say I am doing what you tell me to do. But at the same time, you spend eight weeks here with LeCharles and eight weeks with elite guys like Weston, Chance and Bobby. You take things from each other. Why be here if you're not going to take what you learn here? Everybody has a tool belt. We load that sucker up here. That's what we take pride in doing.
You won't change when you go to camp?
Massie: In practice you have to do what the coaches want to make them happy. Make them feel like they have the big d--- in the room. On game day, you have to do your own stuff. The coaches, they're not out there blocking. They're in a big, comfortable chair with the clicker. The O-line and D-line are the best athletes on the field. It's not the quarterback, the receivers or the corners. We're going against the biggest, strongest, fastest in the world.
Long: You sink to the level of your training. We train here, not just football but for life.
Richburg: You have to be coachable and respect what they say. But ultimately you're the one out there on Sunday. You have to do what you are trained to do.
Is it hard to break bad habits?
Massie: Hell yeah, that's why it's a bad habit.



Long: The ability to retain information and use it and apply it separates a lot of guys. I have a lot of bad habits, but I break one here every day. And that's why you keep coming back.
Is technique taught in the NFL?
Richburg: There isn't much teaching going on at all. It's kind of sink or swim. That's why I am here.
Warmack: What is good technique? Even if you have coaches who want to implement the techniques, it's not the right way. You do the same thing 1,000 times and it's wrong. Then you get in the game and they want me to block an All-Pro three-technique and you've been doing the same thing that's wrong since April. And it's October, and you get torn out the frame (on film). It's your fault. Not his fault. It's our fault.
Lines also need to get reps together to grow. Limits on practice time have impacted that, which I think has hurt line play. How do you get enough reps together?
Massie: It's not like it used to be with the rules changes. But you have to work at it. Not just on the field, in the meeting room. Sitting around eating, you have to talk about football. It's always got to be about football. Everybody has personal goals. If all five guys are not on the same page, you have problems. You have to be on the same page.
Warmack: It's a level of commitment. You have to be in this s--- all the time. It's always got to be about football. If I am watching television, and something pops up, it has to be, 'Oh, s---, this reminds me of this play. That looks like a set. This reminds me of an Indy game."
Long: Rolling in the chopper in Predator. That reminds me of sitting in the training room getting my tape on getting ready to get on the field.
Lines also stayed together back in the day. There wasn't as much movement with no free agency. Has that made it tougher to be good up front?
Massie: You have to get used to play besides somebody else all the time. You have to jell together quickly.
Warmack: You can't sign a guy on Tuesday and expect continuity on Sunday.



Long: He (the new guy) may know what inside zone is, and he might know the play, but he won't know how Chance will block a backside scoop or the pace of the block. That stuff.
Warmack: You have to know who is working next to you and complement each other's games. That's a must to play good on the line. Teams are getting away from that.
So it's a big advantage for Long and Massie to work here and then play side-by-side in Chicago this year?
Long: Unfair advantage. It's illegal.



Why do we not see more do this type of thing to get better together?
Long: They don't care enough.



Richburg: The percentage of guys who are just OK to be there (in the league) is pretty high. This is pretty rare. The majority of my offensive line is not doing anything right now.
Warmack: It's the commitment. It's the choice.



Massie: It takes a certain type of guy to come here.



Long: Like Jay Z said, it's not for everybody.



Massie: Everybody in this gym aren't elite players, but at least they are doing it.



Richburg: I know a lot of guys are just happy to be there. That's the difference between them and the guys who are here.
There's also a theory that line play is suffering because nobody wants to do it anymore. The glamour spots are the sack artists on the defensive side, guys like Von Miller and J.J. Watt. The best athletes are there, which has made it tougher on you guys. I know Chance has been an offensive lineman his entire football life, but what position did you other guys play?
Massie: D-Line.



Long: Tight end, defensive end. I wanted to dance and catch the football.



Richburg: I was actually a quarterback in high school.



When you watch a game, a lineman can dominate a defensive pass rusher for the entire game, then have two bad plays for sacks, and he takes a beating. Is that right?
Long: One bad one.



Massie: And then they say you played like s---.



Long: They don't see us kicking ass. They only see the replay when we got our hands wiped.
In the course of a game, if there are five sacks given up, how many are on the offensive line?
Long: Three.



Richburg: Seven.



Massie: Every last one. That's how it is. We're responsible for the whole offense. We say this all the time. An offensive lineman can give up a sack every game, and he'll be out of the league. A defensive lineman gets one sack every game, and he'll make $100 million.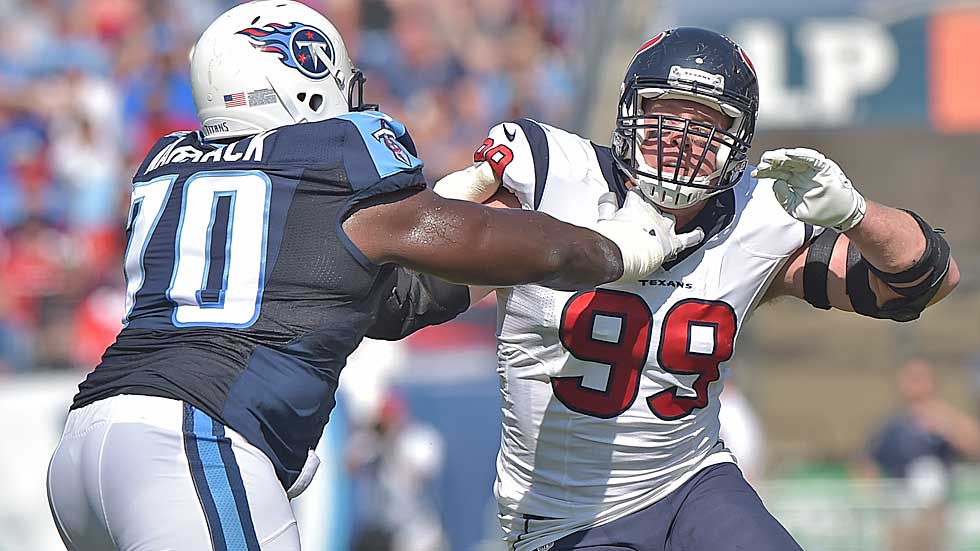 One bad play can stain an entire game of work for an O-lineman. (USATSI)
Has the college game hurt offensive line play with all the spread offenses?
Massie: Hell yeah.



Long: Not at Chance's college (Alabama). You don't want to say it's (spread) a gimmick, bit it is kind of a gimmick.
Does that make it a tough transition to the NFL game?
Long: I was one of those guys (out of Oregon). I had no idea how to block somebody. I didn't know what a base block was. I'm used to sprinting to the sideline and throwing at some guy's legs and D'Anthony Thomas making a 70-yard run or (Marcus) Mariota making a big play. The first year was a rude awakening. That's a big advantage for Alabama. You are going to run an NFL offense and play next to guys who will be in the league. Not to say there aren't three top-20 picks on Oregon. It's just a transition. It's different.
Massie: (In college at Ole Miss) I just knew I had the guy in front of me. That's it.



Long: You can't hold it against these guys because coaches install these offenses and this is what they're running. At the end of the day, it's tough to get ready for the NFL because there's a certain way to do things.
When do you know all the tricks needed to play the position?
Long: There are two elevators you get when you come into the league. Both the elevators are on floor 10. One is physical. The other one is mental -- the tricks and the juice you got. As the juice goes down, the tricks go up. Somewhere you meet halfway like year eight. You're like, 'Wow. I am here.' As you go, you learn the tricks. By the time you can't walk, you see another trick and it's like I can't get there.
Massie: When you're on your way out the door, that's when you know all the tricks. Physically, you just can't do it like when you are younger.
Have the exotic looks on defense made it tougher for the O-line?
Richburg: It's part of their job is to try and confuse you. You see some crazy stuff. And I have two seconds to identify stuff. That's the name of the game for us (centers).
Long: He (Richburg) paints the pictures for the other guys. He paints the picture for Eli (Manning). He confirms it. Eli checks with his receivers, and the ball's out. He's the hero, but you never hear it.
Richburg: Nobody has any idea what goes on pre-snap. That's where the majority of the game is won.
Weston Richburg makes line calls for Eli Manning. (USATSI)
Long: That's what O-line is, five heads and one set of eyes. We're the most efficient form of government.
Are offensive linemen worse than they were 10-15 years ago?
Long: I'd say they are different. We watched the Dallas film, and there are eight bodies on the ground each play. It was a blood bath. We're more efficient now. It was very violent back in the day. The NFL has done its part to make it a skillful game, but I wouldn't say we're worse.
Richburg: It's changed. From what I understand it was much more physical. It's more skillful now. It's changed from physical to skillful. You saw bodies on the ground back then. You don't see that anymore.
Long: It's more of an art form than a blood sport. There were hands to the faces. They had guys stepping on everybody. It was a bloodbath. You put on that film, and it's like, "Wow."
Would you like to be able play like that?
Massie: F--- yeah.



Long: We do, but we just have to write a check for it. I sponsored a few vacations for Roger (Goodell).
Is that why people think line play has regressed? It's hard to find great lines like those old Cowboys lines anymore?
Massie: You have rules changes. It's old school vs. new school. And now, everybody has an opinion.
"I sponsored a few vacations for Roger" -- Kyle Long
Long: If we line up the same five guys five years in a row. I am going to know what he's doing and they will know what I am doing. It would be the (San Antonio Spurs). How many transactions do the Spurs have? They basically have the same guys and they do it every year.
Will the attitude toward you guys be nicer this coming season?
Warmack: No way. Just put your head down and go work.



Long: Just do your job.



Massie: It won't change. So just ignore it.