10 can't-miss games on the 2013 NFL schedule
These are 10 games that I love after looking at the 2013 NFL schedule. As you can tell, there are lot of good quarterbacks in the games I selected.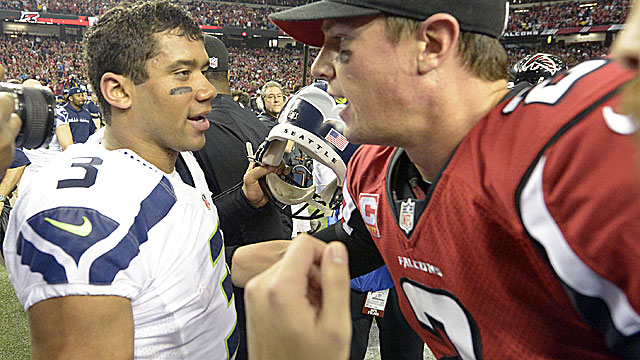 When the NFL releases its schedule every April, we rush to determine the best games of that season.
In the past, some of those predicted good games have ended up being meaningless, our ability to predict the season having a lot to do with that. But as I look to this season, I think the 10 that I have picked as my best games will prove to be important ones come playoff times.
Why? All the teams involved have quarterbacks. Good ones. Some are young. Some are future Hall of Famers, but all can put their teams on their backs and carry them to a Super Bowl title.
I went back and looked at the 10 games I picked last April. The only ones I would change now would be Houston at Detroit last Thanksgiving and New Orleans at the Giants in Week 14.
That's because both Detroit and New Orleans were major disappointments in 2012, but it wasn't because the two quarterbacks were bad. Matt Stafford and Drew Brees still put up huge numbers, but their teams weren't as good.
The teams I picked for the 10 best games in 2013 won't stumble that way. At least, I don't think they will.
Quarterbacks rule the NFL. And my 10 best games feature a lot of good ones.
Week 1 
Baltimore Ravens at Denver Broncos -- This is the Rahim Moore Bowl. It was Moore's misplay of a late Joe Flacco pass that led to a game-tying touchdown in the final minute of the Ravens' AFC Divisional Round victory. The Ravens won it in overtime and then went on to win the Super Bowl. The Broncos have been stinging ever since, a blown chance to get a ring eating at their insides. Now they open the season with a chance to get a little revenge. I said a little.
Green Bay Packers at San Francisco 49ers  -- This game will be dedicated to Packers defensive coordinator Dom Capers. His plan in the playoff game last year was horrible and Colin Kaepernick ran through the Packers defense the entire game. But Capers is a smart man and will have a new way to slow down Kaepernick. But can they? Can the 49ers slow down Aaron Rodgers ?
Week 5
Seattle Seahawks at Indianapolis Colts -- This will be the first meeting between Russell Wilson and Andrew Luck , two dynamic quarterbacks who shined as rookies in 2012. Luck was the first pick in last year's draft, while Wilson went in the third round. This is Wilson's chance to show he's in that same class, which he did as a rookie.
Week 6
New Orleans Saints at New England Patriots  -- Any time two future Hall quarterbacks get together, it's a treat to watch. Who doesn't want to see Tom Brady vs. Drew Brees? First one to 450 yards is the winner. And Brady has 48 straight games with at least one TD pass, so if the streak continues through the first five weeks, he'll have a chance to tie Brees' record of 54 in this game. These two teams aren't exactly known for defense. This is a Prisco Special.
Week 7 
Denver Broncos at Indianapolis Colts -- This will be Peyton Manning 's first start against his former team. And he will be doing it in the stadium he essentially built in Indianapolis. It's the shrine to his success. Without him, do the Colts have that stadium? So this is the current and future (Andrew Luck) against the past (Manning) for Colts fans. 
Week 10 
Seattle Seahawks at Atlanta Falcons -- Seattle stormed back from down 18 to take the lead against the Falcons in the playoffs last year, but Atlanta won it with a late-game drive. Now Seattle goes back to the stadium with a chance for some vengeance. The Falcons had big second-half problems with Wilson. Can they handle him this time? And let's not forget Richard Sherman vs. those Atlanta receivers.
Week 11
Green Bay Packers at

New York Giants
-- This has become a favorite of mine in recent years with Aaron Rodgers going against
Eli Manning
. It seems like they play every year, and it's always considered a big game. Green Bay and New York. It should be that way.  Two storied franchises that will likely have a lot to do with who goes to the Super Bowl in the NFC.
Week 12
Denver Broncos at New England Patriots -- It's Tom Brady vs. Peyton Manning. Enough said. Last season's battle was a blowout, won by the Patriots. We thought we'd see them again in the playoffs, but Baltimore ended that chance. There aren't a lot of the Brady-Manning battles left. Let's savor every one of them. 
Week 16
Atlanta Falcons at San Francisco 49ers -- The 49ers ended the Falcons' chance to get to the Super Bowl with a late-game defensive stand in January. Now the Falcons must travel to play the 49ers on the road in what should be a big, late-season game. These two played a great game in the NFC Championship Game, and I would expect another good football game. The Falcons have spent the offseason working on the read-option. Can they figure it out?
New England Patriots at Baltimore Ravens -- The Patriots get their shot to get back at the Ravens, the team that beat them in the AFC Championship Game last year. The Patriots not only lost that game but also lost at Baltimore in the regular season in the game that led to Bill Belichick going after the replacement official for what he thought was a blown call. Now New England goes to Baltimore to face a Super Bowl champion, something New England hasn't been since 2005. Ouch.
An example of how not to use social media

Mike McClure, a DFS pro with more than $1M in winnings, gives optimal DraftKings and FanDuel...

Let's check in on the Giants a day after their loss to the Lions
Mike McClure has made over $1 million playing DFS and gives his best daily fantasy football...

The veteran linebacker is the franchise's all-time leader in sacks

It's unclear when Timmons, a free-agent signing in the offseason, will make his Dolphins d...