2011 NFL Draft class fifth-year option tracker
Tracking all the players from the first round of the 2011 NFL Draft and whether their 2015 option was or was not picked up.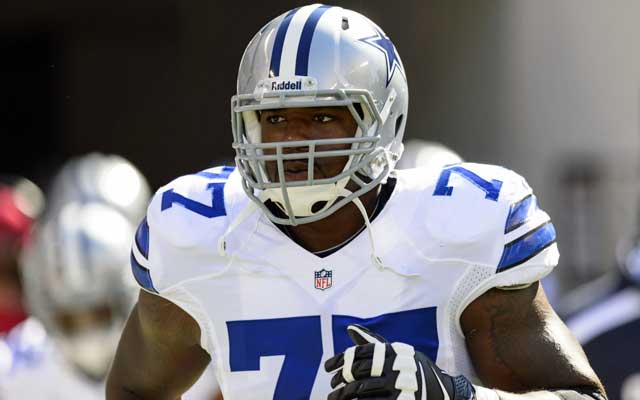 The deadline for picking up the fifth-year option on members of the 2011 NFL Draft class is rapidly approaching. May 3 is around the corner and teams have some pretty tough choices.
CBS Sports NFL Insider Jason La Canfora already broke down what various teams might do and we highly recommend you read his piece on that subject.
Below we'll keep track of what's happening with every member of the 2011 NFL Draft class first round and their option.
2014 NFL Free Agency updates
Pick No.
Team
Player
Exercised?
Cost
Analysis
1
Cam Newton
Yes
$14.666M
To the surprise of no one, the Panthers officially picked up the option in April 24.
2
Von Miller
Yes
$9.754M
The Broncos picked up Miller's option on Thursday. Not a huge surprise given his talent when healthy.
3
Marcell Dareus
Yes
$8.06M
Buffalo picked up Dareus' option for a fifth year league sources told CBSSports.com.
4
A.J. Green
Yes
$10.176M
The Bengals picked up the option on Green, one of the best receivers in all of football. An extension is likely coming pretty soon for him.
5
Patrick Peterson
Yes
$10.081M
Easy call for the Cardinals to use the option on Pat P, who has emerged as one of the game's top cornerbacks.
6
Julio Jones
Yes
$10.176M
Simple choice for the Falcons to pick up Jones option. He's a stud.
7
Aldon Smith
No
$9.754M
Reports indicate the 49ers won't use the option on Smith, who was recently arrested for false report of a bomb in an airport.
8
Jake Locker
No
$14.666M
Don't bank on Locker having his option picked up. The new Titans regime could move in a different direction at quarterback after 2014.
9
Tyron Smith
Yes
$10.039M
Smith's an underrated player from this class. The Cowboys picked up his option on Thursday.
10
Blaine Gabbert
No
$14.666M
The Jaguars traded Gabbert to San Francisco. Don't bank on the 49ers picking up his option.
11
J.J. Watt
Yes
$6.969M
Watt is one of the best players in the game. The Texans exercised his option and will eventually give him a massive extension.
12
Christian Ponder
No
$9.686M
Would be a massive upset if Ponder's option was picked up. $14 million for a guy who might be off the Vikings next year isn't happening.
13
Nick Fairley
No
$6.969M
The Lions say they won't pick up Fairley's 2015 option. It's a bit of a surprise given the low cost and his potential upside.
14
Robert Quinn
Yes
$6.969M
This one seemed like an easy call for the man who has 34.5 sacks in 31 career games.
15
Mike Pouncey
Yes
$7.438M
Really tricky call for the Dolphins. The 2013 season and Pouncey's involvement in their scandal makes this much more difficult.
16
Ryan Kerrigan
Yes
$7.038M
The Redskins picked up Kerrigan's deal on Friday league sources told CBSSports.com.
17
Nate Solder
Yes
$7.438M
Easy choice for the Patriots for the left tackle who's started 44 of 47 games.
18
Corey Liuget
Yes
$6.969M
The Chargers picked up the option on Liuget. A smart move if he continues to develop.
19
Prince Amukamara
Yes
$6.898M
The Giants young cornerback's improved and they need help in the secondary. They picked up his option.
20
Adrian Clayborn
No
$6.969M
According to reports the Buccaneers won't pick up Clayborn's option. 
21
Phil Taylor
No
$5.477M
The Browns acquired this pick by trading down. And the cost is too low not to pick it up, really.
22
Anthony Castonzo
Yes
$7.438M
The Colts need Castonzo protecting Andrew Luck and exercised his option Monday a league source told CBSSports.com.
23
Danny Watkins
N/A
$7.438
Watkins was cut and isn't eligible to have the Eagles pick up his option.
24
Cameron Jordan
Yes
$6.969
The Saints will get a steal for a player who emerged as a potential star in Rob Ryan's defense last year.
25
James Carpenter
No
$7.438M
Seahawks are better picking in the later rounds than the first, but a starting guard for a cheap cost works.
26
Jonathan Baldwin
No
$6.776M
Highly unlikely this happens. Chiefs swapped disgruntled first-round wideouts by sending Baldwin to SF for A.J. Jenkins.
27
Jimmy Smith
Yes
$6.898M
Smith's improving and had a nice 2013 for the Ravens. No surprise they picked up his option.
28
Mark Ingram
No
$5.211
Can't imagine the Saints will pay more than $5M a year for a running back given the current market.
29
Gabe Carimi
N/A
$7.438M
Carimi's moved on at this point and was cut by the Buccaneers so he's no longer eligible for the option.
30
Muhammad Wilkerson
Yes
$6.969M
An absolute steal for the Jets given Wilkerson's development into a top defensive lineman.
31
Cameron Heyward
Yes
$6.969M
Strong 2013 for Heyward made this a pretty easy choice for the Steelers.
32
Derek Sherrod
No
$7.438M
Sherrod would need to show he's healthy for Packers to pick this up. Not enough time between now and May 3 for that.
Pick Six Newsletter
Get the day's big stories + fun stuff you love like mock drafts, picks and power rankings.
Please check the opt-in box to acknowledge that you would like to subscribe.
Thanks for signing up!
Keep an eye on your inbox for the latest sports news.
Sorry!
There was an error processing your subscription.
Jones is now under contract in Atlanta through the 2023 season

Let's imagine a world where the Patriots transitioned from Tom Brady to Baker Mayfield

Gordon seems more in the mindset of a lengthy holdout, but it's Elliott who has more lever...
Now that he's in Cleveland, Mayfield said, Beckham will play for 'fans who actually care'

Cleveland is getting tons of buzz this year, but can they overcome a difficult opening sch...

Harrison was claimed off waivers by the Cardinals last month