2013 All-Prisco Team D-line: Greg Hardy is leaner, soon to be richer
In the latest installment of his All-Prisco Team, Pete Prisco talks with Panthers DE Greg Hardy, who has dropped weight and is determined to dominate this season.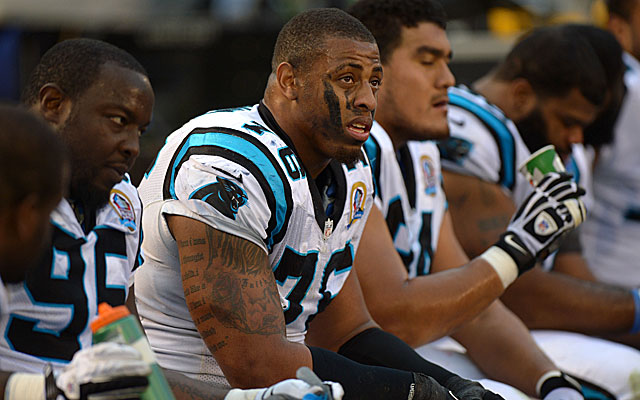 2013 All-Prisco Team: Skill positions | D-line | O-line | Secondary | Linebackers
There are certain guys who are just my type of guys. They're young, they're often fast and they tend to do the things that sometimes only film study can reveal. This week I'll be sharing with you some of these players as I present my All-Prisco Team 2013. For more on what I mean, you can read this.
SPARTANBURG, S.C. -- Carolina Panthers defensive end Greg Hardy is entering the most important year of his career, his money year.
There is no shying away from it. At 25, he is on the verge of cashing in as big as any unrestricted free agent in 2014.
So to help him get more, there is less of him.
Hardy decided to drop 25 pounds this spring and summer, taking his weight from a powerful 300 pounds, to 275 pounds, although he sometimes has been even lighter in the preseason.
"Two seventy-three," he said one day during camp at Wofford College. "But that's water weight. I want to play at 275 pounds."
As the NFL has morphed into a pass-first league, where speed at all spots is a premium, Hardy decided that lighter and faster was better than powerful and quick. In 2012, Hardy had 11 sacks and played a power style of defensive end. Now he will be one of those up-the-field attacking pass rushers.
"Yeah, but I will still be able to play the run," he said.
His age, his speed, his desire to be great at three reasons why he's one of the defensive ends on the All-Prisco Team. I told him that I considered him as a left end -- a spot he could still play -- but now that he's leaner, it would be a lot tougher to play that spot.
Hardy is a smart man who knows that sacks equal money. Playing the run is grunt work, but you don't get paid for that.
Seeing him flying around at Panthers camp, it's obvious that the loss of weight will certainly help.
"Compared to last year, I am 10 times faster," Hardy said. "I am not quite as strong, but it's a good sacrifice."
"He can move," Panthers coach Ron Rivera said. "He's a natural athlete. This is what is crazy. He was 300 pounds as a right end. He is definitely something special."
Here's a look at two pictures comparing Hardy from 2012 to the 2013 sleeker version. It's obvious how much weight he has lost.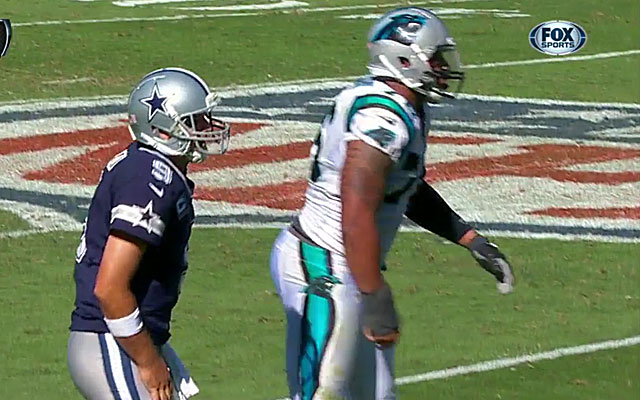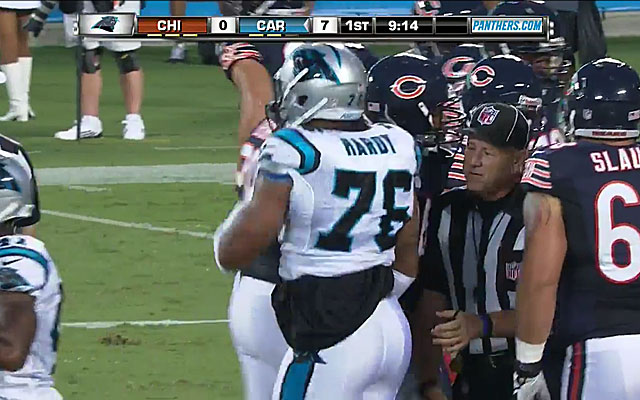 Rivera, who played on some special defenses when he was with the Chicago Bears as a player, knows a thing or two about good pass rushers. I mentioned Hall of Fame Bears end Richard Dent. Rivera's face lit up.
"That's who he reminds me of," Rivera said. "That might be one of the best comparisons I've heard."
Hardy has a ways to go to get to that level, but he's working hard to get there. Coming out Mississippi, Hardy had the look of a future first-round pick as a sophomore, but was relegated to part-time starter as a junior and senior. There was talk of an attitude problem. He did get suspended for some games early in his career, but that was because of disagreements with the medical decisions, he said. Oh, he was only 16 when he enrolled, too.
"People lost interest in me," Hardy said.
The Panthers picked him in the fifth round. It wasn't all smooth sailing after that. He had a motorcycle accident during the 2011 lockout, which set him back and opened him up to more questions. But he came back and played well that season and was a force in 2012.
Hardy has a reputation for saying anything. He is confident, if not cocky. That can rub some the wrong way, but I think it feeds into his play. He plays confidently as well.
"With all that I've been through, I deserve to be fun-loving," Hardy said. "I enjoy this game. I work hard at it. So why not have confidence in yourself?"
Here's a sack Hardy got against the Chargers in 2012 where he showed off his explosive speed. For a 300-pound man, he was moving. Hardy (yellow circle) lined up outside the left shoulder of the left tackle and exploded out of his stance, using his hand to get past tackle Mike Harris, and then blew around the corner to sack Philip Rivers.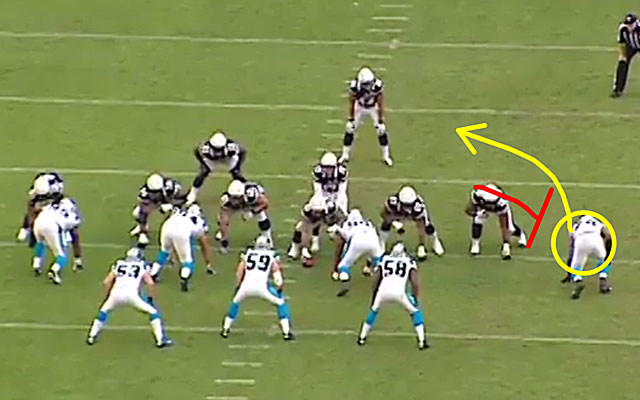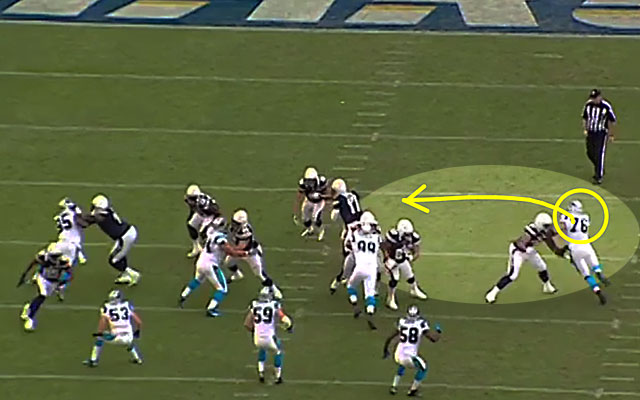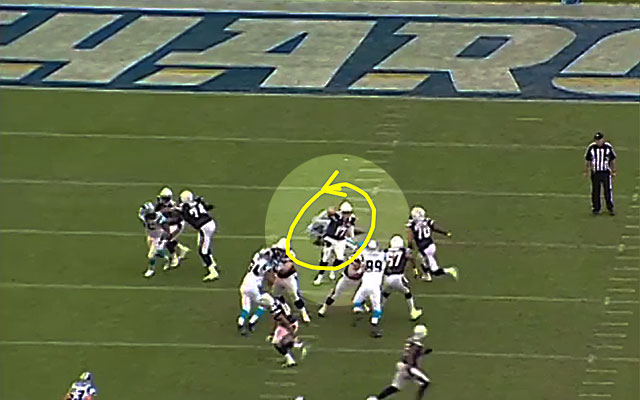 Hardy also can move inside and rush the passer. That's added value. Here's a look at a sack he got against the Falcons last season from the inside tackle spot. He (yellow circle) lined up on the outside shoulder of Falcons guard Justin Blalock. At the snap, he made a quick inside move and was picked up by center Todd McClure, who he overpowered to get a sack.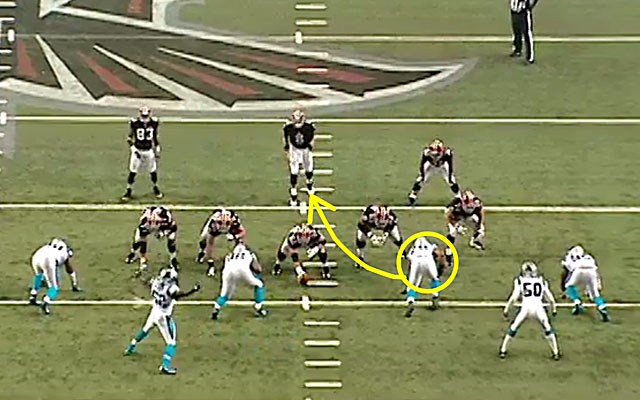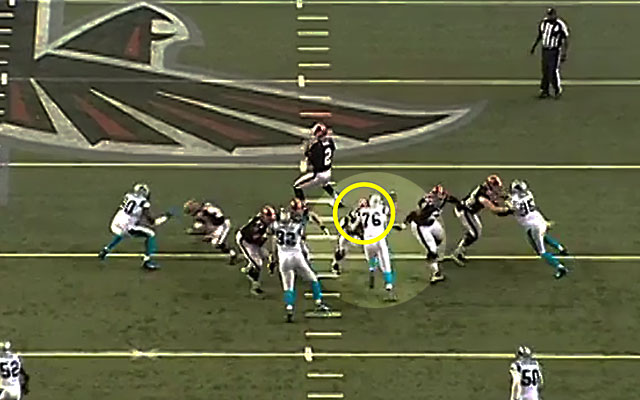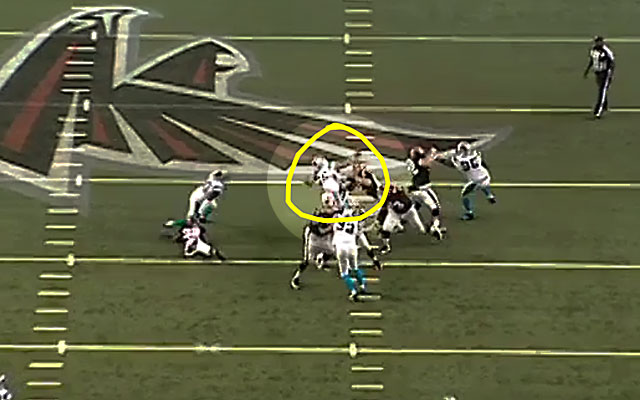 Now imagine Hardy with 30 fewer pounds on that frame. It's why he's about to become a rich, rich man -- and one of the All-Prisco players.
Other defensive linemen that made the All-Prisco Team:
DE -- Muhammad Wilkerson, Jets (24) -- He plays a down end spot in the Jets' 3-4 scheme, but he would move to a left end in my 4-3 scheme. He is strong enough to anchor the run, but I think he would be a good, solid pass rushers as a 4-3 end. In his third season, he is just 24 years old and is coming off his breakout season. His name will be well known after this season.
DT -- J.J. Watt, Texans (24) -- His spot on here is easy. He's the best defensive player in the league. What isn't easy is where he is on the defense. He plays a 3-4 end for the Texans, but since this is a 4-3 unit, my preferred style, I moved him inside to tackle. He would have no trouble making that move since he plays a similar role in the Houston defense. Watt is a powerful man who would hold the point, yet be a dominant inside pass rusher.
DT -- Michael Brockers, Rams (22) -- The Rams line was dominant in 2012, leading the league in sacks, and Brockers made steady improvement to help that cause. He had an ankle injury, which limited him. He is a powerful player who had four sacks and really came on in the second half of the season. I love his intensity and really like his in-line quickness. Brockers is poised to be a Pro Bowl player in 2013.
The sports world's most unlikely relationship continues to find new legs

Riveron, who replaced Dean Blandino in 2017, has the support of NFL commissioner Roger Goo...

Between the Birds, Villanova hoops, the resurgent Flyers and restocked 76ers, there's lots...
Andy Dalton, Chris Long, and Von Miller round out the field of finalists

Senior Bowl weigh-ins may seem insignificant, but they hold importance during the pre-draft...

Matt Hasselbeck is also a candidate to take over for Jon Gruden