2013 All-Prisco Team O-line: Eugene Monroe not your average big man
In the latest installment of his All-Prisco Team, Pete Prisco talks with Jaguars tackle Eugene Monroe, who bolsters his athletic ability with an unusually nutritious diet for a lineman.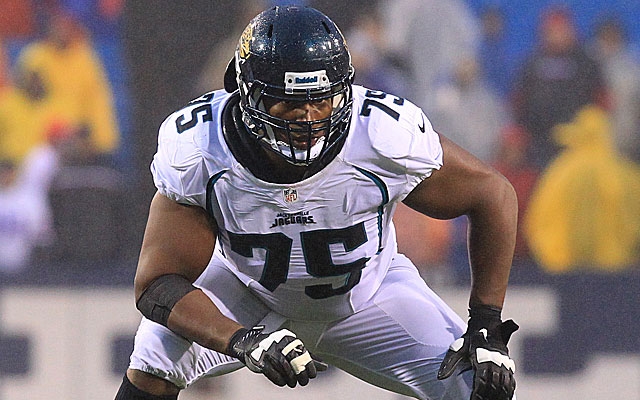 2013 All-Prisco Team: Skill positions | D-line | O-line | Secondary | Linebackers
There are certain guys who are just my type of guys. They're young, they're often fast and they tend to do the things that sometimes only film study can reveal. This week I'll be sharing with you some of these players as I present my All-Prisco Team 2013. For more on what I mean, you can read this.
JACKSONVILLE, Fla. -- The stereotypical NFL offensive lineman has that sloppy body, the uniform barely holding in the midsection, the weight rising with every week of the season and every year in the league.
Most eat what they want when they want, their gluttonous ways sometimes providing great copy and must-hear locker room talk.
Eugene Monroe bucks all of those trends.
As the starting left tackle for the Jacksonville Jaguars, Monroe is one of the better players at his position in the league -- earning a spot here on the All-Prisco team -- even if he doesn't get the due he deserves. But while getting to that level, Monroe does things his way.
He isn't 300 pounds.
He won't eat anything that you would classify as unhealthy.
His workouts are rigorous and long. He swims. He trains in martial arts. He does some yoga. He does a lot of different things to stay in shape, not just slinging steel like the manual says for offensive linemen.
"I take everything seriously," Monroe said. "Nutrition is a big part of the game. You have to fuel your body to perform. If you don't take that seriously, you will not be able to do as best as you can. To start, I have a nutritionist I work with and he had some food sensitivity studies done. You know what your body is good at digesting and what to say away from. That's the baseline. Then understanding what you need based on your activity levels. The types of food are key. If you need 1,000 calories in one meal, go ahead and get a burger, you met your calorie goals. But nutrition-wise, what are you really getting? I make it standard to eat healthy all the time."
Monroe has a confession. He slipped once during camp. Center Brad Meester's wife brought in some monkey bread, which is a lot like those cinnamon rolls you see at the airport.
"I grabbed a couple of pieces of that," Monroe said. "Other than that, it's been all clean."
In 2012, Monroe elevated his game to a high level. He did so after a slow start to his career as a former first-round pick in 2009. There were some rumblings that he wasn't living up to the hype, but part of that was brought on because the last first-round pick to start at left tackle for the Jaguars was Tony Boselli, arguably one of the best ever.
In the past couple of years, Monroe has developed into a quality pass protector and a good run blocker. He might not be the elite of the elite at his position, but he isn't far off. At 26, he's the right age to start here on our team.
"As far as ranking among the other tackles, I'm more concerned with my performance," Monroe said. "I've improved every year and I will continue to improve. I work too hard."
If you want to see Monroe at his best, pop in the tape from his game in 2012 to open the season against Vikings defensive end Jared Allen. He dominated Allen from start to finish. Allen didn't get a tackle or an assist.
Monroe moved him off the line in the run game and handled him in pass protection.
I broke down that game in my After Further Review the following week, and the pictures told a story of dominance.
"I expected myself to handle that the way it went," Monroe said. "The work I put in showed great results that day."
Here are two plays from that game that I didn't show last fall. One is a pass play, the other a run play.
On the pass play, an 18-yard gain from Blaine Gabbert to tight end Marcedes Lewis, Monroe had Allen with no help. At the snap, he jumped outside quickly to cut off Allen's rush, and with a wide base and strong hands, he kept him from getting near Gabbert. It was a textbook tackle.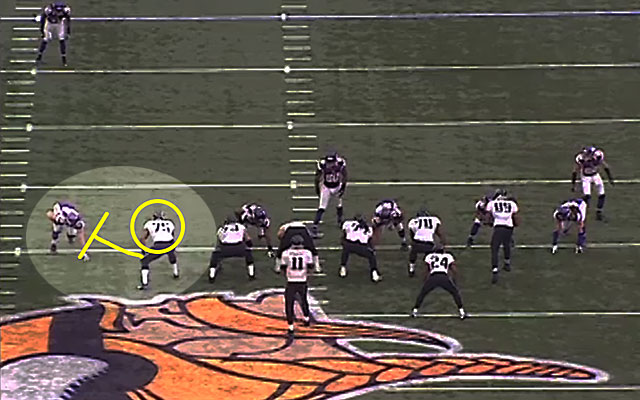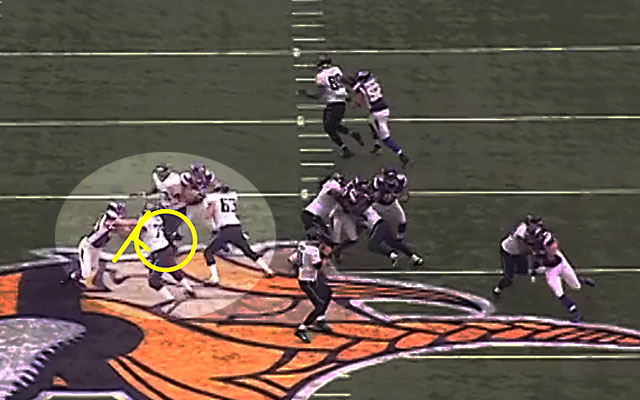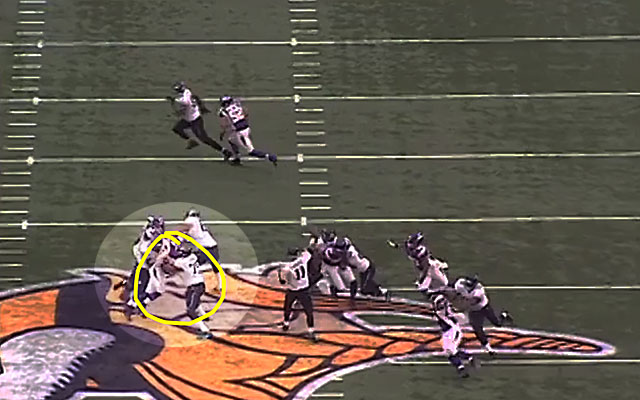 The next play was a 7-yard run by Maurice Jones-Drew. On the play, Monroe got into Allen and drove him to Monroe's left and Allen's right with power, clearly taking him out of the play.
Here's a look.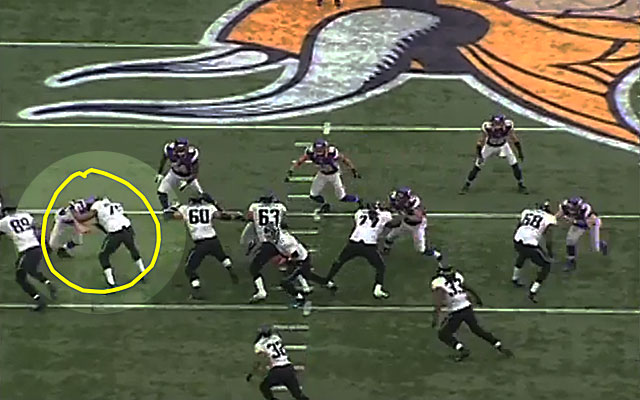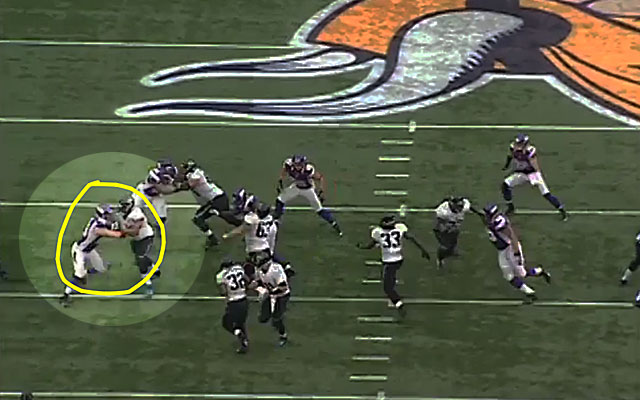 But Monroe wasn't perfect all the time, and one opponent still eats him. It's Green Bay's Clay Matthews. In that game, Matthews didn't get a sack, but he had a tackle for loss and some hurries, and he also forced a hold on Monroe with a great first step on one play.
Here's a look at that hold. On the play, Monroe didn't get a deep enough set. Matthews was able to get underneath him as he went past, and Monroe was forced to grab, as you can see by the third picture.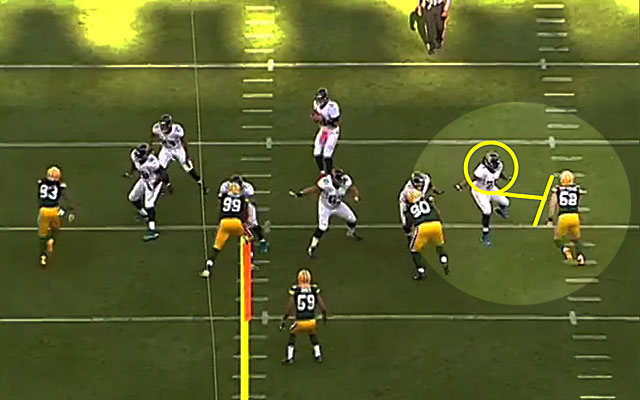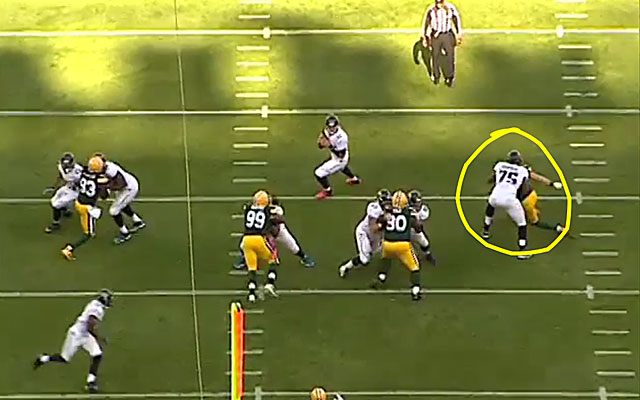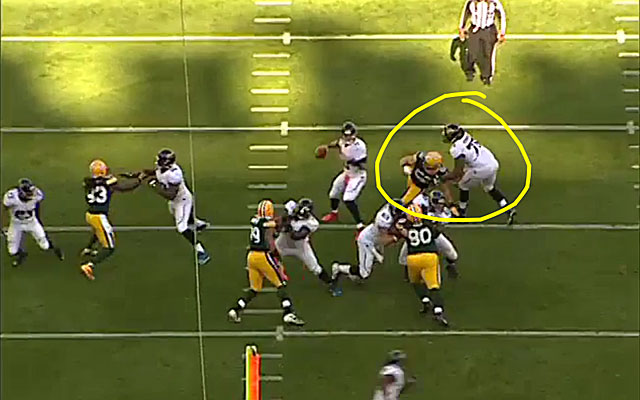 "Any time you don't have your best performance, and I know I could have done a better job, you grow from that and learn from that and hope to get another opportunity to do it again," Monroe said.
Monroe is in the final year of his contract. And the Jaguars used the second overall pick in the April draft on Luke Joeckel. The plan is for Joeckel, a natural left tackle, to play right tackle in 2013. The team would like to keep Monroe, but his play might dictate whether they do so.
"To me it's the same as any other year," Monroe said. "If you don't prepare yourself to perform at the highest level, whether it's a contract year or not, then what are you? This year is no different approach than last year. I will work as hard as I can, the right way, and I expect to do well."
The rest of the All-Prisco offensive line:
LG -- Kelechi Osemele, Ravens (24) -- He was taken in the second round by the Ravens in 2012 with the idea he would be a right tackle. He started there for most of the 2012 season and had some struggles at times. I still think he would have developed into a quality right tackle. But he has a chance to be special at left guard. He is big, strong, and tough. And he can move. When he made the move to guard for the playoff run, the Ravens' line improved a lot. He was fast enough to get out on linebackers and strong enough to handle down linemen. He will improve with age, and it would be a shock if he doesn't make the Pro Bowl this season.
C -- Mike Pouncey , Miami Dolphins (24) -- He was the best center in the league last year. His brother, Maurkice, gets more attention with the Steelers, but Mike was the better of the two in 2012. He is a smart, athletic player who is also strong enough to handle big players on his nose. For teams that want to run the ball, that is a must. Pouncey can also play guard in a pinch, which he did in college, but he is a natural center now and should be one of the best for a long time. The Dolphins have had a great history at the position, and he is another player who could be bound for greatness.
RG -- Alex Boone, 49ers (26) -- This former college tackle made a nice transition inside to starting guard last season. He is a nasty, physical player who excels in the run game. Despite his size, he is athletic enough to get outside and pull to lead the 49ers backs. He improved in pass protection as the season moved along and should be even better this season. He wasn't athletic enough to play tackle, but he's made a smooth move inside and should only get better.
RT -- Andre Smith, Bengals (26) -- He is coming off his best season as a pro, and he seems ready to be even better in 2013. After struggling with weight early in his career, and becoming the brunt of some jokes, Smith has controlled his weight and started to play like the player many expected he'd be coming out of Alabama. He is a wide body who has feet much better than you would expect for a man his size. He can be overpowering in the run game when he stays focused. The Bengals re-signed him this offseason to a three-year deal for $18 million. Coach Marvin Lewis told me in camp that he felt Smith was improved from a year ago, which is important since he was one of the better right tackles in the league.
Everything you need to know for Week 3 of the 2017 NFL season is here

Two NFC East divisional foes face off this weekend in a big battle for both teams

Matt Ryan and Matthew Stafford, two of the NFL's best quarterbacks, face off in a Week 3 m...
Wilfork has always wanted to be a tailgater, and now he finally can be

It's finally time for Russell Wilson and company to pick things up in Tennessee

Brinson shares his five Week 3 plays in the Westgate SuperContest