2013 All-Prisco Team Secondary: Don't know Reshad Jones? You will
In the latest installment of his All-Prisco Team, Pete Prisco talks with Dolphins safety Reshad Jones, who is quietly becoming one of the best defenders in the league.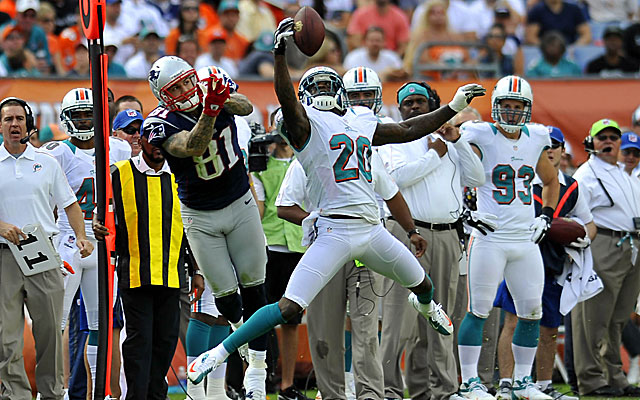 2013 All-Prisco Team: Skill positions | D-line | O-line | Secondary | Linebackers
There are certain guys who are just my type of guys. They're young, they're often fast and they tend to do the things that sometimes only film study can reveal. This week I'll be sharing with you some of these players as I present my All-Prisco Team 2013. For more on what I mean, you can read this.
DAVIE, Fla. -- The touchdown didn't count. As good as the play was, it's a huge shame it didn't. If it had, more people might know Reshad Jones.
"They will know me soon anyway," Jones said recently.
Jones, a fourth-year safety for the Miami Dolphins, picked off Tom Brady last December in a game against the Patriots and returned the interception 30 yards for a score. It was an amazing play, one I will diagram here later, but the score was called back because of a low block.
The interception counted, but if the touchdown goes up on the board that play would have been all over the highlights. And Jones might not be as anonymous to the majority of NFL fans as he is today.
"Unreal play," Dolphins defensive end Cameron Wake said. "Picks the ball off, plants his foot, and goes. Too bad it didn't count. That's a play that not many guys can make."
You say safety and people think Ed Reed and Troy Polamalu. This kid outplayed both of them by a large margin last season.
The best thing about that: When I told Jones he was better than Reed last season, he didn't hesitate.
"Oh, yeah," he said.
Jones is the choice for the free safety spot on my 2013 All-Prisco Team heading into the season. At 25, he fits the age requirements. And he has the talent you need to play safety now. He can run. He can cover. And he can tackle.
I will show those talents here later with some pictures.
Jones is listed as a strong safety, but the Dolphins safeties are interchangeable, which is why I picked him for my free safety spot. This is a league where safeties have to be able to run. They have to know how to play the ball. And they have to be able to tackle in the run game.
If a safety can't run, or cover, he will be targeted. That's why Jones is so valuable. Versatility is a huge plus.
"I can do both, I can play free or strong and we interchange our safeties here," Jones said. "I like making plays on the ball because I have good ball skills. But a big hit in the run game sometimes gets the team going. I can do both."
Jones came out of Georgia as a junior, but was disappointed when he lasted until the fifth round. After playing and learning behind Yeremiah Bell, he was ready to take over in 2011 and got 11 starts. Since then, he's developed into a rangy, ball-hawking, form-tackling safety.
"You can't be timid back there," Wake said. "It's not for the meek or mild. He goes sideline to sideline making plays and tackles."
Here's a look at the interception of Brady. It was a special play because he had to get through traffic to get to Aaron Hernandez on a wheel route. Jones (yellow X) was lined up inside of corner Sean Smith. You can see Hernandez (red circle) coming out of the backfield. At the snap, Jones had to get through the traffic of tight end Daniel Fells running down the seam to get out on Hernandez. He then turned and ran with Hernandez and made a one-handed pick, which you can see from the third picture, before planting his foot and running off to the end zone for the score that was ultimately called back.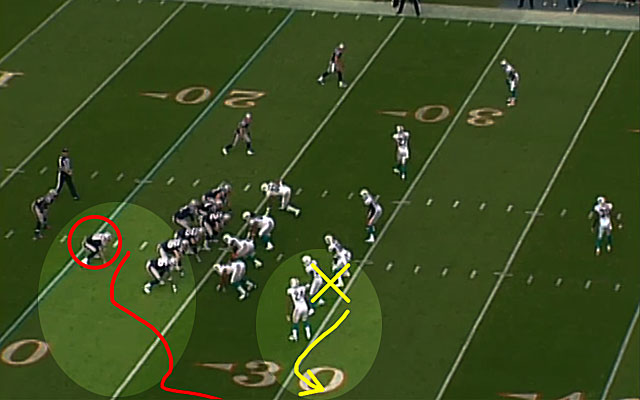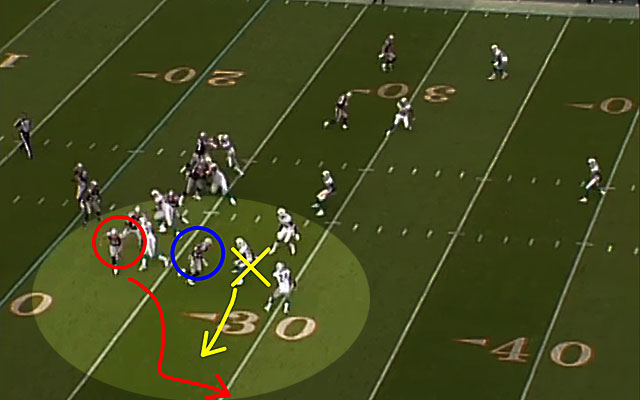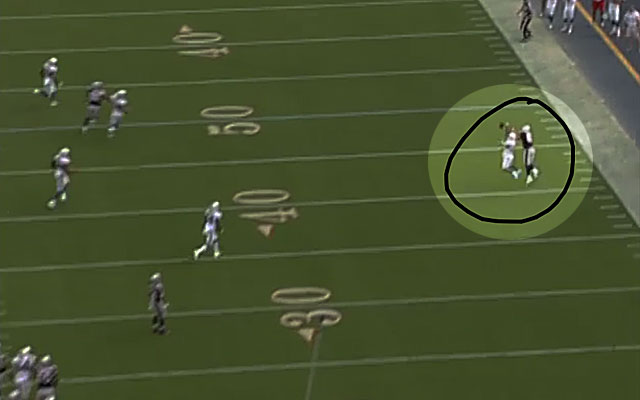 Jones on the play: "We were in 'three match.' I had a curl-flat. He was the guy to come into my zone, and I turned up and did the proper technique. I turned and went with him. I then did what I always do and went up and made a play. One block below the waist took away the touchdown."
Here's a look at Jones showing off his ability to play the run. It came early last season against the Texans. Jones (yellow x) was lined up in a two-deep look before the snap as you can see from the first picture. But when the tight end motioned from the left side and settled on the right, Jones came down close to the line of scrimmage. When Matt Schaub made a quick option-type pitch to Arian Foster, Jones beat the block of Owen Daniels and dumped Foster (white circle) for a 4-yard loss.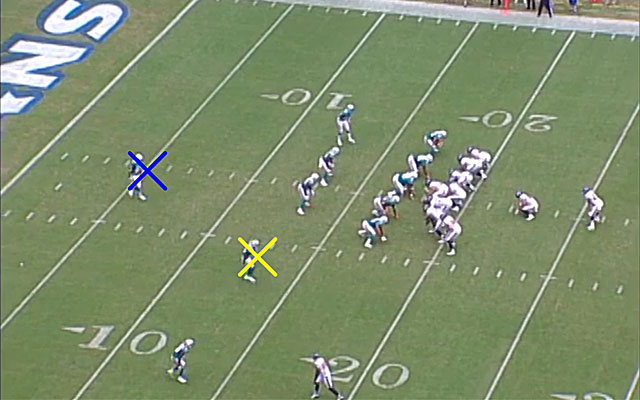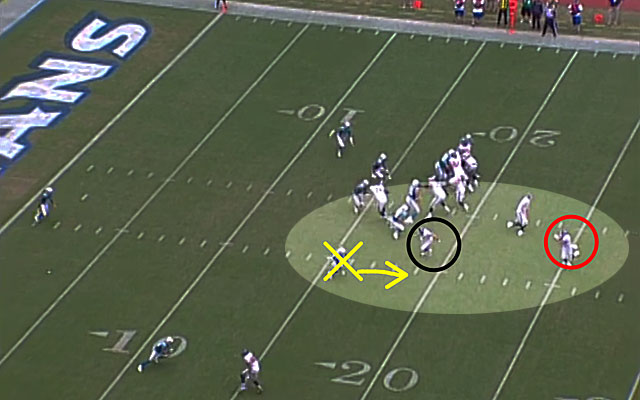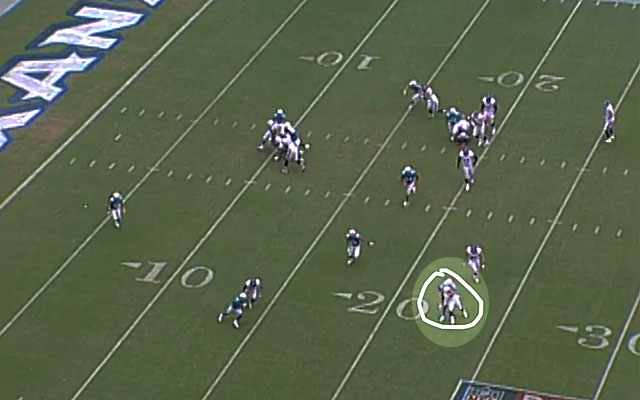 Jones on the play: "I had to roll down when the tight end motioned over. I had to come down in the box. It was a flip-toss to Arian. I shed the block and used my closing speed to tackle him for a loss."
The scary thing is that Jones is just now getting totally comfortable with his reads and his angles. Early in his career, he said a quarterback could look him off and beat him with his eyes. He said Tom Brady got him big time in 2011. Now it's a lot tougher to fool him.
"It's second nature now," Jones said. "It's like tying my shoes. I can look at a formation, and dissect the offense, and know what I am going to get out of it. I know what to expect."
You can have Ed Reed and the other big-name safeties. If you want a young talent to lead your secondary, Jones should be the choice.
Range. Hitting ability. Coverage skills. Ball skills. He has it all.
It's too bad more people don't know his name.
They will. They will.
Here's the rest of the All-Prisco secondary:
CB -- Patrick Peterson, Cardinals (23) -- He has been mainly known for his returns, but that changed in a big way last season. He can play a mean corner. He is physical. He can run. And he has great size. Peterson is the next great corner in the NFL. He plays a lot of man, so he will get beat at times like they all do, but he has great recovery speed and he has a knack for the big play. Returns are one thing, but his true value comes with the way he plays corner.
CB -- Joe Haden, Browns (24) -- He has all the tools entering his third season. He is big and strong and can cover. The knock on him has been commitment. The word is he isn't as dedicated as he should be. But this summer there is talk that he has taken on more of a leadership role. Ray Horton, who had Peterson in Arizona, is now the coordinator in Cleveland. He has to be thrilled to have another top, young corner in the secondary.
Nickel -- Chris Harris, Broncos (24) -- The nickel corner is so important in today's NFL. He is on the field for more than 60 percent of the snaps. And Chris Harris plays the position as well as anybody in the league. He is tough. He is smart. He is a willing tackler and he can cover. Broncos Pro Bowl corner Champ Bailey said Harris is much more than just a nickel corner. Translation: The Broncos consider him a starter. On some teams, he would be a starter. He did start some last season, and showed well.
SS -- Eric Berry, Chiefs (24) -- I like strong safeties that can play like free safeties. That means they can cover and have the range to get to the deep third. Berry has that. He wasn't all the way back from a torn ACL last season, but he still did some good things and ended up in the Pro Bowl. I think in 2014 he will show why he was a high draft pick. He has range. And he will tackle. The Chiefs are going to a more aggressive approach on defense, which should help make Berry even more valuable and give him the chance for more big plays.
All of the best highlights from Week 15 are right here

Week 15 provided a lot of clarity to the NFL postseason

Here are the Week 15 grades for every team that played Sunday
The Steelers are trying to accomplish something they rarely do: Beat the Patriots

There's no need for eliminated teams to trot out veteran quarterbacks

The Steelers' most dangerous player went down in the second quarter and won't return