2013 Hall of Fame class announced
After the national writers spent more than eight hours making their Hall of Fame selections, the class of 2013 is as follows
• 5 min read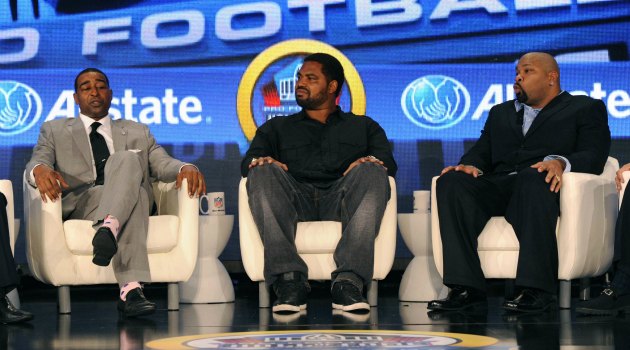 Cris Carter, left, Jonathan Ogden and Larry Allen, right, all made the Hall of Fame. (US Presswire)
After the national writers spent more than eight hours making their Hall of Fame selections, the class of 2013 is as follows: offensive lineman Larry Allen, receiver Cris Carter, defensive tackle Curley Culp, tackle Jonathan Ogden, coach Bill Parcells, linebacker Dave Robinson and defensive tackle Warren Sapp.
The finalists to make the top 10 who ultimately weren't elected were: running back Jerome Bettis, defensive end Charles Haley, receiver Andre Reed, defensive end Michael Strahan and cornerback Aeneas Williams.
Those in the final 15 who didn't make it to the top 10 were receiver Tim Brown, former 49ers owner Eddie DeBartolo, linebacker Kevin Greene, former Browns/Ravens owner Art Modell, and guard Will Shields.
"It was a long day, but there was a lot of impassioned discussion, particularly about the contributors," said CBSSports.com's Clark Judge, who was a HOF voter for the third time in his career. "It was a long, grueling day. There were some who were upset. Some people thought Strahan was a slam-dunk. I'm surprised he didn't get in, but he'll get in at some point."
Here are the seven who made it and why:
Jonathan Ogden: He was the first-ever pick of the expansion Ravens (No. 4 overall in 1996), and he paid off big for Baltimore, going to 11 Pro Bowls and helping the franchise to a Super Bowl -- significant because Trent Dilfer was the one quarterbacking that team. As the Baltimore Sun wrote, he was the quintessential left tackle of his generation. "It's going to be one of the best moments of my life, really," Ogden said after his name was announced.
Bill Parcells: It was controversial that he didn't make it last year, and that tough discussion continued this year with the writers spending nearly an hour debating the merits of including Parcells. For Parcells -- the only coach to take four franchises to the playoffs and a two-time Super Bowl winner -- he was less stressed out this year than in 2012 because he believed he would make the Hall at the same time as his former player, Curtis Martin. "As fate would have it," Parcells said Saturday night, "it didn't work out that way." Instead, he'll go in this year. "It," Parcells told the NFL Network by telephone, "is unbelievable."
Larry Allen: It was pointed out over and over again Saturday night about how defenders were flat-out scared to face Allen. "I don't know if I scared people," Ogden said, "but I saw defensive [linemen] who suddenly had cramps when they had to face him [Allen]." More than frightening his defenders, Allen -- who starred at the guard and tackle positions -- also was an 11-time Pro Bowler during his 14-year career (he spent most of it in Dallas but also had two years in San Francisco). "I just didn't want to screw it up," Allen said, referring to his early seasons in Dallas after the Cowboys already had won the Super Bowl. "I didn't want to be the one to mess it up."
Cris Carter: The scuttlebutt before the voting begun was that an effort would be made to induct at least one receiver between Carter, Andre Reed and Tim Brown. Once Brown was eliminated before the top-10, Judge could feel a shift in the voter room go away from Reed to Carter. "We needed to break the logjam," Judge said. "We had to start moving some receivers in from the '90s. Carter was the best of that bunch." Carter had failed five previous times to gain entry but this year his numbers (1,101 catches; 13,899 yards and 130 touchdowns), the best this side of Jerry Rice, were too good. "People told me after the first year and the second year that it would still be amazing," Carter said. "They weren't lying. This is the happiest day of my life."
Warren Sapp: In his first time on the ballot, Sapp, a seven-time Pro Bowler, seemingly had little problem finding his way to Canton. He was named to the NFL's all-decade team in the 1990s and the 2000s (making it on to two different all-decades list is not what you'd consider an ordinary feat, though Larry Allen also managed that). "My feet haven't touched the ground in 30 minutes," Sapp said soon after the announcement. "This is the ultimate examination of the individual. [But] there's nothing I could have done without my teammates. Without my boys, I wouldn't be sitting here."
Curley Culp: A senior committee nominee, Culp was one of the top defensive player of the 1970s, making six Pro Bowls during his 14-year career. The first half of the 1970s, he helped the Chiefs to a Super Bowl IV victory, and after he was traded to Houston in a blockbuster in 1974, he helped the Oilers re-establish themselves as a playoff team under coach Bum Phillips. "It has not captured my every thought, but ever since I became a finalist I've been thinking a lot about it," Culp told ESPN.com in the days before the induction. "It would be an honor to be part of so many great men in the special club. I'm just pleased to be part of this process."

Dave Robinson: He played for the Packers from 1963-1972, and Robinson, also a senior committee nominee, helped lead Vince Lombardi's squad to the first two Super Bowl titles in NFL history. But there will be sadness from Robinson, because his wife, who died in 2007, won't be around to share this honor with him. ""We spent 50 years together," Robinson told the Philadelphia Inquirer this week. " … I know the Hall of Fame would have meant a great deal to her. That's why I have mixed emotions about it. I'm anxious to see if I get in after all these years, but I'm so sorry she won't be here."

For more NFL news, rumors and analysis, follow @EyeOnNFL on Twitter, and subscribe to our Pick-6 Podcast and NFL newsletter. You can follow Josh Katzowitz on Twitter here: @joshkatzowitz.
Gathers flashed signs of promise in the preseason, but has yet to play in a regular-season...

Carruth wants custody of his 18-year-old son, who was born with brain damage after the slaying...

Why pay big bucks when you can gamble on Austin Seferian-Jenkins, Tom Savage or Donte Monc...
Running backs coach Duce Staley and wide receivers coach Mike Groh will reportedly interview...

The Vikings' quarterback is set to hit free agency after making a comeback from a horrific...

The Bengals backup almost became the Jets starter so there could be interest moving forwar...