2013 NFL Black Monday winners and losers: Rex Ryan, RG3 big winners
Here are the winners and losers from the day after the end of the 2013 regular season.
• 4 min read
Black Monday is nearly over (we think), and the end of the 2013 season so far has been a light year for firings. Four coaches were cut Monday along with Rob Chudzinski on Sunday and Gary Kubiak a few weeks ago.
It appears that Dennis Allen, Mike Munchak, Jason Garrett and Joe Philbin have a solid chance to keep their jobs heading into 2014. Even so, there were winners and losers from this darkest of days. Here are some:
Winners
Rex Ryan: This video pretty much says it all. And Ryan didn't even have to wait until Monday to learn his fate. Jets owner Woody Johnson announced it Sunday night, saying Ryan had done enough to earn at least another season as the head coach. An 8-8 mark is rarely anything to get excited about, but in this case, with this roster, Ryan and his staff did a masterful job.
Browns press corps: The Cleveland media asked tough, fair questions during Browns owner Jimmy Haslam's Monday press conference. After all, Cleveland's next coach will be the organization's fifth in the past seven years, and that obviously is not a winning formula. Haslam said he can understand why fans would be skeptical, and as their conduit, the reporters asking questions made sure he understood that. Maybe the reporter making the Three Stooges reference was a little overzealous, but it's doubtful the Browns brass felt real good after that presser was finished.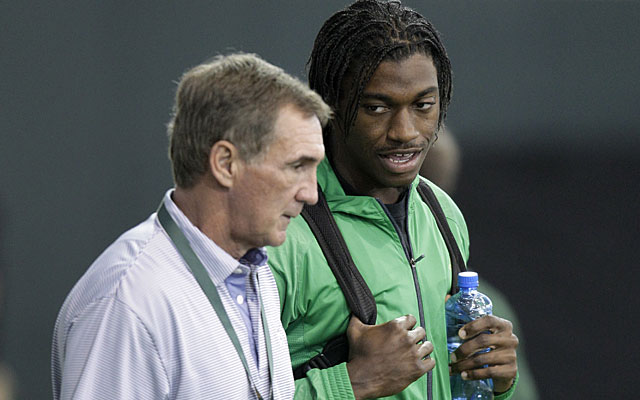 Mike Shanahan: Have no sympathy for Shanahan. He'll get paid his $7 million next season, and he gets to escape what has become a toxic environment in Washington (even if some of the toxicity can be traced directly back to him). Yes, his reputation and his legacy have taken a big hit in the past year -- and with much of his Redskins tenure as a whole -- but Shanahan is still a two-time Super Bowl winner that will go down as one of the most successful head coaches of the past three decades. He likely won't get another head coaching job, but now, he can root on his son Kyle in his own career. Besides, who will take the brunt of the blame if the organization continues to be sub-standard moving forward: Shanahan or owner Dan Snyder? Most likely, it'll be the latter.
Robert Griffin III: His sophomore season was an absolute disaster in just about every way possible. But the good news is that Griffin gets to start over with a new coach and with an owner who truly believes in him. Along with Shanahan, Griffin's reputation has taken a hit this season (reported diva-like activity and the influence of his parents, for example). But he's got a great opportunity to forget all about that and continue to be the franchise player the team expects. It's unclear if Shanahan used Griffin as a pawn to upset Snyder, but moving forward, Griffin won't have to worry about any kind of possible underhanded shenanigans from his coach.
Losers
Greg Schiano/Mark Dominik: This wasn't completely shocking, but it was a little surprising, considering the strides the team made in the second half of the season. Yes, the way quarterback Josh Freeman was handled was a disaster, and yes, Schiano didn't make any coaching friends with his habits of crashing the other team's victory formations at the end of games. But he was only in the second year of his job, and frankly, that oftentimes just isn't enough time to turn around an organization. Dominik, on the other hand, had been GM for five seasons, and though there are some success stories on the team (Gerald McCoy, Doug Martin, the acquisition of Darrelle Revis (even if he was used in a weird way by the coaching staff), the team had only one winning season and zero playoff appearances during Dominik's tenure.
Playoff coaches last year: Three of the 12 who made it to the postseason last year have been fired. That would be Leslie Frazier, Mike Shanahan, and Gary Kubiak. In Kubiak's case, he'd made the playoffs in back-to-back seasons. So, the lesson here is: don't make the playoffs one year and then stink the next.
Josh Freeman: As my CBSSports.com colleague Will Brinson pointed out just after the reports began to leak out about Schiano and Dominik, Freeman basically got two coaches fired this year (and a general manager!). Of course, that's not totally true, though it'd be tough to deny that the Freeman debacle in Tampa Bay hurt Schiano's cause. And it now seems like a strange move that the Vikings signed Freeman to a $2.8 million contract for him to play exactly one game and be inactive for the second half of the season. But that speaks more to the decision-making of Vikings general manager Rick Spielman than Frazier (though Spielman did say it was the coaching staff's decision not to play Freeman). Speaking of Buccaneers quarterbacks ...
Mike Glennon: The third-round pick played better than many of us expected after Freeman was jettisoned from the team. He finished the season completing 59.4 percent of his passes for 2,608 yards, 19 touchdowns and nine interceptions. But a new coach and a new general manager won't owe Glennon anything, and their futures won't be tied to the decision on whether to keep Glennon as the starting quarterback. As for a new coach/GM combination coming into town after  a relatively optimistic rookie season, ask Brandon Weeden what he thinks about that situation.
Browns fans: Because, well, what can you do?
Follow Josh Katzowitz on Google+
The Vikings and Chargers beat the Lions and Cowboys and cover plus more winners

SportsLine's Mike McClure, a DFS pro with more than $1M in winnings, gives optimal lineup...

R.J. White has his finger on the pulse of the Cowboys and made a play on the Thanksgiving Day...
And this is why Tyrod Taylor is now the Bills' starting quarterback again

Here are the picks and props you need to be a winner while watching all the football you can...

Freeney, 37, was impressive in Seattle before getting surprisingly released