2013 NFL Draft: Examining the middle linebacker class
With so many teams needing linebacker help, the draft will be a solution for several clubs. Pat Kirwan breaks down the available talent, what little there is.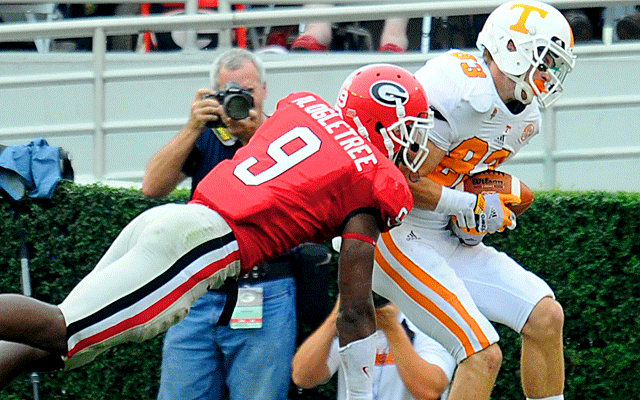 A former safety, Georgia's Alec Ogletree has great speed and coverage skills for a middle linebacker.
(US Presswire)
The NFL Combine begins Wednesday, and as usual the conversation centers around the the quarterback. The signal caller on the other side of the ball, better known as the middle linebacker, is facing a mini crisis at the position.

People can continue to predict the demise of the middle linebacker in the modern game all they want, but the Super Bowl had middle linebackers named Ray Lewis and Patrick Willis. That should tell you something about the type of players that lead teams. Whether it is the Mike backer in a 4-3 defense or the inside linebacker in the 3-4 defense, teams need dynamic players to man the middle. The more I look at the state of affairs at the 'defensive quarterback' position the more I realize there are problems on the horizon for NFL teams.

Ray Lewis retired right after the Super Bowl. Brian Urlacher is close to the end of his career and has said he would take a pay cut to stay with the Bears, but the club hasn't jump at his offer. The Redskins aren't sure London Fletcher can return for his 16th season as a middle linebacker and how long can Takeo Spikes go on for the Chargers?

Michael Boley, Bart Scott, and Nick Barnett have already been released before the start of free agency, creating voids at those teams. Jonathan Vilma and Demeco Ryans once played for teams that switched to 3-4 defenses. Those teams -- the Jets and Texans respectively, didn't think they were great fits in the new scheme, so they let them go. Once again they find themselves on teams switching to 3-4 defenses and it remains to be seen if they can play in the defense.

I talked with Bengals middle linebacker Rey Maualuga this week, who's future in Cincinnati is up in the air. He's a free agent and his anxiety about the situation was obvious. The Raiders have to get rid of Rolando McClain sooner or later with his off-the-field issues and his liability in coverage. The Broncos, Chiefs, Vikings, Giants and Steelers all have to find middle linebackers in this draft or settle for someone in free agency. Add it all up and more than half the NFL may need a middle linebacker. The point is, more teams need middle linebackers than the draft pool can provide.

Teams need to take a lesson from a team like the Patriots. They grabbed Jerod Mayo in the first round (2008) and came back in the second round of 2010 for Brandon Spikes. Look what a difference second-round Bobby Wagner made for the Seahawks' defense last year or Luke Kuechly did for the Panthers with his 103 tackles in his rookie season.

So who is out there in the draft who can come in and start right away for teams starving at a middle linebacker?

I watched a number of draftees and here are my conclusions at this point in the process. If a 4-3 team needs a middle linebacker or your 3-4 teams needs a strong inside linebacker the list is short.

Kevin Minter, LSU: Kevin is physical, can run and easily drop in the Tampa-2 scheme. He has solid tackling skills, can strike a blocker and disengage and plays under control. He fits in any scheme and can be a 3-down linebacker. In the Washington game, he lined up to the third receiver in trips and covered him well in man coverage calls.

Alec Ogletree, Georgia: Alec was suspended four games for a failed drug test, which is a red flag for some teams and a yellow flag for others. He has range and is fluid in his movements. I like him more in a 4-3 front where he has a shaded nose tackle in front of him so he can run and hit. His former safety skills show up in coverage and speed. He has the skills to be a 3-down linebacker.

Nico Johnson, Alabama: I watched Johnson for a week at the Senior Bowl, including the game, and had multiple conversations with him about football. He is a conscientious person with good football instincts. He is a better pass dropper than advertised and went to the Senior Bowl to show he can stay on the field in all situations. He should be considered a 2-down linebacker in any scheme and reminds me a little of Takeo Spikes.

Arthur Brown, Kansas State: Brown may be a little light for some schemes but his instincts and production (192 tackles during the last 2 seasons) make him an excellent MLB candidate for teams that need speed on defense. I watched the Oregon and Texas games and he was in on over 20 tackles combined. He may move to WLB but has the aptitude to handle the middle.

Manti Te'o, Notre Dame: I was disappointed in his performance against Alabama so I went back and looked at other game tapes. The Stanford game raised as many questions as answers. He is aggressive but he struggles to disengage. It almost seems like he has to come down hill so fast just to beat the blocker to the point of attack or he's tied up. He takes chances trying to make plays and it doesn't always work out. At times he reminded me of when Junior Seau first came in the NFL. At other times he would overplay a run and miss the tackle. There was a lack of awareness in zone coverages at times when he didn't 'feel' the receiver in his zone. I had some concerns about how often he leaves his feet to make a tackle and miss. He needs to be in a 4-3 defense and the middle may be too much traffic for him to sift through to make plays.

Kevin Reddick, North Carolina: At the Senior Bowl he demonstrated he can be a thumper when it comes to stopping the inside run game. He will probably play pro football at close to 250 lbs. He is a good fit in a 3-4 defense as the strong inside backer taking on a guard. Some questioned his motor during the season, but his effort in Mobile was more than satisfactory. If your run defense has problems, especially against power-run teams, Reddick could be your answer. The guy makes plays behind the line of scrimmage. I talked with him and he acknowledged he can be overly aggressive (penalties), but he is a two-year captain and a solid 2-down player.

Jon Bostic, Florida: He dropped out of the Senior Bowl, which was disappointing, but his film study revealed a lot about his NFL potential. He is not the striker Minter, Johnson and Reddick are but he sees things well and wants to play more of a finesse style. In the Ohio State game he didn't convince me he has the physical strike to neutralize blockers but he did show some sideline-to-sideline run skills. Bostic needs to be covered up in a 4-3 front.

Kiko Alonzo, Oregon: Another MLB who doesn't always have the explosiveness at the point of attack. He is not the athlete Minter or Te'o are and appeared a step slow at times. Some would say he does not possess the fast-twitch required to win in the middle. After watching the Kansas State game I felt like he might be more suited to a Sam linebacker spot in a 4-3 defense. Another issue that surfaced was the easy way with which blockers got into his legs.
After an injury to Trevor Siemian, Brock Osweiler entered the game and helped the Broncos to...

The 32-year-old running back is done for the year

Brandon Williams was involved in a scary situation in the first half against Denver
The Broncos are turning back to Osweiler after an injury to Siemian

The Cowboys legend admits he's not on 'great' terms with the Cowboys suspended running bac...

Here's the latest information on injured Steelers linebacker Ryan Shazier