2013 NFL free-agency preview: Dallas Cowboys
With 2012 in the books for the Cowboy, we're looking ahead -- to free agency, the draft and, ultimately, the 2013 season. Just six months to go.
• 4 min read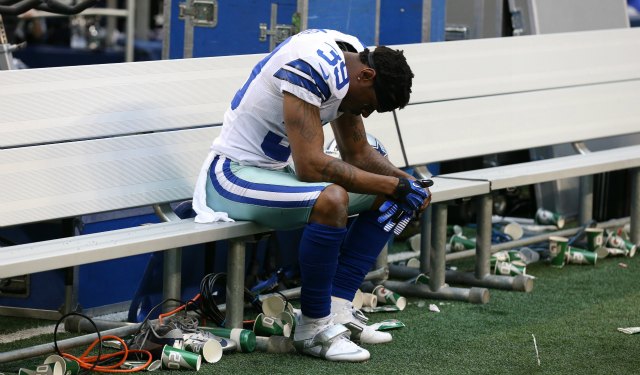 Team overview: The Dallas Cowboys probably should have won the NFC East last year. They were competing against a Redskins team starting a rookie quarterback and a rookie running back, an Eagles squad that would majorly disappoint for the second straight season and a Giants outfit that never proved itself as a playoff-caliber team. But in the final game of the season, Dallas lost 28-18 to the Redskins in what was basically a division title game. Remember, though, Dallas won five of six games late in the season to give itself a real chance for the playoffs. But then the Cowboys blew their Week 16 game to the Saints and lost in Week 17.
The blame can't all be laid at the feet of Cowboys quarterback/annual scapegoat Tony Romo , who threw for nearly 5,000 yards and the third-highest touchdown total of his career (28). Yes, he threw a league-high 19 interceptions (including three in that Week 17 game), but Romo isn't the biggest problem for Dallas. (His biggest problem, on the other hand, is that he hasn't put together a winning season since 2009).
No, the biggest problems were injuries, a running game that was subpar, and a defense that couldn't improve under former coordinator Rob Ryan -- who, by the way, was fired and replaced by 72-year-old Monte Kiffin, who will turn the defense from a 3-4 into a 4-3 look. In all, six new assistant coaches were hired in the offseason, leaving us wondering just how much job security head coach Jason Garrett is enjoying at the moment. (We're guessing very little.)
What the depth chart tells you: At some point, the Cowboys are going to have to start thinking about finding a replacement for the soon-to-be 33-year-old Romo, but that's not a high priority now. No matter what the public thinks, Romo is still a guy who can lead the Cowboys to the postseason. Dallas, however, does have to figure out a way to get him help from the running game -- the team hasn't produced a 1,000-yard rusher in six years (!). In seven combined seasons, neither  DeMarco Murray  or  Felix Jones -- both of whom are still in their mid-20s, by the way -- has even put together a 900-yard rushing season. (Even if Jones accomplishes his 1,000-yard season next year, it likely won't be in a Dallas uniform).
Cowboys receivers Dez Bryant and Miles Austin and tight end Jason Witten had strong seasons, so there's no issue there. But Dallas needs to improve the offensive line. The Cowboys were average in allowing 36 sacks, but they also ranked 22nd in run blocking, according to Football Outsiders' measurements. Left tackle Tyron Smith wasn't great, but the first-round pick from 2011 will be given more chances to improve. However, the right side of the line (tackle Doug Free and guard Mackenzy Bernadeau ) struggled. The Cowboys recently signed center Phil Costa to a two-year deal, even though he's coming off a season in which he missed 13 games because of ankle injuries.
On defense, Dallas was decimated by those aforementioned injuries, including standout linebacker  Sean Lee , LB  Bruce Carter , CB   Orlando Scandrick and nose tackle  Jeremiah Ratliff . Meanwhile, sack machine DeMarcus Ware was hobbled at the end of the season and much less effective. Getting Lee, who missed much of the season with torn toe ligaments, will be huge for Dallas's linebacking corps, especially if Carter continues to play at a high level (plus, the team franchise-tagged Anthony Spencer for the second-straight year, and he's coming off a very good season). The high point of this defense, though, is the secondary. Though the Cowboys just released safety Gerald Sensabaugh for salary cap reasons and cornerback Mike Jenkins likely will leave, Brandon Carr and Morris Claiborne could make up one of the better cornerback corps in the league.
Ideal free agent and draft strategy: Quick quiz: who's the last Cowboys running back to rush for more than 1,000 yards in a season? If you somehow guessed Julius Jones in 2006, you absolutely nailed it. Suffice it to say, Dallas needs to figure out how to get more from its running backs. Murray has been OK, but certainly not overwhelming since Dallas took him in the third round in 2011. Dallas could wait until the middle rounds and take another chance on a college running back (according to the NFLDraftScout.com rankings, the only running back that's remotely a first-round candidate is Alabama's Eddie Lacy). But since the team is moving to a 4-3 under Kiffin, another defensive tackle is needed. The Cowboys also could use a safety.
What will happen: Much like the Redskins, the Cowboys have been hindered by the NFL, which took $5 million from Dallas's salary cap for overspending in 2010 (the team also had to rework a number of contracts because the Cowboys were slated to be $20 million over the cap ceiling). But Dallas will have to look at defensive tackles. Ratliff hasn't played all that well (and this won't help his standing with the team), and Josh Price-Brent is facing intoxication manslaughter charges. A guy like Purdue's Kawann Short, Missouri's Sheldon Richardson or Ohio State's Johnathan Hankins are pretty good candidates to be taken by Dallas in the first round.

For more NFL news, rumors and analysis, follow @EyeOnNFL on Twitter, and subscribe to our Pick-6 Podcast and NFL newsletter. You can follow Josh Katzowitz on Twitter here: @joshkatzowitz.
Ebron led the Lions in receiving on Monday night but wasn't happy about a hard hit from Co...

The Cardinals coach knows that shutting down the Cowboys offense is easier said than done

Can teams led by Drew Brees and Eli Manning contend for the top pick in the 2018 draft? Yes...
Goodell's current deal is set to expire in 2019, and his latest extension hasn't come without...

Eifert is dealing with back and knee injuries and could be in danger of missing time

The Giants' season is going down the tubes and it's all because of the Pythagorean theorem...