2013 NFL Grades, Week 14: Jaguars giving fans hope for future
The Jaguars are giving their fans hope for the future.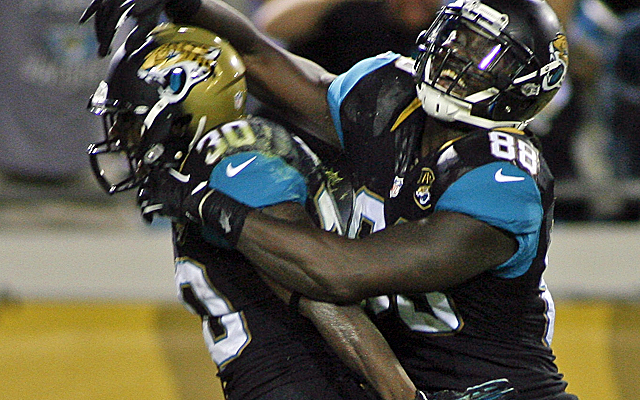 Break up the Jacksonville Jaguars . Jacksonville won for the third-straight week -- and for the fourth time in five weeks -- and find themselves climbing further and further away from the No. 1 draft pick. That seems impossible given where Jacksonville was to start November, fresh off a 42-10 drubbing in London from the San Francisco 49ers . But they're here and it's a major credit to Gus Bradley.
Bradley's got his defense playing impressively well despite having a slew of youngsters on that side of the ball. Those young guys are improving rapidly. You can see it in the play of rookies Jonathan Cyprien and Dwayne Gratz shoring up a Seattle Seahawks -like secondary. And Andre Branch , a second-round pick in 2012, is finally starting to round into a quality player. 
"The biggest challenge will be to keep doing what we're doing. We have to believe in the process," Bradley said Thursday. "We're a young team that's learning how to do this. This was a great opportunity."
This is a frisky Jaguars team that features a bunch of players that most casual football fans have never heard of.
I don't want to get ahead of myself but the Jaguars are ... playoff contenders? There's actually a scenario that involves a slew of teams -- including the Jags -- going 7-9 and the Jags getting into the playoffs over the Baltimore Ravens . With the Buffalo Bills , Tennessee Titans and Indianapolis Colts on the slate for Jacksonville going forward, well, I'm not saying it'll happen. But I am telling you there's a chance.
For that alone Bradley and GM David Caldwell deserve a tremendous amount of credit. Turning the wave of a sunken season the way they have isn't easy to do. The Jaguars don't have a stacked roster and they have no guarantees at quarterback. But they do have hope and that's a lot more than plenty of teams can say these days.
Ten more observations from Thursday night's game:
1) Speaking of hope, just as the Houston Texans first drive of the second half stalled out on NFL Network, this play happened on ESPN:
Pretty fitting that Teddy Bridgewater would heave that miraculous touchdown pass
2) Andre Johnson continues to be absolutely ridiculous. He caught 13 passes for 154 yards, his third 10-catch, 100-yard performance of the year. That gives him 20 for his career, which is an NFL record. That he's putting up monster stats during an 11-game losing streak isn't just sad, it's typical of his career. Johnson's seen a lot of losing in his day and has been one of the NFL's most productive receivers despite lacking any really elite quarterback play during his career. (He played with two different ones Thursday after all.) He also tied Jerry Rice for the most 10-catch, 150-yard performances, pulling off the 10th-such feat of his career Thursday.
Andre Johnson on 11-game losing streak: I'm just tired of it, man. #Texans

— Brian T. Smith (@ChronBrianSmith) December 6, 2013
3) Jedd Fisch's playcalling was extremely creative Thursday night -- the backwards pass to Ace Sanders (another rookie!) that was promptly tossed into the end zone for a touchdown to running back Jordan Todman stood out most of all:
"We practiced that," Bradley said of the play. "We felt good about it."
Sanders might be the best quarterback on the Jags roster.
4) Case Keenum was benched for Matt Schuab. Again. And though Schaub was an immediate improvement coming off the bench he ultimately threw a brutal pick to end the Texans hope at winning the game. Schaub looked sharp off the bench and absolutely gave the Texans a spark. It's not hard to imagine Gary Kubiak going down in flames -- and he's got to be done at this point; anything else would be a shock -- with Schaub under center for the rest of the year. That might doom Keenum's future in Houston as well.
5) J.J. Watt is absolutely ridiculous. Josh Norris of Rotoworld coined a phrase "production is disruption" -- nothing explains what Watt's doing this year better than that phrase. His NFL-approved statistics (sacks, tackles, etc) don't give an appropriate admiration for his actual gameplay. Freeze just about any Chad Henne pass attempt and Watt's there, disrupting the play. He's the best defensive player in the NFL. It'll be interesting to see whether or not voters are willing to give Defensive Player of the Year to a guy on a team with less than five wins. I'd bet they won't.
6) Strong night for Maurice Jones-Drew was marred by a hamstring injury. The free-agent-to-be said after the game that he wants to return to Jacksonville. It would take a pretty humbling contract from MJD to make that happen, even if Caldwell acknowledged last week it was a possibility.
Running backs are a dime a dozen in the NFL these days and even though MJD's looked good the last three weeks, his run as a top-tier back is coming to a close. That doesn't mean it can't happen, but it'll definitely involve some concessions on each side. It certainly might be worth it for MJD to keep growing with this roster in a city where he's (rightly) beloved as a player.
As for the rest of the season, MJD said he'll "be ready" for the Bills game next week despite the hamstring injury that ended his game prematurely.
"It's doing alright," Jones-Drew said. "It just tightened up at the end."
9) I love everything about this tweet and all the sub-levels of sub-tweetery that it represents.
Congrats to Gus and his guys! Jaguars now have the longest current winning streak in the AFC at 3 games!

— Pete Carroll (@PeteCarroll) December 6, 2013
10) Is Antonio Smith worried that the Jaguars were spying on the Texans this week too?
Team
Grade
Analysis
Jaguars 27, Texans 20
D-
You would think they couldn't sink any lower ... and they do anyway. The only reason the Texans don't get an F is for adjusted expectations. Poor performance, poor preparation and they're now mathematically eliminated from the playoffs.
B+
The Jaguars came out and laid wood on the Texans early. They let up for a while and let Houston back in the game but this was an impressive win for a team left for dead weeks ago. Jacksonville's defense is playing well and the offense is finding creative ways to put up points.
From Brady's perfect pass to controversy in Detroit, we have it all covered from a crazy Week...

Teams across the league demonstrated on Sunday in response to Donald Trump's speech Friday

The Lions' hope for a win wasn't the only thing that went up in flames Sunday at Ford Fiel...
It wasn't the greatest first half for the Seahawks' All-Pro cornerback

The Giants wide receiver hauls in a pair of incredible TD catches -- and earns a dumb pena...

Golden Tate seemingly gave the Lions the lead with eight seconds left, until he didn't