2013 NFL Grades, Week 2: Redskins with another ugly loss
2013 NFL Grades, the Week 2 version. Should the Redskins be concerned with their second-straight ugly loss? And how impressive were the Chargers?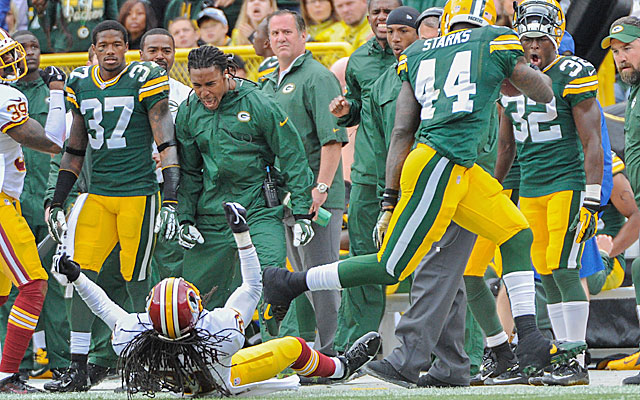 Washington Redskins fans have every reason to panic about the 2013 season. There are reasonable excuses for the sluggish start, of course, but panicking is absolutely acceptable.
Last week you can chalk up to "rust" and "Chip Kelly unleashing hell on Washington in primetime." Maybe. This week, with the Philadelphia Eagles struggling to score early against the San Diego Chargers , brings the latter excuse into question.
That's especially true given the Swiss-cheese impersonation the Redskins defense did in Week 2 against Green Bay. The excuse here, of course, is that they played Aaron Rodgers . It wasn't normal Aaron Rodgers, either. It was angry, laser-focused, football-porn creating Aaron Rodgers. So there's an excuse for Week 2 as well.
And Skins fans can hang their hats on the fact that Robert Griffin III still can't run. He's a pocket passer who doesn't trust his knee. Even all-time greats like Tom Brady struggled to return from knee surgery at the start of their first season back. It's a completely different range of physical motion for Griffin. It's going to be an issue.
But given what we've seen through two games there are major, major issues for Washington. The Redskins were down 31-0 before even making a motion to get off the mat against Green Bay. DeAngelo Hall took a fumble to the house in Week 1 but Washington coughed up 33 points straight before regrouping and making a run at a comeback.
These are the problems that come with having a quarterback with a surgically repaired knee and a youth-infused secondary. Brandon Meriweather (literally) knocked himself out of the game, Bacarri Rambo has struggled in coverage this year and David Amerson Island isn't a place you want to vacation.
But let's not forget that Washington was 3-6 last season, looking like a team that had given up on 2012 and was moving forward. Then the offense started clicking, the defense grew up overnight -- despite a ton of injuries -- and they reeled off seven straight wins to close out the season.
They're not done by any means but Sunday's performance didn't look much different from Week 1. And that's got to be a major concern in the nation's capital.
Team
Grade
Analysis
Seahawks 29, 49ers 3
D-
The 49ers are a good team. Unless they're playing the Seahawks, that is. In their last two meetings, the 49ers have been outscored by Seattle 71-16. The first multi-interception game of Colin Kaepernick's career didn't help things at all. 
A
The Seahawks dominated Sunday night's game in every way a team can dominate another team. Marshawn Lynch beast moded his way to three touchdowns as Seattle went on to make the biggest statement of Week 2 with the 26-point win.
Saints 16, Buccaneers 14
C+
A division road win is a division road win, but it wasn't always pretty.

Drew Brees

threw a pick six that put the Bucs back in it, although he was deadly deep to

Jimmy Graham

for much of the day. The defense did a nice job limiting

Josh Freeman

, though they got lucky a few times.
D
Are the

Tampa Bay Buccaneers

spiraling out of control? Two tough losses this season means they could be undefeated, but they've looked ugly through two games. Josh Freeman is involved in a disastrous situation with Greg Schiano. The team is burning unnecessary timeouts. The defense isn't playing the way it's supposed to. There are major problems in Tampa right now.

Denver Broncos

41,

New York Giants

23
B+

Peyton Manning

put together a dominant "big brother" performance, beating up on Lil' Eli and establishing the Broncos as the top team in the NFL by throwing for 302 yards and a pair of touchdowns.

Montee Ball

fumbled early but

Knowshon Moreno

stormed into the picture with a pair of touchdowns.
F

Eli Manning

threw a career-high four interceptions, the Giants defense couldn't manage to stop Peyton at all and the

David Wilson

/

Brandon Jacobs

combo was horrible on the ground when they actually were given carries. Bad look at 0-2 for the Giants.

Oakland Raiders

19,

Jacksonville Jaguars

9
F
This was better than last week against the

Kansas City Chiefs

but that's not really saying much. They scored a touchdown, finally, in the fourth quarter on a

Chad Henne

pass to

Clay Harbor

. It was largely irrelevant because garbage time was already underway. Into the crevasse, Jaguars fans. Into the crevasse.
B+
Stunning to see a team this bad favored by that many points and actually back up the Vegas line. Oakland dominated Jacksonville thanks to

Darren McFadden

running well and

Terrelle Pryor

was efficient and multifaceted. This Raiders team is a little scary (ier than we thought).

Arizona Cardinals

25,

Detroit Lions

21
C+
After

Reggie Bush

went out with an injury the Lions stalled almost completely on offense. They appeared to be in control of this game after a

DeAndre Levy

pick to the house made it 21-10 but didn't score after that. Bush is apparently fine but it's scary to think how much they hinge on him being healthy.
B

Carson Palmer

spread the ball around, "only" turned it over once,

Rashard Mendenhall

got going on the ground a little bit and the defense made some big plays late when they needed to. They were carved by Stafford and Megatron early but limited his damage later in the game.
Chiefs 17,

Dallas Cowboys

16
C
Great start for Dallas as

Tony Romo

hooked up with

Dez Bryant

early and often (his first five completions were to the star receiver). But the Cowboys cooled down quickly and only scored nine more points after the first quarter.
B
It wasn't pretty on offense --

Alex Smith

was 21/36 and

Jamaal Charles

only ran for 66 yards on 15 carries -- but the defense stepped up in a big way after an ugly third quarter.

Dontari Poe

had another two sacks and is vindicating his high selection from last year so far in 2013. Kansas City at 2-0 has already matched its win total from last year.

Atlanta Falcons

31,

St. Louis Rams

24
D-
Don't be fooled by

Sam Bradford

's 352-yard day. He needed 55 attempts to get it and most of it came in garbage time. This supposedly vaunted defense was dominated by Atlanta from start to finish, producing no turnovers and just two sacks. The Rams run game was non-existent once again.
A-
Not nearly as close as the score indicated as the Falcons were up 24-3 at halftime before the Rams kind of creeped back into this game. Not being able to run out the clock is a concern but man did

Matt Ryan

and

Julio Jones

(11 catches, 182 yards) get things going early and often.

Baltimore Ravens

14,

Cleveland Browns

6
C-
Another tough day for the Browns offense despite pretty good play from the defensive side of the ball. There's too much invested on offense to be this lethargic. Eighty-five yards in the second half of any game is unacceptable no matter the opponent. They better hope Josh Gordon can spark the offense when he gets back.

Brandon Weeden

was injured but that might not actually be such a bad thing.
C+
An ugly home opener for the Ravens, and one that really justified the concern with their offensive performance in the opener.

Joe Flacco

just doesn't have a ton of options in the passing game. Fortunately

Marlon Brown

stepped up late with

Torrey Smith

relatively smothered by

Joe Haden

.

Ray Rice

suffered a hip injury and that could be really scary news for this offense. The defense was much better this week, though.

Buffalo Bills

24,

Carolina Panthers

23
C-
What a backbreaking loss. The Panthers played OK for parts of the day and went up six points with 1:38 remaining, the Bills out of timeouts and looking like a lock to win. One big pass interference penalty later, everyone was reminded about their record in one-score games. There's no real excuse for why they lost but it has to come down to coaching. Kudos for having

Cam Newton

going vertical more than, um, once this week. Heartbreaker game that will put Ron Rivera on the hot seat.
C+

EJ Manuel

(a.k.a. "Edge") led an impressive game-winning drive, going 6 for 8 down the field en route to hitting Stevie Johnson for a wide-open touchdown.

Mario Williams

set a franchise record with 4.5 sacks in the game and

C.J. Spiller

crossed the 100-yard rushing mark. There's no reason that the Bills should've won this game, but they did anyway.

Chicago Bears

24,

Minnesota Vikings

23
C

Christian Ponder

struggled once more, completing just 16 of 30 passes and though

Adrian Peterson

eventually got going pretty well (26 carries for 100 yards) the Vikings weren't strong on offense. Fourteen of their points came on defense or special teams. But they still had a chance to win it before Cutler burned them late to seal the game.

Harrison Smith

, by the way, is going to be really good.
C+
Good

Jay Cutler

and Bad Jay Cutler showed up today. Fortunately for the Bears the former appeared on the final drive and nailed

Martellus Bennett

for a game-winning touchdown strike. This was a wild, sloppy affair that shouldn't have been this close. The Bears made some ugly mistakes on offense (Cutler's fumble, the decision to throw on first-and-goal) and were often times bailed out by their defense.

Green Bay Packers

38, Redskins 20
F
Another ugly start for a struggling Redskins team. At 0-2 they've been out of both games by halftime. Blame part of it on Robert Griffin III not being ready. He can't run and he's not healthy enough to be pinpoint with his accuracy either. The bigger problem is a young secondary and defense that's been absolutely smoked in two straight weeks. Whoever is running @Redskins would get an A+ from me, though. Talk about grinding out optimism through a tough game.
A
An old-fashioned evisceration by Aaron Rodgers on a young Redskins secondary Sunday. Rodgers threw for a career high in passing yards,

James Starks

ran for more than 100 yards and the Redskins didn't do anything offensively until this game was completely out of hand. Massive beating.

Houston Texans

30,

Tennessee Titans

24
C
What the hell was Mike Munchak doing at the end of regulation? I guess it worked. Whatever. Decent day for

Chris Johnson

and no major disasters for

Jake Locker

. Two picks for the defense and a pair of sacks are pretty good, but the Titans didn't exactly do much to bottle up

Arian Foster

or

Ben Tate

. And they couldn't shut down

DeAndre Hopkins

in overtime, either, which led to a tough divisional loss.
C+
Far from a perfect game for the Texans and it appeared they gave it away late when

Matt Schaub

threw an ugly pick six. He took blame for it later on but it could've been DeAndre Hopkins' fault. No matter. The rookie Hopkins made up for it by dominating overtime with several huge, impressive catches to give the Texans the win.

J.J. Watt

picked up two sacks and two pass deflections in pursuit of his 20-20-20 quest.

Miami Dolphins

24,

Indianapolis Colts

20
B+
Miami shook off the narratives of Week 1 and picked up a huge road win Sunday.

Lamar Miller

looked strong, rushing 14 times for 69 yards and a touchdown.

Mike Wallace

got on the board with nine catches, 115 yards and a score. I'm still hesitant to buy Miami this year but they've opened up 2-0 with a pair of road games. Impressive.
C+

Andrew Luck

couldn't work his late-game magic this time around, coming up short on a game-winning 4Q/OT drive. Five sacks and two forced fumbles for the defense is good but I'm not sure Indy's D is going to be extraordinary this year. Having

T.Y. Hilton

step up and produce a big stat line is a nice indication of a bigger role in the passing game this season than the first week.
Chargers 33, Eagles 30
B+
Massive, massive win for Mike McCoy. The Chargers went on the road and beat Chip Kelly's vaunted offense.

Philip Rivers

going 36-for-47 with 419 yards and three touchdowns and moving past last week's nightmare choke job is really impressive. He's not "back" but he's not the same shell of a guy from 2011 and 2012.

Eddie Royal

? What year is this? Dude has five touchdowns through two games this year. This defense has been surprisingly impressive through two weeks given the talent level. Thoughts and prayers with

Malcom Floyd

.
C-
Ten first-half points for Chip Kelly isn't quite the sort of performance you want to see. That's especially true when the defense is getting carved up by Rivers. This is the Eagles' biggest issue: if the offense isn't working it puts a major amount of pressure on the defense. Not selling stock in Kelly or anything, but I think games like this, where opponents dictate tempo through their offense, will be more frequent than not. They rallied back impressively but ultimately came up short.
Thursday
Team
Grade
Analysis

New England Patriots

13,

New York Jets

10
D+
For a while

Geno Smith

looked like he could pull off an impressive upset, but a trio of fourth-quarter picks ended any hope of that. He stood strong in the pocket but definitely made some rookie mistakes, didn't anticipate passes enough and lacked vertical prowess. The Jets defense was pretty good (although aided by the Pats offense) but if

Muhammad Wilkerson

is hurt that's a major blow. Limiting New England like this and not coming away with a win is a stinger.
D-
You can't fail a winner right? The Patriots were about as bad as you can be offensively.

Stevan Ridley

couldn't get it going on the ground, Brady was an emotional mess in the first half and the wideouts, as noted above, are a major problem. The defense did nice work --

Chandler Jones

emerged with a pair of sacks -- but we shouldn't give them too much credit against a weak Jets offense. Sloppy game all around.
CBS All Access allows viewers to stream every NFL on CBS game in their local market

CBS All Access allows viewers to stream every NFL on CBS game in their local market

Two NFC East divisional foes face off this weekend in a big battle for both teams
Owners and CEOs from several teams released statements in response to Trump's remarks in A...

Nick Kostos won big on Monday nights last season and gives his best 3-team NFL parlay for Week...

CBS All Access allows viewers to stream every NFL on CBS game in their local market