2013 NFL Grades, Week 6: Bears win but D should cause concern
2013 NFL Grades from Week 6 where the Bears win but the defense is a good concern.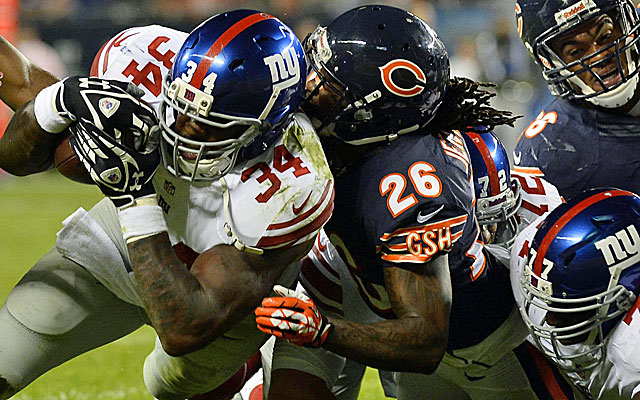 The Bears won on Thursday night 27-21 and are on top of the NFC North at least for a few days. But -- despite intercepting Eli Manning thrice Thursday night -- they've got to be worried about their defense.
Let's be clear: offense is good and the Bears offense, right now, is much better than it's been in a while. Jay Cutler's staying off his back, Brandon Marshall should be happy after Thursday's game and Martellus Bennett/Alshon Jeffery are very nice complementary weapons. That doesn't even mention Matt Forte, who feels underused this season despite piling up 110 yards this week.
This is a good thing. But isn't the defense a concern? This Giants offensive line is brutal, and the Bears only sacked Eli once Thursday. Brandon Jacobs plowed through the defense on the ground for 106 yards on 22 carries. Brandon Jacobs! Julius Peppers is AWOL when it comes to applying pressure and Shea McClellin doesn't look like a first-round pick.
A win's a win and Cutler and Co. looked good. The defense generated turnovers. But it also allowed a winless, hapless Giants squad to put up 21 points on the board and have a shot at a win late in the game.
This isn't me trying to be a jerk and pick on the Bears after a win. I picked them to win and cover the spread. Chicago emerging victorous wasn't surprising, but seeing them struggle on defense was definitely concerning.
Be optimistic that "Good Jay" showed up all you want but the defense's struggles are absolutely concerning.
Team
Grade
Analysis
Bears 27, Giants 21
C-
Another three interceptions for Eli Manning puts him on pace for a ridiculous 40 on the year. He only got sacked once which is good, but the turnovers -- one, maybe two weren't his fault -- are not. Brandon Jacobs ran well but the defense got shredded, again. If they can't stop anyone or apply any pressure to the quarterback they might be winless for a while.
B
Cutler was good, Brandon Marshall got his targets and scored twice and Alshon Jeffery could've had a much bigger game if he hadn't whiffed on an easy catch. Matt Forte produced a big yardage night. But the defense has red flags all over it, even on a short week and in a win.
The 49ers' last three wins have come against the Rams though they're 0-19 against everyone...

The Rams have struggled against the 49ers but that was during the Jeff Fisher era

Two weeks into the season, the Chiefs keep creating long touchdowns. Can they keep it up?
CBS All Access allows viewers to stream every NFL on CBS game in their local market

CBS All Access allows viewers to stream every NFL on CBS game in their local market

CBS All Access allows viewers to stream every NFL on CBS game in their local market