2013 NFL Grades, Week 9: Geno Atkins injury doubles Bengals loss
The Bengals suffered a nightmare on Thursday night. We discuss that in our Week 9 NFL Grades breakdown.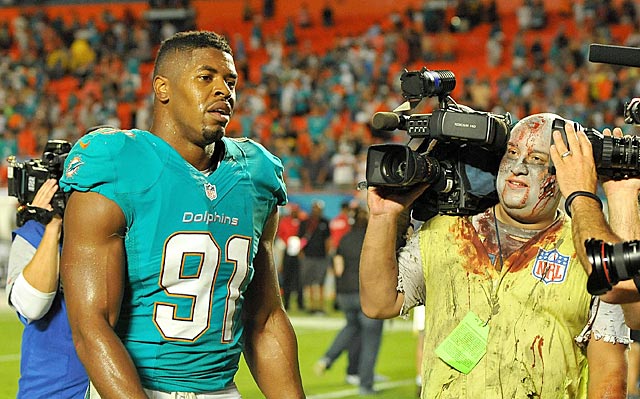 The Bengals couldn't ask for a scarier -- or sadder -- Halloween. Not only did they lose in Miami on a walk-off safety but Geno Atkins also suffered an ACL injury as well. Atkins' injury looked innocent enough when it actually happened, but the would-be DPOY candidate was carted off the field and ruled out before halftime ended.
Less than a week ago, Cincinnati was riding high as a legit Super Bowl contender. They'll wake up Friday taking a long, hard look in the mirror. That doesn't mean the Bengals can't compete without Atkins. They can.
But Dalton struggled at times and their defense dipped quickly without its best player. That's understood. It just isn't supposed to happen in such a painful fashion. You lose to the Dolphins in prime time on a short week? That's one thing. Lose to the Dolphins on a walk-off safety -- only the third one in NFL history and the first since Adewale Ogunleye in 2004 -- and lose your best defensive player?
That's not even fair. Making it worse is Marvin Lewis believing the sack wasn't an accurate call.
"In my opinion, the ball was out of the end zone," Lewis said. "That's a quick look at the board and they've got a little bit better resolution than I do."
Dean Blandino, the NFL VP of Officiating, disagrees. Blandino explained to Rich Eisen on NFL Network after the game that because part of the ball crossed the goal line -- backward, but still crossed -- that the play was, in fact, a safety.
"The key is the position of the ball in relation to the goal line when Dalton is first contacted by Wake," Blandino said. "We had a great look at it, and when Wake first makes contact with Dalton, the ball is breaking the goal line."
That sack -- and the position of the ball in relation to an invisible line that, vertically, extends in perpetuity -- changes everything. Miami finds themselves 4-4 and back in the hunt after a brutal month. The front-running Bengals went from cruise control to 6-3 without their best defensive player. Seven-and-two would have been much different.
Don't let anyone tell you it's not a game of inches.
Team
Grade
Analysis
Dolphins 22, Bengals 20
D+
It's easy to feel sympathetic for the Bengals here, but they played poorly and let the Dolphins back in the game. The defense didn't hold up after Geno Atkins went down. Andy Dalton made some really bad throws. Gio Bernard is special but BenJarvus Green-Ellis isn't. A.J. Green dropped balls. It just feels like a nightmare.
C+
Not a season-saving game by any stretch but Miami's got to be pumped about this win. Walking off -- even in safety-sack fashion -- is huge. Mike Wallace was involved. Lamar Miller ran well. Ryan Tannehill had some franchise quarterback moments. Cameron Wake saved the day. It all shifted very quickly.
The Saints coach wasn't in the mood to answer questions about Drew Brees on Tuesday

This is footage that you'll definitely want to see

It wasn't the matchup that we expected, but the Jaguars would argue that's everyone else's...
The Eagles quarterback and the Vikings quarterback have paths that have crossed many times

The Bengals quarterback gives his side of one of the craziest stories of the NFL season

There are many confusing issues when it comes to Ben Roethlisberger's future