2013 NFL schedule: Five worst games of the year
These are the games of the 2013 season you'll probably want to ignore.
• 3 min read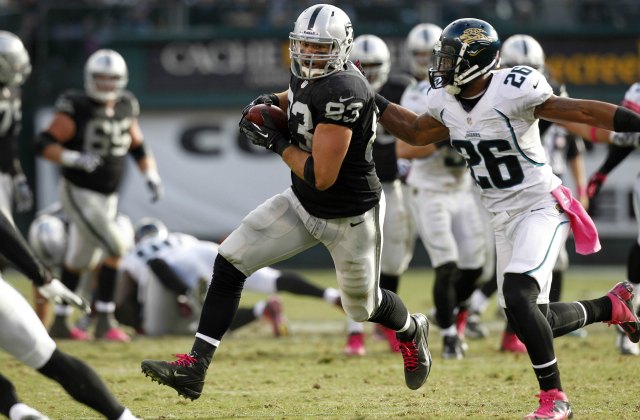 With the NFL releasing the 2013 regular-season schedule, this is a time for excitement and optimism while you daydream about the possibilities of dozens of exciting games that will help determine next year's Super Bowl champion.
And then there are these games.
The ones you pray are not scheduled specifically for a broadcast in your TV viewing area. The ones you figure might be a good week to go on vacation or to rake the leaves in your yard or to hold your wedding. The ones you want to avoid even if you're that squad's biggest fan.
Not every NFL game can be exciting and well played. Some are just … played. My advice: Remember the dates of these games once the season starts. That way you can completely ignore them when they kick off.
1. Jacksonville Jaguars at Oakland Raiders , Week 2: In the past two seasons, these two teams have combined to go through two different owners, four general managers and five head coaches. To say that both teams are unstable would be an understatement. The Raiders are still trying to claw back from the excesses of the end of the Al Davis era, and the Jaguars are recovering from the end of the Gene Smith era. Together, these two teams went a combined 6-26 in 2012, and there's not much hope at this point that either will be much improved in 2013. The Raiders salary-cap situation is disastrous, and the Jaguars will have to figure out what to do with former first-round pick, quarterback Blaine Gabbert . ( Chad Henne , anyone?). The last time either of these franchises had a winning record was 2007. In this day and age of NFL parity, that's awfully unimpressive. Just like this matchup.
2. Cleveland Browns at New York Jets , Week 16: The Jets this season could field the worst franchise team in the past few years (I imagine it'll be somewhere between 2007's 4-12 squad and 1996's 1-15 offering), and it's looking like it will be a season of Rex Ryan hot-seat speculation. The Browns, meanwhile, have been so bad for so long (with one winning season in the last 10 years) that it's tough to believe new coach Rob Chudzinski can turn around the franchise anytime soon. One team whose stock is plummeting vs. another whose franchise has been consistently unimpressive since the late 1980s won't make me sprint to the TV. Luckily, this game is in December, so the fans watching the game live also will be freezing.
3. Kansas City Chiefs at Buffalo Bills , Week 9: Personally, I think the Chiefs are going to be much improved from last year -- with Andy Reid coaching the team and with quarterback Alex Smith back in charge of his own squad, the Chiefs could be in contention for a playoff berth. Well, that's a little optimistic, but hey, it's possible, anyway. The Bills, though, will have the opportunity to make themselves look bad against any opponent. Their quarterback corps ( Kevin Kolb , Tarvaris Jackson , a possible early round draft pick?) likely will be brutal, and aside from the front-four, the defense probably won't be any better than last season (when they finished 26th in the league in points allowed). With the Steelers-Patriots game also being played this week in what looks to be a weak slate of matchups, this will be a great game to ignore.
4. Jets at Tennessee Titans , Week 4: I don't enjoy putting the Jets on this list twice, but SERIOUSLY, that team could be really, really bad this year. And honestly, I don't think much of the Titans' chances, either. This will have to be quarterback Jake Locker 's breakout season, but I'm not sure it will, and though Chris Johnson recovered last year from a bad 2011, he won't be the same running back he was in 2009 and 2010. Plus, I just don't see the kind of talent on defense that will allow Tennessee to be even an 8-8 squad.
5. San Diego Chargers at Jaguars, Week 7: Despite safety Eric Weddle 's (apparently serious) declaration that the Chargers will be the best team in the NFL, their first year under coach Mike McCoy could be rough. Philip Rivers had a concerning season last year, and there are huge question marks throughout the offensive unit. We've discussed Jacksonville already, so you know that team won't be pretty. Just a note: the last time these two teams met Dec. 5, 2011, the Chargers blew out Jacksonville 38-14. That game could be WAY better than the 2013 version.
Check out the uniforms that Kansas City and Oakland will be wearing on Thursday

Cliff Avril's NFL career might be over

Oct. 18 is a very special day in NFL lore
The Falcons should not be making any plans for Minnesota in February

The Colts star quarterback could end up missing the entire 2017 season

Not even two Super Bowl wins is enough to get Eli Manning any respect