2013 NFL season preview: Buffalo Bills
The Bills will have lots of new schemes and faces in 2013, including rookie quarterback EJ Manuel. How will they fare amidst all of the change? Here's a preview of Buffalo's season.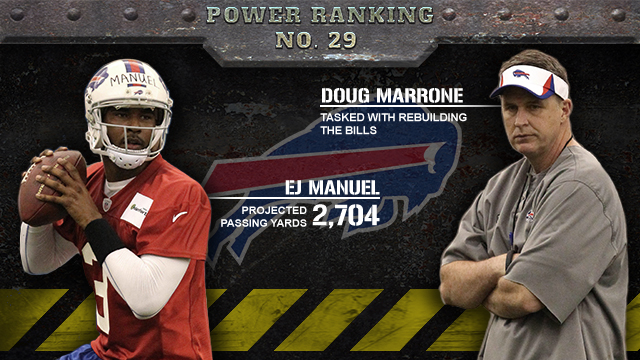 Granted, this is a team in a rebuilding state, but they captured my imagination during my camp visit. EJ Manuel has a chance to have a rookie season like the guys from the class of 2012. He prepares like Russell Wilson and has natural leadership skills. His teammates have already decided to follow his lead and the fans are very excited about him.
New head coach Doug Marrone was a great hire for this organization, and if you watched them practice like I did, you would see a creative offense and an emerging defense. The Bills still have plenty to get done and 2014 may look a whole lot better than 2013, but this team is headed in the right direction, and they will spoil some team's hopes of the postseason before this season is over.
Offense:
The Bills still like the no-huddle attack, which suits EJ Manuel very well. Manuel is tall in the pocket and with his long arm, big hands and over-the-top delivery, seems to find late crossing routes like Joe Flacco did as a rookie. Manuel has been working on a pistol package which appeared to be very effective, especially if the coaches decide to use C.J. Spiller and Fred Jackson together.
Bills' Rivals: AFC East


2013 Preview • Schedule
Dolphins @ Bills: 12/22 (1 p.m. ET)
Bills @ Dolphins: 10/20 (1 p.m. ET)


2013 Preview • Schedule
Patriots @ Bills: 9/8 (1 p.m. ET)
Bills @ Patriots: 12/29 (1 p.m. ET)


2013 Preview • Schedule
Jets @ Bills: 11/17 (1 p.m. ET)
Bills @ Jets: 9/22 (4:25 p.m. ET)
From the practices I watched, the team has every intention of stressing defenses with their 'pony' backfield. The receiver group is rounding out nicely. While Stevie Johnson and T.J. Graham have been on the sidelines nursing injuries, rookie Robert Woods and third-year Marcus Easley have done well with 15 receptions between them.
At camp, I was also impressed with third-rounder Marquise Goodwin. As for the offensive line, it appears they have to start the year off with older veteran Eric Pears at right tackle until they get Chris Hairston back, which isn't ideal, but they will manage. The problem with the offensive line is replacing OG Andy Levitre. Right now, it looks like Colin Brown, but that could change at any time.
Defense:
New defensive coordinator Mike Pettine has brought an attacking style to a group that was tired of the bend-don't-break philosophy from years past. So many of the players I spoke with were excited to attack an offense that they were on board with the new defense.
The organization is asking a lot of rookie inside linebacker Kiko Alonso. They plan on using him in all down and distance situations and he's wearing the listening device to call the defense. Keep an eye on this project, because it could be they will need to readjust their thinking.
Last year, the Bills defense was solid against the pass and not very good vs. the run. Buffalo will need a healthy Kyle Williams up front and upgraded play at inside linebacker. The club says the team is a hybrid defense. When I was there, it looked like a lot of 3-4 principles but to get their best players on the field and protect Alonso inside, they seem better suited for a 4-3 front. Keep an eye on how the Bills finally decide to set up this defense. They may list Mario Williams as a 3-4 OLB but if you go back to Pettine's days in Baltimore, it was the same position that Terrell Suggs plays and they called him the rush linebacker.
Final thoughts:
Don't judge this team by their record in 2013. They just aren't ready for a full-blown turn around. I could see EJ Manuel throwing for 2,800-3,000 yards and 18 touchdowns with an eye on the future.
More 2013 NFL season previews: Select a team
AFC North
AFC South
AFC East
AFC West
NFC North
NFC South
NFC East
NFC West
The Chargers are hoping that Philip Rivers can play on Sunday

This is the biggest showdown of the week in the NFL

The battle between the Rams' offense and Vikings' defense will be waged in the middle of the...
An 'inappropriate' comment by the Cowboys' owner was caught on video in 2013

Here's every official injury designation for each NFL team for Week 11

The Chargers can't seem to avoid controversy this year