2013 NFL season preview: Cleveland Browns
Brandon Weeden showed flashes of great play in the preseason, and with other young playmakers added to the fold, the Browns might have reason for optimism.
• 4 min read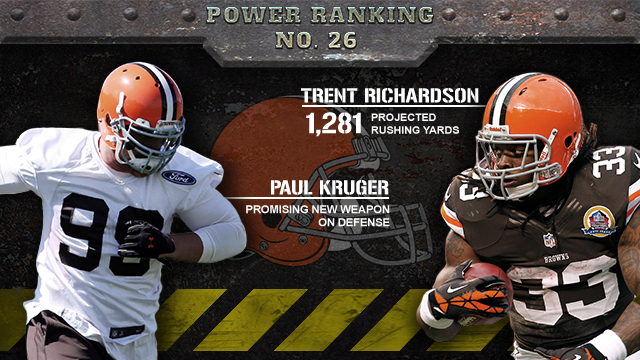 Nothing is easy for the Cleveland Browns . They've dug a deep hole over the years through mismanagement and they happen to play in what might be the best division in football.
Everyone else in the division has, at least, a playoff quarterback. The Browns have a host of unproven talent on the offensive side of the ball, but new coach Rob Chudzinski did inherit a quality defense that will be more aggressive under coordinator Ray Horton. And special teams is clearly younger as well, with longtime return ace Josh Cribbs gone, and the team hopeful that rookie Brandon Bogotay could handle taking over kicking duties for former stalwart Phil Dawson .
If nothing else, there were flashes in the preseason. Brandon Weeden had some masterful drives and was doing enough to hold off Jason Campbell and Brian Hoyer in that race, though I would continue monitoring that through the season. It's a fluid situation. Trent Richardson remained healthy, always a plus, and there were signs of life with Norv Turner calling the plays. Still, with all of that said, the Browns will go into many games this season with a distinct disadvantage in terms of offensive talent.
Offense:
Browns' Rivals: AFC North


2013 Preview • Schedule
Ravens @ Browns: 11/3 (4:25 p.m. ET)
Browns @ Ravens: 9/15 (1 p.m. ET)


2013 Preview • Schedule
Bengals @ Browns: 9/29 (1 p.m. ET)
Browns @ Bengals: 11/17 (1 p.m. ET)


2013 Preview • Schedule
Steelers @ Browns: 11/24 (1 p.m. ET)
Browns @ Steelers: 12/29 (1 p.m. ET)
Weeden responded well to pressure in the first half of the preseason schedule, getting no assurances he would be the guy to win the job but making a strong case he should be the starter heading into the season. The reality is he will have to keep proving it on a weekly basis as the organization assesses the long-term prognosis at quarterback.
Greg Little emerged from the receiving group and the Browns feel like Jordan Cameron will surprise some people at tight end. Turner's offense dictates that a healthy amount of targets go in that direction.
The backfield looked like a strength, but that was before injuries to Montario Hardesty and Dion Lewis . Richardson will be given every chance to be a featured back, but the hope is there are more big plays from this unit on the ground and through the air. If all these kids peak at once, the Browns could be more competitive than most expect, but that could be asking for a lot.
Defense:
There are playmakers at every level of this defense and Horton will be moving people around and throwing exotic blitzes at opponents. Phil Taylor is on the cusp of greatness and look for Jabaal Sheard to do big things off the edge. T.J. Ward continues his development at safety, D'Qwell Jackson is the leader at linebacker and Joe Hayden is as good of a young shutdown corner as there is in the NFL.
Haden's presence can allow Horton to devote single coverage to even a wideout like A.J. Green , and devote that extra body to attacking the passer. In his defense, that's critical. Barkevious Mingo might not be all that noticeable early in the season, especially after having to miss some time with a bruised lung, but there is every reason to believe he could be a big part of the pass rush by midseason. The first-round pick has all the physical tools to be a force over time.
The quality and depth on this side of the ball should keep the Browns in pretty much every game. They'll have to contribute to the scoring, too, however, to keep this team from looking at another high draft pick next year.
Final thoughts:
It might be difficult to get out of the gate quickly, and there is always a learning curve involved in adapting to a new coaching regime. But I believe Browns fans will have more to be excited about as the season winds down. I think they find a way to split with a few division foes and they can start becoming a more difficult team to face in Cleveland.
The Browns want to build a team that is equipped to compete in those wintry conditions and within what has become a very physical AFC North. They are headed in that direction. The primary goal this season will be figuring out if they have a quarterback and considerable time will be spent evaluating the 2014 draft class for franchise passers, either way.
More 2013 NFL season previews: Select a team
AFC North
AFC South
AFC East
AFC West
NFC North
NFC South
NFC East
NFC West
The youngest coach in NFL history isn't coming off as someone out of his depth -- just the...

Henry is ready to take on a more substantial role in the Titans' run-heavy offense

In the past week, Marshawn Lynch and Michael Bennett have both sat during the national ant...
As expected, the internet had jokes about the Chick-fil-A at Mercedes-Benz being closed on...

Harrison is the franchise's all-time leading sacker, but J.J. Watt's brother will get the starting...

More than 17 percent of fans say they would never consider dating a Pats fan