2013 NFL season preview: Dallas Cowboys
Could this be Dez Bryant's breakout year? Will Tony Romo live up to his fat new contract? All of these questions and more face the Cowboys in 2013. Here's a preview of their season.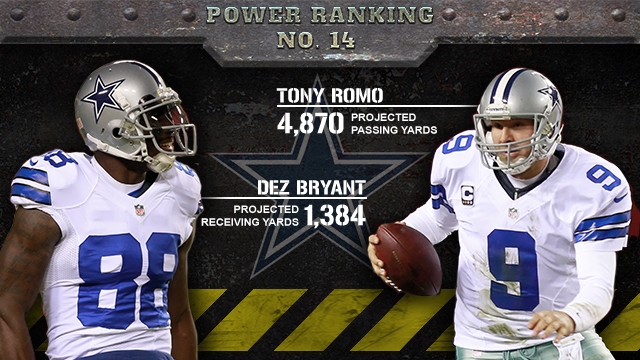 Every Cowboys conversation generally starts with owner Jerry Jones. Jones loves to make news, he loves to be in the news and he loves to make questionable football-related decisions. Jones did all three of those things this offseason: he gave Tony Romo a lot of money, he stripped coach Jason Garrett of his play-calling duties and he hired a 73-year-old defensive coordinator in Monte Kiffin who hasn't coached at the pro level since 2008.
The question is, will those moves help the Cowboys get back to the playoffs for the first time since 2009? And if the Cowboys don't make the playoffs, will Garrett be stripped of something else, like his job?
Offense:
It's going to be tough for Romo to lead Dallas to the playoffs this season if he gets sacked on every single play -- and that might happen if the Cowboys offensive line doesn't get healthy. Six different Dallas guards have missed time in training camp, including both of last year's starters Nate Livings (knee) and Mackenzy Bernadeau (hamstring).
Bernadeau should be healthy enough to start the season at right guard, but left guard could be a question mark if neither Livings nor backup Ron Leary are healthy enough to go. Third-year guard David Arkin, who's never played in a game, could be the Cowboys starter in the opener.
Cowboys' Rivals: NFC East


2013 Preview • Schedule
Giants @ Cowboys: 9/8 (8:30 p.m. ET)
Cowboys @ Giants: 11/24 (4:25 p.m. ET)


2013 Preview • Schedule
Eagles @ Cowboys: 12/29 (1 p.m. ET)
Cowboys @ Eagles: 10/20 (1 p.m. ET)


2013 Preview • Schedule
Redskins @ Cowboys: 10/13 (8:30 p.m. ET)
Cowboys @ Redskins: 12/22 (1 p.m. ET)
Line play is always important, but it's especially important in Dallas: Romo has been sacked 72 times over the past two seasons combined, the third-highest total of any quarterback in the league. Continuity on the offensive line would most likely help that number go down.
If the offensive line clicks for the Cowboys, then everything else should too. Wide receiver Dez Bryant has had a strong training camp and if Miles Austin can stay healthy, the two could form one of the NFL's top receiving duos. Romo also has 11-year veteran Jason Witten, who led all tight ends in the league last season with 110 receptions.
The Cowboys know what they have in DeMarco Murray, the only question is whether he can make it through an entire season unscathed. Behind Murray should be Lance Dunbar, an undrafted free agent who signed with the Cowboys in 2012. Dunbar's explosiveness was one of the highlights of training camp.
Defense:
At 73, new defensive coordinator Monte Kiffin is going to have to prove that the game of football hasn't passed him by. One of the reasons Kiffin "resigned" from USC was because of his inability to slow down Chip Kelly's offense at Oregon. In three games vs. Kelly, Kiffin's defenses gave up 62, 35 and 53 points.
NFL and college football obviously aren't the same, but Kiffin's defense in Dallas could face similar problems when the Cowboys take on Kelly's Eagles or even the Robert Griffin III-led Washington Redskins.
On the bright side, Kiffin has found incredible success at the pro level. During his 13 seasons in Tampa Bay (1996-2008) the Buccaneers finished the year with a top-10 defense 12 times.
Kiffin will have the Cowboys switching from the 3-4 defense that previous coordinator Rob Ryan ran to a 4-3. The biggest benefactors here could be Demarcus Ware and Anthony Spencer, both of whom will be making the move from outside linebacker to defensive end. It should be a seamless transition for the duo, as both played defensive end in college.
Final Thoughts:
Christmas hasn't been an exciting time in Dallas for the past two years because that's when the Cowboys season always seems to fall apart. Since 2011, the Cowboys are 0-4 in games played after Dec. 23. That's a big deal because in both 2011 and 2012, Dallas was 8-6 before losing its final two games. If the Cowboys can figure out how to win in late December, look for the three-year playoff drought to end.
A quick start would do wonders for the Cowboys, too, and a 3-1 record after four games isn't an unreasonable expectation. The Giants are the only team Dallas plays in the first four weeks that had a winning record in 2012.
More 2013 NFL season previews: Select a team
AFC North
AFC South
AFC East
AFC West
NFC North
NFC South
NFC East
NFC West
An example of how not to use social media

Mike McClure, a DFS pro with more than $1M in winnings, gives optimal DraftKings and FanDuel...

Let's check in on the Giants a day after their loss to the Lions
Mike McClure has made over $1 million playing DFS and gives his best daily fantasy football...

The veteran linebacker is the franchise's all-time leader in sacks

It's unclear when Timmons, a free-agent signing in the offseason, will make his Dolphins d...