2013 NFL season preview: Detroit Lions
The Lions have some of the league's most formidable weapons on offense, but they're still trying to translate that into a division title. Here's a preview of their season.
• 4 min read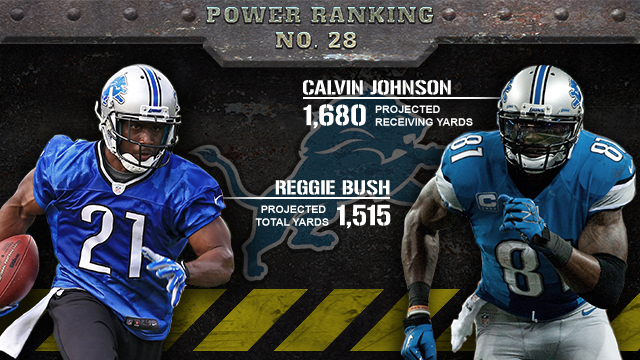 Is this Jim Schwartz's last chance to show that he's the head coach to turn the Detroit Lions into a group of winners? You might not have thought so after the team's 10-6 season in 2011, which culminated with Detroit's first playoff appearance in 12 years. But last year, the team regressed to a 4-12 mark, and when you look at Schwartz's overall record, it's an unimpressive 22-42. So, this year is a big one for Schwartz and the organization as a whole.
The team showcases one of the league's top receivers in Calvin Johnson , a quarterback in Matthew Stafford who seemingly has the talent to be a top-five signal-caller, and a defensive line that could be one of the scariest in the NFL. But the Lions have to stay healthy and figure out a way to survive in what is sure to be a tough NFC North. For better or worse, much of that depends on Schwartz, and his team's performance this year will determine whether he keeps his job.
Offense:
The Lions enter this season without their starting tackle (Jeff Backus, who retired), one of their go-to receivers (Titus Young, out of the NFL) and their once-future franchise running back (Jahvid Best, whose concussions have forced him from the game).
Lions' Rivals: NFC North


2013 Preview • Schedule
Bears @ Lions: 9/29 (1 p.m. ET)
Lions @ Bears: 11/10 (1 p.m. ET)


2013 Preview • Schedule
Packers @ Lions: 11/28 (12:30 p.m. ET)
Lions @ Packers: 10/6 (1 p.m. ET)


2013 Preview • Schedule
Vikings @ Lions: 9/8 (1 p.m. ET)
Lions @ Vikings: 12/29 (1 p.m. ET)
In reality, the Lions are probably better off. Riley Reiff , the team's 2012 first-round pick, replaces the aging veteran Backus, and Young, for all his talent, was nothing more than a distraction on the team. And without Best in the picture, the Lions went to the free agent market and signed Reggie Bush , who's coming off the two best seasons of his career in Miami.
Nate Burleson should be Stafford's second passing option after Johnson, and once 2012 second-round pick Ryan Broyles is fully healed from the ACL tear he suffered in December, he should add to a solid receiver corps. The offensive line should be a concern. There's still a question whether Reiff can play left tackle in this league, and midway through the preseason, there were still position battles for the right guard and right tackle spots. Hopefully for Stafford, whoever wins those jobs has the ability to pass-block -- after all, he attempted 727 passes last season, the most in NFL history.
Defense:
The strength of the team's defense is clearly the front-four. That'd be Jason Jones , Ndamukong Suh , Nick Fairley and first-round pick Ziggy Ansah. Already, Ansah showcased his skills in the team's first preseason game when he intercepted Jets quarterback Mark Sanchez and returned it for a touchdown. Suh has been a monster defensive tackle since he entered the league three seasons ago, Fairley had a strong year in 2012 and Jones has been solid if not spectacular. But the Lions gambled by letting go of Cliff Avril , who is probably a top-10 defensive end, and drafting the very raw Ansah. We'll see if Ansah can replace Avril's production.
In the back-seven, safety Louis Delmas -- or, more specifically, the health of Louis Delmas -- will be one of the defense's most important factors. He's missed 13 total games in the past two games, and he was out of action for most of the offseason. Though Delmas continues to say that this is the best he's felt in the past two seasons, he also wasn't scheduled to play in any of Detroit's preseason games. So, Delmas is still unknown. But the Lions also made sure to sign former Texans safety Glover Quin to a deal, and they drafted cornerback Darius Slay in the second round.
Final thoughts:
The Lions have been one of the league's laughingstocks the past few years. Not necessarily for their play on the field, but because of the constant legal problems the team has had off the field. Whether that speaks to a lack of discipline employed by Schwartz is unknown, but the team chemistry could not have been helped by the constant distractions caused by arrest after arrest. This team has talent. The question is: can Schwartz figure out how to harness it for the long term?
More 2013 NFL season previews: Select a team
AFC North
AFC South
AFC East
AFC West
NFC North
NFC South
NFC East
NFC West
In the past week, Marshawn Lynch and Michael Bennett have both sat during the national ant...

As expected, the internet had jokes about the Chick-fil-A at Mercedes-Benz being closed on...

Harrison is the franchise's all-time leading sacker, but J.J. Watt's brother will get the starting...
More than 17 percent of fans say they would never consider dating a Pats fan

Brady said that his lack of speed is why he fell so far in the draft in the first place

If Thomas is right, that means it's bad news for DeShone Kizer's chances of starting early