2013 NFL season preview: Green Bay Packers
With a guy like Aaron Rodgers leading the -- ahem -- pack, Green Bay will always be formidable. But will the secondary improve? Here's a preview of the Packers' season.
• 4 min read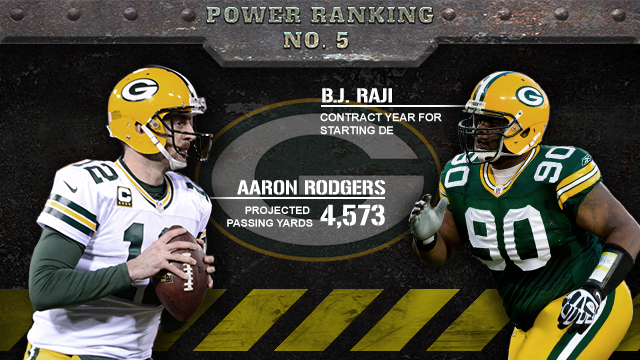 Let's just get this out of the way so we can focus on other aspects of the Packers squad: When Aaron Rodgers is your starting quarterback, you might as well be automatically stamped for a postseason appearance.
In the past five years, since Rodgers took over as the starter, the Packers are 53-27, and in the past four seasons, the team has won double-digit contests each year (and, of course, a Super Bowl). Rodgers, almost by himself, makes the Packers the team to beat in the NFC North.
Just like usual, Green Bay didn't make a huge splash in the offseason free agent market, though the Packers took defensive end Datone Jones in the first round of the draft in order to improve the team's pass-rushing ability (aside from linebacker Clay Matthews, nobody on last year's squad had more than five sacks).
The NFC North will continue to be tough this season -- remember, the Bears and the Vikings also finished with 10 victories last year -- but Green Bay's squad still is the most talented.
Offense:
Packers' Rivals: NFC North


2013 Preview • Schedule
Bears @ Packers: 11/4 (8:40 p.m. ET)
Packers @ Bears: 12/29 (1 p.m. ET)


2013 Preview • Schedule
Lions @ Packers: 10/6 (1 p.m. ET)
Packers @ Lions: 11/28 (12:30 p.m. ET)


2013 Preview • Schedule
Vikings @ Packers: 11/24 (1 p.m. ET)
Packers @ Vikings: 10/27 (8:30 p.m. ET)
With Greg Jennings (and now, Donald Driver) chirping so much in the offseason about how playing for Green Bay and catching passes from Aaron Rodgers is such a terrible lot in life, you have to figure it's because Jennings is jealous that receivers like Jordy Nelson, Randall Cobb and James Jones have the chance to become ultra-stars while playing on the same squad as Rodgers. To be fair, that superstar status has yet to fall upon tight end Jermichael Finley.
Rodgers might be the best player in the league, and everybody on Green Bay's offense benefits.
This, of course, assumes left tackle David Bakhtiari, the fourth-round draft pick who stepped into that spot after Bryan Bulaga's season-ending injury, and right tackle Marshall Newhouse can keep him from getting hit.
It'd also be nice for the Packers if they can get production from the running backs. That was the thinking behind Green Bay taking running back Eddie Lacy in the second round of this year's draft after Alex Green's 464 yards led the squad last season.
While coach Mike McCarthy said earlier in the preseason that DuJuan Harris was the starter in that moment, it seems unlikely Lacy will stay in a backup role for long. He's the best option at this point, and for the price the team paid for him, it should expect results quickly.
Harris and fourth-round pick Johnathan Franklin also should get carries.
Defense:
One of the bigger problems for the Packers in the past couple of seasons has been the secondary. Part of this problem is because Green Bay's opponents usually have to play from behind, meaning they're likely to attempt more passes than runs as they try to catch up.
The team will miss Charles Woodson's leadership, but players like Casey Hayward (a standout during his 2012 rookie season) and Morgan Burnett should make up for the loss of his talent (which was beginning to fade for Woodson, anyway).
The results of the secondary in the early part of the preseason schedule were mixed, especially with Hayward out due to a hamstring injury. But Micah Hyde, a fifth-round draft pick this season, gave the coaching staff optimism with his early play as a slot cornerback. Still, it wouldn't be a huge shock if this unit again became a problem.
The front-seven should be fine. B.J. Raji is coming of a solid 2012, and he should get help from Jones on the defensive line. Mike Neal also looked solid through the first half of the preseason, and Johnny Jolly, who hasn't played in an NFL game since 2009, has been a pleasant surprise.
The linebackers also will continue to be a strength, especially if Matthews continues his stellar play of the past few seasons. The team also feels comfortable with linebacker Brad Jones in the middle of the defense, considering the team released Desmond Bishop -- who recorded 115 tackles in 13 games in 2011 but missed all of last season with a ruptured hamstring -- in the offseason to make room for Jones.
Final thoughts:
The Packers have a tough schedule, so a repeat of their 11-5 season from a year ago isn't assured. And it doesn't seem like there will be an easy opponent in the AFC North, so those six inter-conference games will be difficult. But with an offense that actually could be better, Green Bay will have a chance to score major points in most every game it plays.
The question will be if the Packers defense can hold off the league's other high-powered offenses. For the most part this season, the defense probably will.
More 2013 NFL season previews: Select a team
AFC North
AFC South
AFC East
AFC West
NFC North
NFC South
NFC East
NFC West
Warren Sapp was one of several players named in a lawsuit against NFL Network

Check out the uniforms that Denver and Indianapolis will be wearing on Thursday

The Cowboys are going to need a few things to go their way to get into the postseason
Rudolph will be put under the microscope in Mobile by clubs looking for a quarterback early...

This fan is taking the Saints to court for using 'football games as a platform for protest...

Can Aaron Rodgers get the Packers to the postseason? Even if they win out, they'll need he...