2013 NFL season preview: New England Patriots
Between the Aaron Hernandez situation and a new-look receiving corps, the Patriots have had a lot to sort out in the preseason. Here's how they're shaping up for 2013.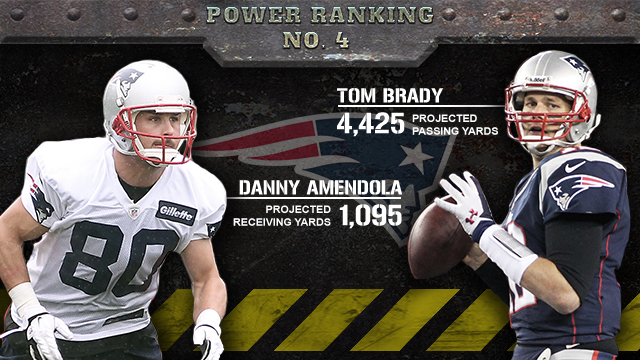 The first thing I learned on my visit to the New England Patriots is their unique ability to focus on football even though they were dealing with the Aaron Hernandez situation. Tom Brady will never complain or show a crack in his armor as he gets his team ready for 2013.
Brady could start the season with all new wide receivers and tight ends on the field, but you would never know it from watching practice. Brady will get the rookies ready to play winning football.
You might have to reference the depth chart to find out who is scoring the receiving touchdowns with names like Zach Sudfeld and Josh Boyce instead of Wes Welker and Hernandez. The longer the preseason goes on the more Danny Amendola looks like Welker except he entered the NFL five years later and if healthy will put up similar numbers.
New England's defense is underrated and will play well enough to sail through the division.
Offense:
Patriots' Rivals: AFC East


2013 Preview • Schedule
Bills @ Patriots: 12/29 (1 p.m. ET)
Patriots @ Bills: 9/8 (1 p.m. ET)


2013 Preview • Schedule
Dolphins @ Patriots: 10/27 (1 p.m. ET)
Patriots @ Dolphins: 12/15 (1 p.m. ET)


2013 Preview • Schedule
Jets @ Patriots: 9/12 (8:25 p.m. ET)
Patriots @ Jets: 10/20 (1 p.m. ET)
Get ready for a very effective running game to be a main part of this offense. Last year the Patriots were the No. 7 rushing team in the league and they appear even better this season. The offensive line is outstanding, there is a stable of running backs and the threat of Tom Brady and his passing attack will create opportunities for the ground game. Stevan Ridley will top his 1,263 yards rushing from 2012 and Shane Vereen should get close to 1,000 total yards in rushing and receiving as he picks up for the departed Danny Woodhead .
Last year the Pats had more rushing first downs than any team in the league, and they will be right there once again. When it comes to the air attack Brady will get time behind his line and the distribution of his passes will be varied. I can't see anything stopping him from throwing for over 4,000 yards and close to 30 touchdowns. The big scare about Brady injuring his knee earlier in camp was clearly overblown. He looked in midseason form just days later. Last year Brady threw 34 touchdown passes, which was more than the other three current AFC East starting quarterbacks combined.
Defense:
The New England defense is great at one thing: creating turnovers. In the last three years they lead the NFL with 113 takeaways, or 38 a season. Imagine how much damage this defense does by giving Tom Brady over 2 extra series a game. New England gets a bad rap for their defense, but they keep teams under 4 yards a carry and always have to deal with opponents playing catchup. This means they give up a lot of passing yards, but it also led to 20 interceptions. I expect the defense to play about the same in 2013.
The one area this summer that is improved is the pressure packages. Since DE Chandler Jones is starting to be recognized as a threat to rush the passer protection schemes are going his way and that will open up the inside linebacker blitz calls. It is starting to resemble the days when teams worried about Willie McGinnest on the outside and Teddy Bruschi pressured the inside.
Final thoughts:
Mark Sanchez , Geno Smith , EJ Manuel , Kevin Kolb and Ryan Tannehill are the division quarterbacks being asked to stay up with Brady's ability to score points and win games. It's too much to ask of this group of signal callers. The Patriots may not average 36.3 points per division game this year, but they will push 30 points.
It's tough to go 6-0 in the division two years in a row. Without Wes Welker and Hernandez, and with Rob Gronkowski on the mend, the Patriots will not duplicate their 12-4 record from 2012, but they will win the AFC East.
Say what you want about the Patriot pass rush in 2012 but they sacked division quarterbacks 22 times last year and forced 19 turnovers in those six games. The 2013 defense looks even better.
More 2013 NFL season previews: Select a team
AFC North
AFC South
AFC East
AFC West
NFC North
NFC South
NFC East
NFC West
The Dallas receiver threw up the X after his score, and he certainly deserved it

The singer sent a message with a verse of scripture on Monday night

The Cowboys owner joined in a demonstration with the Cowboys players before Monday night's...
Look for Ezekiel Elliott and Dak Prescott to rebound after a rough outing in Denver

Quarterback Russell Wilson was one of the chief proponents for the Seahawks staying in the...

The Steelers offensive lineman was only on the field by accident during Sunday's national...