2013 NFL season preview: New York Giants
Eli Manning has his favorite targets back on the field, but could Jason Pierre-Paul's repaired back slow the Giants down? Here's a preview of the Giants' 2013 season.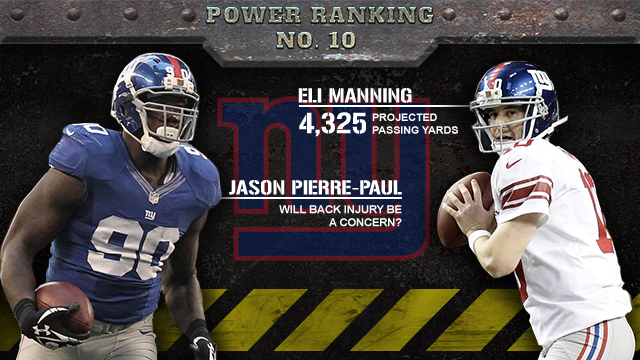 Compared to the rest of the NFC East, the Giants had a quiet offseason. They don't have a new coach like the Eagles, their quarterback isn't coming off an ACL tear like the Redskins and their head coach hasn't been stripped of his play-calling duties like the Cowboys.
The only potential distraction the Giants faced this offseason was a Victor Cruz holdout, but the team ended that possibility before it started by signing Cruz to a five-year extension in July.
The most notable release by the Giants came in February when they dropped 2012 leading rusher Ahmad Bradshaw, but they should have a suitable replacement in second-year running back David Wilson.
Offense:
When Eli Manning's not making rap videos, he moonlights as the Giants starting quarterback. New York's opener on Sept. 8 will mark Manning's 136th consecutive regular-season start, the second-longest active streak in the NFL -- behind Redskins linebacker London Fletcher -- and the third longest streak all-time by a quarterback.
Manning can have his ups and downs, but when he's good, so are the Giants. In Manning's nine-year career, the Giants are 36-11 when he doesn't throw an interception, 22-7 when he throws multiple touchdown passes and 18-4 when his quarterback rating is over 108.
Giants' Rivals: NFC East


2013 Preview • Schedule
Cowboys @ Giants: 11/24 (4:25 p.m. ET)
Giants @ Cowboys: 9/8 (8:30 p.m. ET)


2013 Preview • Schedule
Eagles @ Giants: 10/6 (1 p.m. ET)
Giants @ Eagles: 10/27 (1 p.m. ET)


2013 Preview • Schedule
Redskins @ Giants: 12/29 (1 p.m. ET)
Giants @ Redskins: 12/1 (8:30 p.m. ET)
The Giants' passing game should thrive in 2013 as Manning will have his two favorite weapons back in Cruz and Hakeem Nicks. Manning will also have second-year man Rueben Randle as a target. Randle came on late last season with 101 yards and two touchdowns over the Giants final two games.
As for running back, the Giants are gambling that Wilson is the answer there. Wilson struggled with pass protection at times last year and if that continues, Andre Brown could see more action.
Defense:
The Giants' defense works best when the front four can be disruptive and the front four's disruptive when Jason Pierre-Paul's at the top of his game. The 24-year-old recorded 16.5 sacks in 2011 and tallied 6.5 more despite playing through back pain in 2012.
Unfortunately for the Giants, Pierre-Paul's status for the regular season remains up in the air after he underwent back surgery in June. Without Pierre-Paul, the Giants defense probably won't be much better than the 31st ranked unit the team field last year. Mathias Kiwanuka, who spent the past two seasons at linebacker, is being moved back to defensive end to give the Giants some depth.
The Giants would love to see Justin Tuck's ability return to its 2010 levels, when he recorded 11.5 sacks.
Despite finishing 28th against the pass in 2012, the Giants are going to stick with their starters in the secondary. Prince Amukamara and Corey Webster will return at the corners and Antrel Rolle and Stevie Brown will most likely be New York's starting safeties.
The Giant secondary wasn't afraid to take risks last year -- the team's 21 interceptions were third in the league -- but risk-taking isn't always a good thing. The Giants were burnt for 13 pass plays that went for 40 or more yards in 2012, the second highest total in the league, trailing only the 14 New Orleans gave up.
Final Thoughts:
Since Manning's first season as the team's full-time starter in 2005, the Giants haven't had a losing record and there's no reason to think that streak will end this year.
The Giants caught a break with the schedule too: New York plays six games against teams that made the playoffs in 2012, but five of those are at home, where the Giants finished 6-2 last season.
More 2013 NFL season previews: Select a team
AFC North
AFC South
AFC East
AFC West
NFC North
NFC South
NFC East
NFC West
The Green Bay Packers quarterback seems to be a go for the Carolina Panthers game

Shazier's season might be over, but he still wants to help his team

The young head coach took the blame after a heartbreaking loss to the Eagles
Our computer model simulated every Week 15 NFL game 10,000 times with very surprising resu...

Britt is going from the worst team in football to a Super Bowl contender

With three weeks to go in the regular season, the MVP race is wide open