2013 NFL season preview: New York Jets
Calling the Jets' situation shaky is a big understatement, with coach Rex Ryan on the hotseat and major questions at quarterback. Here's a preview of the Jets' season.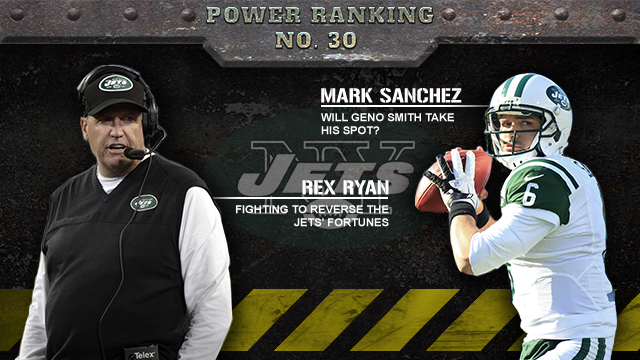 The Jets are in a tough spot. There's a new GM who drafted quarterback Geno Smith and a head coach fighting for his job. They've got a fan base that will go ballistic the first time Mark Sanchez throws an interception and an owner still trying to sell seats.
There is talent on this team but the external pressures and the loss of key veterans like Darrell Revis make the 2013 Jets a very fragile team. If one guys could keep this thing glued together, it's Rex Ryan but he's also breaking in three new coordinators. It looks like a long year for the Jets.
Offense:
Marty Mornhinweg takes over the offense and has a reputation for liking to run the ball. He has been clear all summer that he will do whatever it takes to move the ball and score points and will not get hung up on balancing the attack.
Jets' Rivals: AFC East


2013 Preview • Schedule
Bills @ Jets: 9/22 (4:25 p.m. ET)
Jets @ Bills: 11/17 (1 p.m. ET)


2013 Preview • Schedule
Dolphins @ Jets: 12/1 (1 p.m. ET)
Jets @ Dolphins: 12/29 (1 p.m. ET)


2013 Preview • Schedule
Patriots @ Jets: 10/20 (1 p.m. ET)
Jets @ Patriots: 9/12 (8:25 p.m. ET)
I came away from camp liking their offensive line more than I thought I would. They have had moments in preseason games that indicate they could be decent up front. For the Jets to get the most out of Sanchez while they wait for Smith to develop, they need to give him a vote of confidence and name him the starter and then not listen to the screaming fans and media when he struggles. The problem is Sanchez continues to give his critics fuel for their fire, with interceptions in the end zone and blowing a scoring opportunity by not managing the clock properly.
The team went out and traded for running back Chris Ivory but he hasn't been healthy enough to build any confidence in the running game. I expect the ground attack to improve as soon as Ivory is 100 percent. Right now he's splitting time with Bilal Powell. As for the passing game, without the still-injured Santonio Holmes the club does not present many problems. Last year, the Jets had the 30th-ranked passing attack, and it may not be any better this year.
Defense:
Rex Ryan told me he's going to be more hands-on with the defense than in years past. That tells me the attacking style will take an uptick and the blitzing will expand. Do not underestimate the Jets' front three. Muhammad Wilkerson is moving into the top group around the league and rookie Sheldon Richardson has all the tools to be a dominating player in time. This front could generate more pass rush than any front Ryan has coached in New York.
Ryan also told me converted DE to OLB Quinton Coples will play the role of Terrell Suggs as the rush backer. At 275 pounds, he's a big backer, and how often have you seen an OLB go in and play down as a tackle over a guard in passing situations? Coples is playing that split role. I expect opponents to spread the Jets out in early downs and get Coples in space to see if he has drop skills.
In the secondary, Antonio Cromartie surely stepped up when Revis went down with an injury last year. The Jets need rookie Dee Milliner to play like a veteran early so they can put Kyle Wilson back at the nickel spot.
Final thoughts:
At the bye, the Jets will think long and hard about putting Geno Smith on the field if they have not done it already. A two-week window to prepare Smith and a road game in Buffalo is about as good an opportunity as they would have to play the guy. The five game stretch leading up to the bye is murderer's row for the Jets and a five-game losing streak is very possible with games against Atlanta, Pittsburgh, New England, Cincinnati, and New Orleans.
More 2013 NFL season previews: Select a team
AFC North
AFC South
AFC East
AFC West
NFC North
NFC South
NFC East
NFC West
The Cowboys owner joined in a demonstration with the Cowboys players before Monday night's...

Look for Ezekiel Elliott and Dak Prescott to rebound after a rough outing in Denver

Quarterback Russell Wilson was one of the chief proponents for the Seahawks staying in the...
The Steelers offensive lineman was only on the field by accident during Sunday's national...

It was an emotional day in Philadelphia for the parents of kicker Jake Elliott

Nick Kostos, a.k.a. 'Mr. Monday Night,' has owned Monday Night Football