2013 NFL season preview: Pittsburgh Steelers
With Ben Roethlisberger at full speed, the Steelers are in a good spot. But an injury to Le'Veon Bell and an aging defense are among several concerns.
• 4 min read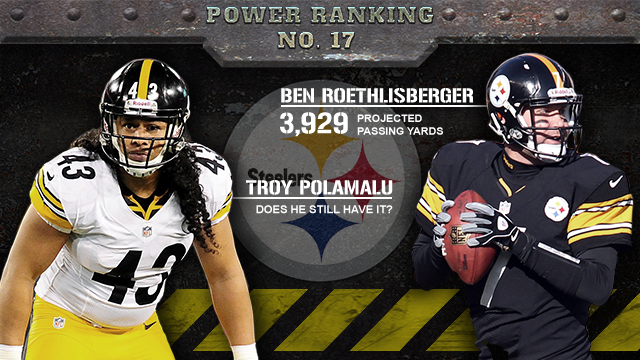 The Steelers have heard for several years now how they are too old, too slow, in decline. And they most certainly are a team in transition, with many stalwarts gone and a few more likely in their final seasons here. But if the rookie class can provide the kind of boost their talents indicate they could on both sides of the ball, and if Ben Roethlisberger can stay healthy, then the Steelers could be right back in the postseason after serving as spectators a year ago.
Mike Tomlin rode this group pretty hard in the preseason, with plenty of live hitting at practice and re-dedication to the run game. It's hard to imagine the defense not creating more turnovers and momentum-changing plays then it did a year ago, and though they aren't loaded with proven special teams aces, new special teams coach Danny Smith will coach them up on that side of the ball and Shaun Suisham has proven to be the solution at kicker, which can't be underestimated at challenging Heinz Field.
Offense:
Steelers' Rivals: AFC North


2013 Preview • Schedule
Ravens @ Steelers: 10/20 (4:25 p.m. ET)
Steelers @ Ravens: 11/28 (8:30 p.m. ET)


2013 Preview • Schedule
Bengals @ Steelers: 12/15 (8:30 p.m. ET)
Steelers @ Bengals: 9/16 (8:40 p.m. ET)


2013 Preview • Schedule
Browns @ Steelers: 12/29 (1 p.m. ET)
Steelers @ Browns: 11/24 (1 p.m. ET)
Roethlisberger and offensive coordinator Todd Haley are on the same page. Their communication issues are a thing of the past and, while it's still possible things get combustible at times on the sidelines, they at least now have a foundation of a relationship to move forward after any potential fireworks.
Moving Emmanuel Sanders out of the slot and to the wing with Mike Wallace gone will be a good thing, and they have two slot weapons in Jerricho Cotchery and rookie Markus Wheaton. That's key, because tight end Heath Miller, who thrived under Haley last year, was on the PUP list and the options at tight end are hardly overwhelming.
More than anything else, the Steelers will get back their balance on the ground, The re-shuffled offensive line is younger and more athletic -- key attributes given Tomlin's mandate to incorporate more zone stretch plays. Once rookie running back Le'Veon Bell gets himself healthy -- he's currently down with a foot injury -- the team could have the kind of franchise back that used to be synonymous with Pittsburgh football. When he's 100 percent, he can run you over, or run away from you.
Defense:
I find myself wondering a little but about this secondary. Troy Polamalu appears to be at the end of his run. Fellow safety Ryan Clark is so smart, and that bodes well, but he isn't getting any younger, either. Top corner Ike Taylor is on the wrong side of 30 as well. Look for teams to keep trying to spread the Steelers out and attack the depth corners, especially if the pass rush isn't up to the normal impeccable standards.
The Steelers also are without some long time stars in outside linebacker James Harrison and nose tackle Casey Hampton, and it's time for guys like Cam Heyward and Ziggy Hood, recent high picks, to solidify the defensive line. Bottom line is this group led the NFL in yards allowed a year ago and were sixth in points allowed, and should be better. LaMarr Woodley, much like Terrell Suggs in Baltimore, seems primed to get back to top form. Look for rookie linebacker Jarvis Jones to ignite the rush on the opposite side.
With Dick LeBeau calling the shots, the Steelers will be aggressive. If they can limit the big plays against them, good times are ahead.
Final thoughts:
This group is highly motivated to be back where they believe they belong. I expect them to do just that, and the fact that they get the AFC East and NFC North as opposing divisions, by and large, is a very good thing for the Steelers. I'm not in love with the fact that their bye comes so soon in the season, and the travel to London isn't ideal either. But the Steelers don't stay down for long, and keep in mind this team was 6-3 a year ago, before Roethlisberger went down and they slumped to an 8-8 finish.
More 2013 NFL season previews: Select a team
AFC North
AFC South
AFC East
AFC West
NFC North
NFC South
NFC East
NFC West
The Cowboys legend admits he's not on 'great' terms with the Cowboys suspended running bac...

Here's the latest information on injured Steelers linebacker Ryan Shazier

The Titans quarterback has had a frustrating season but maintains that's not an excuse for...
The Seahawks defensive lineman almost ended up in the stands fighting Jags fans last Sunda...

The Colts quarterback has been out of the country since mid-November

The MVP candidate is fresh off a successful surgery for a torn ACL