2013 NFL season preview: San Diego Chargers
The Chargers are already dealing with the injury bug and protection issues for QB Philip Rivers. If they don't improve, they could become the league's worst team in 2013.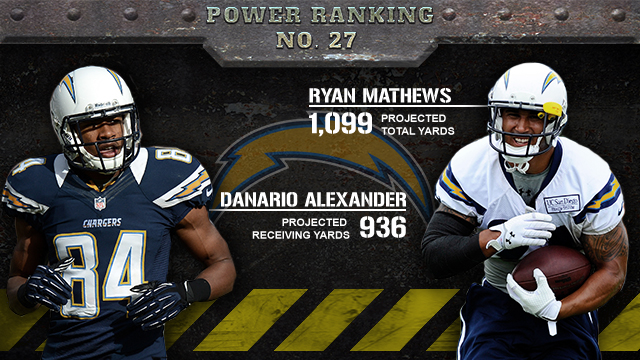 Chargers fans don't have A.J. Smith and Norv Turner to kick around anymore, but that doesn't mean their absence magically fixes all that is wrong with this team. Part of the problem has been a series of bad decisions in recent years -- both in the front office and on the field -- but the other part of it comes down to plain bad luck, injuries and abominations like 4th and 29 against the Ravens last season.
New general manager Tom Telesco and new coach Mike McCoy need a lot to go right in 2013 to save the Chargers from another disappointing season, but barring a miracle that includes a revamped offensive line and suddenly healthy wide receivers, San Diego could legitimately find themselves in the Jadeveon Clowney business by late December.
Offense:
This conversation begins with Rivers, who not too long ago was considered one of the league's best quarterbacks. He came out in 2004, along with Eli Manning and Ben Roethlisberger, and the only thing that separated him from them was a Super Bowl ring. Now, after several inconsistent seasons, there's a chance Rivers could be elsewhere in 2014 if things don't get better.
Chargers' Rivals: AFC West


2013 Preview • Schedule
Broncos @ Chargers: 11/10 (4:25 p.m. ET)
Chargers @ Broncos: 12/12 (8:25 p.m. ET)


2013 Preview • Schedule
Chiefs @ Chargers: 12/29 (4:25 p.m. ET)
Chargers @ Chiefs: 11/24 (1 p.m. ET)


2013 Preview • Schedule
Raiders @ Chargers: 12/22 (4:25 p.m. ET)
Chargers @ Raiders: 10/6 (4:25 p.m. ET)
And to be fair, that's not entirely Rivers' fault; the offensive line is in shambles, even after the team drafted tackle D.J. Fluker in the first round. Whenever the discussion includes "Max Starks and King Dunlap are battling for the starting left tackle job," big trouble is only one missed block away. Which means that, just like a season ago, Rivers will spend most games on his back, looking up at the sky, no doubt wondering where it all went wrong.
Not helping matters: starting wide receiver Danario Alexander was lost for the year to an ACL injury, and the other starter, Malcom Floyd, suffered a knee injury in preseason that could keep him sidelined for several weeks. That leaves Vincent Brown, who missed 2012 with a broken ankle; much-maligned Robert Meachem; and unproven rookie Keenan Allen to pick up the slack.
Tight end Antonio Gates still provides Rivers a safety net, although he's not the player he was four or five years ago. Running back Ryan Mathews could also be in his last year with the club unless he flashes the ability that led the Chargers to draft him in the first round. But again, his success is, in part, dependent on the offensive line.
Defense:
This unit was average against the run and the pass a season ago, according to Football Outsiders. The team has made modest changes in personnel, and while there hasn't been much roster upheaval on this side of the ball, the hope is that the improvement comes not in a bunch of new faces, but in a more consistent effort from those faces already here.
Still, second-round pick Manti Te'o is expected to start at inside linebacker and Dwight Freeney was signed to play outside linebacker, although it's not clear if he's truly comfortable in that role after spending much of his career as a rush specialist at defensive end. And the new cornerback tandem includes Shareece Wright and Derek Cox, who will play safeties alongside Marcus Gilchrist and Eric Weddle, one of the league's most versatile players.
Final thoughts:
It's not hyperbole to think that the Chargers could be the worst team in the league. Yes, AFC West neighbors Oakland could challenge for that title, but San Diego has holes up and down the roster (and these problems are exacerbated by injuries to key players). If Philip Rivers doesn't have a career year, the defense could offer the lone bright spot. Unfortunately, this isn't the 1985 Bears or the 2000 Ravens, which means that, by December, we'll realize that this wasn't all Norv Turner's fault.
More 2013 NFL season previews: Select a team
AFC North
AFC South
AFC East
AFC West
NFC North
NFC South
NFC East
NFC West
Jeremy Kerley wins the award for most creative excuse for failing a PED test

Here's every official injury designation for each NFL team for Week 15

Chicago's young QB has steadily improved his game and was superb against the Bengals a week...
This why more people should get married at football games

Larry Hartstein has his finger on the pulse of the Bears and has a strong pick for Bears-Lions...

Peyton Manning has taken his talents to Hollywood