2013 NFL season preview: San Francisco 49ers
The 49ers enter the season with very high expectations, but without WR Michael Crabtree for the time being. Still, they look like a favorite to win it all. Here's a look at the 2013 49ers.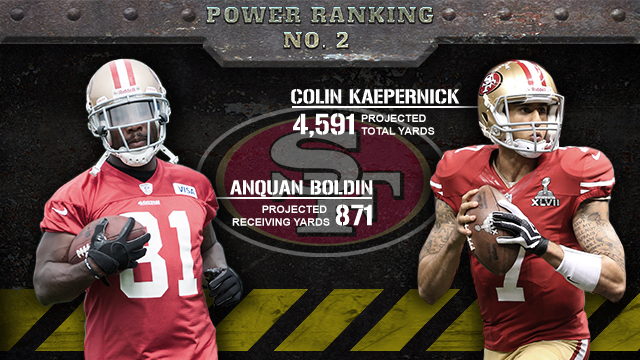 The 49ers are Russia in the NFC West Cold War that will be waged across the NFL landscape this offseason. If for no other reason other than Jim Harbaugh has the typical demeanor of a well-seasoned Russian czar and may or may not end up being a football spy sent here by the KGB. Also, it was San Francisco that seemed reactive when it came to their offseason maneuvers in 2013 -- whenever Seattle made a move on the metaphorical chess board of the NFL offseason, San Francisco had an answer.
When Seattle went Percy Harvin, San Francisco went Anquan Boldin. Seattle claimed a former 49ers long snapper off waivers (Kyle Nelson)? Harbaugh and Trent Baalke answered by nabbing Charly Martin. San Francisco even lost its top pass catcher (Michael Crabtree) in the same fashion as Seattle (Harvin). On and on it went like that, with a couple of exceptions for San Francisco. The 49ers dumped former quarterback recovery project Alex Smith to (understandably) go all-in on Colin Kaepernick. And they dealt uber-flop wideout A.J. Jenkins for semi-flop wideout Jonathan Baldwin.
But divisional rivalries aside, the 49ers are a team that won't be satisfied with anything less than a Super Bowl victory in 2013. They blacked out during the big game for nearly an entire half, but surged back and nearly toppled the Ravens in Harbaugh Bowl II. The only logical step left under Harbaugh, particularly with a young roster as stocked as this one, is world domination.
Offense:
49ers' Rivals: NFC West


2013 Preview • Schedule
Cardinals @ 49ers: 10/13 (4:25 p.m. ET)
49ers @ Cardinals: 12/29 (4:25 p.m. ET)


2013 Preview • Schedule
Rams @ 49ers: 12/1 (4:05 p.m. ET)
49ers @ Rams: 9/26 (8:25 p.m. ET)


2013 Preview • Schedule
Seahawks @ 49ers: 12/8 (4:25 p.m. ET)
49ers @ Seahawks: 9/15 (8:30 p.m. ET)
Kaepernick is the truth: you could make an argument that out of the "Big 4" (Kaep, Andrew Luck, Robert Griffin III and Russell Wilson) no one has a bigger ceiling. The Nevada product boasts a laser rocket for an arm, runs like an ostrich and has flashed more than enough brains to run an offense. It doesn't hurt that Harbaugh's the NFL's resident quarterback whisperer.
Still this offense will be predicated on feeding the ball in a power run game built around Frank Gore and the best offensive line in football. Joe Staley and Anthony Davis might be the best cornerstone combo in the league; throw in Mike Iupati (a top-five guard easily) and Anthony Davis and get a mix for a powerful front five unit. Kendall Hunter getting healthy could be a big boast for this rushing attack. Lamichael James provided some spark in 2012 but he's not worthy of being a feature back in the league. For as talented as Marcus Lattimore is, anyone expecting something other than an NFL "redshirt" year in 2013 is kidding themselves.
From a receiving perspective, San Francisco could be a mess. Word on the street is Vernon Davis and Kaepernick are developing an impressive rapport. That's an absolute must if this unit wants to get anything resembling vertical this year. Thanks to Crabtree's injury, they're just razor thin at wideout: Anquan Boldin and Quinton Patton are penciled in at starters right now, with Baldwin, Kyle Williams and Austin Collie available. (Crab and Mario Manningham are on the PUP.) Boldin had a great playoff run but anyone penciling him into replace Crabtree's is smoking some of Haight-Ashbury's finest. The guess here is Kaep propels Davis into Crabtree territory statistic-wise (therefore proving it's the quarterback and not the wideout dragging everyone up) and manages to bring one more wideout with him. Just for the sake of upside why not roll the dice on Patton breaking out or Baldwin becoming more grizzled in San Francisco?
Defense:
For the third-straight year, this unit will challenge as one of the best in football. GM Trent Baalke has built depth here and the front seven is just disgusting. Justin Smith serves as the fulcrum, Aldon Smith is the sack hammer and Lord only help anyone who gets to the second level because Patrick Willis and NaVorro Bowman are waiting. When Justin Smith went down late in 2012 Aldon Smith disappeared from the sack column and that's got to be a concern, but this is one of the best front sevens in football, period.
The secondary is strong but very much a different story. Eric Reid is charged with replacing Dashon Goldson, who bolted for San Francisco in free agency. The LSU rookie has the pedigree to do so and Baalke traded up for him, so the expectation is there. Donte Whitner mans the other side. But cornerback might be an issue: Tarell Brown, Carlos Rodgers and Nnamdi Asomugha sound like a nice combo on paper, but will they work out completely for the Niners in 2013? Having a strong pass rush up front could cover up flaws in the secondary. But if you're looking for a problem on this defense, that's the spot to check out.
Final thoughts:
There are few teams in the NFL in 2013 where anything short of a Super Bowl isn't enough (the league doesn't feel that top heavy this year). But San Francisco is one of them, if only because of the heights Harbaugh's found in his two years at the helm of the 49ers. They're young, stacked and might be the prohibitive favorite if Crabtree was healthy. There's some potential for a fallback here depending on luck and injuries, but there's also the chance Kaepernick shrugs off the lack of receiving talent around him and takes a monster step in his first full season as a starter.
If he does, if the defense stays healthy and if Crabtree can get back in time for the latter portion of the season, it wouldn't be shocking at all to see he and Harbaugh holding up the Lombardi come February. At the very least San Francisco looks like one of the top contenders in the NFL and a team very much likely to get in the playoffs and make some noise.
More 2013 NFL season previews: Select a team
AFC North
AFC South
AFC East
AFC West
NFC North
NFC South
NFC East
NFC West
R.J. White, who nearly won the Las Vegas SuperContest, locks in his pick for the NFC Championship...

Mike Tierney has owned NFL totals and has a strong pick for the AFC Championship Game

The Saints coach wasn't in the mood to answer questions about Drew Brees on Tuesday
This is footage that you'll definitely want to see

It wasn't the matchup that we expected, but the Jaguars would argue that's everyone else's...

The Eagles quarterback and the Vikings quarterback have paths that have crossed many times