2013 NFL season preview: Tampa Bay Buccaneers
Revis Island has arrived in Tampa Bay, but the success of the Bucs in a tough NFC South hinges more on Josh Freeman. Pete Prisco previews the 2013 Buccaneers.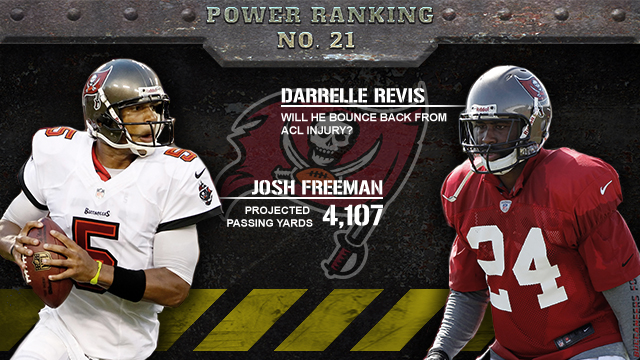 Second-year coach Greg Schiano, who alienated some of his players last year with his rules and the way he conducted practices, has changed some, which could help the growth of this young team.
Schiano came in from Rutgers and quickly established his way was the only way. He told me in camp it was a way to find out which players were his types of players. I get it. And I think he accomplished that, so now he can pull back some.
The key component is the relationship he has with quarterback Josh Freeman, a relationship that was strained last season -- despite denials by both -- but seems better in 2013.
The big news this offseason was the trade to get corner Darrelle Revis from the Jets. When healthy, he's one of the best. But is he healthy? How far along is he coming back from ACL surgery? Can he be the same? The preseason gave us no indication if he can be that same player.
There is talent on the roster, but this is a tough, tough division.
Offense:
Buccaneers' Rivals: NFC South


2013 Preview • Schedule
Falcons @ Bucs: 11/17 (1 p.m. ET)
Bucs @ Falcons: 10/20 (1 p.m. ET)


2013 Preview • Schedule
Panthers @ Bucs: 10/24 (8:25 p.m. ET)
Bucs @ Panthers: 12/1 (1 p.m. ET)


2013 Preview • Schedule
Saints @ Bucs: 9/15 (4:05 p.m. ET)
Bucs @ Saints: 12/29 (1 p.m. ET)
Freeman threw 27 touchdown passes last season and threw for more yards than any other quarterback in Bucs history, but still didn't get a new contract from the team. At 25, that is risky. If Freeman can go out and have a big year, which I think is possible, he could cash in big. Or get tagged by the team. Either way, he would win.
He has good weapons in Mike Williams and Vincent Jackson outside, but there isn't much at tight end.
The offensive line should be solid if they can stay healthy. They had too many missed starts last season. Both guards missed significant time. Carl Nicks, one of the NFL's best, had his season cut short by a toe injury that is still an issue.
Running back Doug Martin had an explosive first season and looks even better now. He has learned to be a more patient runner, which will help. He's also good in the passing game.
This unit has a chance to be explosive. It's all about getting Freeman to be a little more consistent and cut down on the mistakes.
Defense:
Here is another NFC South team that is searching for a pass rush. Where do they get the sacks?
Adrian Clayborn, one defensive end, is coming off a torn ACL, while Da'Quan Bowers, the other end, has been inconsistent. One of those two has to be a double-digit sacker or it won't matter what they have on the back end.
Gerald McCoy had a Pro Bowl season in 2012, and now needs to show he can put two good seasons together. He is lighter, which is a concern in the run game.
The linebackers are a fast unit, led by second-year player Lavonte David. He has a nose for the ball.
The secondary can be the strong point of the defense if Revis can come close to being the pre-ACL player he used to be. The other corer will be rookie Johnthan Banks, the team's second-round pick. He should be targeted a lot.
The safety duo of Mark Barron and Dashon Goldson appears to be made up of two good tacklers who aren't great in coverage. That's a concern in a division with Drew Brees, Cam Newton and Matt Ryan. Without a pass rush, it might be even more so.
Final thoughts:
Are the Bucs a playoff team? No. Will they be better? I say yes, but you might not see it in the record. This division is tough, and I don't like the fact they have questions with the pass rush. I think they are building to something, but can the franchise be patient? Freeman has to show he's the long-term guy. If not, there will be a new quarterback under center in 2014 -- Mike Glennon.
More 2013 NFL season previews: Select a team
AFC North
AFC South
AFC East
AFC West
NFC North
NFC South
NFC East
NFC West
It had been rumored that the Jaguars might cut ties with Bortles, but instead he'll stay in...

Dez has struggled with injuries over the last few seasons

Cohen started last season red-hot before falling off dramatically but he has a ton of tale...
Beckham got injured during the 2017 preseason and then fractured his ankle after just four...

The Eagles were one of the most aggressive teams in the NFL in 2017, and it helped them win...

The ex-Dolphins offensive lineman was detained over a threatening social media post