2013 NFL Week 4 Picks: Ranking college conferences by NFL QBs
2014 NFL Week 4 picks feature ranking the college conferences by their NFL quarterbacks.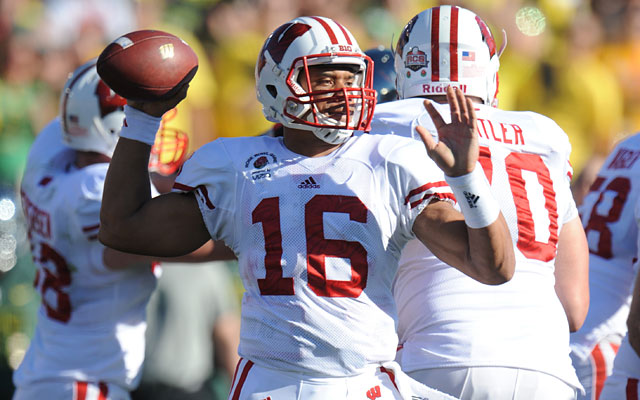 There's an innate sense of pride that comes with seeing a quarterback from your favorite NCAA program matriculate to the NFL and become a star. Lots of folks in Raleigh, NC, aren't necessarily "Panthers fans" -- they actually tend to root for the Chargers or Seahawks more because NC State alumni Philip Rivers and Russell Wilson captain those teams.

And with the Wolfpack having three quarterbacks start games on Sunday -- a season high for any one school -- I thought we could look back on the origins of the current NFL starting quarterbacks. Couple of caveats though. One, we're not going with each team's Week 4 starter but rather each team's real "starter." LSU and the SEC aren't getting credit for Matt Flynn losing the Raiders quarterback competition and than literally getting knocked ass-backwards into the gig. Two, I'm going with the current conference alignment. No, Michael Vick isn't technically an #ACCLegend. But by the time I finish this paragraph TCU will have found a way to join two extra conferences and we'll all be completely confused without some sort of baseline.
Finally, I'm ranking these and, yes, officially passing judgment on your school and conference's production at the NFL level. Feel free to yell at me in the comments or on Twitter @WillBrinson.
9. MWC
Colin Kaepernick, Nevada (49ers): If I was starting a franchise with the single-quarterback conferences, I would take Kap. But I'm basing this off of what they've already done, so he's last. Favorite away, sir.
8. CAA
Joe Flacco, Delaware (Ravens): If this was an ALL-TIME conference quarterback power rankings, Flacco and Rich Gannon would pump up Delaware pretty high. Unfortunately it is not.
7. Ohio Valley Conference
Tony Romo, Eastern Illinois (Cowboys): And he's not even the school's best quarterback.
6. MAC
Ben Roethlisberger, Miami (OH) (Steelers): Yes, it's disappointing there's not more MACtion in the NFL. Fortunately Big Ben plays it fast and loose enough for the whole conference.
5. Big 12
Robert Griffin III, Baylor (Redskins); Andy Dalton, TCU (Bengals); Sam Bradford, Oklahoma (Rams); Geno Smith, West Virginia (Jets): Pretty good group of quarterbacks here, huh? This conference would look a lot better (or a lot worse) before realignment. And Thursday night's disaster.
4. Big 10
Drew Brees, Purdue (Saints); Tom Brady, Michigan (Patriots); Brian Hoyer, Michigan State (Browns); Terrelle Pryor, Ohio State (Raiders): Two of the three or four best quarterbacks in the NFL up top and somehow only fourth overall, huh? Brees and Brady are absolute studs. Pryor might be developing. Hoyer is literally a case of the old one-man's-trash axiom. Oh what's that, you expected half points for a certain Wisconsin quarterback? Naw.
3. PAC-12
Aaron Rodgers, California (Packers); Andrew Luck, Stanford (Colts); Alex Smith, Utah (Chiefs); Carson Palmer, Southern California (Cardinals); Jake Locker, Washington (Titans): Five quarterbacks is pretty good but there's a whole lot of quantity over quality once you move past Rodgers and Luck. If you were building a team from one conference, though, you're dipping into the West Coast. I think USC holds the record for most starts in a season by one school from 2009 when Palmer, Mark Sanchez, Matt Cassel and Matt Leinart all started a game. The lesson? Always use a high pick or a lucrative contract extension on a USC quarterback.
2. ACC
Matt Ryan, Boston College (Falcons); Russell Wilson, NC State (Seahawks); Philip Rivers, NC State (Chargers); Michael Vick, Virginia Tech (Eagles); Matt Schaub, Virginia (Texans); EJ Manuel, Florida State (Bills); Christian Ponder, Florida State (Vikings); Mike Glennon, NC State (Buccaneers): Honestly, when I started putting this list together I was pretty sure that the ACC would finish first. You can make a case for Russell as a Wisconsin guy but he doesn't GET to the Badgers without the Wolfpack. So there. You can also yell about Ryan and Vick not being members of the original ACC. Whatever. At least Ryan played in the ACC, which this high on sheer quantity. What I take away here is it's embarrassing for the ACC to have such terrible football at the college level and so many starting-quality NFL quarterbacks. Also: How did Tom O'Brien manage to work with half of the NFL? None of this makes sense.
1. SEC
Peyton Manning, Tennessee (Broncos); Eli Manning, Ole Miss (Giants); Matthew Stafford, Georgia (Lions); Jay Cutler, Vanderbilt (Bears); Cam Newton, Auburn (Panthers); Ryan Tannehill, Texas A&M (Dolphins); Blaine Gabbert, Missouri (Jaguars): And, surprise, surprise, the SEC wins when it comes to college football. You can make a case that they have the best quarterback in the NFL right now in Peyton and -- while they don't have the whopping eight QBs that the ACC does -- the quality is supremely better here. Even if you wanted to throw Tannehill and Gabbert into the Big 12, I still think the SEC comes out on top.
*****
Bears at LIONS (-3½): One more time this week before you tell me to shut up about it: When Reggie Bush is out the Lions offense is a totally different animal. We now have a fairly rough split with which to compare, too. Bush played in Week 1 against Minnesota (a very bad team with a very bad secondary) and the first half against Arizona. He missed most of the second half against Arizona (he carried once and fumbled once) and then missed the game against Washington (a very bad team with a very bad secondary).
Check the difference in the Lions and Matthew Stafford's production:
| | | | | | |
| --- | --- | --- | --- | --- | --- |
| Got Bush? | Minutes | Total Yards | Stafford Pass Yards | Stafford Comp % | Points Scored |
| Reggie Bush In | 92 | 701 | 567 | 69.8% | 48 |
| Reggie Bush Out | 88 | 510 | 451 | 50.0% | 37 |
This isn't about Bush being an awesome player, though he's quite the explosive weapon in the passing and rushing game. It's about being able to get him in space and generate "chunk plays." With Calvin Johnson on the outside, defenses are forced to leave wide swaths of the field open. Bush can exploit those areas and pick up large chunks of yardage. The undefeated Bears have a good defense but Bush is a difference maker.
Ravens at BILLS (+3½): Somehow I've come around on Joe Flacco. I'm not a "fan" of his per se, but the whole "Ray Lewis needs to shut up about leadership and strippers" thing (paraphrasing) is just awesome. But that doesn't mean I'm buying into the idea that he and this Ravens offense are going to saunter into Buffalo and pick up an easy win. I expect some kind of win, but I think it might be in the fashion of their 9-6 trundling over Kansas City in the regular season and on the road last year. Flacco's just a different quarterback away from B-more: he completes less than 60 percent, he has a 1.47 TD/INT ratio (versus 2.29 at home) and his yards per attempt dip by nearly a yard and a half (from 7.69 to 6.45) when away from the comforts of M&T Bank Stadium. Baltimore's also 21-20 on the road in his career. This game has "inexplicable loss" or "eye-bleeding win" stamped all over it.
Giants at CHIEFS (-4½): I don't want to get too caught up in the hype after three weeks of football, but at some point we have to give up on trying to stereotype teams, right? The Giants get the benefit of the doubt because they're the Giants. Put these two teams in a vacuum instead. Team 1: winless with a negative-60 point differential, the NFL's worst rushing attack, an offensive line that's worse at blocking than Muggsy Bogues and a defense that's giving up 375 yards per game. Team 2: an undefeated unit with an impressive but not-yet-explosive offense with a top-five runner, an improved offensive line, a quality, for-the-most-part trustworthy game manager at quarterback, a defense on the rise with a wicked pass rush and good man corners and a really loud . It's not Jaguars-Seahawks but it's not that far off -- if this was a lesser-thought-of-loser like the Vikings then the Chiefs would be touchdown favorites. Minimum. Maybe Tom Coughlin and Eli Manning right the ship. And maybe I'll hit a growth spurt at 32. Or maybe I'm short and the Giants are just terrible.
SEAHAWKS (-2½) at Texans: Amazing statistic: the last time that Russell Wilson lost a game by more than seven points was on Oct. 2, 2010. Yes, two thousand and ten. Wilson is undefeated right now in 2013, the Seahawks didn't lose a game by more than seven points in 2012 and while at Wisconsin he only got torched by last-minute action as well. His previous seven-plus point loss was for NC State against Virginia Tech at home in October of his "senior" year. The scary thing about that game? Wilson was leading late, it looked like the Wolfpack would upset Frank Beamer's crew and then Wilson made some mistakes that led to turnovers. The more you know, etc.
COLTS (-9½) at Jaguars: This REEKS of a trap game for me. Everyone and their brother is on Indianapolis -- straight-up in picks, against the spread for friendly wagering purposes and in survivor -- after they annihilated the 49ers in San Francisco. After all, what kind of world would this be if they weren't ready to destroy FCS contender Jacksonville this week? Unfortunately I divorced myself from the Jaguars in any scenario involving the spread after they failed to cover in Oakland in Week 2. It's pretty obvious this will lead to me taking Buffalo -32 on the road in December.
STEELERS (-3½) at Vikings: This line's moving quick, eh? The Steelers opened at -1.5 and now they're more than a field goal favorite. Guess that's what happens when the phrase "Matt Cassel is starting" gets thrown around on a Friday. But can Cassel really be worse than Christian Ponder? And shouldn't that very question be enough for us to conclude that Ponder isn't a viable franchise quarterback? Also, how badly do you think Roger Goodell wants to fine these two teams for trudging over to London with a winless product that might be watched by more people in Wembley than on American television? The NFL in London is coming but this game won't do much to hasten its arrival. 
Bengals at BROWNS (+5½): OK I don't want to be weird about the Browns here because they're not going to end up winning a bunch of games and they're not going to win the AFC North and they'll probably hit the bye at like 3-6 and Trent Richardson will probably run for 200 spite-filled yards against the Jags on Sunday. But WHAT IF (that is a purposely big what if) Cleveland pulls off this win and for just the briefest of moments in time the Browns, led by Brian Hoyer, are tied for first place in the AFC North? It's not going to happen. It can't. But we can all dream of a world where Indy's pick is higher than Cleveland's in the 2014 NFL Draft.
CARDINALS (+2½) at Buccaneers: It's insane to think that Mike Glennon, who'll inexplicably replace Josh Freeman in the starting lineup for Tampa this week, will give NC State three starting quarterbacks in the NFL this weekend. That's more than Michigan, Florida State or any other college program -- if Geno Smith suddenly has a "rib injury" just know that Southern Cal is pulling strings. So how will Glennon do? Meeeeeeeeeeeeeeeh. I'm a Glennon fan because of his arm and because he has needed better coaching for the past few years. But his footwork and pocket presence (both of which were admittedly improved in the preseason) can become muddled at times. He needs a clean pocket and limited reads in order to succeed at this point. Running a play-action heavy offense under center and taking shots down the field to Vincent Jackson and Mike Williams makes sense for him in terms of his strengths but if Darnell Dockett and Calais Campbell start getting heavy pressure on him ... I dunno. My thinking was always that Glennon would get a full season under his belt before Greg Schiano forced him in the lineup. Week 4 feels far too early.
Jets at TITANS (-4½): Let's all take a second -- since many of us who follow mostly football couldn't on Thursday -- to acknowledge the awesomeness that is Mariano Rivera.
I hate the Yankees. And I mean hate. As a Braves fan growing up there's few institutions in life I dislike more. But Mo? He's impossible to hate. After 19 years and one of the greatest careers of all time, he's just not a guy you can't not respect, at the very least. Also if anyone wants to buy a Single-A Mariano baseball card for a lot of money let me know. I've got two of them.
Mariano Rivera's last appearance at Yankee Stadium. Yeah, we can't believe it either: http://t.co/g4dbJm7nj3 http://t.co/59FGqFMlNr

— Cut4 (@Cut4) September 27, 2013
Let's also take a second and pray that Jets-Titans doesn't resemble anything close to last year's Monday Night Football game between these two teams, the ultimate offseason litmus test of "I miss football so much I'd watch that game right now."
REDSKINS (-3½) at Raiders: You probably know, if you watched our Pregame Live show on CBSSports.com (every week, 7:30 p.m. ET, right here!), that on Thursday night my colleague Pete Prisco continued sketching out the epitaph for the read option in the NFL.
AU CONTRAIRE MSSR PRISCO:
From our research dept: Read option runs down league-wide from 6.1 YPC in 2012 to 5.0 this year. Still effective.

— gregg rosenthal (@greggrosenthal) September 26, 2013
Another takeaway: More read option plays overall. 270 in NFL all of last year. 172 in 3 weeks this year.

— gregg rosenthal (@greggrosenthal) September 26, 2013
OK so the read option isn't shredding defenses like it was last year. And it sure feels like it has been used a lot less than last season but how often do you hear about your buddy's new Ferrari after the first time he takes it out for a spin? The read option is still devastating as a wrinkle in offenses. It's effective. But teams understand that they need pocket passers too. It's not going to disappear completely but the league was never going to become a full-blown affair featuring running quarterbacks. There's never any middle ground in sports debates though.
Cowboys at CHARGERS (+2½): Prediction: this game, a matchup of an AFC/NFC brothers from another mother, will be the most GIF-able event of all time. Tony Romo and Philip Rivers and Jerry Jones and a chance to make waves in the early NFL standings. GIF-splosion.
Eagles at BRONCOS (-11½): Does this game seem like it could disappoint somehow? Because I feel like it might: thousands of people will be betting on the over 58, even though that's an unholy number of points.
Broncos/Eagles total opened at 58 Sunday (2nd highest since 2004). Even after impressive MNF performance, now down to 57.5

— RJ Bell (@RJinVegas) September 24, 2013
Meanwhile, the Eagles might just be terrible. They have two interceptions on the season and both were against a "rusty" Robert Griffin III. Meanwhile, check out the Football Outsiders numbers on Philly, where their production quickly declines when it comes to defense against WR1, WR2 and WR3 (scroll down). The Eagles are 17th in defending top wideouts, 20th in defending a team's second wideout and 27th in defending "other wideouts." Unfortunately for Chip Kelly, the Broncos -- with Demaryius Thomas, Eric Decker and Wes Welker -- are the definition of a matchup nightmare. With Philly running their offense from way behind and in the high altitude (talk about a sleeper of an X factor!) I could see this game ultimately being a Broncos blowout and staying under.
PATRIOTS (+2½) at Falcons: It's almost October, which means pumpkin-flavored items are cropping up everywhere. This is both a good and bad thing. Pumpkin might be my favorite flavor but the problem is in the rush to be the first one out with pumpkin items, it has gotten to the point that the flavor-fest begins in late July. It's a lot like mock drafts and power rankings in that sense. In the rush to be first everyone ends up diluting the overall product. This is where I could urge you to boycott pumpkins and power rankings. Or, instead, I could debut my official PUMPKIN POWER RANKINGS:
Honorable Mention: Pumpkin Bagels, Actual Pumpkins
5. Pumpkin Latte: I would love to pretend I don't love these damn things. But I can't. No whip.
4. Pumpkin Bread:  It has become underrated in recent years thanks to the proliferation of the market.
3. Pumpkin Cupcakes: The added bonus is the cream-cheese frosting, of course.
2. Pumpkin Beer: *Market Saturation Alert* Everyone and their brother's brewery has one. If you're shopping and want some quality p-beer (brah), try Southern Tier Pumking and Dogfish Punkin. Easily the best two out there.
1. Pumpkin Pie: The OG. Unfadeable so please don't try to fade this.
Dolphins at SAINTS (-6½): This game is a perfect test of two things I'm mostly believing in but am not completely sold on. One, the Dolphins. I still question that secondary (Brent Grimes has been a steal though) and think the offensive line -- along with Ryan Tannehill's 14 sacks this year, yikes -- are major red flags. But I'm not sure I totally believe in Rob Ryan's defense either. It's an improvement without question but the Saints have played the Falcons (quietly crappy offensive line), the Buccaneers (who just benched their starting quarterback and have a putrid offensive scheme) and the Cardinals (five matadors gleefully allowing Cameron Jordan to annihilate Carson Palmer). Jordan is straight legit but let's hold off on showering Ryan with beads just yet, although given the two factors at play here, I expect another impressive game from his front seven.
This Week 0-1
Last Week: 10-6
Overall: 21-27
Pick Six Newsletter
Get the day's big stories + fun stuff you love like mock drafts, picks and power rankings.
Please check the opt-in box to acknowledge that you would like to subscribe.
Thanks for signing up!
Keep an eye on your inbox for the latest sports news.
Sorry!
There was an error processing your subscription.
Boselli is currently recovering after spending five days in the hospital

Makes you wonder what other defenders Manning tried this on

SportsLine's advanced computer model simulated the entire 2020 NFL season 10,000 times.
SportsLine's advanced computer model simulated the entire 2020 NFL season 10,000 times.

Las Vegas will continue to search for a cornerback, while Apple will begin the process of finding...

Tagovailoa appears healthy and ready for the 2020 season
Breaking down the latest rumors, news, signings and trades across the NFL

Check out all the picks made during the CBS Sports HQ three-hour mock draft special

Live scores, highlights and updates from the Jaguars vs. Colts football game