2013 Super Bowl: The timeline of Jim Harbaugh and John Harbaugh
We take a look at the lives of Jim and John Harbaugh leading up to the 2013 Super Bowl.
by

Eye on Football staff

• 4 min read
• One wonders how Harbaugh would've handled getting demoted in the same fashion that Harbaugh demoted Alex Smith for Colin Kaepernick. The answer? Probably not well. "The Jim Harbaugh who I knew, who was feisty and competitive, he wouldn't have handled it well," his former teammate Ray Buchanan said recently. "I don't think he'd have handled it as well as Alex did. He'd have been a lot more outspoken with the coach. He would cause a little more havoc. And he probably would have spoken out to the media as well." 

• Jack Harbaugh hires John as a graduate assistant at Western Michigan. "Every morning, we'd wake up and jump in the car and had a half hour drive to work," Jack said Wednesday. "We had a chance to talk football and talk about strategy and talk about all the things that a father and son would talk about. We worked all day and sometimes things went well; sometimes they didn't. After work, around 10 o'clock, 10:30 at night, we'd jump in the car and drive home. For like two years! Finally, I think we were able to give him enough money where he got a car of some kind and eventually moved out on us. Those years that we were with John were really a joy for us."

• John is special teams coach at the University of Cincinnati, and later Indiana University before the Eagles hired him as special teams coach in 1998.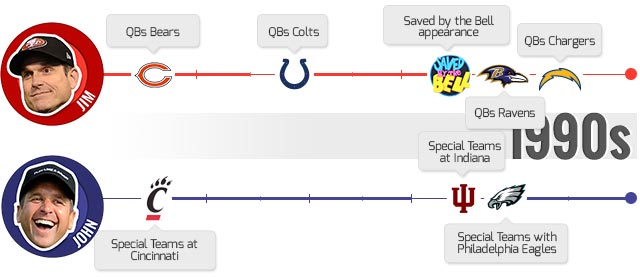 • Jim appears in the Adventures of Brisco County, Jr....
• And Saved by the Bell (which actually helps explain Harbaugh's infamous handshake with Lions coach Jim Schwartz last season)
• Jim played for the Bears, Colts, Ravens and Chargers during the 1990s while also serving as an unpaid assistant at Western Kentucky. "I think the most entertaining thing was Jim trying to get his dad to throw the ball more," former Western Kentucky assistant David Elson told the San Francisco Chronicle. "We literally ran the ball 90 to 95 percent of the time. Jim was always trying to get his dad to throw it more. That was always fun to watch. Jim being both a quarterback who loves to throw the ball and being so competitive. And then there was Jack having a three-yards-and-a-cloud-of-dust mentality."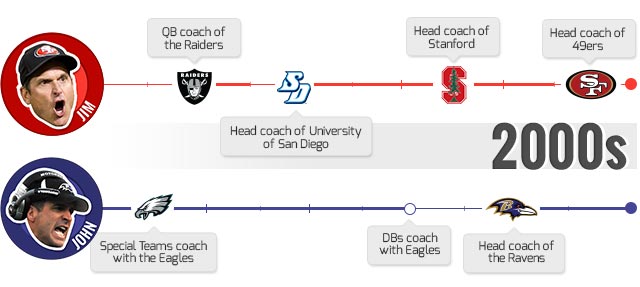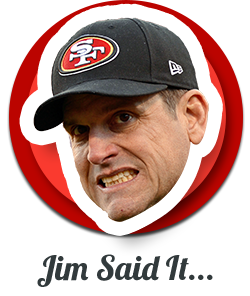 "It's just a lot of gobble-gobble turkey, you know? Just gobble, gobble, gobble turkey, from jive-turkey gobblers."
-- Oct. 29, 2012, when asked about criticism of QB Alex Smith
• John was the special teams coach for the Eagles through 2006; he received a promotion to defensive backs coach in 2007 and a year later bounced to the Ravens for his first head-coaching gig in the NFL. He's been there since and hasn't missed the playoffs once. Decent start.

• Jim was vastly different in terms of how he progressed to the NFL, at least in the 2000's and on. He was still an unpaid assistant and bouncing around the NFL in 2000 and 2001. In 2002 he became the quarterbacks coach of the Raiders and remained there for two years.

• From the Raiders gig, Jim got his first head-coaching job, landing the University of San Diego position. His dad would join him as running backs coach from 2004 to 2006. Harbaugh would post a blistering 29-6 record while at San Diego.

• Everything wasn't perfect in San Diego, of course. Jim was arrested for a DUI in 2005 and divorced from his first wife (he has since remarried) in 2006.

• But Jim's work was good enough there that he springboarded from San Diego to Stanford where he ran a wildly successful Cardinal program that featured rookie Colts quarterback Andrew Luck. 

• It also featured a hilarious confrontation with Pete Carroll ... What's YOUR deal?
• Jim would, obviously, leave Stanford for the 49ers; he was pursued by the Dolphins as well but ultimately chose San Francisco. The 49ers had struggled for years but quickly came alive under Jim, winning 13 games, the NFC West and making the NFC Championship Game.

• It only lasted three weeks into the 2012 season, but that was enough time to get John fired up about the replacement refs.
• Handshakin', Part II: While it wasn't quite as awkward as the back-slappin' handshake Jim put on Lions coach Jim Schwartz in 2011, John and Steelers coach Mike Tomlin shared a moment in December, 2012.

• Jack Harbaugh, speaking to the media Wednesday: "One story I want to mention is Jay Harbaugh; how many know who Jay Harbaugh is? Jay Harbaugh is Jim's oldest son and he's on the coaching staff for the Ravens. He's doing the grunt work there (as the) assistant strength coach. It's kind of an interesting story. He does video and works in the weight room and he just graduated from Oregon State. There, he was a student-coach on their staff at Oregon State with Mike Reilly, and now he's with John over there. You've got father and son competing on Sunday night as well."

• In 2012 we very nearly got a full-blown HarBowl experience -- John also made the AFC Championship Game last season -- and the two teams battled in November for a Thanksgiving matchup, which is now considered a "dry run."

• 2013, though, finally featured the real McCoy: the HarBowl. We're just hours away at this point for a matchup that's been years in the making.
Dak Prescott was efficient and explosive and DeMarcus Lawrence was dominant in the Cowboys...

The Dallas receiver threw up the X after his score, and he certainly deserved it

The singer sent a message with a verse of scripture on Monday night
The Cowboys owner joined in a demonstration with the Cowboys players before Monday night's...

Look for Ezekiel Elliott and Dak Prescott to rebound after a rough outing in Denver

Quarterback Russell Wilson was one of the chief proponents for the Seahawks staying in the...