2014 Final NFL cuts: 10 players on the 53-man roster bubble
Rookies, veterans and Super Bowl heroes are on the bubble.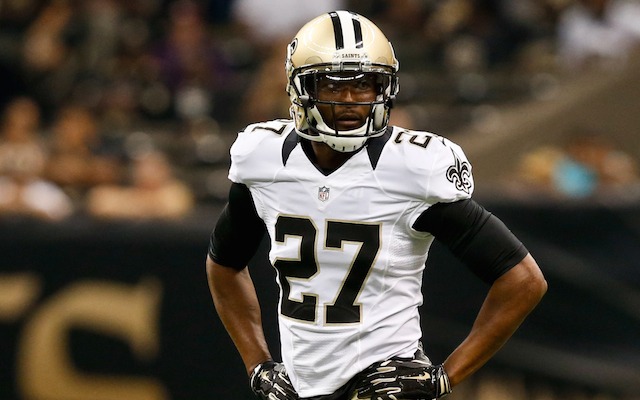 By the time the clock strikes 4 p.m. ET on Saturday, 704 NFL players will have lost their jobs. All 32 teams have to cut down from 75 players to 53 players by that deadline.
I know what you're thinking: "That deadline's not fair to teams on Pacific time," and I agree, but there's nothing we could do about it at this point.
Anyway, although 704 players will be cut by then, almost half of them will end up on an NFL practice squad. Thanks to a recent rule change, teams can now carry 10 players on their practice squad, instead of 8, meaning at least 320 of those released players will still be on an NFL roster.
So who should avoid answering their phone this weekend? Lets take a look at 10 guys on the bubble. Actually, if I want to be technically correct, we're going to taking a look at 11 guys: eight on the bubble and three more bubble guys who might eventually be traded. 
Might get cut
Los Angeles Rams DL Michael Sam : The Rams are going to carry either nine or 10 defensive linemen on their 53-man roster. If they carry 10, then Sam can start apartment hunting in St. Louis because he'll be around until at least next season.
On the other hand, Rams coach Jeff Fisher could take a calculated risk and release Sam.
Fisher saw how the NFL Draft played out and what Fisher saw was 31 other teams who passed on Sam through seven rounds. Why bring this up now? Because if the Rams were to cut Sam, there's at least a chance the other 31 teams would pass on him again, which would pave the way for the NFL's first openly gay player to end up on St. Louis' practice squad. 
Sam might not be a "distraction," but if any NFL coaches passed on Sam in the draft because of the media coverage he might bring, there's no way those same coaches would add him less than a week before the NFL season starts.  
New York Jets WR Stephen Hill : After only two seasons with the Jets, the 2012 second-round pick might have played his way out of a job. If you've ever watched a Week 4 preseason game, you've probably noticed that most players in the game are guys fighting for roster spots. Hill played the better part of five drives against the Eagles on Thursday and did nothing to impress coach Rex Ryan. 
"We've got to really look at this tape and we'll see one way or the other," Ryan said of Hill. "But again, I just think overall it was a poor performance. I can't tell you, really, who jumped out."
If the 6-foot-4 Hill does get cut, chances are, he won't be a free agent for long. 
Cincinnati Bengals RB BenJarvus Green-Ellis : When the Bengals drafted Giovani Bernard in 2013, Green-Ellis probably didn't think too much of it -- and that's mainly because the two backs have contrasting styles. However, when the Bengals selected LSU running back Jeremy Hill in 2014, the Law Firm probably filled out his own pink slip. He could last one more season in Cincinnati if Bengals coaches wanted a veteran presence, but the future for the Bengals is Hill and Bernard. 
UPDATE: According to NFL.com, Green-Ellis has been cut. The Law Firm is closed in Cincinnati. 
New York Giants WR Mario Manningham : If cuts were made by how well you played in Super Bowl XLVI, then Mario Manningham would be sticking around this season, but unfortunately, that's not how things work in the NFL. Going into Thursday's preseason finale, Manningham only had two catches for 22 yards and he didn't add to that total thanks to a calf injury suffered in pregame warmups. 
Manningham likely won't last in New York this year, but he'll always have that five-catch, 73-yard performance in Super Bowl XLVI. 
New Orleans Saints CB Champ Bailey : Champ Bailey signed with the Saints in April, but he might not even make it to Week 1 in New Orleans. Bailey played in the Saints' fourth preseason game, which is usually a time you would want to rest a 36-year-old defensive back. The only reason Bailey was on the field in the 22-13 loss to Baltimore is because the team has to decide if he's worth a roster spot. Bailey has been banged up most of camp, so don't be surprised if he gets cut.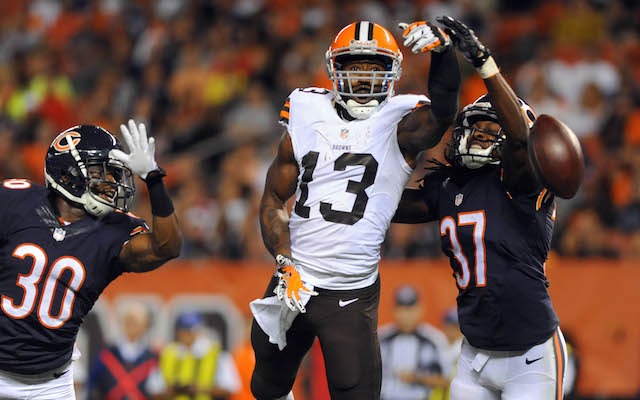 Cleveland Browns WR Nate Burleson : No one understands the reality of the NFL like Nate Burleson. Burleson missed the Browns' first three preseason games with a hamstring issue before finally making his debut Thursday with one catch for 27 yards against Chicago. 
Burleson is well aware that it might not be in the team's best interests to keep a 33-year-old receiver who's struggling with injuries.
"This is a what-have-you-done-for-me-lately league. So I can watch as many YouTube highlights of myself, but what I did today and what I do tomorrow is going to have a more profound effect than my résumé," Burleson said earlier this week. "If I was the boss of a company, you [only] look at the people who are at work, not the people who want to be at work. So, there's a big difference."
Miami Dolphins RB Daniel Thomas : Thomas is trying to hold off Damien Williams for the No. 3 running back spot in Miami. After the Dolphins' 14-13 win over the Rams on Thursday, he didn't sound overly confident when asked if he has done enough to make the roster.
"I don't know," Thomas said. "We'll have to see. It's up to the coaches. I gave it everything I had."
Thomas carried the ball 13 times for 38 yards and a touchdown against the Rams in what might have been his final performance in a Dolphins uniform. 
Jets CB Dimitri Patterson : If you haven't been following the Dimitri Patterson story, let me catch you up real quick -- Patterson went AWOL before the Jets' third preseason game and disappeared for 48 hours before meeting with Rex Ryan and general manager John Idzik on Aug. 24. Patterson claims he didn't go AWOL, but the Jets suspended him anyway for the rest of the preseason. 
If the Jets had any depth in the secondary at all, Patterson would probably be gone in a heartbeat. But the Jets don't have any depth, so they're likely going to be stuck giving extensive playing time to a guy who ditched the team before a game.
Probably won't get cut because they're trade bait
Minnesota Vikings QB Christian Ponder : If there's one thing we've learned this preseason, it's that Christian Ponder is definitely not going to be the Vikings' starter -- or even their backup. That doesn't mean Ponder can't be someone's backup though. Quarterback situations can change weekly in the NFL -- just look at St. Louis -- and it makes sense for the Vikings to hold onto Ponder just in case someone needs a backup quarterback at some point during the regular season. 
New England Patriots QB Ryan Mallett & Patriots RB Stevan Ridley : ESPN.com projected earlier this week that Ridley would be cut. It's hard to imagine that happening for the same reason it's hard to imagine Mallett getting cut: Both players have trade value. Bill Belichick is one of the smartest coaches in the league and if he thinks he can get a draft pick or two for either one of these players somewhere down the line, he's going to keep them on the roster. 
Two weeks into the season, the Chiefs keep creating long touchdowns. Can they keep it up?

CBS All Access allows viewers to stream every NFL on CBS game in their local market

CBS All Access allows viewers to stream every NFL on CBS game in their local market
CBS All Access allows viewers to stream every NFL on CBS game in their local market

CBS All Access allows viewers to stream every NFL on CBS game in their local market

CBS All Access allows viewers to stream every NFL on CBS game in their local market