2014 NFL combine: Jim Harbaugh 'impressed' with Johnny Manziel
49ers coach Jim Harbaugh said he's 'impressed' with Johnny Manziel and believes he can translate to the NFL.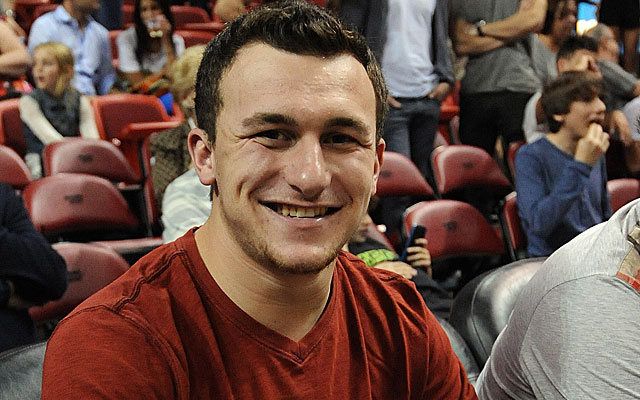 More Draft: NFL Mock Drafts | Big Board | NFL combine news and updates
INDIANAPOLIS -- Given his track record, it's hard not to look at Jim Harbaugh as a quarterback guru of sorts. He groomed Andrew Luck, fixed Alex Smith and is helping Colin Kaepernick blossom. So getting his opinion on young quarterbacks is worthwhile endeavor.
Harbaugh was asked whether Johnny Manziel, perhaps the most divisive prospect in the entire 2014 NFL Draft, could succeed at the next level and Harbaugh said he was "impressed" with Manziel's tape and believes his game translates.
"Yes I think he will [succeed in the NFL]," Harbaugh said. "He's very competitive, he's a winner. He'll translate very well to the NFL."
Now it's entirely possible that Harbaugh's just creating a massive smokescreen. 
That's what people do at this time of the year. But Harbaugh has his quarterback on the roster; Colin Kaepernick is locked as his starter for the long-term future. He has no interest in Manziel, nor would he be able to acquire him based on his draft slot.
Manziel would definitely be gone -- one way or another -- before he got to the 49ers too, so it's not like Harbaugh's benefiting himself here. 
He's not going to rip the guy, of course, but he could've gone with a no comment instead of offering a specific answer. And his comment makes it clear that he believes Manziel can easily make a transition to the NFL.
It doesn't guarantee Johnny Football success but it certainly hangs out there as a nice vote of confidence. 
The NFC is going to be a blast to watch down the stretch, but don't sleep on the Patriots'...

The Dolphins just created a serious shock in the AFC and MVP races by beating the Patriots

With their 2017 season basically over, it's time for Texans fans to turn their attention to...
Now 10 different players have intercepted Tom Brady multiple times in one game

Brady lofted it between two defenders and Lewis snatched it with one hand