2014 NFL Combine: Michael Sam isn't afraid of what awaits him in NFL
Michael Sam introduced himself to the NFL media on Saturday at the 2014 NFL combine, and he was an impressive figure.
• 2 min read
More Draft: NFL Mock Drafts | Prospect Rankings | NFL combine workout results
INDIANAPOLIS -- Without much warning, former Missouri defensive end Michael Sam walked in a side door of the media workroom at Lucas Oil Stadium, strode to the podium and began to speak. In his wake, dozens of scribes hustled to get within speaker range, standing on chairs and boxing out each other with elbows drawn and tape recorders in hand, because as one person wrote, this was a historic moment.
For all the reasons you know.
Sam was a pro. He introduced himself to the crowd -- as if we didn't know who he was -- and he said he had played football at Missouri. Then, he opened it up for questions, and if Sam was hoping he'd get mostly queries about his football skills, he was mistaken. Because most of his time in front of the cameras was taken up by questions about his sexual identity and how teams and future teammates might respond.
But what stuck out most when he stepped to the podium was the button he wore on his lanyard. It was rainbow colored, and it read, "Stand with Sam." Apparently, a fan gave it to him. He wore it with pride Saturday.
Said Sam, "I hope you guys all stand with Sam."
On the other hand, he was also quick to point out his wishes. He wished writers and fans could see him as Michael Sam, the football player. Not Michael Sam, the gay football player.
Other than his Saturday news conference, Sam said there hadn't been much talk during this trip about his sexual orientation. He said zero teams brought up the subject when they interviewed him.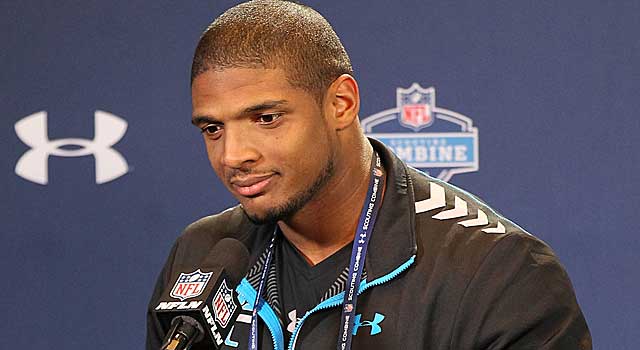 "All football questions," he said. "They asked me about my size, they asked me if I had ever played linebacker. General questions like that."
Instead, questions about his sexual identity were asked by the media.
•How would he deal with fans who might hurl insults at him? "When I'm on the field, I don't focus on the fans. I focus on my responsibilities, which is the guy right across from me."
•What if the Dolphins drafted him? "If the Miami Dolphins drafted me, I would be excited to be a part of that organization. I'm not afraid of going into that environment. I know how to handle myself. I know how to communicate with teammates and coaches."
•What if one of your teammates insults you in a not-so-playful way? "If someone wants to call me a name, I'll have a conversation with that guy, and hopefully, it won't lead to anything else."
Though Sam spent just a few minutes with the media Saturday before disappeared back through that side door, he handled himself well. He smiled, he displayed his self-confidence, and when somebody asked him about his inconsistencies, he had a snappy retort ("Winning is hard, buddy.").
But he made it clear that he's not necessarily in this to start a movement or to land a big marketing deal. He wants to be a football player -- simple as that.
You can stand with Sam, but perhaps he doesn't want you placing him on your shoulders.
"A trailblazer?" he asked, repeating the question. "I feel like Michael Sam."
Everything you need to know for Week 3 of the 2017 NFL season is here

The Rams picked up their first win at Levi's Stadium in three years

The Jaguars are taking some cool cleats with them to England
Tickets are dirt cheap and very much still available for the TNF matchup

The Lions are being recognized after beating two popular preseason picks to make the playo...

Hernandez was 27 when he committed suicide in April 2017