2014 NFL combine: Training firms go all-out optimizing prospects' results
NFL Draft prospects are not alone at the combine -- many have training companies taking care of their every need and making sure they are prepared for everything they will face in Indianapolis.
• 7 min read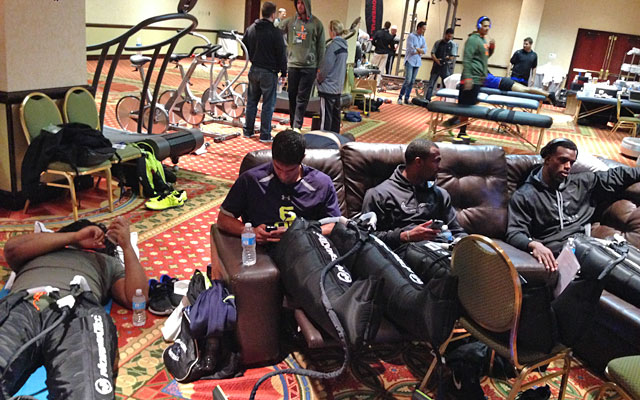 More Draft: NFL Mock Drafts | Prospect Rankings | NFL combine workout results
INDIANAPOLIS -- The bottom floor of the Omni Hotel here, a few blocks from Lucas Oil Stadium where the NFL combine is taking place, has been transformed into a state-of-the-art training and rehab facility. The eighth floor has been overtaken as well -- performance coaches and trainers and nutritionists taking up a good portion of the rooms on that floor, their tubs serving as ice baths, one suite devoted entirely to a nutrition hub overloaded with healthy goodie bags, protein shakes and more PB and J sandwiches than you could ever desire.
These days, it takes an army of staff and seemingly boundless resources to appeal to the best and brightest draft prospects, and the process by no means ends when the combine begins. While the cameras focus on the workouts and drills the athletes perform on the field, it's a very small part of this four-day evaluation -- 18-hour days, 1 a.m. trips to the hospital for mandatory MRIs, 4 a.m. wakeup calls for drug testing and meetings with NFL teams deep into the night. It's designed for the athlete to fail -- with the on-field testing coming on the final day, after all the mental probing and interviews and media sessions and a series of endless days.
That's where companies like the Athlete's Performance Institute (recently rebranded as EXOS) come in. They try to duplicate during combine week the same kind of attention, detail, training and care their clients receive leading up to the draft at their five facilities nationwide. It's a daunting task, with API staff literally waiting for the players from the moment they land in Indianapolis and trying to guide them through each step of the process after preparing the athletes for all aspects of the combine during the previous eight weeks.
That requires turning a huge basement ballroom into a massage area and gym, with makeshift 40-yard dash lanes on the carpet, a bed of flat-screen TVs to watch the combine or play video games, and a portal to take mental reps based on their position (for a quarterback, the system provides a view from the pocket, with computer-generated defenders giving him various looks, and the player is tested on if he read the right coverage, diagnosed his hot, assessed the technique of the corner correctly, etc).
Players are coached how to handle different aspects of meeting with teams, what questions to expect. Care is taken to make sure they are drinking water throughout the long days shuttling to the stadium, the hotel, the hospital. The 2,500-plus peanut butter and jelly sandwiches the AP staff has made do not go to waste, either.
The goal is for this to feel as close to what they have become accustomed to at the Athlete's Performance facilities, and add some normalcy to what is an unpredictable process.
"Our four pillars are mindset, movement, nutrition, recovery," said Trevor Moawad, the vice president of Pro/Elite Sports for Athlete's Performance. "I think the NFL combine tests all four of them -- your mindset will be tested in that process, and it's our responsibility to help you dominate this process.
"Every one of our coaches has a high level of tension, because this is one of the few events as a performance company where the results are instantaneous, and you are held accountable by the toughest group of constituents, which are sport agents. And if you don't perform you will know in a moment with 47 texts and 15 phone calls, because at the end of the day we're all there to support the player. And while it's the player's ultimate responsibility, we know where they choose to train can play a major role in how they perform."
Athlete's Performance trained 87 players for this year's combine, a huge number considering 335 prospects were invited. The NFLPA has also formed an alliance with Athlete's Performance, utilizing their facilities and expertise as part of a development and transitioning initiative dubbed The Trust, which is funded by $22 million a year from the league as part of the collective bargaining agreement. For the past two months, their facilities -- in Arizona, Texas, Florida and two in California -- have been filled with kids preparing for the draft, following a curriculum that includes instruction on their body language and posture during interviews, specialized track training, discussions with former players, current players, military special ops personnel and strength and conditioning and drill work specific to their position.
And while NFL teams create an environment here that should feel like chaos, API strives to have them ready for the unexpected. Once they land and get their healthy goodie bags, the prospects are taken to the facility at the bottom of the Omni. They get a shake from the nutrition suite on the eighth floor, followed by a light stretch and warm-up, consult with their coaches and then are sent back to their hotel to sleep, with medical tests starting Day 2. In a perfect world that doesn't require multiple trips to the hospital for further testing, but it might, and time is spent addressing any nagging or lingering injuries.
Day 2, which starts at 4 a.m. for drug testing, is a long one. Nerves kick in and the AP team tries to keep prospects calm and prepared. With physical testing on Day 3, the focus is on getting some upper body work in, and there will be a focus on the 40-yard dash and proper techniques, with the field work coming on the final day.
"Everything is about preparing them to win each day of the combine," Moawad said. "I think Manti Tao is a great example of a guy who won Day 3 -- he won his press conference, and then lost Day 4 when he ran a 4.8 (40-yard dash). You can't be relieved at any point until you're on a plane flying out of Indiana and you had a great press conference and had a great interview. ...
"We have the entire bottom floor of the Omni -- that's not cheap. We rented out the whole bottom floor of the Omni for eight days and that's a significant investment on our part. But you're responsibility is to be with these guys from the beginning to the middle to the end."
In the basement suite of the Omni, one side of the room has heavy weight-lifting equipment, the beds are in use for massage and recovery, the open side of the room has track lanes set up. Against one wall are Power Plate machines that players step up, with the apparatus using vibration and force that requires the players to stay balanced and receive a workout. The aim is to mimic the setup from the facilities.
"We want it to look like what they've become used to, only with this funny looking carpet," said Roy Holmes, a combine performance manager for API. "We want them to be as comfortable as we can and take care of all the little things. Every time we see them, we're handing them a bottle of water. And a PB and J can go a long way."
There is a heavy emphasis on the mental aspect of training, and there is one AXON machine in the suite as well -- a cognitive development device that simulates game conditions based on each position and assesses how players read the game. That technology is used at all the API facilities, often right before or after position training on the field. It was something Chip Kelly championed at Oregon, and, according to former Ohio State and NFL quarterback Joe Germaine of AXON Sports, at least one NFL team has the monitors in all of its position rooms and optimizes the software to load in tendencies and tactics of upcoming opponents to prepare for those games.
Two years ago the NFL began implementing optical assessments into the combine testing program and this technology "provides a field-level perspective that allows the athlete to transfer what he sees from the monitor to the field," Germaine said. "We're training above the neck, training the brain of the athlete."
For the players it will take mind, body and soul to meet the challenges this week and excel in the biggest job audition of their lives. These days, by and large, it takes a village to get them there.
"As a training organization, we just want guys to understand exactly what to expect here," Moawad said. "We spend a lot of time going through their daily schedule and how that schedule can change. They learn how to get a 15-minute nap under the table in a meeting room, anything that can help them perform to the best of their ability. They recognize that ultimately you are responsible for your performance, but we're here to help support your performance, and this is not designed for optimal performance -- if it was you would run the first day and not the fourth day. It's about overcoming emotional and physical and mental fatigue."
Let's call it the Blair Walsh revenge game

Jeremy Lane also stood near Bennett along with pass rushers Cliff Avril and Frank Clark

Bennett also dedicated it to 'all of the other athletes using their platform to promote ch...
The Patriots quarterback shows commitment from Day One

Cardinals' running back says he's feeling more energized

The Vikings' receiver is wearing his heart on his foot