2014 NFL Draft: 2nd-year GMs go big, Bills' Whaley biggest of all
Doug Whaley's move up for Sammy Watkins means the Bills think they can win now. In Jacksonville, Dave Caldwell's bold Blake Bortles pick also helps put second-year GMs front and center.
• 6 min read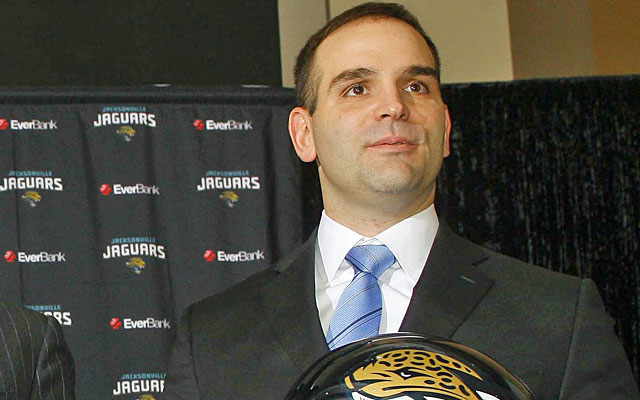 Draft coverage: Draft picks and grades | Prospect Rankings | Mock drafts | News
Was this the draft of the second-year general managers?
It just might have been.
When you think about teams that made big splashes, whether it be shocking trades or drafting a quarterback, and following their convictions, the 2012 class of first-time general managers have had a major impact on the 2014 draft. Oftentimes, in their first year calling the shots, a new general manager will go conservative, take that tackle or defensive lineman who is sitting there and call it a day. Year Two can be quite different, and that was evidenced this weekend at Radio City Music Hall as the draft played out.
Jacksonville's Dave Caldwell had the first bombshell by grabbing Blake Bortles at No. 3 overall, a stunner given how close-to-the-vest the Jags had been about their intense interest in him. One pick later two new GMs pulled off one of the bigger trades of the draft, with Buffalo's Doug Whaley jumping from No. 9 to No. 4 (to draft Sammy Watkins) and giving up quite a haul to do so. Then, Ray Farmer (in his first year as general manager but second year with the Browns regime after being brought over by former team president Joe Banner) moved from No. 9 to No. 8 to take corner Justin Gilbert. Oh, and then Farmer moved up a few picks to take this Johnny Football kid you may have heard something about.
Arizona's Steve Keim was willing to trade down, when many thought he would take a quarterback 20th overall, and take a sleeper safety who some evaluators believe will end up being the best of this safety class, Washington State's Deone Bucannon. To many teams that fare well in this draft game, it wasn't a reach, but still unconventional and had the air of a young GM who has more than come into his own. Keim followed his eye and took the first quarterback selected Saturday, nabbing Logan Thomas, which surprised many. But under the mentorship of coach Bruce Arians might be the right developmental guy to work behind Carson Palmer. If nothing else, Thomas going before AJ McCarron, Aaron Murray, Zach Mettenberger and others certainly gave people something to talk about at a time when the draft can drag on.
Few GMs entered the draft under more scrutiny than Carolina's second-year man, Dave Gettleman, who has been very short on receivers and tackles. Some of his peers I spoke to thought first-round pick Kelvin Benjamin was more of a second-rounder, and the stock of second-round pick Kony Ealy was plummeting; and as an edge rusher Ealy might be more of a luxury than the Panthers ultimately can afford. Either way, like many of his second-year colleagues, Gettleman's draft certainly was one other teams were chatting about, the Panthers not making a deal to ensure they got one of the better pass protectors in a draft that offered ample numbers of them.
Things weren't nearly as attention grabbing in Chicago (Phil Emery), Kansas City (John Dorsey) or San Diego (Tom Telesco), which is to be expected. There can be only so many "Oh my gosh" moments in any draft, but it's safe to say this class of GMs continued to make their mark.
Whaley, of course, is now the very face of this draft, at least from a management perspective.
A year after pulling the shocker of the first round, taking quarterback EJ Manuel, Whaley gave up a future first- and fourth-round picks to move up and take Watkins. Obviously, everything is ratcheted up now in Buffalo. You make a move like that, you are saying you are only a few players away from winning big, right now, future be damned. You are doubling down on your already risky initial ante on Manuel. Well, with the team for sale and the 2015 draft already lacking a first-round pick for a club generally picking in the top 10, if the Bills don't win it wouldn't shock executives I spoke to this weekend to see a major shakeup in western New York after this season.
Watkins, who the Bills in essence were saying is two players better than Odell Beckham Jr., or any other receiver in the draft, could have taken with the ninth pick they already owned. And not just any two players -- a first-rounder and a fourth-rounder better. That means Watkins needs to be elite right away, because time might not be on anyone's side in Buffalo. This is a move a contending team makes, not one more or less penciled in for 6-10 every year. I applaud the conviction and dedication (the Bills also were willing to go to second overall if need be to land Watkins from what I hear), but to ignore the possible ramifications and fallout should it not yield immediate dividends would be disingenuous.
Whaley did well to get a fourth-round pick for Stevie Johnson, who became a spare part, although doing so after having already picked up a $1.75M roster bonus on him. Can Mike Williams, who Whaley acquired before the draft from Tampa, stay out of trouble? And, man, the Bills gave up a lot Saturday, trading a potential future third-round pick for backup running back Bryce Brown from the Eagles, at a time when plenty of running backs had already flown off the board. The Bills had best be much improved in 2014.
Caldwell, ever prudent in his first draft, put his stamp on the franchise -- as did owner Shahid Khan -- by taking Bortles third overall. And they did so in year when groupthink was maybe only one quarterback would go in the first round and all would drop. Bortles may have been there later, but no one knows for how long and with the Texans enamored with him, the Jags grabbed their guy when they could. Surrounding him with potential weapons in receivers drafted in the mid rounds makes perfect sense.
But this too is a risk -- although not at the stakes with which Whaley is playing the game -- and it will likely define Caldwell's regime in Jacksonville. His predecessor, Gene Smith, was at the beginning of the end when he over-drafted Blaine Gabbert three years ago, but you could certainly find plenty if evaluators who had a first-round grade on Bortles, and with this CBA being what it is and the costs fixed, the finances shouldn't matter -- whether it is No. 3, 13 or 23 -- if he is the franchise quarterback in your mind, you grab him when you can within reason.
For Emery, whose defense needs replenishing, he doubled down on defensive linemen and that likely will carry this draft for him, for better or worse. People I talk to love Kyle Fuller, his first-round pick, and believe he will prove to be the best corner in this draft. But the reports I had on tackles Ego Ferguson and Will Sutton were far from glowing in some cases, and several evaluators I spoke to were skeptical they could provide the kind of immediate impact the Bears need at the line of scrimmage.
Telesco had long been a fan of corner Jason Verrett, though his lack of size seemed to be more of a concern for others, and his selection of Georgia Tech pass rusher Jeremiah Attaochu drew a tip of the cap from evaluators I spoke to, who felt he had first-round potential. Dorsey followed his board, as he always will (his Green Bay background almost ensures as much), which tends to put you under the radar -- a bit of an anomaly among the second-year GMs, especially in this draft -- but may end up serving the Chiefs best.
For all of the instant -analysis, none of us can really evaluate this draft to determine who went far too high or who ended up being total steals. But keep in mind the men who selected them, many of whom went very big in 2014. They just might end up being the subplot of this draft.
One of the league's best players is still looking for a new long-term contract

'It's completely different,' Wentz says about entering his second season with the Eagles

Tavon Austin, Matt Kalil and Joe Flacco headline our list of the NFL's most player-friendly...
Richardson has played for four NFL teams, and hasn't appeared in an NFL game since 2014

The Texans traded up in the first round for Watson but have no plans to rush him onto the...

Browns tight end Seth DeValve was affected by the violence in Charlottesville