2014 NFL Draft: Blake Bortles the No. 1 pick? It's a matter of trust
Former UCF quarterback Blake Bortles has just over two months to convince the NFL he's the best player in the draft. He's on the right track.
More Draft: NFL Mock Drafts | Prospect Rankings | Latest news | Underclassmen
CARLSBAD, Calif. --  Whoever designed this place wanted to expand the body and the brain. The entrance to EXOS performance training facility north of San Diego consists of a giant metal and glass gravity-hinged door. Even though it must weigh tons, it takes minimal effort to push open.
Mind. Blown.
The architect seems to be telling us something:  Great strength mixed with finesse. Brawn and subtlety. Steel mill and velvet glove.
Nearby, Blake Bortles' words weigh heavier than anything the architect can hint at.
"Nobody would pull the trigger," UCF's draft phenom says, recounting his now-infamous recruiting experience. "It was something that they saw. I wish I would have known because I would have fixed it.  Still to this day I haven't figured it out."
Clearly, part of his football past bothers Bortles as the NFL draft combine nears. Coming out of high school, apparently only UCF and Colorado State legitimately thought of him as a quarterback.
Clearly, his football future now resonates. Here at EXOS he is gold entering that iron-clad entrance. His agent is hovering on this particular sun-kissed Southern California day, along with a quarterback tutor (NFL veteran Jordan Palmer). He is being put through a withering workout in a room filled with college stars at the moment -- Bishop Sankey, Ka'Deem Carey, Keith Price, among others.
Bortles has spent weeks here shaping his body and brain for a pending pro career. He made the rounds in New York during Super Bowl week. Any potential employer or corporate partner could size up a potential franchise quarterback and product endorser.
But on this day it's obvious the past is not the past. It is part of his future.
"Chip-on-the-shoulder is a good way to describe it," says his rep Ryan Tollner, a former Cal quarterback. "He is very motivated by people that have overlooked him."
College recruiters don't miss on talents like this, do they? Yeah, they do. Occasionally. It is both the magic and worthlessness of signing day.
It's also why few people on earth have had a better past five months than Blake Bortles. He has gone from near anonymity playing in the American Athletic Conference to becoming the possible No. 1 pick in the draft.
In fact, that's exactly where CBSSports.com's Pete Prisco has him in his mock draft at the moment.
"The reason I think he's going to be No. 1 is that he's the most trustworthy guy in this draft," Palmer said.
That's from the brother of another NFL veteran (Carson Palmer), who has built quite a side business. Jordan tutors quarterback draft prospects as well and their high school counterparts at the respected Elite 11 camp.
Bortles is one of his pro guys this year. On this day, Palmer is making the case that a three-star prospect with 28 collegiate starts is the best option for those who believe in the old-school NFL prototype.
"Look at the top three guys," Palmer says, who then proceeds to break down Johnny Manziel and Teddy Bridgewater in relation to his client.
Johnny Football "is the most confident person I've been around" but can rub folks the wrong way with his cockiness. Bridgewater is "humbly productive." Bortles is a 6-foot-5, 240 pounds "freak athlete," not the best passer of the three but the most reliable.
"Talent-wise, all three guys are good enough to go No. 1," Palmer continues, "It's not a knock on those guys, but Blake's really, really trustworthy."
There's that word again. Do we want this guy as a safe prom date or a warrior in the clutch? Perhaps we've just lost sight of things in these dual-threat tinged times. Reliable is good. Football, hot dogs, apple pie, Chevrolet and the seven-step drop?
Manziel has more sizzle, having come out of nowhere to chase consecutive Heismans. Bridgewater's game and story are admirable.
But there's still that rather sizable chip that rests atop the shoulders of Bortles' 6-foot-5, 240-pound frame. He mentions it these days to whoever interviews him. UCF's season was defined -- and Bortles' profile enhanced -- by that October rally at Louisville. The Knights were down by three touchdowns in the third quarter to a top 10 team and came back to win 38-35.
Remember, nobody would pull the trigger.
"I'll never forget the Tulane coach called and said, 'We're going to offer you -- I said, 'Sweet,'" Bortles recalled.
As a tight end.
"I'm glad you think I could play a position that I never played before. I guess it speaks to my athletic ability," Bortles remembers thinking.
"Then Purdue does the same thing and it's like, 'Man, maybe I can't play quarterback in college.'"
How he got here from there doesn't involve a linear explanation. Google seems to know more about his girlfriend, Lindsey Duke, than him.
"She's got more Instagram and Twitter followers than me," Bortles said. "That's what people would rather look at."
That figurative shrug of those shoulders is part of the attraction. His rise from scout-team freshman to AAC player of the year is a mix of late-blooming humility and coaching.
UCF coach George O'Leary isn't exactly known as a quarterback whisperer. A lot of credit is given to veteran offensive coordinator Charlie Taaffe.
Sometimes the best coaching isn't done on the field. O'Leary knew Bortles' draft evaluation (first round) before the Fiesta Bowl but didn't tell his quarterback. Bortles then threw for three scores and ran for one against Baylor, making UCF the last Cinderella of the BCS era.
"Where he hasn't had the experience is, people don't know about him," O'Leary said. "People are going to know about him."
What they don't know: Mom teaches preschool. Dad sells computer chips. Blake grew up within minutes of UCF but was never particularly a huge fan of the Knights, or any other team in the state.
"Wasn't a Florida fan, wasn't a Seminoles fan," he said. "Didn't love them, didn't hate them."
But Bortles did show up for 6 a.m. quarterback meetings at 5:30 because he knew O'Leary started them at 5:45. He was the first one on the practice field and the last one off, without making it seem forced.
That humility drips off him. Bortles drives a 2005 Ford F-150 pickup with 75,000 miles on it. A new ride isn't first on the list after that initial paycheck.
"Probably the first thing I'll do is pay for the rest of my brother's college," Bortles said.
Colby Bortles is a freshman infielder at Ole Miss.
On the field and online, it will be an entertaining sprint to the tape between the big three quarterbacks. Bortles' draft status now seems to be updated by the minute. The player himself says he follows neither Mel Kiper nor NFL.com. Probably a good thing.
"How are we going to evaluate those three quarterbacks who are 5-10, 6-2 and 6-5?" Palmer asked. "The way I think the decision is going to get made, is a new coach with a new team that's ready to win a Super Bowl if they can get a quarterback."
That, Palmer says not so subtly, is the Houston Texans. Some sort of connection already has been made. Bill O'Brien worked for O'Leary. Bortles threw for three touchdowns in beating O'Brien's Penn State in September.
Things kind of clicked, Bortles says, during his redshirt sophomore year in 2012 after he threw two early interceptions against Marshall.
"I'll never forget being ripped by Coach O'Leary coming to the sidelines," the quarterback said.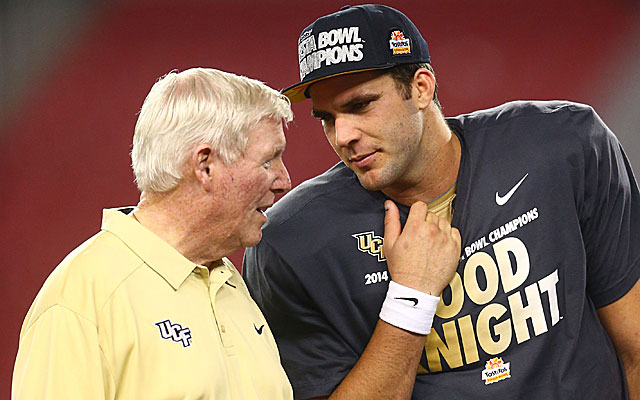 O'Leary -- the old war horse -- is kind of known for his acerbic nature. That's a reason Rep1 Sports became interested. The Irvine-Calif.-based agency has Ben Roethlisberger -- a quarterback of similar build and demeanor -- among its clients.
"It was Ben's redshirt junior year at Iowa. He threw four interceptions," Tollner said. "I walked away from that day saying, he's the best quarterback I've ever seen throw four interceptions."
Miami (Ohio) didn't lose again that 2003 season. 
"When you watch Blake come off the field, O'Leary does not hesitate to get in his face and chew him out," Tollner added.
"What I'm looking at is that interaction. How does Blake take it? Does he make the coach chase him or stand there and look like he's accepting it? Blake looks like a guy, to me, who has complete respect for his coach."
During a throwing session here on a recent afternoon, Bortles was in a group with Washington's Price and Wyoming's Brett Smith.
The session reinforced the notion that Price and Smith may be drafted. Meanwhile, Bortles was doing exactly what he should -- making all the throws, being steady, not spectacular.
When asked later how important it is now to be No. 1 overall, Bortles didn't flinch.
"It's huge," he said. "That's where my goal has changed."
Bortles has bought totally into this mini-process that culminates with draft. Palmer recently asked a Navy SEAL working out at EXOS to speak to his three quarterbacks. The SEAL was ready to be deployed and wouldn't so much as give his first name.
But his message resonated.
"Take this time and shut them out," the SEAL said. "Family, friends, females. F,F,F, right? Shut 'em out. That's all going to come back when all this is over with."
Palmer interjected, looking at his qb brood: "You're an NFL quarterback. You're different than them."
Palmer has dived in to create his own alternate career. The hip-hop QB guru blasts Lil Wayne at his throwing sessions. One of his offseason projects is to break down every snap taken by Tom Brady, Drew Brees and his brother.
His pickup is adorned with paddleboard racks. The three quarterbacks were soon to go paddleboarding up the road at Laguna Beach.
"My first race, some lady doing it for her 50th birthday party beat me," Palmer said.
He quickly lit off for the nearest surf shop, bought some gear and took some lessons. The workout is a tough one. The players do push-ups off the boards in the middle of the ocean. All of it will rub off on the former three-star trying to become the No. 1 pick in the draft.
The combine is coming and it's the end of a long day. The architects of Blake Bortles have had their way. That strange, large door becomes a bit harder to open to the wide, wide world outside.
"You've got two months to capture your dream," Bortles said in wrapping up another session. "If you're letting anything distract you or take your focus away, it's clearly not your passion."
CBS All Access allows viewers to stream every NFL on CBS game in their local market

CBS All Access allows viewers to stream every NFL on CBS game in their local market

CBS All Access allows viewers to stream every NFL on CBS game in their local market
CBS All Access allows viewers to stream every NFL on CBS game in their local market

CBS All Access allows viewers to stream every NFL on CBS game in their local market

CBS All Access allows viewers to stream every NFL on CBS game in their local market