2014 NFL Draft: Gap between Watkins, rest of WRs not huge
Is Sammy Watkins the draft's top WR? That's a definite maybe, scouts say. Mike Evans could get picked first, while Odell Beckham or Brandin Cooks may wind up as the best in class.
• 7 min read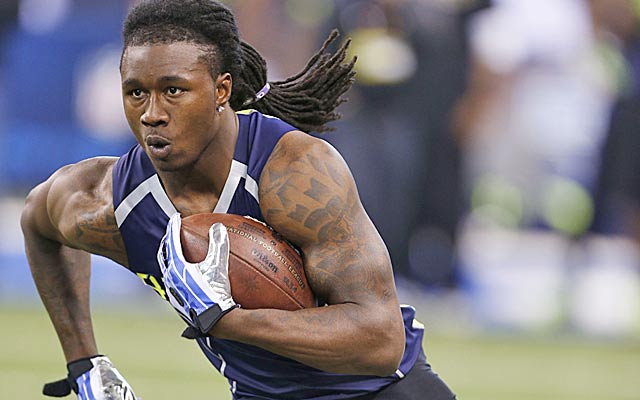 More NFL offseason: Mock Drafts | Prospect Rankings | Pro Days | Top free agents
There are certain ideas that become truisms during draft season. It gets written about enough and put in enough drafts and eventually it's cemented in the pubic perception and becomes more or less accepted, regardless of whether it actually plays out that way when the draft actually begins.
There's no shortage of them this year, what with the draft being pushed back two weeks, and with teams only really now embedded deeply in pre-draft meetings. All this additional time to fill in the 24/7 "news" cycle leading up to the three-day extravaganza only leads to more bluster. And while one would have to agree with some of those seemingly widely held assumptions -- like the idea that this draft, loaded with underclassmen, is deep at the receiver position -- I'm more than willing to play contrarian on a few others pertaining to those who will be catching footballs for a living in the NFL.
It's become more or less accepted that Clemson's Sammy Watkins, for instance, is unquestionably the first receiver who will come off the board. Quite likely it will be within the top five picks, with perhaps someone moving up to land him. And while I believe Watkins is a potential star, and I'm a big fan of his talent, and I believe there ain't no way he falls out of the top 10, the reality is the gap between Watkins and Texas A&M's Mike Evans is not nearly the gulf that some present it as when you talk to scouts and evaluators. And in the eyes of some personnel men I truly respect, LSU's Odell Beckham or Oregon State's Brandin Cooks might actually end up being the best of the entire bunch when we reflect back on their careers.
As always this time of year, beauty is in the eye of the beholder and different prospects appeal to certain schemes and certain coaches. Measureables like height will carry more significance in some organizations than others. Things are rarely as cut and dry in the scouting world as they are portrayed among the media and fans. That's obvious after talking to a host of scouts about the top of this receiver class. And I intentionally focused on individuals who had spent considerable time on the position group but whose teams are not expecting to take a receiver high in the draft and thus don't really have much to gain one way or the other by being candid about their thoughts.
I intentionally stayed away from guys picking in the top 10 for that reason, and, after a few days of phone calls I came away certain that while Watkins is certainly an elite prospect, he isn't a lock to be the first off the board. Evans is seen by several teams as his equal and in some cases, would be the pick in the event of a virtual tie based on his superior height. In fact, if I was doing a mock right now, I'd have Evans to Tampa Bay at seven, and I would probably put Watkins to Buffalo at nine or Detroit at 10. And if he does in fact get out of the top five, of any team, I could see Detroit possibly moving up a few spots to land him (the Lions have been exhaustive in their pre-draft analysis of Watkins).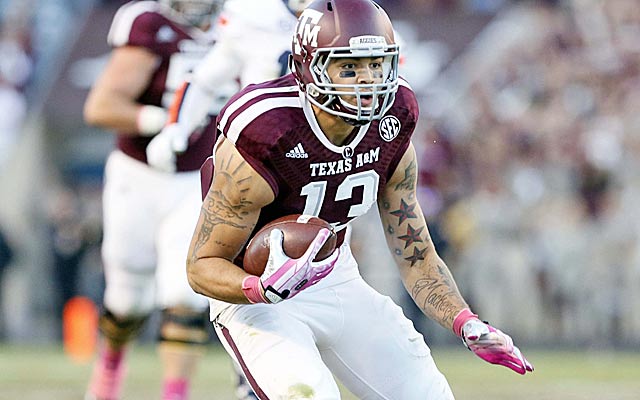 I had more than one person tell me Beckham, who comes from a family of athletes and has a strong track background as well, is their top-rated receiver, and scouts love his route-running acumen, his ability to separate, how smooth he is, as well as his metrics. I'm telling you, the chasm is not as great as many would present it as being. Watkins and Evans are generally seen as best in breed, but are much closer on many boards than I've seen written.
"Would I be surprised if Evans ended up going before Watkins?" said one evaluator whose team could take a receiver later in the first round. "No, I wouldn't. But we do think there is a drop-off after those two, and we know they won't be there when we pick."
Several evaluators I spoke to believe that with Tampa Bay, specifically, Evans may be the better fit to replace the recently traded Mike Williams and be another big target for new quarterback Josh McCown. As one scout who worked previously with Tampa coach Lovie Smith put it -- "Lovie loves the kids from Texas and he saw what McCown was able to do in Chicago with two big targets (Brandon Marshall and Alshon Jeffery). I could see them wanting to duplicate that even if Watkins was on the board."
Another evaluator who knows Smith well agreed: "I think Evans could be the better fit there. Sammy is a great receiver -- no one can dispute that based on what he did in college -- but will all that flash translate? Is he more of a run after the catch guy? I don't see him like I see a A.J. (Green) or Calvin (Johnson). To me there has been a lot of media hype with him -- and he is a good receiver, don't get me wrong -- but I don't see him as that same sport of prospect."
Another team I spoke to said their grades on Watkins would translate with other top-of-the-draft receivers from recent years. As always, opinions vary, but I would in general caution you from swallowing all of the "truisms" that come along this time of year, because ultimately it's hard to discern exactly how some of them began, and many of them don't actually play out.
Recently, more has been made by the lack of relative success by receivers drafted in the first round who are under 6-foot-3, and Watkins obviously lacks that sort of size. Regardless, there is too much talent to see a true slip here, and I can't fathom a scenario where he gets out of the top 10, but he just might not be the first receiver taken. There are no guarantees.
"Wide receivers get over–valued and miss-evaluated," as one exec put it. "I like Watkins a lot, but he's never really seen press man coverage and he gets a free release. There is a lot to like, for sure, but in two years do I think Brandin Cooks (Oregon State) could be as good as him? I do. Absolutely. Evans has the size and he has the jumpball thing, and Beckham is just a very, very good all-around receiver, but he doesn't have the same kind of size. There are plenty of them out there."
On that, we can all agree.
Whatever you are looking for, at this position, it is there. And many of them are quite young. There is clay to be molded.
Ultimately, I believe six may end up going in the first 32 picks, depending on how soon the run starts at the top. If the Bucs end up taking a quarterback, for instance, and Watkins still ends up going around 10, then perhaps it's more like five who go overall. For all the talk about how quarterbacks are going to be dropping -- another draft "truism" that I'd caution against -- in the end, with so much depth at receiver and so much variety, might that end up pushing them down a little deeper into the second day? Could be.
I don't see any way guys like Beckham and USC's Marqise Lee make it past the late teens, with teams like Pittsburgh, Baltimore, the Jets, all considering them strongly according to multiple sources. Teams like the Panthers and Patriots have spent a lot of time on Cooks, the kind of individual off the field who teams just fall in love with and who I believe is off the board somewhere in the bottom third of the first-round. Kelvin Benjamin (Florida State) could end up a late first rounder, too, and if Seattle ended the first round by selecting Allen Robinson of Penn State, I wouldn't be surprised at all. If Robinson makes it to the second round, Houston, coached by Bill O'Brien, who coached Robinson in Happy Valley, might have to consider him as well; had O'Brien stayed at the school, I'm told, so too would have Robinson.
If the Ravens do not go receiver in the first round, South Carolina's Bruce Ellington would be someone maybe they'd have to move up to get in the second round, and on the second day of the draft there could be some jostling for Jordan Matthews of Vanderbilt, while I continue to hear that relatively unknown receivers Robert Herron (Wyoming) and Paul Richardson (Colorado) are going to end up going higher than where most would have projected them when this process began before the combine.
There will be plenty of them coming off the board and look for there to be a big run on Friday, for sure, after the top half dozen or so get selected on Thursday. And don't be surprised if they don't go in the order most would project.
The Oklahoma quarterback isn't exactly being discreet about where he wants to begin his NFL...

No one was hurt, but Fournette's Mercedes lost a bumper

It might be time to begin worrying about the Patriots quarterback
The Patriots are still odds-on favorites, but the other teams are closing in

SportsLine tapped into its Vegas sources to see who professional bettors like Sunday

Philadelphia readies itself for a massive celebration if the Eagles advance to the Super B...