2014 NFL Draft: Jaguars, Browns, Raiders owners to make play for QB?
It's possible the owners of doormats Cleveland and Jacksonville, hungry for attention and wins, could make it incumbent on their front office personnel to take Johnny Manziel high.
• 8 min read
More Draft coverage: Mock Drafts | Prospect Rankings | Big Board | News
Never underestimate the role an owner might play in the selection of a quarterback. Especially if a team is picking in the top five. And even more so if that team has been struggling for relevancy for quite some time. Add the need for a real stadium, and the desire for more marketing and sales opportunity in what has become a soft financial market relative to the rest of the league, and you have an scenario ripe for owner intervention.
On top of that, let's say you happen to draft in a year when there is a larger-than-life, dervish of a quarterback dubbed Johnny Football who can be dazzling and confounding, and whose very presence creates immediate headlines and attention and can alter the scope of how the franchise is perceived by broadcast partners and corporations and the like. Obviously, we have exactly this situation this draft, with the long-suffering Jaguars, Browns and Raiders in need of life and with Johnny Manziel uniquely equipped to provide a sort of star power that can transform, if not confound.
Every draft pick is a gamble, and while some evaluators I trust have scoffed at the notion of Manziel as a top NFL quarterback, others maintain there is way too much talent there for him to fall from the top 10 picks, much less the entire first round. Polarizing, to say the least, and no matter where he lands there will be some in the league who will point to ownership as being a driving force as to why. At least in Jacksonville or Cleveland.
In Oakland, I hear owner Mark Davis is smitten with quarterback Derek Carr, and that pressure could be mounting on the front office to take him in the first round. Now, No. 5 overall is awful high, but if you hear about the Raiders trying like heck to move back -- as they did a year ago before selecting DJ Hayden, who some viewed as a reach that high -- I'd start penciling in Carr as the possible pick. Keep an eye on that.
Manziel would make all the business sense in the world in Jacksonville or Cleveland, and I wouldn't begrudge those owners one bit for pushing hard to make that happen. I don't believe Shahid Khan would go to great lengths to do so with the Jaguars, and we'll see if Jimmy Haslam, whose brief tenure in Cleveland has been filled with surprising firings, strange coach searches and bizarre behavior, inserts himself heavily in the Browns top pick.
Cleveland also holds pick No. 26, and I have continued to hear the thought process within the football operations department is receiver Sammy Watkins or possibly tackle Greg Robinson with the first pick, and then a quarterback at 26 (Carr, who I don't believe will be there, or Teddy Bridgewater, who the Browns also have been high on). Manziel would be a distinctly good fit in new offensive coordinator Kyle Shanahan's style of offense, but trust me, coordinators don't make this pick and especially not guys who were just let go after having their relationship with a young second-overall pick (Robert Griffin III in Washington) completely implode. It won't be his pick; it very well might be the owner's pick.
If Johnny Football brings his game to the banks of the river there, the pick will have the owner's name all over it, for better or worse. It could be the Browns, with a new coach and coaching staff and reconfigured front office, are about to turn the corner with Manziel under center. It just might be a wonderstroke and consider me among those who have championed the idea that Manziel's game will play at the next level (though it might be a five-to-seven year flash, given his style of play, rather than a steady 15-year career). Regardless of where he lands, intrigue about where Manziel and other top quarterbacks land continues to dominate talk as teams try to anticipate who will be remaining when they pick. And there are no shortage of general managers cheering loudly for as many passers to go as high as possible.
QBs could go anywhere
I continue to hear teams not being linked with quarterbacks will take them, perhaps much higher than anyone anticipates. And I understand that this group, as they continue to get dissected, does not scream out with obvious first-round talent to some evaluators.
But let's consider the economics of the new CBA, as many front offices are. If you are picking outside of the top 10, the cost of the fifth-year option on these draft picks is going to be very cheap. Just look at this first class of optioned players, with the Texans making out like gangbusters with J.J. Watt taken with the 11th pick, and not at No. 10 (the equation for compiling option figures for picks outside the top 10 is much cheaper than those in the top 10; Watt's option was only $7M, while top-10 pick Von Miller's was nearly $10M, for instance).
So you can get a bargain basement rate on a position that is among the most expensive in the NFL (quarterback, defensive end and left tackle are usually right up there), and if you are picking in the late 20s, you can control the player for six years, without ever having to commit to a huge new contract with massive guaranteed money (fifth-year option, and then franchise tag in year six). Conversely, if you take that player in the second round, the contract length is only four years and the player has no option hanging over his head and the reality is, if he is a star, he's got a much better chance of getting paid after his third year in the league. So there is an incentive to take a QB because it is such a costly position.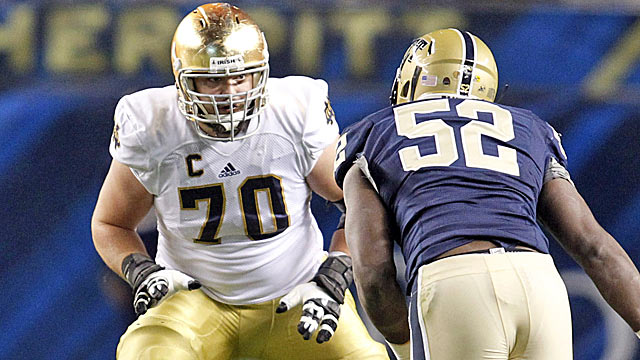 Add in the fact guys like Carson Palmer and Tom Brady and Drew Brees and Peyton Manning aren't getting any younger, and I continue to believe a team might just grab one of these guys late in the first round. Seeing Bortles land somewhere no one expected, for instance -- if he's the guy who falls -- wouldn't surprise me at all. If the Texans don't trade down a few spots to take him at the top of the first round, might New England grab him at the end of the first? (Texans coach Bill O'Brien has strong Patriots ties and I could see them liking the same kinds of passers, for instance).
Interesting food for thought, if nothing else, and I'd be quite surprised if the Cardinals didn't take Carr or Bortles at No. 20, and in some scenarios both might even still be on the board.
Get your hot O-linemen here
No position will be hotter off the bat Thursday than offensive line.
Three tackles are likely to go within the top six picks from everything I gather. A fourth, Notre Dame's Zack Martin, could go as high as the top 10, and I really like the fit at 12 (the Giants like him as do many other teams, who still see him as a tackle despite some concerns over the length of his arms, etc.; WR Odell Beckham could end up being the Giants' pick, too). In fact, I'd put four tackles in the first 12 picks if I were doing a mock today (not doing so until Thursday morning, FWIW), and I fully expect that to drive up the desire for others. Alabama's Cyrus Kouandjio is going in the first round, I am convinced, maybe to Miami at No. 19, and another tackle -- like Joel Bitonio of Nevada or Morgan Moses of Virginia -- could sneak into the first round, as well.
Those same factors -- controlling the player for six years -- could also help motivate tackles going up the board. Add in the fact I could see one guard and possibly a center going in the first round, and offensive line could end up accounting for a quarter of the picks on Thursday.
More news and observations
Spoke to a few evaluators who believe strongly that Alabama QB AJ McCarron will be the fourth or fifth quarterback taken, and they continue to gush about his film. He's been flying particularly under the radar amid stories and theories about all the other quarterbacks. That can sometimes be a sign he's going to surprise with how high he lands. ... Could Aaron Donald be in play as high as the third-overall pick? Some are wondering, but there is no doubt the three-technique with pass rush ability is the apple of several teams' eyes and I don't see him getting beyond the eighth overall pick at this point, something I wouldn't have said a few weeks ago. I see him as the third defensive player off the board now. ...
I have three safeties going in the first round, and one of them might be considered a surprise because of his low profile, but plenty of evaluators are high on him. I wouldn't be shocked at all if Washington State safety Deone Bucannon goes Thursday. I could see him to Green Bay at No. 21, depending on what happens higher up the board at safety, or if linebacker C.J. Mosley, who could slide some on the first day, is still sitting there for the Packers to pluck. ... The 49ers have more picks than they need, more picks than could ever crack their roster and I keep hearing they will trade up if possible, with Beckham a very likely target, and possibly Oregon WR Brandin Cooks as well ( I expect the Steelers to strongly consider Cooks as well at 15, though I think in the end they take a corner). ...
No one is talking about Nebraska offensive lineman Spencer Long, but I believe the kid is going in the second round. He is back from a knee injury that cost him the second half of his senior season, and impressed teams at late workouts and he has a big buzz among offensive line coaches. It's possible Long could play all three interior line positions at the NFL level. ... I can't help but wonder if the Pats will take multiple tight ends, including a late-round project. Have a gut feeling they will. Not quite the back-to-back tight end picks from a few years ago, but still trying to load up at that position if they can.
Pick Six Newsletter
Get the day's big stories + fun stuff you love like mock drafts, picks and power rankings.
Please check the opt-in box to acknowledge that you would like to subscribe.
Thanks for signing up!
Keep an eye on your inbox for the latest sports news.
Sorry!
There was an error processing your subscription.
Every NFL coach should host a party like this

Aaron Rodgers singled out one source for information about 'what's going on with my contra...

James Harrison gives an inside take on the relationship between Brady and Belichick
R.J. White finished in the top 1 percent of the 2017 Las Vegas SuperContest

This might be the only piece of Eli Manning Chargers memorabilia in existence

Colts linebacker Edwin Jackson was killed in February