2014 NFL Draft: Jimmie Ward headlines my Better-Than Team
After hours of film study, these players get better grades than the scouts are giving them, led by Jimmie Ward, a rangy safety from Northern Illinois.
More Draft coverage: Mock Drafts | Prospect Rankings | Big Board | News
The value of the rangy safety in the NFL has gone up like a good tech stock on Wall Street in recent years.
And now with the Seahawks winning a Super Bowl because of their defense, which is keyed by free safety Earl Thomas, the league of copycats is now putting even more of a premium on cover safeties.
For years, I've thought the free safety would be the bigger corner moving inside and the strong safety would be the free safety moving over, which is what we are seeing in some situations. Teams are also interchanging their safeties more than in the past.
Seattle still plays the old strong safety and free safety looks, with strong safety Kam Chancellor playing more like a linebacker and Thomas taking on the role of center fielder with the responsibility of covering a ton of ground.
Now comes the hard part for teams looking to replicate that style, which is finding a player who can cover that type of ground.
I think I found one.
It's Northern Illinois safety Jimmie Ward, who is this year's captain of my annual Better-Than team, which is a group of players I think are better than the scouts think they are right now -- and moving forward.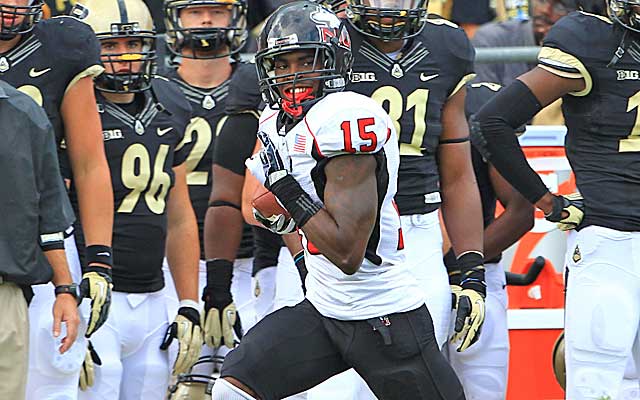 Ward is a 5-10, 193-pound safety who plays much bigger than he's listed. He is a willing tackler in the run game, and played up near the line a lot at NIU. But he's more than capable of playing deep.
He is a smooth player in coverage, who turns and runs like a corner when he's asked to do so. I watched several of Ward's games, and really thought he competed on every play, which is something I like to see.
While he didn't spend a ton of time playing deep, when he did, he made the most of it with his instincts and his range. He might not be a burner, but he plays fast enough.
Half the battle of playing the single-high safety is reading and then reacting to the ball. You can have all the speed in the world, but if you lack recognition skills, you'll still struggle in the deep middle.
I think Ward will be able to play up near the line and in the deep middle on the next level. In fact, even though he throws his body around when up near the line of scrimmage, I think his best football will come playing deep.
Ward did have some foot issues that could be a concern for teams, and they limited him at the combine, but if healthy he's worth a late first-round pick, which is where I think he will go.
That's why he's the headliner of my annual Better-Than Team, which is a spot that has featured players like Tampa Bay Buccaneers linebacker Lavonte David and New York Giants defensive end Jason Pierre-Paul in the past.
And to balance it out, it's also a spot that featured Minnesota Vikings quarterback Christian Ponder and former Cowboys quarterback Stephen McGee, who is now in Canada. Oops.
Last year's captain was LSU defensive tackle Bennie Logan, who went on to start in the middle of the Eagles defense as a rookie last season.
As usual, there are hits and misses, and this year's group will be no different.
Now for the rest of this year's team:
Lamarcus Joyner, CB, Florida State: He is small at 5-8, 185 pounds, but he is all football player. What I mean by that is he always shows up on the tape. He has played safety and corner, and has done a nice job in the slot. He is tough and physical for his size. Love the way he plays.
James White, RB, Wisconsin: I would never take a runner in the first or second round, which is why I always look for value running backs. White is that. He has never been a full-time starter at Wisconsin, sharing time with Montee Ball and Melvin Gordon, who will be a high pick next year. But White can do so many things. He's a tough runner and he's good in the passing game.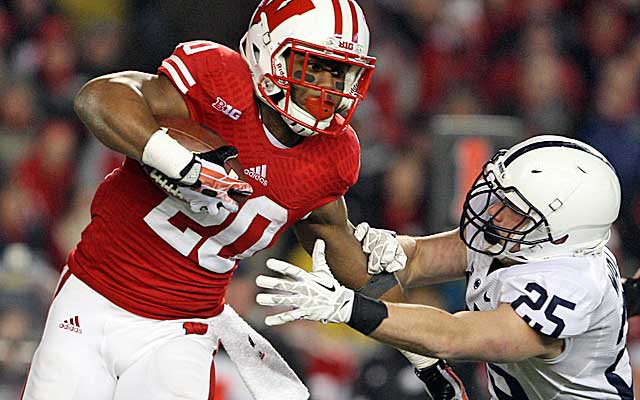 Demarcus Lawrence, OLB-DE, Boise State: At 6-2 1/2, 257 pounds, he is a player who has moved up during this draft process as teams evaluate him. He was a defensive end at Boise, but he could be a perfect 3-4 rusher outside. I wouldn't be shocked to see him make his way into the back end of the first round.
Will Sutton, DT, Arizona State: Since I am a Sun Devil, I watched all of his games. He is a force inside, but he has to be careful with his weight. At times, he got too heavy. That's easily fixable in the NFL. He is short at just over 6 feet, but that shouldn't matter inside. There have been plenty of good tackles his size. He will be a steal in the third round.
Brandon Coleman, WR, Rutgers: He is a big receiver in the Plaxico Burress mold at 6-6, 225 pounds. He isn't a burner, but he ran 4.57 with that size. He's fast enough. I think he might be a better option than FSU's Kelvin Benjamin for a team looking for a bigger receiver.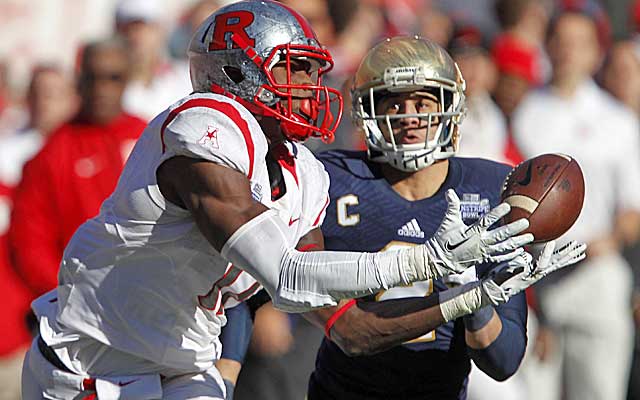 Morgan Moses, T, Virginia: Some personnel people don't like him. I do. I think he's big and athletic. While he has played the left side and the right side, I think he could do either on the next level.
Telvin Smith, LB, Florida State: In an era where speed matters at linebacker, he has it. He can run to the football. They once told former Seminoles player Derrick Brooks he was too small to play linebacker on the next level. He's going into the Pro Football Hall of Fame this summer. Smith isn't Brooks, but he's worth a third-round look.
Kevin Norwood, WR, Alabama: He's a bigger receiver (6-2) who has run under 4.5, yet he doesn't get much attention. Why? It makes no sense. It's a deep receiver class, but he will be a nice pick for somebody in the third round.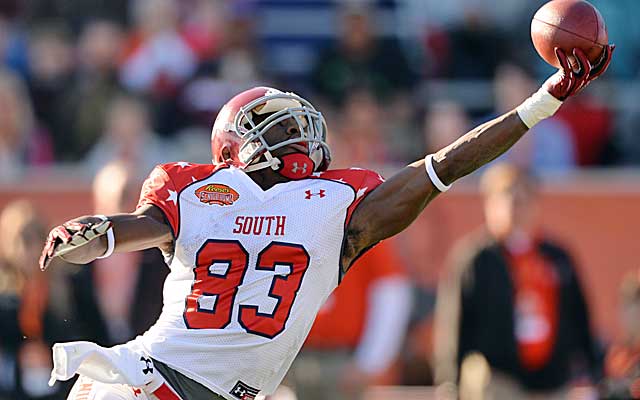 Trent Murphy, OLB-DE, Stanford: I watched a lot of Pac-12 football, so I knew he was a good player. But after watching his tapes, I was even more impressed. He's tough and more athletic than I thought.
Bruce Ellington, WR, South Carolina: He isn't big and isn't a burner at 4.5, but he knows how to get open and make plays. Ellington is a stocky-looking receiver who was a running back and moved outside. He can be a nice third-down back or a slot receiver. He's still raw as a receiver, but the tools are there.
Cassius Marsh, DT, UCLA: Sometimes when you put a tape on to watch a player, another one jumps out. When I watched UCLA outside linebacker Anthony Barr, my eyes kept going to No. 99, Cassius Marsh. He played with his hand on the ground and also stood up at times. There's a play against Nebraska where he chases a runner down from behind across the field. I love seeing that type of effort.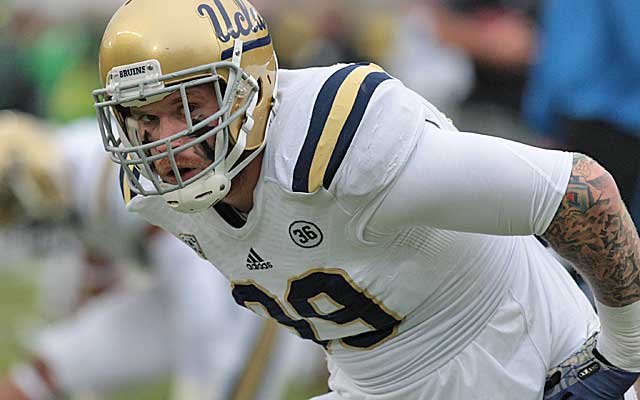 Jaylen Watkins, CB, Florida: He isn't as touted as brother Sammy Watkins, the receiver from Clemson who is a first-round pick. But this Watkins is a player who has moved up on a lot of boards, even higher than his two corner teammates in this draft. Teams love his potential to play inside in the slot. That's key to any good defense nowadays.
Jalen Saunders, WR, Oklahoma: He is small at 5-9 and 165 pounds, but he is quick and he ran 4.42 at the combine. He could be a lot like T.Y. Hilton from the Colts. Saunders could also help in the return game.
Preston Brown, LB, Louisville: It is a weak class for inside/middle linebackers, but Brown impressed with his physical play at Louisville. He is 251 pounds, so he's big enough to hold up inside. He won't excel in coverage, but he will be a nice fourth-round pick for a team looking to help the run defense.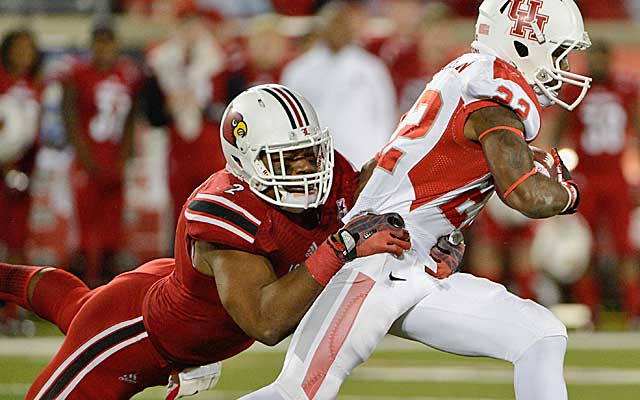 Aaron Murray, QB, Georgia: I know he doesn't have prototype size, and he's coming off a torn ACL, but he might be the best quarterback in this draft at anticipating throws. That matters. I think he will be a steal in the third round.
Crockett Gilmore, TE, Colorado State:He was a late add to the Senior Bowl and had a good week. He has good size (6-5, 260 pounds) and while he isn't a burner, he moves pretty well for guy his size.
Jeoffrey Pagan, DT, Alabama: At 6-3, 310 pounds, he was a big part of the Alabama defense. He always seemed to show up on tape. He did have some shoulder issues at the combine, which are a concern. But a late-round pick might warrant a nice rotation player.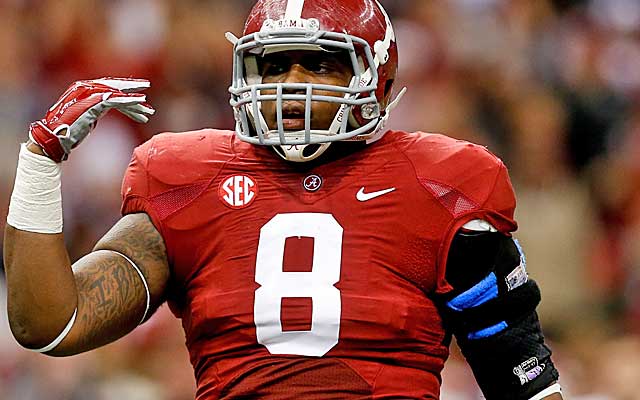 Ricardo Allen, CB, Purdue: He was a four-year starter at Purdue, which means something. He isn't big at 5-9, but he knows how to play the position and he uses great technique. He reminds me of Tampa Bay corner Alterraun Verner, whom I put on this list when he came out. Both get knocked for lack of elite speed, but understand the position.
Matt Patchan, OT, Boston College: After transferring from Florida, where he battled through a long list of injuries, Patchan developed into a good left tackle in 2013 for the Eagles, and was a big reason why Andre Williams ran so well. A former defensive lineman, he is still learning the position but there is a lot of talent to work with and make him a solid starter.
This might go down as the best ending of the 2017 season

The Raiders beat the Chiefs, 31-30, on Thursday night thanks to Derek Carr's heroics

This was easily the most exciting final 10 seconds of any game in the NFL this season
Everything going the Chiefs way on Thursday Night Football

Beast Mode went Beast Mode on someone he shouldn't have gone Beast Mode on

This is how you do a 99-yard touchdown drive