2014 NFL Draft prep? Alabama-Texas A&M is 2013 game tape to watch
Want to watch game tape for draft preparation? Start with Alabama-Texas A&M, which features six players with grades in the first round alone.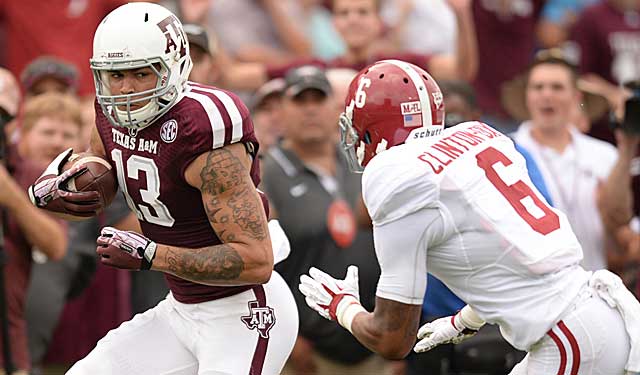 More NFL offseason: Mock Drafts | Prospect Rankings | Pro Days | Top free agents
I know everyone is gearing up for the start of free agency, but evaluating draft prospects is as important to most personnel people, so I thought I would keep that theme alive; I'll deal with free agency on Wednesday.
If you are inclined to watch one college football game tape to prepare for the draft, make it Alabama at Texas A&M. There are six first-round picks in the game and at least another 6-8 draftable players. I don't believe any 2013 college game had as many top players in it as this one, and watching these quality players revealed a lot.
Let me start with Texas A&M and quarterback Johnny Manziel. I like to describe him as a "two-minute quarterback." He wants to improvise all the time, he is a risk-taker with his decision making and has a bad habit of retreating when under pressure. He had a 21-yard retreat in this game and then just threw it up for grabs. In the NFL, that play is a sack or an interception.
Manziel can spin the ball but doesn't step into his throws on a consistent basis and he rarely moves the safety with his eyes or uses a pump fake. Quality NFL safeties will get a jump on his passes.
He doesn't like to take the checkdown and prefers to run rather than dump it. He had two passes blocked by pass rushers. That would only increase in the pros, and that won't be tolerated long in the NFL. Manziel runs when he doesn't have to and gives little effort to threaten the flank after a handoff. He's exciting, but I'm not so sure his game transfers to the Sunday league.
Next is left tackle Jake Matthews, and this accomplished player is ready for pro football. His technique reminds me of Tony Boselli. He has the feet to sustain his blocks, he can get his hands on defenders and is never fooled by stunt and twist games. Matthews has balance and can scoop block inside, as well as get to the second level. Some feel his arms are short but I see a guy with a compact punch who can sink his weight and stop a rusher. He looked tremendous on plays when asked to pull and could easily be utilized in some unique run-blocking schemes.
The third Aggie is wide receiver Mike Evans. The 6-foot-5 wide receiver can pull a ball down from heights most defensive backs can't climb. In this game, he ran 60 yards after the catch on a 95-yard touchdown, which demonstrates he has better long speed than his 4.5-second 40 time would indicate. Manziel had a tendency to just throw it up to Evans, and he would come down with it. He reminds me of Vincent Jackson. He has enough strength and fast twitch to beat press coverage, but he will see more press in the pros than he saw in this game.
Alabama had three first-round players, too, with safety Ha Ha Clinton-Dix, linebacker C.J. Mosley and left tackle Cyrus Kouandjio.
Clinton-Dix is a true center fielder with range who is not fooled by the quarterback's eyes or scrambling. He does the little things well, as demonstrated when he ripped the ball away from an Aggie when he was the second man in on a tackle.
Mosley reminds me of Jonathan Vilma. Smart and technically sound. He can stack and shed a guard to get to the ball. He has solid keys and diagnosis and is rarely fooled. He is not a real quick-twitch athlete but more of a smooth glider. Mosley is not an exceptional blitzer but he is a very good zone dropper in coverage. He can play multiple spots and can stay on the field in nickel.
As advertised, Kouandjio is raw but he has the athletic ability to line up as a rookie left tackle and survive in the NFL. He is not as polished as Matthews or as athletic as Auburn's Greg Robinson, but has a bright future. He likes to operate from a two-point stance and has a wide base. His feet are good enough to recover when he gets in trouble. He is patient against wide rushers and will wait for them to close rather and overextend. He is already an accomplished NFL holder who can get his hands inside and torque a defender. He has good pop in his run blocking and is interested in decleating defenders. His knee issues seem to have been resolved by Dr. James Andrews.
Later in the spring, I will go back to this game tape to study later-round picks like AJ McCarron, DEs Adrian Hubbard and Ed Stinson, guard Anthony Steen and more solid players -- all from one college game. It took me the better part of a day merely to study the six first-round players.
Plus the Saints are rolling in the NFC South, the Falcons are in trouble, the Bears are weird...

Here are the Week 7 grades for every team that played on Sunday

It was the Falcons' first score against the Patriots in over 90 minutes of game time
Hooker, the 15th pick in the draft, was in the middle of a stellar rookie year

Plus Jordy Nelson's lonely pre-game, Jamal Adams' Milly Rock, Le'Veon Bell's stiff arm and...

Justin Timberlake is headed back to perform at the Super Bowl for the first time in 14 yea...