2014 NFL Draft: Texans take Mr. Irrelevant, DB Lonnie Ballentine
The final pick of the 2014 NFL Draft belonged to the Houston Texans and they took Memphis safety Lonnie Ballentine, your new Mr. Irrelevant.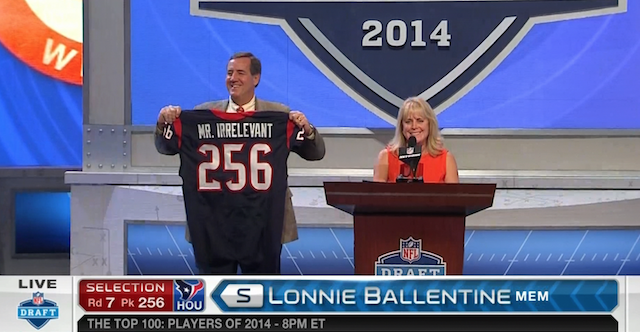 Draft coverage: Picks and grades | Prospect Rankings | Sam goes No. 249 | News
The Houston Texans opened the 2014 NFL Draft on Thursday when they took Jadeveon Clowney with the first overall pick. On Saturday, the Texans closed the draft by making the 256th and final pick.
Ladies and gentleman, meet Mr. Irrelevant: Lonnie Ballentine. Thanks to being picked last, the Memphis safety earns the 'Irrelevant' moniker annually given to the final pick in the draft.
Being Mr. Irrelevant isn't a bad thing though because you get to do something the other 255 draft picks don't get to do: TAKE A FREE TRIP TO NEWPORT BEACH, CALIF.
That's right, being Mr. Irrelevant is actually kind of awesome.
Since 1976, the last pick in the draft has had a week devoted to him in California. On July 8, Ballentine will make the trip to Newport Beach to launch 'Irrelevant Week.' The week involves a sailing regatta, a tour of Disneyland and a trip to a Dodgers or Angels game.
There's also an event where sports stars and celebrities will roast the newest Mr. Irrelevant. So Ballentine has that to look forward to. It's not just fun and games in Newport Beach either, the weeklong event also raises money for charity.
Oh, and being the last pick in the draft doesn't mean your NFL career is going to crash and burn. A few players have gone on to have a solid career after being Mr. Irrelevant. Chiefs kicker Ryan Succop was Mr. Irrelevant in 2009 and five years later, his NFL career is still going strong.
Ballentine is the first Mr. Irrelevant ever out of Memphis, although former Tiger Clinton McDonald came close in 2009. Succop was the 256th pick that year, while McDonald was taken 249th by the Bengals.
Patriots QB's ring, given to one of his friends/family members, was auctioned off to an anonymous...

If the Redskins get petty, Cousins will try and get his vengeance through a grievance

The Dolphins also donated $100,000 to the victims' fund after the school shooting that killed...
The Cardinals GM explains his process for finding Carson Palmer's successor

Stefen Wisniewski narrowly missed out on a chance to earn $250K, but the Eagles gave it to...

Shazier heads into the Steelers' facility every day and helps with 'personnel stuff'