2014 NFL Draft: Top 5 picks? QBs are key; someone takes Clowney No. 1
Looking at the top 5 picks in this year's draft, the Rams are in a great spot, Jadeveon Clowney should go No. 1 (somewhere) and Johnny Manziel may be the key yet not go until later.
• 8 min read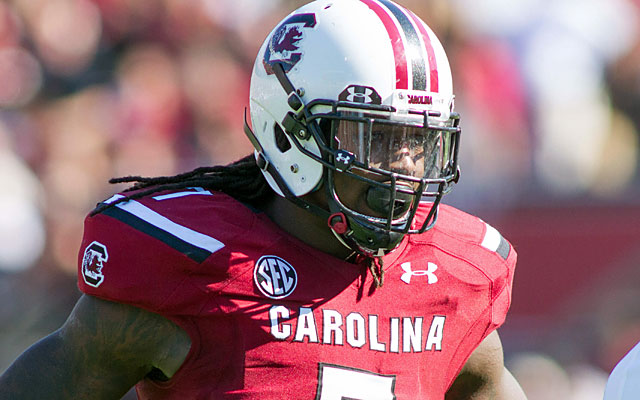 More NFL offseason: Mock Drafts | Prospect Rankings | Pro days | Top free agents
It would be a heck of a lot easier to begin slotting players in the NFL Draft if we knew where the quarterbacks were going. It's the question being asked most among general managers trying to get a bead on which players they can chose from when it's time to make their first selection on Thursday.
In the case of at least 75 percent of teams, they hope as many passers go high as possible. This takes players off their board they wouldn't take anyway. But with so much uncertainty about this draft in particular -- even last year you knew that a left tackle was going first and second even if it was undetermined until draft day whether Eric Fisher or Luke Joeckel would go first -- the ability to nail down where Johnny Manziel and Blake Bortles land would allow others to cement their boards more accurately.
Those answers won't come soon. Everyone is playing cards close to the vest -- particularly when it comes to quarterbacks -- and there will be plenty of surprises once the names start being called Thursday night. Ultimately, we may see no passers go in the first five picks, maybe not even in the first 10, though I imagine at least two go in the first half of the first round, and at least three will be selected the first day.
As we finally enter draft week, I thought we would look at the types of conversations going on within front offices concerning the top five picks, with most of this still very much in flux. Teams have a sense of players they likely will be able to chose from while also keeping an open ear to potential trade scenarios developing as we get closer to Thursday.
No. 1 Houston Texans: It's no secret the Texans would love to trade this pick. Given their varied needs and ancillary problems resulting from drafting a quarterback first overall (more scrutiny, pressure and expectation to make an immediate impact), dropping back and taking one later may be advantageous. Bottom line: If the Texans were locked in on a player, they would be sending out very different vibes than they have been. I continue to believe that the closer we get to Thursday, the more likely the price for the first overall pick actually could drop.
Who says that it would have to take a first-round pick to move up from, say, sixth overall to first? Why not a future second- and third-round pick? That should still be two starters, just to move down five spots, still get one of the four players the Texans really have focused on -- Jadeveon Clowney, Khalil Mack, Manziel and Bortles. And if head coach Bill O'Brien prefers Bortles, as many believe he does, all the more sense to drop down, get him lower and allow other people to make a few decisions for you by letting them pick ahead. You still almost certainly get one of those four. In the end, if the Texans stick at No. 1 overall, I expect them to take Clowney. If they trade out, the most likely scenario is someone like Atlanta moving up for Clowney, though it's possible the Falcons could move up to take a left tackle as well, with Greg Robinson of Auburn a candidate. Ultimately, I can see the Texans dropping down and another team taking Clowney first.
No. 2 St. Louis Rams: The Rams love their position. In a perfect world, team officials would love to see Atlanta trade up to No. 1 and take Robinson, which would allow them to control Clowney's rights. They'll be very active listening to offers. I'm told several teams have made exploratory calls about the second pick, but nothing intense just yet. The Rams are wheeler-dealers, and I certainly could see them making a trade as well. If Clowney is going and they do not make a trade, then I have Robinson going here, with Texas A&M's Jake Matthews very much under consideration as well.
Their need at tackle is acute, they don't know how long Jake Long will hold up physically and they would like to get out from under his contract. Coach Jeff Fisher hasn't been one to take tackles this high before, but pass protection is critical. Don't rule out consideration for Johnny Football here, too, but I have the Rams ready to pounce on him at No. 13 should they retain that pick and if he's still there. Even if Clowney goes first overall, if another team wants their pick of the first tackle off the board, that too could make sense for St. Louis, depending how far they drop. Atlanta could do some business with the Rams if the Falcons don't trade up to the first pick. A trade down could put Manziel even more in play for the Rams. If there aren't trades, then I have Clowney and Robinson off the board with the first two picks.
No. 3 Jacksonville Jaguars: You would have to be incredibly naïve not to comprehend the allure of Johnny Football here. His presence could transform the persona of the franchise, sell tickets, make them more viable nationally, alter their brand, open unique marketing and sales opportunities and get them prime-time home games. All that stuff matters, as this is a business. And plenty of people believe Manziel is going to help them win plenty of football games as well. If you want to go safer -- and the Jags have been pragmatic and measured in their rebuild under Dave Caldwell and Gus Bradley -- then Mack is the pick.
Bradley knows what a great fit the kid could be in his scheme. He is one of few sure-fire pass rushers in this draft and would add bite to this defense. They did the left tackle thing a year ago, so that route doesn't make sense now. If I am owner Shahid Khan, I make a push for Manziel. However, I am going to slide Mack to the Jaguars here and fully expect them to then take a quarterback at the top of the second round.
No. 4 Cleveland Browns: Another team on the prowl for quarterbacks. But, as is the case with the Jaguars, it's a relatively new regime. The Browns have a rookie GM in Ray Farmer, who I believe will be restrained his first time in charge of a draft. With the No. 26 pick also in their back pocket, I just don't see the Browns going with a quarterback this soon. In fact, I have Derek Carr going to them at the back end of the first round for now. So what makes sense here? Well, of the tackle prospects, I hear Robinson would be the most enticing. If he were still on the board I would make him the pick. He could play the right side for a few years, and when Joe Thomas eventually switches from left to right tackle, Robinson could anchor the left side for years.
However, Robinson isn't on the board in this scenario. So I have Sammy Watkins going to the Browns. Yes, they already have Josh Gordon and an emerging tight end (Jordan Cameron), but Gordon's off-field missteps have him in position to miss significant time if he fails another drug test. Plus, Watkins' presence alongside Gordon should open things up significantly. With the top two defensive players and Robinson already gone, I would make Watkins the pick here, then the Browns take their quarterback later in this round and their offensive options become much wider for new coordinator Kyle Shanahan.
No. 5 Oakland Raiders: The Raiders reached for corner D.J. Hayden a year ago. GM Reggie McKenzie remains under serious scrutiny and after a spending big on older players in free agency, I anticipate caution with this pick. They did some shuffling at the tackle position this offseason but it remains a big need and the quality of tackles available puts the Raiders in a great spot.
To me, taking Manziel would be the most Raiders thing the Raiders could possibly do since Al Davis passed away. It would be the quintessential Raiders move, with JFF fitting their image, this team so desperate for a new stadium and some dynamic elements on the field and needing an injection of spirit and spunk in every facet. Well, I can see how it would work. I wouldn't blame owner Mark Davis for trying to force that element, either. But Matthews makes a lot more sense and carries a lot less risk. Given the fact this team is coming off another 4-12 season and is paying Matt Schaub (for better or worse) a good chunk of change to man the quarterback spot, I have them going left tackle for now, which, in my scenario, could make whichever team is still sitting at sixth overall in a great spot.
If the Texans had traded down, they could still have their pick of Manziel and Bortles there. Or if it's, say, the Rams now at No. 6 via trade, they could still look at Johnny Football with the pick, and there still would be a tackle like Taylor Lewan of Michigan, who would make sense. The Rams also would know there might be other teams coveting Manziel here, knowing the Buccaneers are looking at Manziel at No. 7 (though I don't think they ultimately would take him), and the Vikings, at No. 8, are at least considering Bortles (though I don't think they take a QB until the second round, either).
Regardless, this is a third spot that could have obvious trade opportunities within the first six picks, and another part of why this draft is so intriguing and so difficult to pin down. At least for now. Stay tuned, however. There will be much more to be learned in the next few days as teams ramp up trade talks and chat with agents and things start to come into somewhat better focus.
One of the biggest penalties in Thursday's game was a controversial flag that went against...

If Ezekiel Elliott gets suspended, it likely won't come until Week 5 at the earliest

The NFL is apparently concerned that the Chargers might not be viable in Los Angeles
Everything you need to know for Week 3 of the 2017 NFL season is here

You can find every official injury designation for each NFL team shortly after its Friday report...

The Bengals are the only NFL team Aaron Rodgers has played against without earning a win