2014 NFL Draft: Why AJ McCarron is more than a game manager
Three draft prospects not being talked about bear watching: Alabama QB AJ McCarron, Virginia tackle Morgan Moses and Washington TE Austin Seferian-Jenkins.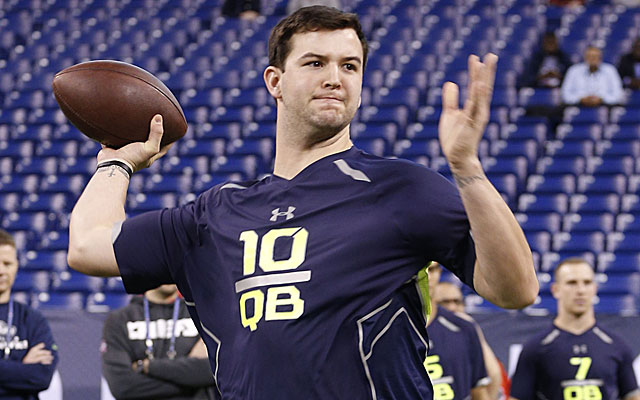 More NFL offseason: Mock Drafts | Prospect Rankings | Pro Days | Top free agents
I'm still watching players and this week a few players I studied are worth talking about today.
Alabama quarterback AJ McCarron is considered as a mid- to late-round pick, but after watching the Virginia Tech and Tennessee games I see he has skills that relate to the NFL game. McCarron is better than a game manager, as he is often described.
I watched him throw 22-yard dig routes and back shoulder fades. I watched him escape pressure in the Virginia Tech game and look deep to short and deliver the ball. He throws a catchable ball and reminded me a bit of a Brad Johnson or Matt Schaub with his style. He does some of the subtle things like looking off safeties and lets coverage dictate where to go with the ball.
He could run a traditional NFL offense and I don't think it's fair to group him with former Alabama quarterbacks Greg McElroy or John Parker Wilson.
More film room studies
Virginia left tackle Morgan Moses: I watched Moses in the BYU and Clemson games and at the Senior Bowl. He may not be a first-round selection but I would be surprised if he lasted past the second round. His positives include long arms, height, weight and speed for the position, an ability to get to the second level and a solid run blocker.
His questionable areas include a soft punch, doesn't always drop his weight, and should finish blocks on a more consistent basis. At times he reminds me of Bryant McKinnie and other times, like when he cut a linebacker in the Virginia Tech game, a bit of Russell Okung.
Early in his NFL career he will need help from a chip block or tight end, especially against pass rushers that convert speed to power.
Washington tight end Austin Seferian-Jenkins: Everyone talks about Eric Ebron and Jace Amaro when tight ends are the draft subject, but lurking in the third spot and a solid second-round player is Seferian-Jenkins. He was an impressive interview.
After watching the UCLA and Oregon State games, where he had eight receptions, I came away thinking he may be the most complete and dangerous tight end in the class. His college basketball skills are obvious and unlike most former hoopsters he can block.
If your team needs an all-in-one tight end that can line up next to a tackle or out as a slot or wide receiver this guy is a bargain in the second round. His route running is good enough to play early in the NFL.
Safe picks
The draft process to drawing to a close and there are a number of players I call "safe" -- what you see is what you get and these guys are the whole package. They have talent, technique, work ethic and look like guys who understand how to handle themselves as pros.
I have interviewed well over 100 of the top picks and watched all of them on tape. Here are my top 10 safe picks and there are no quarterbacks in the group:
Jake Matthews, OT, Texas A&M
Aaron Donald, DT, Pittsburgh
Khalil Mack, LB, Buffalo
Zack Martin OT, Notre Dame
Darqueze Dennard, CB, Michigan State
Odell Beckham, WR, LSU
Trent Murphy, DE, Stanford
Chris Borland, LB, Wisconsin
Jordan Matthews, WR, Vanderbilt
Tre Mason, RB, Auburn
The ripple effect
Have you noticed how many teams are picking up the fifth-year option for the first-round players from the 2011 draft? I predicted 20 of the 32 would get the fifth-year option and that spells trouble in a different way for the May 8 draft.
How many teams do you think are going to be willing to give up their low first-round pick and move back into the second round where whoever they draft will be free after three years?
Said one general manager: "Things have changed with all the good players from that 2011 first round and it's going to cost more to get a team to move out now. Back in the old days teams liked to move out of the bottom of the first to avoid the contract expense but now it's reversed."
I just wonder how teams that think they can jump back into the bottom of the first round to draft their QB are going to pull it off?
And this is why Tyrod Taylor is now the Bills' starting quarterback again

Here are the picks and props you need to be a winner while watching all the football you can...

Freeney, 37, was impressive in Seattle before getting surprisingly released
The 49ers have a realistic shot at home against a Seahawks club dealing with a myriad of i...

R.J. White has his finger on the pulse of the Packers and made a strong play for 'Sunday Night...