2014 NFL Draft: Zach Mettenberger's injury history takes center stage
It hasn't been a great week for the NFL draft prospects for former LSU quarterback Zach Mettenberger.
• 2 min read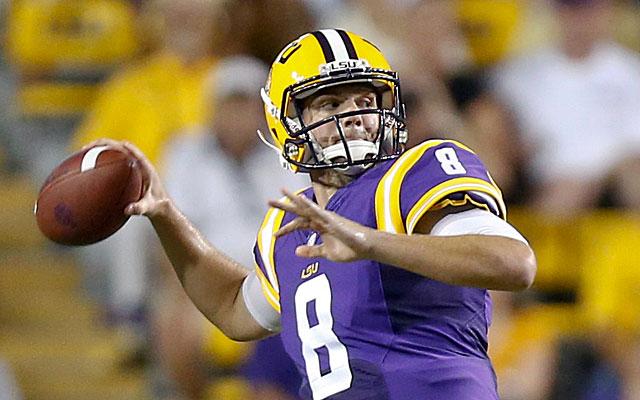 More Draft coverage: Mock Drafts | Prospect Rankings | Big Board | News
Zach Mettenberger isn't one of the top quarterback prospects in this year's draft, but it wouldn't be a shock to see the former LSU standout, a 6-foot-5, 225-pounder, hear his name called sometime in the first three rounds.
But the lead-in to the event has raised some concerns.
Mettenberger was found to have a diluted sample at the NFL combine's drug test, and about 36 hours before the draft's first round is to begin, NFL.com reported Wednesday morning that a number of NFL teams have medically flagged him because of a back condition called spondylolysis.
But CBS Sports' Jason La Canfora writes that Kevin Dunn, who trained Mettenberger in Feburary and March, said there are no lower back issues and that Dunn suspects there's been a "smear campaign" against Mettenberger.
Mettenberger hasn't needed -- and reportedly won't need -- surgery for the condition that flared up during the 2012 season. LSU trainer Jack Marucci told NFL.com's Ian Rapoport that altered mechanics, thanks to former Ravens offensive coordinator and current LSU OC Cam Cameron, helped make the condition less of an issue in 2013.
"Did it flare up in his career? Yes. We would treat it and he'd be fine," Marucci told NFL.com. "It wasn't something we thought was a chronic disc or something. He doesn't need surgery. There's no surgery for it. He's worked with our doctors. This shouldn't be a big deal as long as you treat it, we did some core stabilization. His senior year, we didn't even talk about it."
According to WebMD.com, spondylolysis is "a defect or fracture of one or both of the wing-shaped parts of a vertebra. These "wings" help keep the vertebrae in place. When a "wing" is absent, defective from birth, or damaged, a vertebra can slide forward or backward over the bone below, sometimes pressing on the spinal cord or a nerve root. This slipping, called spondylolisthesis, usually happens at the base of the spine. Symptoms of spondylolisthesis can include back pain and numbness or weakness in one or both legs, sometimes leading to a loss of leg function."
Mettenberger also is coming off a torn ACL, and his representation has had to do damage control since his failed drug test came to light earlier this week. There was "zero trace levels" of any illegal substances in his urine test at the combine, and his agent, Joe Linta, told La Canfora that Mettenberger was following doctor's orders to hydrate himself as he recovered from ACL surgery and was experiencing serious cramping.
"The kid didn't do anything wrong," Linta said. "He was doing what the doctor told him to do."
Meanwhile, Dunn told La Canfora that although Mettenberger has general weakness in his core from his ACL injury recovery, he didn't have any back problems.
"As far as his back, there were absolutely no indications whatsoever of any back issues," Dunn said. "There were not any limitations we placed on his lower back at any time. I was one-on-one with Zach everyday -- he was never a part of a group -- and there were no issues with his back ... Zach has a will to win like nothing I've ever seen."
La Canfora writes; "Dunn is in the process of emailing all 32 teams detailing his time spent training the prospect and the lack of issues, and Dunn suspects Mettenberger's draft stock is rising, prompting either teams who like him or agents of other quarterbacks for trying to circulate this sort of stuff about him."
The Lions will be wearing their Color Rush uniforms for the first time on Thursday

The Lions look to maintain playoff positioning while the Bears attempt to play spoiler

The Panthers have hired an outside law firm to conduct the investigation
Here's every official injury designation for each NFL team for Week 15

Bennett was one of the few players who escaped punishment after Sunday's melee in Jacksonv...

Jeremy Kerley wins the award for most creative excuse for failing a PED test