2014 NFL free agency Day 1 winners and losers
A look at the winners and losers from Day 1 of 2014 NFL free agency.
More free agency: Updated free agent tracker | Latest news, rumors and updates
Free agency day one has been non-stop action. There were a flurry of deals immediately at the 4 p.m. ET kickoff on Tuesday and that continued throughout much of the evening. Let's take a look at some of the winners and losers. 
Or, if you prefer, losers and winners. 
Losers
Raiders -- Their decision-making at left tackle is absolutely mind-boggling. They let Jared Veldheer (26 years old/drafted in house/was franchise-tag eligible) walk to the Cardinals instead of using the franchise tag on him. The tag isn't the best solution in the world and if you don't believe in a guy, you don't believe in a guy. But they then took a large chunk of their cap money and plunked it down on Rodger Saffold, paying him $42.5 million like he was a franchise left tackle. Don't worry, they fixed everything by bringing back Darren McFadden. It doesn't matter how much they paid him (answer: not a lot), it's just a hard sell on how you spend when the guy in question took so much money out of the franchise's pockets. To top it off, they let Lamarr Houston waltz away to the Bears. I get the idea that Reggie McKenzie wants to purge the roster, but the Raiders simply continue to look like a black hole. 
Jamaal Charles/Alex Smith -- You know what happens when you go from a two-win team to an 11-win team? People take notice and want your players. Such is life for the Chiefs, who lost three of their starting offensive linemen in the first hour and a half of free agency. Branden Albert bolted to the Dolphins for a ton of cash (like he'd wanted to do for a while), Geoff Schwartz took off for the Giants and Jon Asomoah signed with the Falcons. Kansas City has first-overall pick Eric Fisher still in town, but he struggled last year. That line is a major question mark at this point in time and that's no good for Charles or Smith.
Running Backs -- It's not just that the market is bad ... there is no market. Sure the Raiders signed two guys, but look at the contracts. McFadden got a one-year deal that's not worth much of anything and the guaranteed money ... Oof.
Only $100,000 of Darren McFadden's deal with #Raiders is guaranteed … Momma, don't let your babies grow up to be running backs

— Vic Tafur (@VicTafur) March 11, 2014
Peyton Hillis landed a two-year deal for $1.8 million from the Giants, who also signed Rashard Jennings. (The Raiders, meanwhile, are trying to get Andre Brown to Oakland.) The rest of the running back class has to be looking awkwardly at how things are unfolding. There's zero money for them these days.
Colin Kaepernick -- Eventually he'll sign a massive deal and forget that, for a moment or two in time, he made half as much money as his backup, Blaine Gabbert, does. 
Cowboys -- Dallas is coming off a year where they had a horrible defense, ranking dead last in Football Outsiders Weighted Defense metric. They got repeatedly shredded on the ground and now they're going to lose defensive tackle Jason Hatcher as well as their all-time sack leader in DeMarcus Ware. Ware is getting older and cost a ton but it doesn't hurt any less to let him walk out the door. He was taken 11th overall by the Cowboys in the 2005 NFL Draft and has been a force of nature. But nothing says more about Dallas' cap and roster managment than seeing them let Ware leave a year after they franchised Anthony Spencer for the second-straight season.
Panthers -- Carolina doesn't lose because they weren't active in free agency. I don't knock a team for that. They lose because they're taking hits on offense -- Jordan Gross and Geoff Hangartner retired and Steve Smith is still up in the air -- and everyone else in the division got better on defense. The Buccaneers added Michael Johnson and Alterraun Verner (though are likely losing Darrelle Revis). The Saints landed Jairus Byrd out of nowhere. The Falcons beefed up their defensive line as well. A really difficult division is only going to get tougher for the defending champs. 
Winners
Carson Palmer -- Palmer played well down the stretch for the Cardinals in 2013 and now he could play even better with the addition of actual offensive linemen. The Cards signed Jared Veldheer to a five-year contract worth $37.5 million; many believe he could be a legit franchise left tackle when he's healthy. They'll also get Jonathan Cooper back next season, meaning the left side of the Cardinals line could go from a weakness to a strength. Love Steve Keim's aggressiveness in pursuing Veldheer.
Offensive Linemen -- Speaking of Veldheer, he wasn't the only lineman who found a home. Or the only one who got paid. Rodger Saffold got an absolutely bananas $42.5 million from the Raiders despite not necessarily being a "tackle" per se. Eugene Monroe got paid by the Ravens, though perhaps less than he would've liked, hauling in $37 million on a five-year deal. But he still got paid. Even Zane Beadles, a guard, picked up a large deal (five years, $30 million) from the Jaguars in free agency.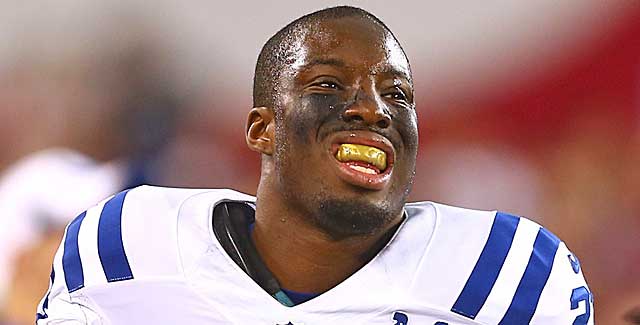 Cornerbacks -- This group continues to get paid. Brent Grimes cashed in on a major deal from the Dolphins before free agency began and Sam Shields got real paid by the Packers as well. When free agency opened Vontae Davis got a massive deal from the Colts, picking up $39 million over four years. The contract Alterraun Verner got from the Buccaneers is a little disappointing (for him, not the Bucs) but he'll be a good fit in Lovie Smith's defense.
Jairus Byrd -- Are you freaking kidding me with this contract? $54 million over six years with $28 million guaranteed. Byrd is a stud but the Saints are/were cap-strapped -- and have yet to sign Jimmy Graham to a long-term deal -- so it's almost impossible to figure out how they pulled this off. Whatever. Byrd got REAL rich with this contract and his decision to play out the string on his franchise tag with the Bills looks extremely smart. T.J. Ward, considered the second-best safety in this class, got four years and $23 million ... total. It pales in comparison to Byrd and Ward got paid first.
Falcons -- Digging what Atlanta did on the first day of free agency. They locked up Jonathan Babineaux on a three-year deal and then beefed up their defensive line by signing Tyson Jackson and Paul Soliai. It's pretty clear that they're transitioning to a more 3-4 centric defense, which could set them up nicely to land Khalil Mack at No. 6 in the NFL Draft. Atlanta also added guard Jon Asomoah and while the offensive line is far from settled, it at least helps. 
It had been rumored that the Jaguars might cut ties with Bortles, but instead he'll stay in...

Dez has struggled with injuries over the last few seasons

Cohen started last season red-hot before falling off dramatically but he has a ton of tale...
Beckham got injured during the 2017 preseason and then fractured his ankle after just four...

The Eagles were one of the most aggressive teams in the NFL in 2017, and it helped them win...

The ex-Dolphins offensive lineman was detained over a threatening social media post