2014 NFL Free Agency: Latest news, rumors, signings from Day 2
The latest news, rumors, signing and from Day 2 of 2014 NFL free agency.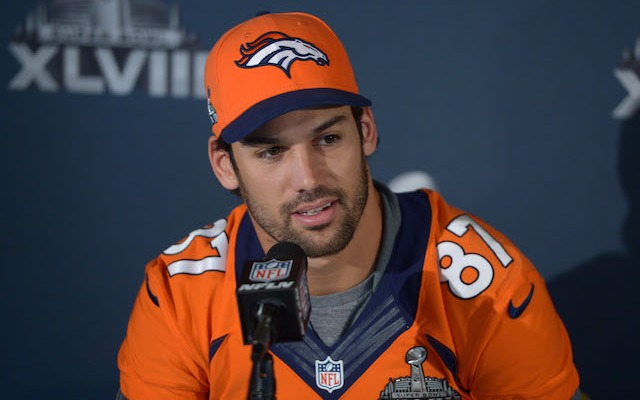 UPDATE: Click over here for updated signings and rumors for Day 3 of NFL free agency
More free agency: Updated free agent tracker | Latest news, rumors and updates
Day 1 of 2014 NFL free agency was a doozy. If you dont' believe me, peep our live updates here. Things were insane from the get go and didn't slow down until about midnight ET.
We're running things back for Day 2, which promises to maybe (hopefully? hopefully not??) be a little calmer, if only because of a lack of names on the board now. 
Bookmark this page and make sure to refresh early and often in order to stay up to date on all the latest news, rumors and info floating around the NFL during the second day of free agency.
More NFL offseason: Mock Drafts | Prospect Rankings | Pro Days | Top free agents
2014 NFL Free Agency updates
10:20 p.m. -- The Patriots might be interested in locking up Darrelle Revis long term once they get him into New England.
10:05 p.m. -- Rodger Saffold failed his physical with the Raiders which means that he won't be signing that $42.5 million deal. That's obviously a nightmare for him and a huge embarrasment for the Raiders.
8:45 p.m. -- The Patriots have signed Darrelle Revis (perhaps you've heard of him???) to a one-year deal worth $12 million.
7:22 p.m. -- Former Raiders OLB Matt Shaughnessy signed with the Cardinals according to Kent Somers of the Arizona Republic.
6:30 p.m. -- Jason Hatcher is visiting the Raiders today after swinging by Seattle yesterday.
6:05 p.m. -- The Seahawks re-signed defensive tackle Tony McDaniel on Wednesday.
5:54 p.m. -- The Titans released tackle David Stewart. Not a surprise but it opens up their options for the draft. 
5:42 p.m. -- The Bills signed Corey Graham to a four-year, $16 million deal with $5.5 million guaranteed. They also added Keith Rivers.
5:16 p.m. -- The Ravens inked Jacoby Jones to a four-year deal. Sweat. Pea.
4:59 p.m. -- The Buccaneers are saying that Josh McCown is their starter. Already. Well that's awkward for Mike Glennon. 
4:43 p.m. -- The Lions signed wideout Golden Tate to a five-year deal that pays him around $6 million a year with $13 million guaranteed. A good deal for Tate, who could be really good in Detroit, and a reasonable deal for Detroit.
4:35 p.m. -- Former Steelers wideout Emmanuel Sanders is visiting the Jaguars today.
4:25 p.m. -- The Browns released two of their quarterbacks, sending Brandon Weeden off into the sunset and Jason Campbell into free agency. Maybe it's the other way around. Whatever. It didn't work out.
4 p.m. -- As expected, the Buccaneers have cut CB Darrelle Revis to avoid sending a higher draft pick to the Jets and giving him a roster bonus. He's already being connected to the Patriots, who lost Aqib Talib to the Broncos yesterday in free agency. 
3:28 p.m. -- The Jets are interested in former Packers WR James Jones, according to Manish Mehta of the New York Daily News. 
3:25 p.m. -- Randy Starks got a two-year deal from the Dolphins for $12 million per Jason La Canfora of CBS Sports.
3:15 p.m. -- The Cowboys signed Jeremy Mincey for $4.5 million over two years. He'll be replacing Ware, sooooooooo ... 
3:10 p.m. -- Former Panthers WR/KR Ted Ginn is visiting the Bucs per Jonathan Jones of the Charlotte Observer. 
2:49 p.m. -- The Cowboys officially cut Miles Austin the team announced.
2:43 p.m. -- Josh McCown signed a two-year, $10 million deal with the Buccaneers. That's not exactly "you're our veteran backup" money. Not great news for Mike Glennon.
2:25 p.m. -- Steve Smith tweeted his goodbyes to Panthers nation so it could be just a matter of time before the Panthers wideout is out the door.
2:10 p.m. -- John Elway is making it rain in the Rocky Mountains, and just signed DeMarcus Ware to a three-year deal that gives him $30 million with $20 million guaranteed. Go big or go home.
1:45 p.m. -- The Giants signed Jon Beason to a new deal according to Aditi Kinkhabwala of the NFL Network. Beason revived his career after a midseason trade from the Panthers to the Giants. 
1:32 p.m. -- The Bears agreed to a one-year deal with safety M.D. Jennings according to Mike Wright of ESPN. 
1:25 p.m. -- The Cowboys signed defensive tackle Terrell McClain to a three-year deal according to Aaron Wilson of the Baltimore Sun. Weeeeee.
1:12 p.m. -- The agent for Steve Smith says the WR "is not going to play for the Panthers next year, I know that." OK then.
1:06 p.m. -- Apparently Jared Allen isn't really excited about participating in free agency or something. CBS Sports Jason La Canfora reports he's hunkered down and not taking visits right now.
1:01 p.m. -- Darren Sproles is on the trading block for the Saints but told ESPN that "I don't want to get traded." He'd rather pick his next landing spot. Hard to blame him.
12:47 p.m. -- The Patriots announced they re-signed tight end Michael Hoomanawanui on Wednesday afternoon. Hoooooo, man.
12:20 p.m. -- The Seahawks released defensive end Chris Clemons according to Albert Breer of the NFL Network. Signing Michael Bennett to a long deal made him more expendable. 
11:52 a.m. -- According to CBSSports.com's Jeremy Fowler, former Buccaneers OG Davin Joseph is visiting the Rams today. 
11:48 a.m. -- OL Cody Wallace is staying with the Steelers on a three-year deal, the team announced. He was a backup last year. 
11:36 a.m. -- RB Pierre Thomas will be re-signing with the Saints for two seasons according to his agent Lamont Smith. 
10:36 a.m. -- The Raiders are reportedly bringing in LaMarr Woodley and Justin Tuck for free agency visits. They've got money to burn, so why not burn it on big name veterans who might be past their prime?
10:15 a.m. -- Reps for Hakeem Nicks have reportedly been talking with the Panthers according to 610 WFNZ in Charlotte. (Which means Jay-Z and Dave Gettleman negotiating. I would watch watch that television show.) Nicks would be a perfect fit for Carolina on a cheap, prove-it contract.
10:10 a.m. -- It's now "unlikely" according to NFL Network that Darrelle Revis will be traded. Instead, expect his release some time on Wednesday. The Patriots and Jets are seen as contenders for his services.
9:45 a.m. -- The Steelers announced they re-signed safety Will Allen and long snapper Greg Warren.  
9:15 a.m. -- The Dolphins reportedly agreed to a four-year deal with defensive tackle Earl Mitchell that will pay him $16 million.
8:45 a.m. -- Eric Decker, the top free agent wide receiver on the market, will reportedly visit the Jets according to the National Football Post.
8:16 a.m. -- The Bengals will reportedly match the offer sheet the Browns made to Andrew Hawkins, which means the diminutive receiver will stay in Cincy.
Everything you need to know about the Redskins-Saints matchup this weekend

Here's every official injury designation for each NFL team for Week 11

The Dolphins took another blow amid a rough stretch of football
Our computer model simulated every Week 11 NFL game 10,000 times with very surprising resu...

The NFL on CBS broadcaster also broke down the differences between Dak, Goff and Wentz

The Legion of Boom is getting older and injuries are taking their toll