2014 NFL Hall of Fame: Andre Reed, Jim Kelly take top billing Saturday
Seven former NFL standouts get their due Saturday when they're officially inducted into the Pro Football Hall of Fame.
• 11 min read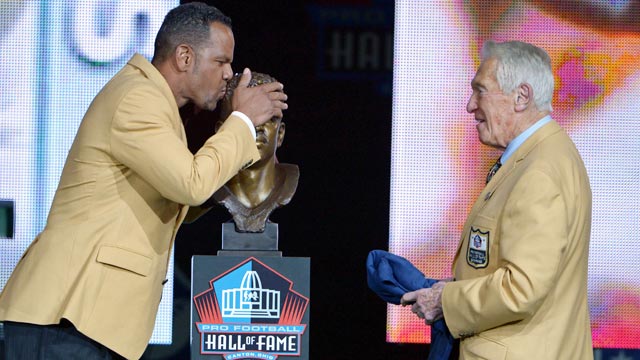 More NFL: Photos |  Videos & GIFs |  Training Camp updates | Manziel watch
Six months after receiver Andre Reed, linebacker Derrick Brooks, tackle Walter Jones, defensive end Michael Strahan, cornerback Aeneas Williams, punter Ray Guy and defensive end Claude Humphrey were elected to the Hall of Fame, that class of seven finally will be inducted Saturday.
ENSHRINEMENT TIME:
MICHAEL STRAHAN (11:01 p.m. ET):
Fox Sports' Jay Glazer introduces him. Length of speech: 34 minutes. Did he cry?: No. Did he come close to crying?: No. Did he thank sports writers? Yes!
This pretty much says it all.
"This has been the best weekend of my life." -- @michaelstrahan

— SiriusXM NFL Radio (@SiriusXMNFL) August 3, 2014
Oh, and there was this.
Immortalized in bronze. Michael Strahan. Pro Football Hall of Fame. pic.twitter.com/eFELMSDk63

— FOX Sports (@FOXSports) August 3, 2014
ANDRE REED (10:10 p.m. ET):
His former coach, Marv Levy, introduces him. Length of speech: 35 minutes. Did he cry?: No. Did he come close to crying?: Sort of, but he certainly had his family in tears. Did he thank sports writers? Yes!
By far, the biggest fan base in attendance was Bills supporters. So, they were pretty happy listening to Reed, giving him the longest ovation of any new Hall of Famer thus far. 
Reed talked about his time growing up Allentown, Pennsylvania (though I have to admit the only thing I know about Allentown is what Billy Joel taught me). Reed clearly loved his father, but he also talked about his alcoholism. "I saw things growing up that no child should see. Sports became my haven, my shield, my guard."
He also provided us with one of the more moving moments of the ceremony.
Andre Reed: "The toughest individual I've ever met in my life is Jim Kelly, number 12." Standing ovation.

— Mike Rodak (@mikerodak) August 3, 2014
Then, he said, while speaking to Kelly: "12+83 always = 6." Kelly mouthed the words along with him. Then, after Reed concluded his speech, Kelly threw him one last pass.
Jim Kelly to Andre Reed. Awesome. https://t.co/4rc92wzsZ7

— Will Brinson (@WillBrinson) August 3, 2014
RAY GUY (9:48 p.m. ET):
His former coach, John Madden, introduces him. Length of speech: 14 minutes. Did he cry?: No. Did he come close to crying?: Not really. Did he thank sports writers? No.
Guy is making the most history this year, considering he's the first punter ever to be elected into the Hall of Fame. To show their appreciation, about 20 of his fellow punters attended Saturday's ceremonies.
Said Guy, "Man, I am glad to be here tonight." And a little bit later, he quipped, "Now, the Hall of Fame has a complete team."

WALTER JONES (9:23 p.m. ET):
His son, Walterius, introduces him. Length of speech: 17 minutes. Did he cry?: No. Did he come close to crying?: No. Did he thank sports writers? Yes!
Jones obviously is a family man. He called his mother the real Hall of Famer, and he promoted his daughter's Instagram account and asked everybody to follow her. 
"Everyone watching tonight, go follow my daughter on Instagram: hai_itswaleria" -@BigWalt71 pic.twitter.com/kj2dsg0owI #PFHOF14

— NFL Network (@nflnetwork) August 3, 2014
And let's not forget this.
Again it bears repeating.. Walter Jones: 12 seasons... 9 Pro Bowls..only 9 holding penalties.

— trey wingo (@wingoz) August 3, 2014
AENEAS WILLIAMS (8:47 p.m. ET):
His father, Lawrence, introduces him. Length of speech: 25 minutes. Did he cry?: No. Did he come close to crying?: No. Did he say at the beginning of his speech that he would cry?: Yes, and he made a Gen. Norman Schwarzkopf reference while doing so. Did he thank sports writers? No.
I've never heard it put this way before, but Aeneas Williams was proud to play at THE Southern University.
"That's right, Ohio State," Williams said. "It's THE Southern University."
Something else I learned: Aeneas Williams has a brother named Achilles. And he had some jokes.
Aeneas Williams on covering Michael Irvin in 1998: "if he went to the restroom I had to go flush it"

— Will Brinson (@WillBrinson) August 3, 2014
Williams also ended his speech with a little call and response from the crowd to remind us of the theme of his speech.
One side of the stadium chanted "Begin with the end in mind," while the other side and the Hall of Famers responded, "Die empty."

CLAUDE HUMPHREY (8:11 p.m. ET):

Humphrey's daughter, Cheyenee, introduces him. Length of speech: 29 minutes. Did he cry?: No. Did he come close to crying?: Not really, but when he talked about his late wife, I almost did. Did Dick Vermeil cry when Humphrey mentioned him? Just about. Did he thank sports writers? Yes!
Only minutes after Brooks' epic filibuster, Humphrey makes the declaration, "They told me I only had 10 minutes up here. Let me start off by telling you that I've waited almost 30 years to get to this podium. So, don't rush me guys. I'm going to be here for a minute."
It was well worth it, as he talked about making babies with his wife, eating chicken wings with his grandson after church before they both take naps, and living in a shotgun house while growing up. My favorite part: when Humphrey thanked the sports writers who voted for him. WHICH MAKES HIM MY FAVORITE PLAYER OF ALL TIME.
We might not have known Humphrey as well as most of the other inductees, but we learned a little something when watching his highlight video.
What I have learned watching Claude Humphrey's highlight reel is that the NFL has made a lot of things he did illegal.

— Dan Graziano (@DanGrazianoESPN) August 3, 2014
So far, the first two speeches have combined for 53 minutes. Which, um, is pretty damn long.
There were no posthumous inductees into the Pro Football Hall of Fame this year. But at this rate, there still could be.

— Tim Graham (@ByTimGraham) August 3, 2014
Luckily, refreshments that even Rob Ryan could enjoy were available.
At the HOF. So is my pal Rob. He's getting beers. pic.twitter.com/BCwyEAAgtC

— Dan Kadar (@MockingTheDraft) August 3, 2014
DERRICK BROOKS (7:33 p.m. ET):
Brooks' son, Decalon, introduces him. Length of speech: 24 minutes. Did he cry?: No. Did he come close to crying?: No. Did he thank sports writers? No.
Interesting. Brooks says he's going to "work his butt off" to make the Hall of Fame a better place to be. Brooks also asked for "the Derrick Brooks family" to stand up and take a bow. And about 100 people stood up.
So, Brooks has a ton of family in attendance. Though he didn't name all of his family members, Brooks, though, named just about everybody when talking about his youth, high school, college and professional coaches.
He also got a nice shoutout from Warren Sapp.
Warren Sapp on Derrick Brooks: "He's the best football player I've ever played with in my life. Without him, I wouldn't be here."

— Scott Smith (@ScottSBucs) August 2, 2014
And as for how long his speech went, Brooks said, "When you go first, you can take your time."

7:26 p.m. ET:
Remember that story I pointed out to you earlier about the Hall of Fame bust sculptor who was worried about getting the gap in Michael Strahan's teeth just right. I think he succeeded. Via the NFL Network.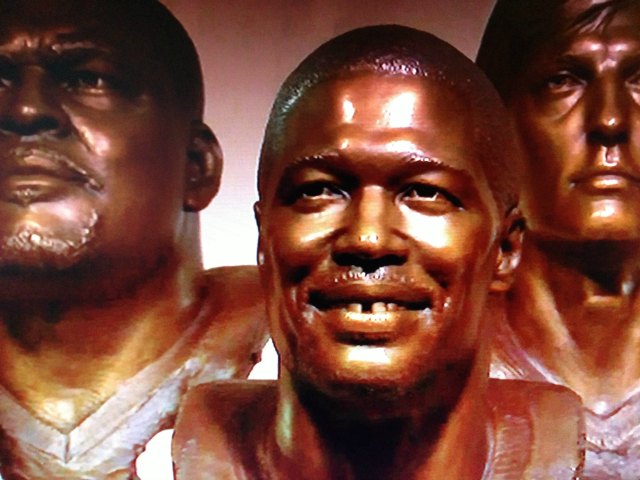 7:20 p.m. ET:
Well, this is unfortunate. This is the Strahan shirt being sold at the Hall of Fame ceremony (H/T ESPN's Darren Rovell).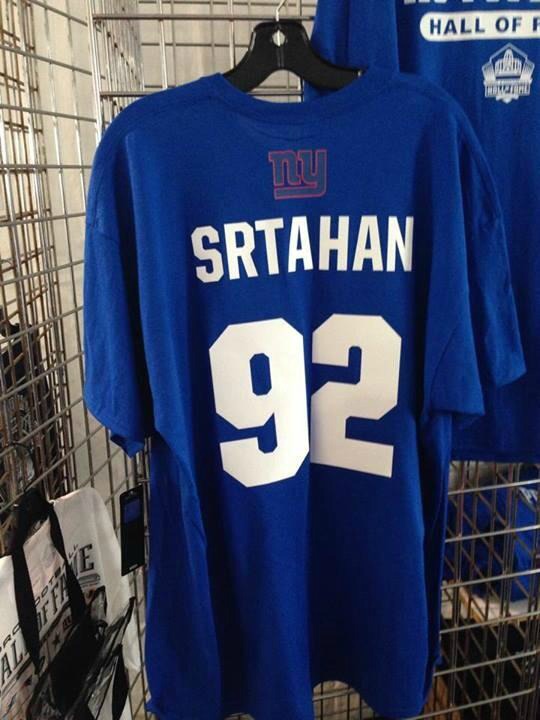 7:12 p.m. ET: As the Hall of Famers in attendance were introduced to the crowd, fans and fellow members stood up and gave Jim Kelly a huge ovation.
Jim Kelly gets a standing ovation from the crowd and from his fellow HOFers. pic.twitter.com/CsgjigKDQD

— Josh Katzowitz (@joshkatzowitz) August 2, 2014
Actually, it was a double standing ovation. The applause went on so long, people stood up, sat back down and stood up again before it tapered off.

6:56 p.m. ET: Well, it looks like the weather is going to be OK.
Fawcett Stadium is filling up! Join us on NFL Network NOW! #PFHOF14 https://t.co/w0yk0WEbG3

— NFL Network (@nflnetwork) August 2, 2014
PREGAME:
Here are some sights from around Canton on the morning of the 2014 Hall of Fame Enshrinement day.
Everybody loves a parade ...
The Hall of Fame parade has just started here in Canton, Ohio. pic.twitter.com/XKMoZMcmyu

— Chris Gay (@AUG_ChrisGay) August 2, 2014
... Especially Derrick Brooks.
#Bucs legend @DBrooks55 and son Decalon wave to the crowd at the #HOF parade in Canton Saturday morning. #NFL pic.twitter.com/CxVVMpZiqU

— Dirk Shadd (@DirkShadd) August 2, 2014
--Ray Guy looked rather pleased at the HOF dinner on Friday night in which the honorees were presented their yellow blazers.
This is what greatness looks like #RayGuy @ProFootballHOF Photos from Canton (more to come): http://t.co/jEhnvFg1HD pic.twitter.com/0ZMlFuvd6C

— OAKLAND RAIDERS (@RAIDERS) August 2, 2014
--Speaking of yellow jackets, here's how the new inductees look while sporting those blazers.
One step closer to Football Heaven. #PFHOF14 pic.twitter.com/4Tv7CvhaZy

— NFL (@nfl) August 2, 2014
--Here's a small taste of what Aeneas Williams had to write in the Arizona Republic.
One of the highlights of my time in Arizona was in November of 2000 when we played Washington on the Sunday before the big stadium vote. On the first drive, the Redskins were about to score when they fumbled into the end zone and I took it the length of the field for a touchdown. We wound up winning by a point, and I know many people credit that with tilting the stadium vote in the team's favor.

What I remember is that my touchdown was initially scored as a 103-yard return, one yard shy of the NFL record. But Mr. (Bill Bidwell) not only insisted that it was really 104 yards, he and Larry Wilson went to Sun Devil Stadium on Monday with a tape measure and asked the league to change it. They did, and to this day I hold the NFL record, so thank you for that, Mr. B.
--Here's an interesting story from the New Yorker on how difficult it was for Blair Buswell, who sculpts the HOF busts that remain in Canton for all time, to get the gap in Michael Strahan's teeth just right.
As reporter Reeves Wiedeman writes, "Buswell lets players choose the likeness they prefer (young or old, bearded or clean-shaven), but he typically discourages them from smiling. 'I give them disclosures, and one of them is that bronze teeth never look right,' he said, noting that the former Broncos quarterback John Elway complained, in 2004, that his teeth looked like Chiclets. But Strahan was insistent—'I want to be the smiling giant'—so the sculptor agreed. 'I'll do it,' Buswell said. 'I'll just say it's not the most popular choice.'"
One other bad-news note from the story. Andre Reed decided that his late-career fade haircut was more appropriate than his earlier Jheri curl look.
--It's mid-afternoon as I type this tweet, and the weather doesn't appear to be so nice in Canton. Various reporters have tweeted that the rain is supposed to clear up later this evening, though Hall of Fame officials reportedly are setting up space in a nearby high school auditorium in case the ceremony has to be moved.
But for now, this is what it looks like.
The view from behind the stage of the very wet Fawcett Stadium ... pic.twitter.com/u6pGLWKmyw

— Ralph Vacchiano (@RVacchianoNYDN) August 2, 2014
--Hey, when you've got to exercise, the time and the place apparently don't matter.
A mere 2 hours before the @ProFootballHOF induction ceremony, @aeneas35 laced up shoes & went for a run in drizzling rain in Canton.

— Kyle Eversgerd (@SGERD5) August 2, 2014
---
Friday (2:13 p.m. ET): While players like Brooks, Jones and Strahan had a short wait to get to Canton -- the first two were elected the first time they were on the ballot, while Strahan only had to wait two years -- it must be an extra-special moment for Reed who had to wait for many years after he was eligible while other receivers were inducted and Guy, who was passed over as a current-day player and had to be elected by the senior committee. And oh yeah, who becomes the first punter ever to step into those hallowed Hall of Fame halls.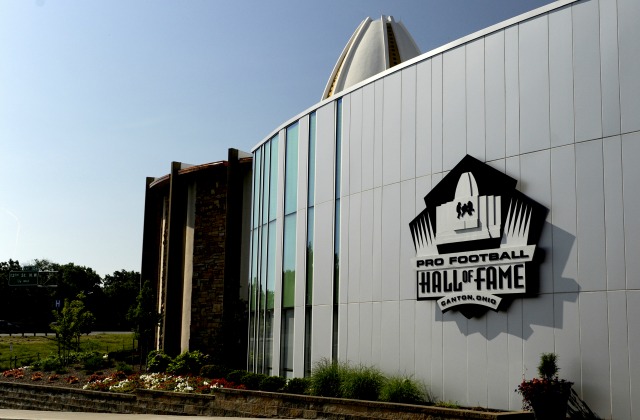 For Guy, it wasn't just about being a punter. He was a legitimate football player -- and for the first time, he showed that a punter could be a legitimate game-changer.
"He threw harder than (quarterback Ken) Stabler," former Raiders coach John Madden told the SF Chronicle. "There is no question he was a real football player. I just didn't let him play. He was too valuable as a punter."
To celebrate the momentous occasion of Guy's induction, ESPN reports that 20 punters have traveled to Canton for the ceremony that will celebrate Guy.
Meanwhile, Hall of Fame quarterback Jim Kelly, who's still battling cancer, will be there to support Reed.
"Certainly, he's motivated by his faith, his girls and his family, the things he holds very close to him," Jill Kelly, Jim's wife, told the Buffalo News. "But every time Andre went to visit Jim, they talked about that.
"Andre was at the hospital. He was at the house the day we flew to New York City. He came to New York and again when we got back. Every time Andre was there, Jim was down and out, struggling. But it was always the conversation. It was a given that Jim was going to be at the Hall of Fame."
As you can see here.
K-Gun Offense reunited!! #PFHOF14 #KellyTough pic.twitter.com/HmzlXc0d3J

— NFL (@nfl) August 1, 2014
On Friday morning, the scene in Canton looked busy.
Getting ready to welcome our returning Gold Jackets home to Canton! #PFHoF14 pic.twitter.com/jJiADgJeSX

— Pro Football HOF (@ProFootballHOF) August 1, 2014
Meanwhile, Brooks was checking out his new surroundings.
#Bucs Derrick Brooks at the #NFL Hall of Fame in Canton. Books will be enshrined on Saturday. #HOFWKND pic.twitter.com/iouPzLrBjS

— Dirk Shadd (@DirkShadd) August 1, 2014
One of the biggest penalties in Thursday's game was a controversial flag that went against...

If Ezekiel Elliott gets suspended, it likely won't come until Week 5 at the earliest

The NFL is apparently concerned that the Chargers might not be viable in Los Angeles
Everything you need to know for Week 3 of the 2017 NFL season is here

You can find every official injury designation for each NFL team shortly after its Friday report...

The Bengals are the only NFL team Aaron Rodgers has played against without earning a win